The huge growth in the theme park business across Asia and China in particular is largely fueled by a growth in the middle-classes. Visitors in these markets also have a keen awareness of technology and expect their park experience to be smart right through from booking a ticket to riding the very latest rides and attractions.
By Mel Taylor, CEO, Omnico Group
If we were to list all the theme park and resort openings in Asia-Pacific in the next three years, this post wouldn't contain anything else!
It's a market that is driving record numbers in visitor attendance, boosting local tourism and driving competition in the market.
Recent research has also revealed a desire from theme park visitors in Asia for technology to further enrich their park experiences, from pre-booking fast-track passes and retail merchandise, to using mobile apps to gain park entry and receive personalised deals and recommendations.
Theme park visitors across Asia want a single, connected and personalised experience. They want this across all the parks, hotels, shops, restaurants and entertainment spaces within a destination or resort. Guests no longer want to queue for rides, wait for a table or food orders or even to pay for merchandise with cash. They want to pre-book everything via digital channels and pay using quick, cashless devices.
Market growth
The theme park market is expected to grow in Asia-Pacific at a 6.7 percent compound annual growth rate (CAGR) to $540 million in 2019. By 2019, Asia-Pacific will account for 45 percent of global attendance, up from 41 percent in 2014 and 34 percent in 2009.
Three of the key countries that are encouraging this growth are China, Japan and Malaysia.
While there is already a diverse range of theme parks across Japan, including Tokyo DisneySea, Universal Studios, Tokyo Disneyland and Nagashima Spa Land, to name a few, further investment in new attractions and resorts continues.
Universal has announced plans to debut a first-ever Nintendo-themed land in 2020, and more recently announced the launch of a new Despicable Me-related Minion Park in April this year. More unusually, the world's first spa-themed amusement park is also expected to open this summer in Japan's Beppu City ' a concept that will see towel-clad visitors jump into cable cars and carousels filled with water!
For Malaysia in particular, the emergence of an affluent middle-class that would like to enjoy its wealth has encouraged the government and international entertainment brands to invest heavily in the leisure and attractions industry. Malaysia is already home to several leading theme parks and resorts. These include Legoland Malaysia, the Hello Kitty Indoor theme park, the Angry Birds at JBCC and the Mount Austin water theme park. However, the area is set for large-scale development.
In China there are approximately 300 parks already in operation. Another 59 new theme parks are expected to open by 2020. The Chinese government predicts the $610 billion tourism industry will double over the next five years.
The Guest Experiences that matter
Research has shown that the ability to pre-book activities and tickets is a must for theme park visitors across Asia, allowing them more time to enjoy the overall experience. With a large and diverse choice of parks and resorts across the region and record number of visitors, the need to be first in the queue is paramount.
91% of Chinese visitors said they want to pre-book their entire trip, with 96% of Malaysian visitors wanting to pre-book their hotel stay specifically, and 86% of Japanese attendees expect to pre-book their fast-track ride passes and timeslots.
Technology is fundamental to support these guest experiences, with mobile apps providing the necessary ability to pre-book, pre-order, negate the need to queue and receive personalised deals and promotions, targeted specifically to the visitors' location.
91% of park theme park visitors in Malaysia would like to buy their entrance ticket and gain entry to a park using a mobile app. 87% of Japanese visitors agree. 91% of Chinese visitors would use a mobile app to buy anything in a resort, using the app as their main cashless device. This reflects the use of mobile apps by Disney in their Shanghai resort, rather than their famous RFID MagicBand wristband. It's predicted that China will become the first market where the majority of online travel purchases will be made on mobile devices.
The Future Technology Experiences for Asia
Analysing visitor expectations across Asia paints an interesting outlook for future technology use in theme parks and resorts.
Virtual reality (VR) is a hot topic for theme park visitors and operators alike. The most progressive attractions are embracing the technology to create a truly immersive experience. However, the VR application goes beyond the thrill-seeking and has value in the services it can also provide. With parks and resorts often stretching for vast kilometres encompassing attractions, beaches, golf courses, hotels, shopping malls and dining outlets, the ability to guide visitors around seamlessly is a priority.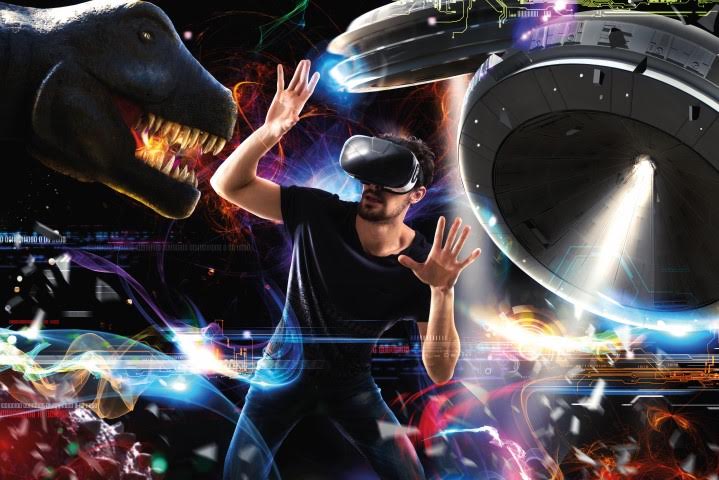 Research reveals that 70% of visitors in China, and the same in Malaysia expect to see VR experiences and guides in the next three years. This compares to 53% in Japan.
In addition, technology including 3D printed personal merchandise, robots as personal assistants and augmented reality games, are all expected by visitors in the next three years across Asia, to varying degrees.
Interestingly, recent news from Disney has revealed that the brand is focusing on Augmented Reality over VR. Clunky VR headsets that take theme park visitors away from the real world is a non-starter for Disney's chief executive. Talking about new attractions and technologies, Bob Iger described the amount of work that has gone into making the expressions of robots representing the Avatar characters as real as possible. With 49% of visitors in China expecting more Augmented Reality games and the same number expecting robots as personal assistants, it seems Disney is very much in-tune with Asian visitor expectations.
The Future is Smart for Theme Park Visitors
The research conducted by Omnico across the Asia-Pacific region has shown clear indications that technology will continue to play a crucial role in visitors' overall experiences of theme parks and resorts, not solely limited to the thrill-rides. Being able to pre-book activities and experiences, order ahead food and beverage so it's ready at the restaurant when you arrive, choose options based on the lowest wait times and receive promotional discounts for retail outlets, are all part and parcel of visitors' overall enjoyment of the experience.
If park operators can embrace these needs now, they will launch parks and resorts in years to come that encapsulate a smart and connected destination resort.
Images: Courtesy of Omnico.