Abu Dhabi has partnered with Aldar Properties to develop projects worth $1.3 billion (AED 5 billion) on Saadiyat Island and Yas Island, and in Al Falah.
The company has been given an AED 2 billion contract to complete the Saadiyat Island infrastructure, and another AED 2 billion contract to develop more villas in Al Falah.
Aldar has also been awarded an AED 1 billion contract to develop a campus on Yas Island, and will now appoint contractors to start work on the residential communities and commercial destinations.
The company will complete the remaining infrastructure on the Saadiyat Island project, which will include roads and utilities, in order to integrate Saadiyat Island into Abu Dhabi's broader metropolitan area.
Abu Dhabi Housing Authority also chose Aldar to develop the expansion of Al Falah, adding 899 villas to the current 4,898.
Work starting soon on Yas Island, Saadiyat Island, Al Falah
Finally, Aldar was awarded an AED 1 billion contract by twofour54 to develop the new campus on Yas Island with state-of-the-art facilities.
Yas Island is one of the world's fastest growing leisure and entertainment destinations, and includes Ferrari World, Yas Waterworld, and Warner Bros World – the first indoor theme park in Abu Dhabi.
The $1 billion (AED 3.67 billion) theme park has 29 state-of-the-art rides, interactive family-friendly attractions, retail, F&B, and live entertainment.
Its six immersive themed worlds are Warner Bros Plaza, Gotham City, Metropolis, Cartoon Junction, Bedrock, and Dynamite Gulch.
Yas Island features Ferrari World and Warner Bros World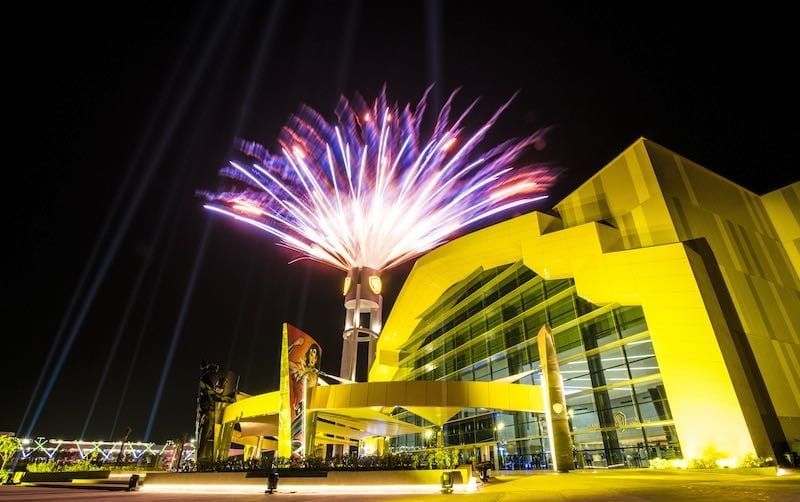 Aldar will appoint contractors for the Saadiyat Island, Yas Island and Al Falah projects as soon as possible, in order to start work and complete in phases, starting from 2021.
Mohamed Abdalla Al Zaabi, CEO of Miral, previously chatted to Blooloop about Yas Island and the shape it's taking, and opened up about SeaWorld Abu Dhabi, due to open in 2022.
Also in Abu Dhabi, the National Aquarium at Al Qana – the biggest aquarium in the Middle East – is now 70 percent complete and scheduled to open in 2020.
Image: Aldar