Changsha Fantawild Oriental Heritage has opened as part of Fantawild's 'Beautiful China Trilogy' project. The new theme park has roller coasters and indoor attractions.
Located in the Weidong New Area of Ningxiang, the high-tech attraction is Chinese history-themed, exploring folk tales, legends, dramas and more from Chinese culture.
Liu Daoqiang, President of Fantawild, said the new theme park will add to Changsha and the Hunan province's tourism industry.
Fantawild Oriental Heritage has 11 indoor attractions, including the 'Legend of Nüwa' ride, which immerses viewers using multiple screens, as they follow the goddess Nüwa and attempt to defeat monsters.
Family attractions, rafting rides and coasters
'Marvels of Chinese Culture' has a huge screen, which takes guests back in time to the story of Lady Meng Jiang, who brought down the Great Wall of China with her tears.
Based on Changsha's local culture, 'Xin Zhui' employs augmented reality (AR) and live technology to tell the story of Lady Dai, or Marquise of Dai.
Fantawild Oriental Heritage also boasts two roller coasters, 'Big Top' and 'Celestial Gauntlet', as well as family attractions, 'Merry Go Round' and 'Swirling Hats', and rafting rides, 'Braving Kunlun Mountains' and 'The Legend of KingYu'.
Additionally, there are 34 outdoor attractions at Fantawild Oriental Heritage, which combines advanced technology with Chinese history and culture for an immersive experience.
Fantawild immersing visitors using technology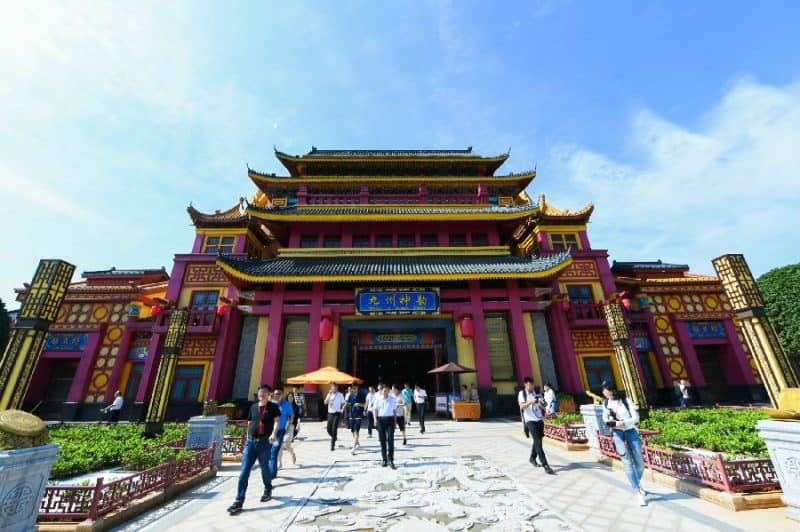 Fantawild's 'Beautiful China Trilogy' is an effort to build three large, themed entertainment and technology zones, with Fantawild Oriental Heritage already open.
The project will also include the 'Road to a Modern Era', with a focus on modern China, and 'Tomorrow's China', looking at China's future.
Fantawild is also planning to open new parks in Jiayuguan, Handan, and Jingzhou this year – Jiayuguan Silk Road Dreamland, Handan Legend Kingdom, and Jingzhou Oriental Heritage.
Earlier this week, the company announced it is building another new theme park based on Chinese culture – the Ningbo Zhonghua Traditional Culture Park.
Themed entertainment and technology zones
The theme park operator is also building China's first Boonie Bears Town, which will have an animation camp, Boonie Bears adventure, and Boonie Bears hotel.
Images: Fantawild Holdings