In celebration of National Roller Coaster Day, Cedar Fair has announced a bunch of new attractions, including a new giga coaster, Orion, at Kings Island.
Arriving in 2020, Orion is themed to Kings Island's new Area 72, and is one of just seven giga coasters in the world.
Orion has a 300-foot first drop and top speeds of 91 mph over 5,321 feet of track. It is Kings Island's tallest, fastest and longest steel roller coaster.
Orion is one of seven giga coasters in the world
Meanwhile, Canada's Wonderland is welcoming a new multi-level cliff jumping water park attraction in 2020. Located at Splash Works water park, Mountain Bay Cliffs' highest peak is 25 feet.
Also heading to Canada's Wonderland's Planet Snoopy is the new Beagle Brigade Airfield, a kids' airplane ride with six suspended planes.
Elsewhere, Kings Dominion water park Soak City will unveil the renovated Coconut Shores area in May 2020 with three major enhancements, as follows:
Lighthouse Landing at Soak City's Coconut Shores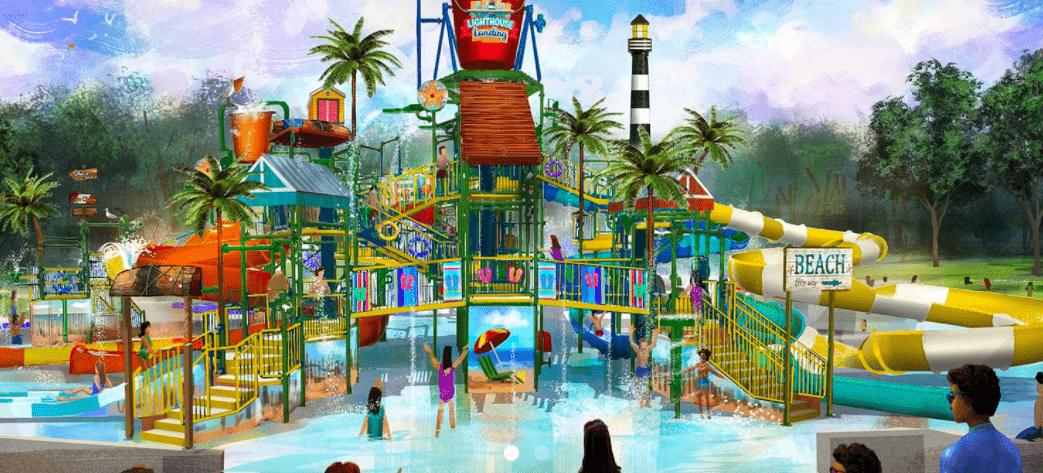 Lighthouse Landing – a play structure with water slides, tipping buckets, eight twisting slides and more than 200 interactive features.
Sand Dune Lagoon – a mini wave pool with waves of 12 inches and a water depth of 24 inches for young visitors.
A new dining experience serving food, as well as tropical alcoholic drinks and local craft beer.
Dorney Park & Wildwater Kingdom is introducing a beach-themed multi-level play structure, Seaside Splashworks, in 2020.
The family-friendly attraction will boast six water slides, interactive spray jets, water cannons, and a splash zone.
New Peanuts-themed area at Michigan's Adventure
https://www.youtube.com/watch?v=7KsJsYv7edc
At Michigan's Adventure, there will be a new Peanuts-themed area called Camp Snoopy. The zone will boast five rides, including a family-friendly roller coaster, Woodstock Express. Here's what else to expect:
Beagle Scout Lookout – a colourful hot air balloon ride.
Mud Buggies – all-terrain vehicles for kids
Camp Bus – a family bus ride with Snoopy in the driver's seat.
Valleyfair and Carowinds have also announced 'Grand Carnivale' for the 2020 season. The immersive evening spectacular will include a parade and nightly street party.
Also heading to Carowinds is a new mat racing water slide attraction, coming in 2020. Boogie Board Racer is the longest mat racing slide in the Southeast, debuting at Carolina Harbor water park.
New mat racing water slide Boogie Board Racer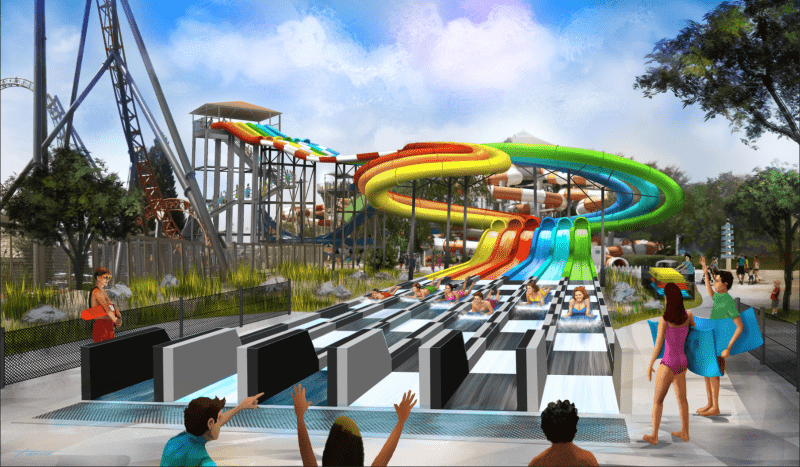 The slide was custom designed for Carowinds by WhiteWater West, who also designed Riptide Raceway, the longest mat racing water slide in the Midwest, heading to Worlds of Fun's Oceans of Fun water park next year.
Meanwhile, Cedar Point is celebrating its 150th anniversary in 2020 with an immersive nighttime celebration, themed F&B, nostalgic merchandise, and much more.
Next year, Knott's Berry Farm is also celebrating its 100th birthday with 'A Knott's Family Reunion' – an event paying tribute to the Knott family's history.
Kings Island's tallest, fastest and longest coaster
Images: Cedar Fair