Haystack Dryers, a supplier of patented body drying products, has revealed top locations for its solutions, which are a familiar sight in amusement and water parks around the world.
The company's cabin-style dryers provide visitors with a quick, efficient way to dry off after enjoying a water ride, pool, slide, or splash play area. The product is also suitable for venues in all climates, providing a fun, efficient service for guests. Dryers generate a reliable source of revenue for suppliers, with coin-op and contactless options available.
Business development manager Simon Nicholson says that the firm has had a busy start to the year, with repeat orders and major new accounts looking for reliable body dryer solutions.
Europe
Haystack Dryers have seen high levels of demand recently from Mainland Europe. Le Pal, France, received its second Cyclone machine used in conjunction with a new water play area "The Lion River", featuring fountains and splash play for children. Aquapalace water park in the Czech Republic has installed a poolside Hurricane dryer which accepts cashless payments. There is already a unit in the Prague venue's changing room area.
Over in Germany, the popular Rulantica water park at Europa-Park has ordered an additional Hurricane machine for its outdoor area, adding to the venue's two indoor body dryers.
Holiday Park in Haßloch has installed its third Haystack Dryers machine for a Splash Battle ride in the Wickie area. Hansa Park has purchased a second Cyclone machine for its log flume at the newly themed Peterhof of Novgorod area.
Other sites in Europe include Biberburg, a major new Intamin log flume at Family Park, Austria. The water ride benefits from a Cyclone Dryer using the Nayax system and is the tallest attraction of its type in the country.
Majaland Warsaw also has a new Haystack dryer in its Splash Play area in Poland.
Asia and the Middle East
Heading east, newly opened Legoland Korea has installed two Cyclone Dryers for its Bricktopia DUPLO Splash play area and Pirate Shores Splash Battle ride. The units use a cashless payment system and are the ninth Legoland site globally, for Haystack Dryers.
Two Cyclone Dryers were installed at Jeddah Seasons' City Walk Splash Village in Saudi Arabia, featuring water rides, slides and fountains. Both use a Core Cashless payment system. Desert Falls Water Park at the Hilton Salwa Beach Resort in Qatar is also now using two Cyclone Dryers in different strategic locations. Haystack Dryers have also worked with the Water Diversion Park in Chengdu this season, the first new installation in China since the start of the Coronavirus pandemic.
In high demand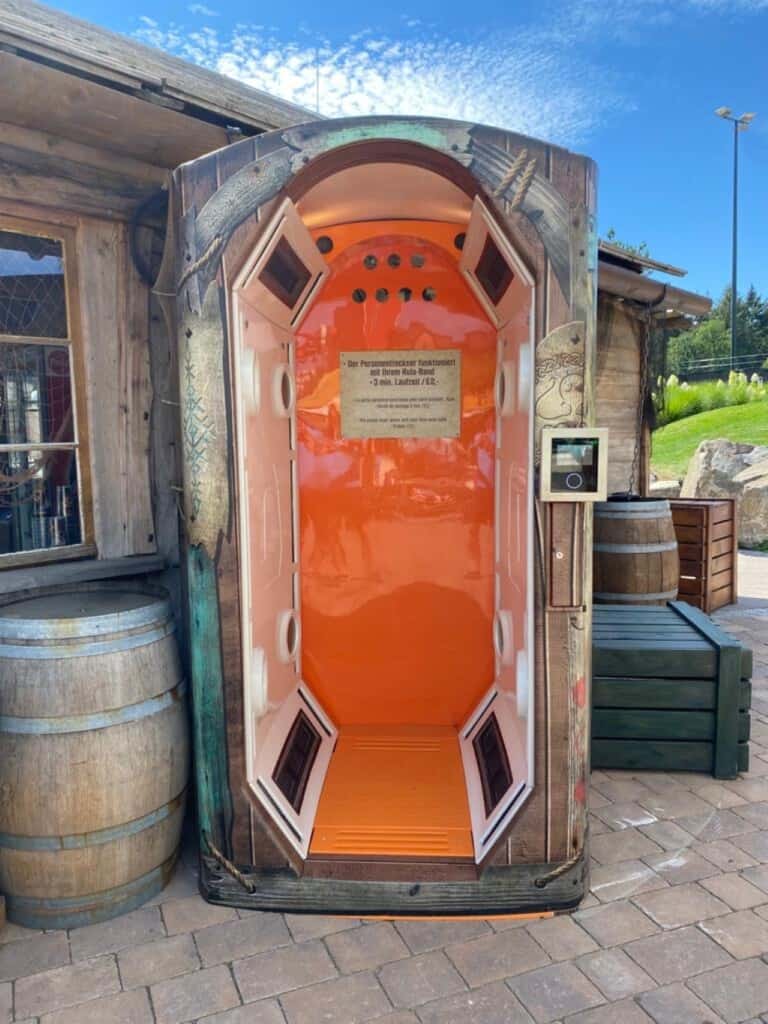 Majaland Warsaw and Holiday Park are managed by Plopsa Group, a leading European theme and water park operator.
Its merchandising director Patrik van Grootel says: "We are delighted to expand our relationship with Haystack Dryers to include our new park in Warsaw, Poland, as well as adding further dryers to existing parks.
"Haystack Dryers are a service that our guests enjoy in our theme parks and waterparks, and we now have machines in six of our attractions."
Nicholson adds: "After a testing couple of years for the industry, it is great that demand is still high for our unique service and that we have been able to install with so many new and existing clients in 2022.
"We now have customers in forty countries worldwide, and are growing in areas outside theme parks such as water parks, resorts and other attractions with splash play areas."
Haystack Dryers is a regular attendee at IAAPA Expos around the world, being an exhibitor at the most recent event in Orlando, US, and featuring at the upcoming IAAPA Expo Europe in September.