Oriental Land Co (OLC) is opening the Tokyo Disney Resort Toy Story Hotel on April 5, 2022, immersing guests in Disney and Pixar's Toy Story films.
Tokyo Disney Resort Toy Story Hotel features playful designs. It will be operated by Milial Resort Hotels Co Ltd, a subsidiary of the hotel's owner Oriental Land Co Ltd.
Upon arrival, guests will feel like they've been shrunk to the size of a toy, meeting oversized Buzz Lightyear and Jessie toys at Slinky Dog Park and Woody and Bo Peep at Toy Friends Square.
Andy's bedroom guest rooms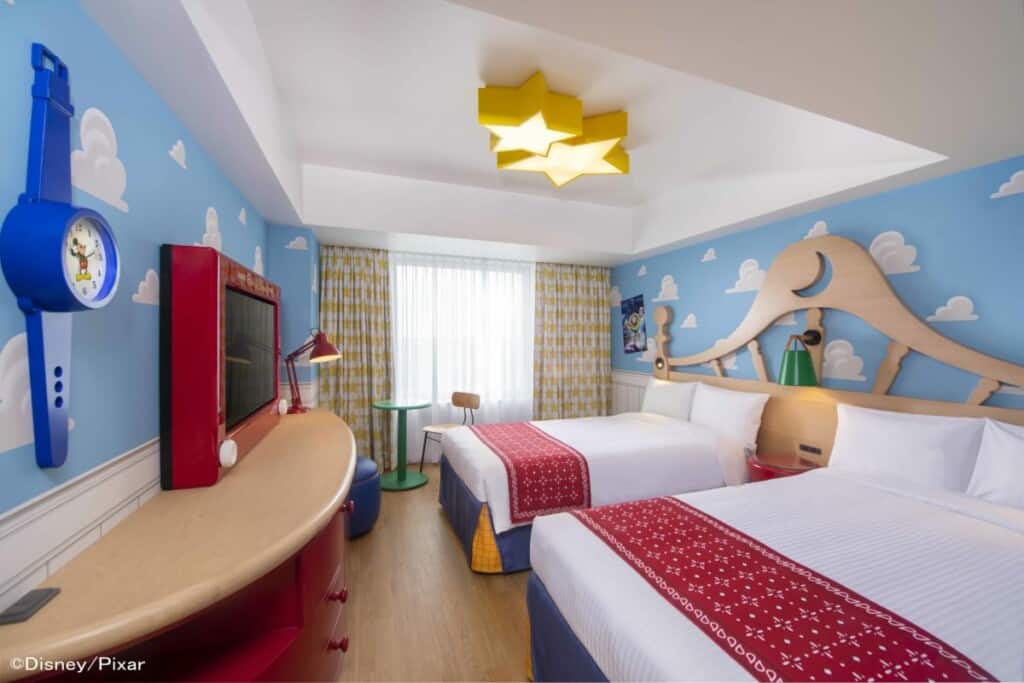 The Toy Story Hotel's lobby is a colourful space brimming with toys. The jigsaw puzzle-inspired floor sits beneath a ceiling designed to look like a board game.
Guest rooms are based on Andy's bedroom from the first Toy Story film, featuring his iconic wallpaper alongside Woody's Roundup-inspired headboards and oversized Mickey Mouse wristwatches on the walls.
Toy Story Hotel will be the first 'moderate-type' accommodation available at Tokyo Disney Resort, joining existing 'deluxe-type' and 'value-type' Disney hotels in Urayasu.
Toy Story Hotel lobby
Tokyo Disney's 'deluxe-type' hotels include the Disney Ambassador Hotel, Tokyo DisneySea Hotel MiraCosta and Tokyo Disneyland Hotel, while Tokyo Disney Celebration Hotel is a 'value-type' offering.
Toy Story Hotel offers a total of 595 rooms, including 575 standard rooms and 20 superior rooms. Shops include Gift Planet and Shop Together, the former selling Disney merchandise and the latter selling sundries.
As for F&B, the Lotso Garden Cafe is inspired by Lotso, the pink teddy bear from Toy Story 3, and serves breakfast and dinner.
Lotso Garden Cafe
Slinky Dog Park is a plaza located in front of the hotel's main entrance, while Toy Friends Square is a garden featuring oversized Toy Story characters.
The hotel building has approximately 40,000 square metres of floor space. Toy Story Hotel offers access to the resort's parks, Tokyo Disneyland and Tokyo DisneySea.
Earlier this year, Tokyo Disney Resort shared a series of videos showing off a concept model of the Fantasy Springs port, set to open at Tokyo DisneySea in 2023.
Images: OLC