Phu Quoc United Center covers more than 1,000 hectares in Phu Quoc, Vietnam. It houses the country's largest theme park, VinWonders Phu Quoc, which launched in April 2020.
To mark the opening, Phu Quoc United Center kicked off a series of events, which include 7,200 multimedia shows and 12,000 mini shows every year.
The complex's attractions include the first Teddy Bear Museum and largest floating multimedia show in Vietnam, as well as Bamboo Legend, an enormous bamboo building.
Bamboo Legend was designed by Vo Trong Nghia and built from more than 32,000 bamboo trunks. It is adjacent to the Teddy Bear Museum, the eighth offering of its kind in the world.
Vingroup's 'sleepless city'
VinWonders Phu Quoc covers 55 hectares and offers more than 100 attractions. Phu Quoc United Center shows include 'The Elite of Vietnam', 'The Colour of Venice' and 'Once Show'.
The Elite of Vietnam is a 3D multimedia show inspired by Vietnamese culture and history that uses state-of-the-art technology and visual effects.
'The Color of Venice' is Vietnam's biggest floating multimedia show. Based on European culture, it features lighting, music and performances on water.
Covering 85 hectares, Grand World is billed as a 'sleepless shopping and entertainment city' where visitors can eat, play and shop.
VinWonders Phu Quoc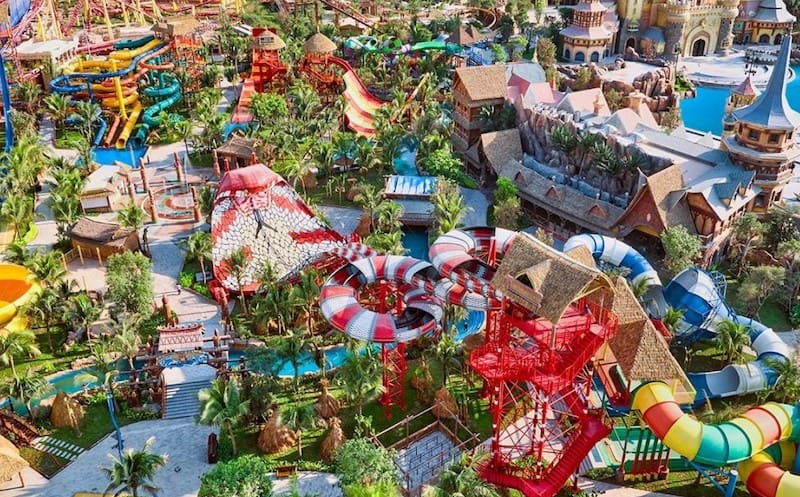 It boasts entertainment centres including Kstreet and Night Market, which are operated 24/7. In addition, Grand World features a space for artworks known as Urban Park.
Additional attractions include Vinpearl Golf Course, Corona Resort & Casino, and Vinpearl Safari, which is home to more than 4,000 animals.
Phu Quoc United Center also offers 12,000 rooms at hotels such as Vinpearl, VinOasis, VinHoliday and Radisson Blu.
Last year, Vingroup started construction on its $1 billion theme park called VinWonders Vu Yen. It is is the fourth VinWonders theme park, following offerings in Nha Trang, Phu Quoc and Nam Hoi.
Images: MediaOutReach