By Simon Clarke, Creative Director at Moonraker VFX
Harsh weather conditions, dangerous terrain and COVID travel restrictions are just some of the obstacles getting in the way of curious travellers and tourists experiencing the world's most breath-taking natural scenery.
Seeing these awe-inspiring sites in person can be exclusive. But innovative visitor attractions, such as flying theatres, are democratising the experience. This makes these sites more readily available to a wider range of people. As the Creative Director of Moonraker VFX and Flying Theatre Films, I'm fortunate enough to work with museum curators and attraction management teams to find innovative ways to enhance the user experience of their unique attractions.
Flying theatres for a fully immersive experience
Flying rides are a fantastic tool for bringing aerial imagery to life. Taking visitors to those unseen, hard-to-reach parts of the world, they combine a heady cocktail of sensory effects. These including sight, smell, haptics and motion. They are designed to leave the visitor feeling fully immersed in the story told by the stationary ride.
Could a flying theatre be just the thing your attraction space needs to boost visitor engagement? Keep reading to find out the 3 key ways that flying theatres are taking immersion to the next level.
They elevate live-action through augmentation and CGI
Used separately, live-action and CGI have their shortcomings. With live-action alone, it's near impossible to capture shoots with the smooth transitions required to maintain the illusion of the flying ride. And inversely, by opting for CGI alone, one also runs the risk of breaking the illusion.
A happy marriage of the two, using CGI to augment aspects of live-action footage, as well as to smooth over the transitions between separate shots, is one of the secrets to producing an immersive ride. This is because the effectiveness of a flying theatre experience lies in this continuity of action. Visitors are best immersed when scenes are connected in a natural flow with no visible joins.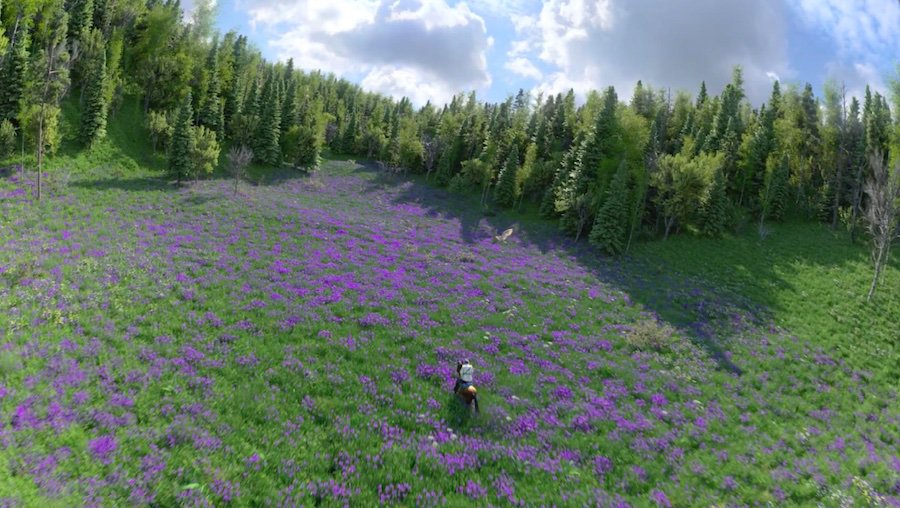 For our Changbaishan flying theatre project, we made it our aim to make these transitions as seamless as possible. We even embellished the movements between scenes with foreground foliage appearing to brush against the screen, alongside mist and cloud. This gives the visitor a sense of travelling through the national park, whilst also maintaining sensitivity to the live-action footage.
They can dramatise natural surroundings
What's more immersive than a compelling narrative? This type of attraction allows operators to build a little more drama into the history and natural spectacle of their location. Whether this is through a near crash-landing, a close encounter with a vicious predator, or an ascent to an impossibly high mountain peak.
As with anything, it's all about striking a fine balance between dramatic tension and outright, white-knuckle fear. For these rides to appeal to the broadest range of visitors, from children to their grandparents, with our Changbaishan project, we were focused on creating a flying theatre experience that was entertaining. One that had a compelling narrative arc without excluding certain visitors from the ride by making it too rollercoaster-like.
Alongside fine-tuning the speed of the ride, to ensure that no visitors fall victim to motion sickness due to the highly accurate simulated acceleration and g-force, we always set a clear focal point – this included shots following a man on horseback, weaving his way through the national park, and a bird of prey soaring through fluffy, sunlit clouds.
They use world-leading innovative technology
Flying theatres are a powerful tool for visitor immersion. This is due to the technology going far beyond anything most visitors will have experienced before. The latest cutting-edge LED screens are ten times brighter than a projector, with a fantastic resolution. The effect is far more high-definition for the viewer. Plus, the rides are also easier for teams to maintain, with the LED bulbs lasting far longer than projector bulbs.
Moonraker has worked on some of the world's leading Natural History programmes. For example, the BBC's Planet Earth 2, Frozen Planet 2 and Green Planet, to name but a few. So, it felt very natural for us as a VFX studio with huge experience in the television sector to move into the flying theatre market.
Here, sensitivity to live-action footage, an understanding of how to visually create a compelling narrative and cutting edge technology come together to produce the best results.