Highly engaging and immersive attractions are a highlight of today's theme parks. Here is how operators are creating great customer experiences using technology.
By Dr John Wills.
Amusement and theme parks are utopian technological landscapes. They look to the future and they imagine magical worlds. They also showcase the very latest digital advances. So, how are theme parks working to create great customer experiences using technology?
Theme parks have a rich history of using the latest innovations to wow visitors. At Coney Island, New York, in the early 1900s, alongside the early rollercoasters and a giant elephant-shaped hotel, Dr Martin Couney displayed his own pioneering incubator machines as a sideshow advertising his research.
Created for the 1964 New York World's Fair, General Electric's Carousel of Progress, designed by Walt Disney himself, peered into a high-tech future. It wowed audiences with its rotating theatre and advanced audio-animatronics. The Carousel still exists, now at Walt Disney World, to inspire us all.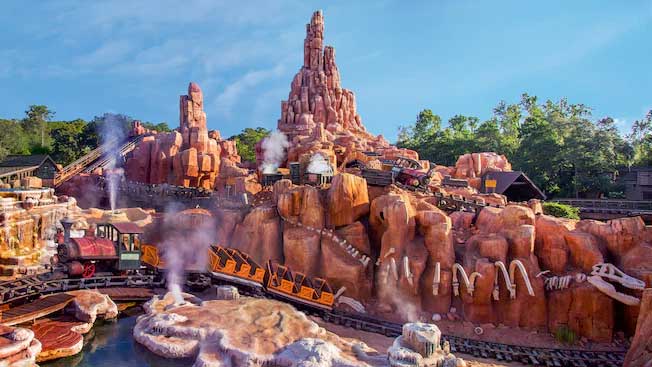 Innovative from its roots
Right from the beginning, technology has proved crucial to the ride and rollercoaster experience. The first rollercoasters were made from wood and often resembled steeplechases. However, they quickly progressed thanks to advances in steel manufacture. Today, the theme park ride is a high-tech multi-media experience. It's also highly dependent on the latest audio-visual equipment to provide a heightened sense of immersion and entertainment.
The evolution of technology, a ride to ride journey
When the Walt Disney Company relaunched its California Adventure theme park in Anaheim in 2012, the corporation recognized the need to inject more "Disney DNA" (as CEO Bob Iger described it) into the park design.
Disney added Cars land, based around the Disney-Pixar hit film series. Electrosonic worked closely with Disney Imagineering to create the lead ride Radiator Springs Racer. The company provided an advanced audiovisual system for the slot-car type feature. One of the most expensive rides ever, it has become a firm favourite for park goers.
Electrosonic also designed and installed technology for Transformers: The Ride 3D at Universal Studios Hollywood and Universal Studios Singapore. With film-based rides increasingly popular, coaster design is expected to further the filmic experience. For example, by extending stories, revisiting lead characters, and, most of all, delivering authentic action sequences. Through projection, large-scale displays, acoustics and all manner of immersives, audiovisual technology transports the visitor into the world of blockbuster film.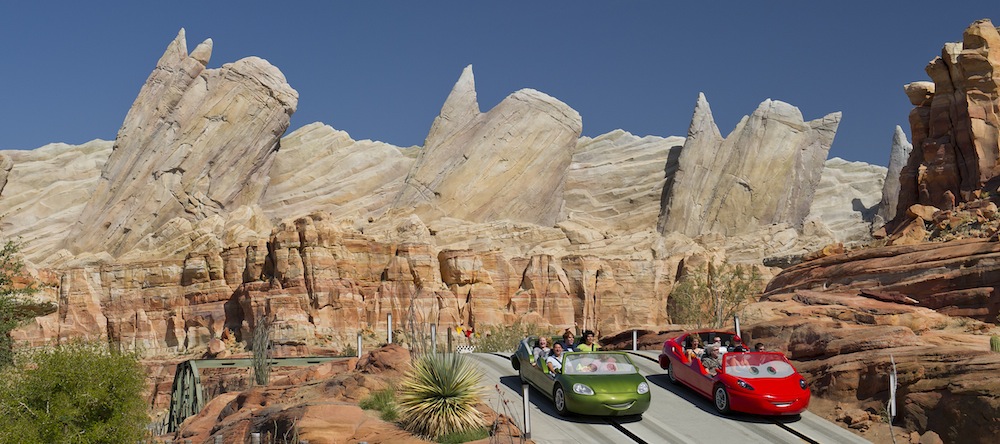 Dark Rides
Dark rides equally rely on audiovisual technology for their thrills. At Happy Valley Park (Shanghai) and Window of the World (Shenzen), Electrosonic provided projection systems, controls, 4D effects and lighting to both attractions.
In order to enhance the simulation of travel, the 4D effects on Window of the World include fanning water spirits and scents onto each audience member. This relays the experience of passing through Niagara Falls as well as a beautiful pine forest.
Where we've been and where we're going
Audiovisual technology is very much part of the fabric and DNA of the modern theme park. In the 1950s, individual themes were effectively rendered in plaster and concrete in park design (Disney's Jungle Cruise famously featured rubberized alligators to frighten people). However, today's parks rely instead on screens and displays to provide the thrills and perfect the fantasies.
Park architecture is now firmly technological and rooted in the provision of digital experiences. These experiences can range in scale and application. From phone apps relaying park information and 'fast pass' touch-screens positioned around the park, through to the monitoring of guest flow and deployment of projector screens advertising live parades and hourly activities.
Well-positioned audiovisual technology amplifies park themes, advertises products, and generally raises the bar in terms of intimacy, adrenalin, and entertainment. The customer experience of the park is increasingly based around this digital gaze.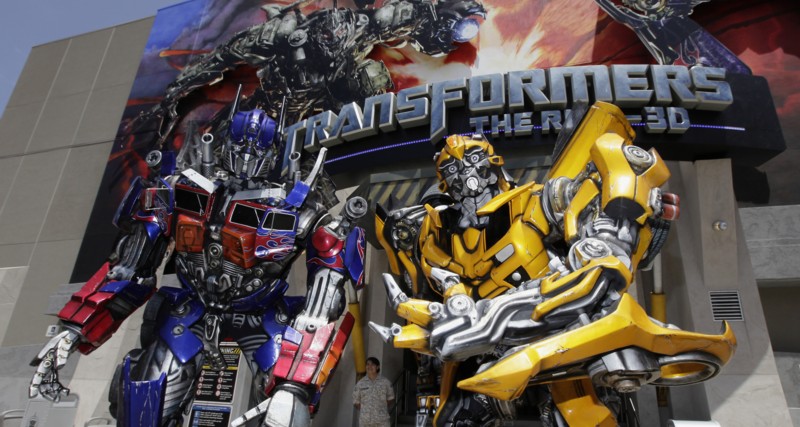 New technology and park design
New technology also tackles some of the traditional problems of park design. Queues have long posed a challenge to park designers/architects. Popular rides can lead to lines of frustrated customers. While the physical answer has for some time been 'disguised' corridors, audiovisual technology offers novel ways of tackling the issue.
At Radiator Springs Racer, as the queue winds through a physical recreation of the Route 66 town of 'Stanley's Oasis,' Crazy 'Cause I Love You by Spade Cooley (1946) plays in the background. Modern coloured lights shine inside vintage glass bottles, while automated jets spray water over guests.
At Transformers: The Ride 3D, a series of display screens explain the Decepticon plot and the visitor's role as a new 'recruit' in the war against the machines. Film props, emergency lighting and loud sirens add to the intensity and authenticity.
Technology can offer far more than a simple distraction in such situations. It can introduce the ride's narrative, flesh out specific scenes, advertise product lines, and increase anticipation for the main event.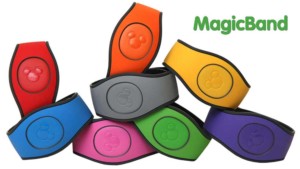 Queues at food halls have similarly taxed park designers. The Disney 'Magic band' wrist device with RFID technology tackles this. It allows visitors to order food in advance, pay electronically, then be greeted by name upon arrival.
Tackling queues is one impactful way that theme parks can create great customer experiences using technology.
Unique experiences
With thousands of people passing through parks every day, designers have struggled to provide personalized, unique experiences for visitors. With ticket prices now moving upwards of three-figures, expectations grow over what one park day can provide.
Audiovisual technology has helped make the theme park a more personal and satisfying experience. People feel more in control of their time and able to negotiate the fantasy spaces to get the most from them. Even at smaller parks, the clever placement of digital screens, projectors and acoustics can create a valuable sense of 'being somewhere special.'

The theme park magic is now the theme park technology
As Walt Disney realized back in the 1950s with Disneyland, people have the natural desire to escape to fantasy worlds and feel part of magical and entertaining stories. At theme parks, solid interactive storytelling remains crucial for customer satisfaction.
Increasingly, in the 21st century, stories are told not through the medium of paper, hand-drawn cartoon or even the mechanical ride. Instead, digital screen and audiovisual technology build stories. This technology will soon allow visitors themselves to shape park stories.
For example, with novel uses of digital interactivity via option screens, facial and voice recognition. Digital technology thus increasingly provides the theme park magic. Many attractions are realising they can create great customer experiences using technology, taking full advantage of the latest trends.
About Dr John Wills
John Wills is a Reader in American History and Culture at the University of Kent. He researches American popular culture. Specifically video games and digital culture, dystopian movies, Disney, and the amusement park industry. He has contributed to the US Library of Congress Film Registry and exhibited work on video games at the British Academy. His most recent books are Disney Culture (2017) and Gamer Nation (2019).