Our one day conference featured a packed schedule of expert speakers from across the attractions industry.
blooloopLIVE UK 2019 took place at PwC's global headquarters at London's Embankment on 5 December. A room full of professionals from across the attractions industry enjoyed a full programme of talks from leading experts in the business.
"The people who are present are real players in the industry so the level of conversation is very high, it's very informative." Joe Rohde
A link to the programme for the day is here.
Charles Read, Blooloop's Managing Director, began the morning's sessions by welcoming attendees and thanking the event sponsors. This included platinum sponsors Teq4, and gold sponsors DOF Robotics and Picsolve, who also provided the official photographs of the day. Silver sponsors of the event were Gateway, accesso, Electrosonic, TOR Systems and Scruffy Dog Group.
In addition to this, blooloopLIVE UK 2019 was supported by Boo Productions, Bompas & Parr and the Department for International Trade. Video was provided by Katapult and the event was run in association with Strategic Horizons LLP and PwC.
The Experience Economy 2.0
First to take to the stage for blooloopLIVE UK 2019, in a session entitled The Experience Economy 2.0, were Joe Pine and PY Gerbeau.
Pine, who recently released a new edition of his classic book The Experience Economy, written with James Gilmore, spoke about how the attractions industry has evolved. Guests want experiences, but on top of that, they want ones which are memorable and personal.
Central to Pine's argument is the idea that attractions are competing with each other to capture their audience's time, attention and money. And the most valuable of these is time – in a modern society where time is a precious resource, a truly good experience is time well-spent.
Thanks for a great event and your coverage of it here on Twitter! Super audience — perfect for my message. https://t.co/kazgX3qIGK

— Joe Pine (@joepine) December 6, 2019
"Consumers want to spend their hard-earned time, and money, on the experiences that they value," said Pine.
Blooloop gets together the attractions industry, all in one place to learn from some of the best experiences out there." Joe Pine
The London Resort
Following this, PY Gerbeau of The London Resort treated attendees at blooloopLIVE UK 2019 to a first look at the new imagery for the new theme park resort planned for Swanscombe in Kent, UK.
The London Resort is set to be the largest theme park in the UK, and guests will be able to reach the site from London by train in 17 minutes. It will offer attractions based on world-class IP from both Paramount and ITV.
The wait is over! Take a first look at the concept artwork & the six lands coming to The London Resort @Blooloop, hinting at the next generation rides and unique experiences you can expect. Find out more about the upcoming journey here https://t.co/7ZLOKfXc90 #blooloopLIVE pic.twitter.com/8RmEVFrRiZ

— The London Resort (@LondonResort) December 5, 2019
In an exclusive for blooloop attendees, Gerbeau revealed the parks six themed areas. These are The Isles, The Kingdom, The Woods, The Studio, The Jungle, Starport and the High Street. In addition to this, the site will feature hotels and a conference centre, as well as an esports venue and water park.
Sustainability is an important part of the project for Gerbeau, who said, "We have an agreement with EDF to be the most sustainable and close to carbon-neutral destinations in the world. Our entire energy source will come from renewable energy."
Gerbeau also spoke of the importance of integrity, and of leading by example.
"I think they are game changers and they gave us a great platform with tons of industry experts." PY Gerbeau
UK Innovators at blooloopLIVE UK 2019
The second session of the morning featured Euan Cameron from PwC, Sharon Ament from the Museum of London, Dr Sharon Redrobe OBE from Twycross Zoo and food experience designers Bompas and Parr.
Cameron, who is PwC's UK Artificial Intelligence leader, began the session by taking a look at some of the latest developments in Artificial Intelligence (AI) as well as examining their practical applications. He used several examples of 'boring' AI – systems that are hard at work behind the scenes improving core operations.
One of his key points was that intelligence needs to be kept in context – we need to remember what machines are good and bad at. For example, AI can have a huge impact on the effective interpretation of data, but it cannot always understand deeper meanings and lacks a depth of emotional intelligence.
He also talked about the three core factors of responsible AI – accuracy, transparency and ethics, and how there is often a balance or trade-off between these.
A new museum for London
Ament is the Director of the Museum of London. She used her presentation to give the blooloopLIVE UK 2019 audience a glimpse at the exciting new site for the museum, coming in 2024. The popular London institution is moving to a new site in the Smithfield Market. Here, it will make its new home in a historic Victorian building.
Ament spoke positively about the new site. She praised its history and its connection to the London of the past, as well as its present-day iteration as a busy, 24-hour part of the city. The project aims to keep a sense of the place and celebrate the existing architecture, while also creating a modern museum – London's shared place in the middle of it all.
"People want a connection to the stuff around them," said Ament, describing how the museum is on a mission to consult with and engage 100,000 Londoners ahead of the opening. "But we also need to tell the hard stories as well as the wonderful stories."
The role of the modern zoo
Following this, Redrobe, the CEO of Twycross Zoo, took to the stage to discuss the role of the modern zoo. She was awarded an OBE in 2017 for services to Skills, Science and the Economy of Leicestershire.
During her presentation, Redrobe spoke about how the reason for zoos existing has changed. Originally, their primary purpose was to be visitor attractions. However, they can now serve an important purpose as thought leaders in the world of conservation.
A third of the UK population visits a zoo at some point in their life. Redrobe says that this means zoos have a captive audience and a unique opportunity to educate and inspire. While a good modern zoo, such as Twycross, still runs as an attraction, it also conducts a great deal of work in the fields of conservation, education and research.
"What is important for us all, especially those zoos who want to lead the way in conservation is that we do justify what we're doing," says Redrobe. "And that it isn't just words."
Redrobe also points out that zoos are good for the economy. They can also help with campaigns to promote STEM subjects to young people – what she calls "making science sexy."
Finally, she also stressed how important it is for zoos and aquariums to inform the public, to weigh in on topics where it has the expertise, and not to leave the debate to others.
"I really love coming to Blooloop. It's really exciting to hear across different industries. I always come away buzzing with ideas." Sharon Redrobe
Finishing the morning with a bang
Sam Bompas and Harry Parr of Bompas and Parr, the food experience designers, finished off the morning of blooloopLIVE UK 2019 in their signature explosive style. They spoke about how the company began in 2006 as an artisanal jelly producer, who made their own Victorian-style moulds.
They also explored the trend for eatertainment, food as an experience, and gave some examples of previous interesting projects. For example, cooking over lava or making the world's lightest meringues. The pair have also provided a taste experience for the Guinness Storehouse in Dublin.
Changing hearts and minds through #immersive experience @BompasandParr #blooloopLIVE #Brexit pic.twitter.com/v4rviNXZce

— Blooloop (@Blooloop) December 5, 2019
For Bompas and Parr, food is something that should engage with all the senses, not just be a passive experience, and they said, "you should always, always, smell your food." The pair spoke about how sight impacts on flavour, and also how everyone tastes differently.
After tasting some of their unique jelly creations, the audience braced themselves for an explosive show. Bompas and Parr set off a chain of reactions that ended in whisky-soaked ping pong balls raining down on the front rows.
Authentic brands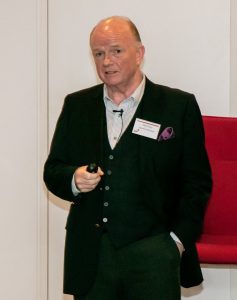 After a delicious lunch and time to catch up with friends both old and new, attendees settled down for a packed afternoon with more key speakers from the industry. The first session looked at brands, and featured insights from Paul Carty of the Guinness Storehouse, Fiona Eastwood of Merlin Entertainments and Xavier López Ancona of KidZania.
Carty, CEO of the Guinness Storehouse, began the session by talking about why Guinness decided to create a brand experience. He spoke about how the brand was in need of an update and was thought of as an "old man's drink". 10 million pints of the black stuff are drunk worldwide every day. However, the company wanted to work on repositioning the brand as a young product in order to stay relevant.
In creating the Guinness Storehouse, the company brought the brand story to life. It focused on providing an authentic and engaging experience. Carty also talked about how it is constantly innovating and adding more to the attraction. The company's €16 million expansion plan includes doubling the size of the panoramic Gravity Bar at the top of the building.
"I thought today was fantastic, the line up of speakers was just incredible. The much more intimate manner makes it really interesting. I get great value out of meeting other people and sharing ideas." Paul Carty
Taking advantage of FOMO
Eastwood, MD of Midway at Merlin Entertainments, spoke about Merlin's technique of building a portfolio of global brands.
She was also one of several speakers throughout the day to mention the concept of FOMO – Fear of Missing Out. She explained how, given the explosion of 'experiences' on offer, attractions must rise to the challenge. They must offer something 'unmissable', as well as striving for operational excellence.
Eastwood also spoke about the importance of empowering staff to go the extra mile for guests. She equated staff happiness with guest happiness, "People turn the OK into the memorable. Delight the guests and the money will follow."
"It's always good to get out there, out of your comfort zone and hear from your peers and also the stuff that's coming down the track. It's absolutely been a brilliant day." Fiona Eastwood
Edutainment
López is the founder and CEO of KidZania, one of the fastest-growing hands-on kids' entertainment brands in the world. He spoke of how the edutainment brand focuses on learning through active play. It allows children to learn life skills in a safe and authentic environment.
When visiting a KidZania venue, young guests can choose from a huge range of vocations to explore. Here, they learn about the world of work, and how to be good citizens.
López spoke about the importance of working with industry partners when creating the experience. This means that the company can achieve quality content and realism, as well as benefitting from extra investment.
"Today was a great day. We are so happy to see old faces but also a lot of new faces that we want to work and interact and play with." Xavier Lopez Ancona
Celebrating creatives at blooloopLIVE UK 2019
For the final session of the day, three leading creatives from the attractions industry took to the stage; Vince Kadlubek of Meow Wolf, Sarah Gibbon of Universal Creative and Joe Rohde of Disney.
Kadlubek is the Co-founder of Meow Wolf. He spoke about the origins of the arts production company that began as a collective in Santa Fe, New Mexico, in 2008. After making several noteworthy installations, the group created The Due Return in 2011. This fully-explorable, two-storey ship welcomed 25,000 guests in 3 months.
"Here at @MeowWolf we've realised people desperately want to go through their household appliances" #blooloopLIVE pic.twitter.com/bFtLJZF3LL

— Blooloop (@Blooloop) December 5, 2019
Then, Kadlubek met Game of Thrones founder George RR Martin. Martin bought Meow Wolf its first permanent space, a 30,000 square foot ex-bowling alley in Santa Fe. This is now home to The House of Eternal Return. During the day, this is a space for exploration and transformation, before switching to a performance venue at night.
Kadlubek says this project allows visitors to feel safe to explore the unknown. It taps into that desire for a transformational experience.
Universal's Epic Universe
Gibbon, VP and Executive Producer at Universal Creative, spoke next. She gave attendees some information about the company's new project: Epic Universe. This, she says, will be a place where beloved stories are brought to life.
In the creation of such a highly anticipated theme park, Gibbon stressed the importance of communication at all stages. In addition to this, she spoke about making sure that all stakeholder's expectations are aligned and that everyone involved is on the same page.
Gibbon also talked about the importance of respecting the various brands and IPs involved in order to keep fans happy. She said that theme parks can take these familiar stories to new levels to create a truly immersive experience. She also mentioned that not everything has to be high-tech in order to be immersive.
On the topic of creativity, Gibbon stressed that making experiences for everyone is key. And crucial to the realisation of this epic project will be nurturing relationships with suppliers.
"I've loved networking and meeting all the other speakers. Really good day, good people." Sarah Gibbon
A Disney legend at blooloopLIVE UK 2019
Finally, Joe Rohde, Senior VP at Disney and lead designer of Disney's Animal Kingdom, addressed the audience. He used his presentation to talk about how the industry has evolved. This is thanks to the growth of the sector as well as the advances in technology.
One of his key points was the importance of honesty and authenticity. Also of making something that makes a genuine connection with people. Rohde then said that theme parks can provide emotional and physical content that engages with people's desire to play.
He also warned of the danger of going in a circle. He advised that projects need to bring in different people in order to create something truly new.
That Vince Kadlubek (the MeowWolf guy) is a smart dude. And Sarah Gibbon is nobody's fool either. Makes for interesting conversation. https://t.co/bptlfP9kd5

— Joe Rohde (@Joe_Rohde) December 6, 2019
Rohde also gave an example of the importance of engaging with new people when talking of Aulani. This is Disney's Resort and Spa in Ko Olina, Hawaii. Here, he says, the team engaged with members of the local community at the start of the project. This involved them and gave them a voice, in order to counteract any negative feelings about the development.
"It's really been great. The calibre of people speaking here, owners and leaders, really raises the level of conversation." Joe Rohde
Drinks and networking
After a day of fascinating talks, attendees enjoyed an evening of drinks and nibbles in PwC's spacious atrium. This was a chance to catch up with familiar faces. In addition to this, attendees were able to make new connections and reflect on the day's insights. Below is a wonderful visual summary of the day courtesy of Boo Productions.
Blooloop would like to thank all of the attendees of blooloopLIVE UK 2019. We would also like to thank our sponsors who made the day possible. Not to mention the amazing speakers who spent the day informing and entertaining us all. And of course PwC for hosting us.
You can see photos from the day here from our image capture partners Picsolve.
Furthermore, here's a fantastic video from Kataput:
We look forward to seeing you next year!