Last month, in a slowly unlocking world, I travelled to my hometown of Dundee to visit Night Fever: Designing Club Culture at one of the newest but most well-known museums in Scotland: V&A Dundee.
V&A Dundee had been open for just over a year when, like all museums in the UK, it had to close its doors in March 2020. The decision to host Night Fever had already been made. And this year it became the museum's re-opening show as lockdown started to end; a fact that brought new significance to both the subject matter and the exhibition:
"I can't think of a better exhibition to reopen V&A Dundee with, as we all look to the future with hope and optimism," said V&A Dundee Director, Leonie Bell. "The last year has encouraged everyone to consider what is important to them. It's been wonderful to see the growing recognition of the cultural significance of nightclubs.
"These spaces are a rich and influential part of our culture and we're delighted to be celebrating them." 
The exhibition was originally developed by the Vitra Design Museum in Germany and the Brussels Design Museum. V&A Dundee has adapted and developed the content to speak to a Scottish audience; in fact, this will be Night Fever's only UK outing.
During its time in Dundee, the location of the exhibition, the subject matter and the circumstances of the pandemic have all brought unique challenges to the V&A Dundee team.
Telling a Scottish story
The first challenge was how to take this European designed exhibition and make it uniquely Scottish.
Telling the Scottish story of design is a role the V&A Dundee has been boldly fulfilling since the doors opened in September 2018. It might seem self-evident now, but to many Dundonians – myself included – the idea that our city would position itself as being the national representative of anything has not always been so obvious.
Growing up in 1990s Dundee, when the city was still feeling the effects of post-industrial depression, it always felt as if Dundee's harshest critics were its own people. We weren't ones to blow our own trumpets. And even if we did, deep down, feel that Dundee was the greatest city in the world? We weren't rushing to tell anyone about it.
Thirty years later, and everything has changed. It wasn't just the V&A, although that certainly focussed international attention. Dundee has been the UK's first and only UNESCO City of Design since 2014. The cities' universities boast one of the top art schools in the world as well as a centre of scientific excellence in Life Sciences.
The city also has many excellent museums. For instance, Discovery Point, Verdant Works: Scotland's Jute Museum, Dundee Science Centre, McManus: Dundee's Art Gallery and Museum and Dundee's Museum of Transport are all popular visitor attractions.
Dundee and the 'national voice'
Even during the city's meteoric but well-deserved rise over the last decade, you could sense a wry scepticism from Dundonians who had spent their whole lives quite happily under a bushel.
"Have they been here?!" I remember my Dad saying incredulously when Lonely Planet named Dundee one of its 'must-visit' destinations of 2018. It's isn't that we don't think Dundee's great; we're just not used to anyone else agreeing. It's a kind of latent civic insecurity that can still leap up, ghost-like, from our post-industrial past.
V&A Dundee calls its permanent gallery the Scottish Design Galleries. The first time I visited, I remember my first thought being: 'the brass neck of that!'
Despite my deep love and appreciation for Dundee and how much we've grown, I couldn't help being somehow shocked that we were positioning ourselves as the keepers and broadcasters of this national story. 'Edinburgh and Glasgow are going to be raging' was my second thought. 'Good!' was my third.
So, although it would be unfair to say the V&A was the sole driver behind Dundee's cultural renaissance, for me it does represent a turning point. It is a new voice that both articulates civic pride and isn't afraid to tell national stories.
Night Fever
As the museum develops, therefore, it's critical that it continues to find the Scottish perspective in the different temporary exhibitions. For example, for its first headline exhibition, the V&A Dundee brought up the show that had been such a hit at the V&A South Kensington: Ocean Liners.
This wasn't a simple relocation, however. In exploring the design of ocean liners, the museum added a Scottish flavour. It ran locally-themed events and programming alongside the exhibition.
Night Fever also brings a Scottish perspective to the international world of nightclubs. In one section, the exhibition explores the tightly knit network of DJs, clubs and promoters that have come together to create a uniquely Scottish clubbing identity. A newly commissioned film by Tim Knights celebrates this experience with found footage.
This section also examines the design of some of Scotland's famous nightclubs; Sub Club in Glasgow, Club 69 in Paisley and Fever in Aberdeen. It also uses club clothing to explore the personal experiences of being part of Scottish club life.
Bringing the nightclub to life
One of the biggest challenges in creating Night Fever must have been working out how to bring the nightclub atmosphere to a daytime exhibition space.
As Bell says, "clubs are fascinating spaces where a huge range of design disciplines come together to create distinct, collective, and immersive experiences on the dancefloor". How can this be replicated in the museum space where good lighting and coherent sound design is needed to create an accessible experience?
The exhibition brings several elements of the nightclub together to create the right atmosphere. The hanging glitterball, red carpets, neon signs, club clothing and photography all contribute to the club aesthetic. Furthermore, there is authenticity to it. These aren't just bits of set dressing. The hanging glitterball, for example, is the actual glitterball from the iconic and now closed Hacienda in Manchester.
The most interactive section is probably the silent disco; distanced of course, because of COVID. But still, at the time of opening, the closest any of us could get to an actual disco.
The V&A team reworked this section to make it more accessible and COVID-safe; increasing social distancing between the headsets and raising the walls to provide access and ventilation. Nevertheless, once inside, the experience feels truly immersive. The rest of the exhibition is temporarily blocked out and you can imagine yourself in a world that is currently out of bounds.
The social aspect of club cluture
Participation is also an important element of bringing club culture to life. As the exhibition tells us: "Clubs are democratic, form communities, and create identities. But they are also exclusive; not everyone is admitted."
There is an intrinsic connection, therefore, between club culture and social currency; word of mouth, recommendations and the forming of space-specific communities.
My favourite bits of the exhibition were the areas that allow for social fingerprinting; interactive maps of regions of Scotland, where visitors can locate their own favourite nightclubs, include those that may be missing, add in dates of operation and form their own map of regional club culture. In this way, visitors can take part in the social communities surrounding club culture. They can also share memories of their own experiences.
The pandemic perspective
It is perhaps inevitable that we view exhibitions during this period of 'unlockdown' through a new lens; one that is understandably coloured by our experience of the pandemic.
When the V&A Dundee announced Night Fever, the team could hardly have imagined that visitors would be experiencing the show at a time when thumping bass, strobe lighting and a friendly mash of bodies feels like a distant memory. Does this change how visitors experience the exhibition?
It certainly did for me, although it wasn't so much nightclub nostalgia that struck me as the possibilities ahead.
COVID has made us consider space and society in a new way. There are multiple theories circulating about how our relationship with the built environment might evolve, from the high streets being filled with experiences rather than retail; the decentralisation of the cities, and how the predicted 'new roaring twenties' will impact our cultural spaces.
Nightclubs can be a hotbed of design and architectural experimentation. So, they are the perfect arena to explore where these theories might take us.
When thinking about our urban spaces of the future, I was struck by how many of what I assumed were recent innovations have been already been created in the laboratory that is nightclub design.
A laboratory of urban architecture
For example, take 'pop-up' spaces, which I had thought were a fairly recent trend. Actually, I learnt that nightclubs have been appearing and resurrecting in temporary formats for decades.
Nightclubs have been appearing and resurrecting in temporary formats for decades
One of the early Italian nightclubs featured in the exhibition, Bamba Issa, which opened in Forte dei Marmi in 1969, was re-designed every year for its summer-only disco. One version recreated an abandoned highway in an African jungle, whilst another resembled a black-market funfair.
Pop-up theme bars have, it seems, have been around for many years. These have allowed architects and designers to play with space and expression, setting the tone for the season and shaping the experience of their users.
Night Fever reveals early innovations
Many of the early nightclubs were also part of mixed-use developments– a term that I as a layperson always think of as relating to more recent planning processes.
The Yellow Submarine disco (opened in Munich 1971) was part of the new leisure city of Schwabylon. This short-lived project included apartments, a pool, an ice rink and a marketplace as well as the club. It was demolished in 1978.
The unrealised Palais Métro in Montreal was conceived in 1967 as part of a shopping and nightlife hub. And Milanese boutique Altre Cose was designed in 1968 to be above nightclub Bang Bang. The idea was to experience the two venues as a single event.
The idea of sustainable futures also jumped out as a key theme in the exhibition. Many of the nightclub designs highlight the re-use of space, especially in a post-industrial environment.
One example is Space Electronic, which opened in 1969 in an old engine repair shop in Florence. This aesthetic also carried into the interior design of the club. Furnishings included salvaged washing machine drums and refrigerator casings. More familiar to UK readers might be the example of The Hacienda in Manchester.
The Hacienda: a blueprint for redevelopment
The Hacienda, built in a former shipping warehouse, opened in 1982. Designer Ben Kelly conceived the club's iconic post-industrial interiors in conjunction with this setting. There were black and white bollards, hazard striping and industrial grey paint.
Despite its closure in 1997, the exhibition explores the impact of this re-use. It argues that The Hacienda offered "a blueprint for the creative revitalisation of the former textile mills of Manchester in the years that have followed."
However, as well as a blueprint for the future, nightclubs can also be a reminder of the roads not taken. Several of the nightclub plans exhibited are for clubs that did not come to fruition.
A key example is Cyclia, designed by Jim Henson. This would have combined cinema and dancefloor to create what he envisioned as "pure theatre in a revolutionary new form. A perfectly controlled, unified environment of movement, images and sound."
Sadly (because who wouldn't want a dancefloor with The Muppets Take Manhattan projected across it), Cyclia was never built.
Night Fever & a post-COVID future
In the world of nightclub design, we don't just see glimpses of what the future could hold. We can also see possibilities never realised. In my mind, this provides a clear parallel to the current moment. I feel there are so many convincing theories circulating about what our post-pandemic world could be that we might be in danger of forgetting that we have any choice in the matter.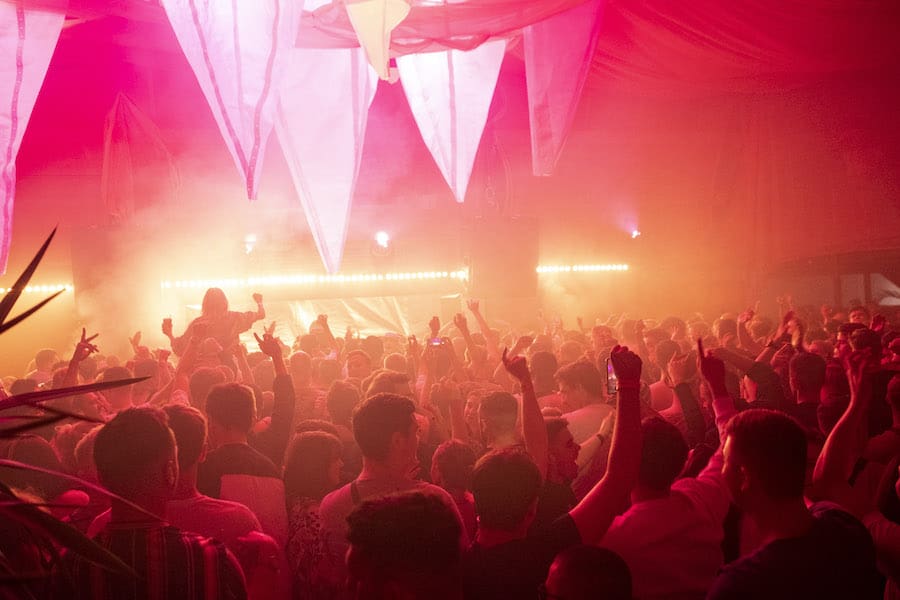 We might imagine that a decentralised urban environment, a more locally focussed lifestyle or an increasingly equitable society are inevitable consequences of COVID. However, without conscious choice, these ideas could just as easily end up as unrealised blueprints.
So, looking through my lockdown lenses, Night Fever was certainly a nostalgic and absorbing exploration of club culture. But more than that (and perhaps unintentionally) it was a reminder that although the possibilities are endless, the social and urban environment of tomorrow is one we have to determine for ourselves.
Night Fever: Designing Club Culture is on at the V&A Dundee until 9 January 2022.