The UK is participating in Expo 2020 Dubai, now taking place from 1 October 2021 – 31 March 2022. During the event, the UK pavilion will showcase its participation theme: 'Innovating for a Shared Future.' Laura Faulkner OBE is the UK Commissioner General & Director for the event. She spoke to blooloop about the highly-anticipated event, the impact of COVID, and the United Kingdom's contribution.
Laura Faulkner & the UAE
Outlining her career path and the route that has brought her to her current role, Laura Faulkner says:
"It's quite a long career. There are two or three strands to it that have come together to help bring me to this point.
"The first is that in the early part of my career, I spent about 10 years living and working as part of the foreign office, around the GCC states, the Gulf states, and, in particular, the UAE, doing trading investment, promotion, and networking for the UK government. This means that, at an early stage in my life, I understood the early growth path of the UAE."
"I was there, watching Jebel Ali being built and I was there when the Burj Al Arab was being topped out. I am familiar with all the Emirates in some detail, having driven them all on my own. That was more than 25 years ago."
A background in international business
The second strand is her academic background and career pathways around international business, finance and marketing.
"That enabled me to set a path to look at inward investment and trade promotion and development," she says. "Really, that has been my career anchor. About 15 years ago, I started to get very interested in the power of global events, and the difference that they can make for nations in terms of nations' branding and nations' economic prosperity."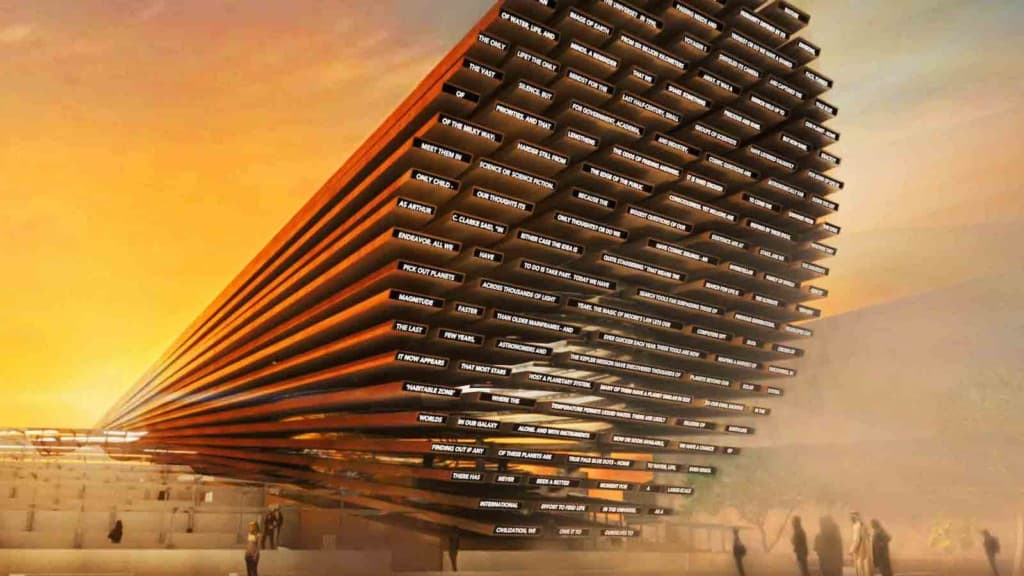 She took a job that enabled her to become the Business Director for the Nation for London 2012, designing the economic legacy of the Games, and what that might mean for the United Kingdom.
"That led me to create the British Business Embassy for London 2012, which took place throughout the Games. That is something that I'm deeply proud of. It set a tone and an understanding not just for our country, but for very many others, that you could genuinely look at economics, you could look at prosperity, you could look at national reputation around a major sporting event, and make it work in so many other areas."
The value of World Expos
From there, Laura Faulkner's relationships with World Expos started to blossom.
"I became the business director for Milan Expo ANON," she says. "London 2012 was a big trigger point. But earlier in my career, I had also been involved in things like the Commonwealth Games in Manchester, Sochi, and various other activities. So it has been there in the background all the way through. As the UK announced its support for the expo bid the UAE placed, all of those roads converged.
"Not only did I want to do this, but it seemed to me obvious that I should."
World Expos, which originated during the budding period of the Industrial Revolution in the mid-19th century, are an interesting phenomenon. They bring together the best aspects of national identity with globalism in a universal celebration. In the aftermath of the last year, the Expo is a concept that signposts the way towards healing:
"Pre-pandemic, expos were the world coming together in one place for a specific purpose that you could determine. I break down an expo into five baskets of activity: business, culture, education, tourism, and sport. These are, I believe, the five pillars of common ground for most of the largest events on Earth.
"Expos are not designed for business. They have always been heavily weighted towards future solutions, education and innovation. But I think the pandemic has brought a complete change of focus. All of the Commissioners General that are working on the Expo in 2021, and the Emirati host organizing committee are very clear that this is a moment of healing for the world.
"It will be the first time that the world physically convenes. It is a celebration of the ingenuity of the human spirit, all totally wrapped up in that word 'healing'."
See also: Why Expo 2020 Dubai will be 'one of the biggest destinations on earth'
Bringing people together
You can, she maintains, choose how to interpret that:
"You can say, 'We're going to do what we did before the pandemic; we're just going to do it better, and with a happier heart'. Or, you can say, 'We've learned so much that what people are going to see at Expo has a completely different feel.'
"For me, this World Expo will have all of the fun, ingenuity and innovation of a major temporary visitor attraction. But it will also showcase how to do things differently, for the very first time."
In the light of the events that have characterized the last year, the Expo will inevitably carry an extra significance:
"There have been some huge movements that have mobilised during the last 12 months ways no-one anticipated. What is clear is that the intention of this Expo was very much to celebrate and shine a spotlight on all of those issues before the pandemic was a thing.
"The intention of the UAE was always to look at youth, to be inclusive, to be diverse, to be innovative. And to focus on what brings us together as a planet. There has always been, in the intention of the organising host nation, the words 'Connecting minds, creating the future.'
"The United Kingdom's part was to echo that and to say that our contribution is innovating for a shared future. It is implicit not only in our participation but in who we are. The DNA of the United Kingdom is that we're global Britain."
The UK pavilion
The UK pavilion's design reflects its theme. The main installation is a large Timber Cone structure manufactured from CLT cassettes with integrated LED displays. Each of the Expo's anticipated 25 million visitors will submit text to the Pavilion. Then, shifting poems will be automatically generated and displayed both internally and externally.
The visitor experience explores the story of how the UK's role in AI and Space is impacting humanity, with augmented reality experiences, and an enriched digital journey.
"Every time we participate in an Expo, the UK throws out a really wide pavilion design brief, intentionally," says Laura Faulkner. "And we are not prescriptive in what we ask the creative sector in the UK to give us back. In order that we can, perhaps, challenge ourselves to be even more innovative, and even more creative.
"That is why, for the last few Expos, we've ended up fortunate enough to win awards for our creativity and design."
Celebrating AI
This time was, she says, no different:
"We sent out a message that we wanted to look at innovation, and celebrate artificial intelligence and space within our theme. We had a big competition with lots of entries. The successful entry was a collaboration between Avantgarde design consultancy and Es Devlin Studios.
"Es Devlin, the key designer, took inspiration from a number of places, but looked particularly to all of those innovators that had gone before us; everyone from Ada Lovelace through to Professor Stephen Hawking, and, in particular, his breakthrough projects that mention the words 'Sending out a single collective message to other civilisations'."
Laura Faulkner's take on that is, she says, really simple:
"All of these innovators, and everything that the designer is trying to achieve, are wrapped up in one word, and that is unity. Whether you talk about a collective poem, or you talk about lots of nations coming together, what you are actually talking about is a unifying force. At this time for the United Kingdom, we are re-imagining our relationship with the whole world.
"The DNA of global Britain's pavilion is a message or friendship; a message of unity. So every single nation, every single visitor to the UK pavilion donates a word. This is combined into a single unified message."
The UK pavilion programme
In terms of the programme, she says:
"Making six months of activity meaningful at an event where 190 nations are participating is a tall order.
"So what the UK pavilion is trying to achieve with its programme is to engage all nations and all types of visitor into a single conversation. And that conversation is totally future-focused. We are going to run a programme that asks a series of questions to the world. Those questions include, 'In the future, how will we live? How will we thrive? How will we advance? What will we wear? How will we create? How will we learn?' – and so forth."
"What we're not doing with that is coming out with a UK broadcast of what we are good at. What we are asking the world to do is join us in answering and examining some of the most important questions that face the planet.
"It's a completely different approach than has perhaps been taken in the past. It's very collaborative. In each of those questions, we will be engaging with children, with students, with business leaders, with educators, with scientists, with thought leaders, and with governments."
Laura Faulkner on the impact of COVID-19
The Expo was originally going to be held in 2020. However, the COVID pandemic meant a radical change of plans.
Laura Faulkner comments:
"We were ready to launch our programme at the UK pavilion. The UK was ready to take it through media, to market, and to all manner of potential audiences. We paused immediately, as everybody else did. But haven't wasted that time. We sat, reflected and absorbed the changes going on across the world."
While there have been changes to the programming, she says:
"If I had to guess, it's an 80% firm programme, because we were looking at the future, with a 20% change, to reflect what's being learned. So many aspects of the lives of every global citizen have changed as a result of this."
"But as we lift our eyes up from the pandemic, the world is still there; the issues that face our planet are still there. We just have a different perspective, and, actually, some greater degree of confidence that we can rise to those challenges as a result of the pandemic.
"You have to take positives from moments of crisis. Every leader in the world is asking us all now to take a look at the future. What that means to us is that we are running a visitor attraction in the middle of the biggest event ever. And we had had to make sure that it resonates with people in a way that, perhaps, we hadn't even imagined would be possible before.
"Social distancing is a phrase that nobody had even thought of 18 months ago. The biggest visitor attractions in the world are now looking at what that means for them. It's exactly the same iterative process that is going on with Expo.
"The good news is that everybody is talking to everybody to share knowledge and understanding on that."
Showcasing innovation
Turning to the subject of the innovations that will be showcased, she says:
"There are so many. We have 182 days of programming to deliver in Expo. The UK pavilion will have maybe 8-10 weeks of peak activity, where we will be showcasing quite a lot of UK innovations, but we are also celebrating our role in some innovations that are global. Things like the Space Race, where no one nation is an island, and everybody does that together.
"Likewise, the innovations that are very currently front of mind around health, and the role that the UK has played in that global, collective leap forward that the planet has taken recently. There are also innovations in how we relate to one another; things like the role of artificial intelligence in smart cities of the future. The innovations that are one display are not, and this is really important, just for the wealthiest nations on Earth.
"It is a key promise that we have made ourselves that we will be showcasing technology that is for everybody."
The legacy of the UK pavilion
Laura Faulkner and her team are still thinking about what will happen to the building when Expo is over:
"We're taking our time to understand what the best use of the word legacy is," she says. "In many ways, when you look at the legacy of something like a World Expo, or the UK's participation in it, you can talk about it in a physical sense, or you can talk about it in a digital sense, or you can talk about it in an economic/relationships sense."
"The UK pavilion is built on a piece of artificial intelligence that is going to create a poem. So, the true legacy of this will be about that. It will be about that digital innovation inside the pavilion. Is our legacy a building? It's more than that, but I quite understand because of the reaction to the building itself, that people can build a great affection for the design.
"We want to take the best care of what we create. And we take our time to make sure that we give it the proper understanding about what it could be in the future."
Building relationships
Post-Brexit, forming new relationships is important for the UK. Addressing the question of whether Expo will help with that, Laura Faulkner says:
"It is well reported that 190 countries will be taking part. Over 100 are building pavilions and will have the more developed level of programmes at Expo 2020 Dubai. For the United Kingdom, it is really straightforward. We are reimagining, and we are accelerating, and we are building relationships with the whole world.
"Most thought-leaders, most governments, most innovators and most families that will visit, whichever group you're in, the United Kingdom has a message and a relationship to reinforce and build with those audiences."
The World Expo is happens outside the direct sphere of politics; an international relationship that is free from political connotations. That is one of the reasons it is so valuable.
She says:
"If you go back to 1851 and the Great Exhibition in London, the very first World Expo. Or you speak to the Secretary-General of the Bureau International des Expositions in Paris. You will understand the DNA of expos is absolutely clear. They are not about business and they are not about politics. Those are things that assist with the bigger questions that the planet is facing.
"Relationships are not one dimensional. When you are building a relationship between two nations, you're not just building it in government. You're building it in business, in culture, in education and understanding. You are building it on language, and on shared values, and on ideas. That is why Expo is important to us."
UK pavilion has something for all
It is, she adds, also important since the UK will host the 26th UN Climate Change Conference of the Parties (COP26) in Glasgow on 1 – 12 November 2021. This will bring parties together to accelerate action towards the goals of the Paris Agreement and the UN Framework Convention on Climate Change.
"The UAE is very clear that we will be talking a lot about climate change at Expo 2020 Dubai. The synergies between all of that is not lost on the UK. We are absolutely shoulder to shoulder, leaning in as a leading nation for addressing climate change in this Expo."
In conclusion, Laura Faulkner says:
"All of this grand plan is fine. But it has to be interesting, and it has to be exciting for the one child or the one family who have a single day to visit Expo or a week where they are physically able to participate.
"So, I have two messages. Number one, we are very excited and we're going to be doing some things that are just pure fun. The second message is for those people who cannot physically visit the Expo: we, the UK, have an offer for them, too."