MediaMation Inc., a leader in immersion entertainment technology, has signed an agreement with Kino Arena to open four MX4D auditoriums across Bulgaria.
MediaMation Inc. is pleased to announce that it has signed an agreement with Kino Arena to open four new MX4D venues in Bulgaria. The first to launch will be at the Mall of Sofia, set to open this autumn.
These new MX4D auditoriums provide an immersive experience and the state of the art seats deliver a full range of motion and effects as well as comfort. These include scent, neck and leg ticklers, vibration, and air/water blasts. They also feature MediaMation's innovative EFX armrest, designed to give every customer a uniform experience no matter where they sit in the theatre. All viewers can enjoy the same dimensional experience during the showing. Other effects also include wind, fog, rain and strobe.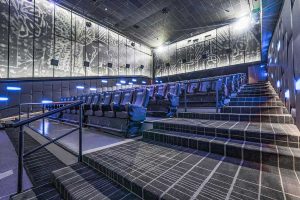 24th country for MediaMation
This agreement makes Bulgaria the 24th country to benefit from MediaMation's MX4D systems, and the company is likely to exceed 400 installations this year, at locations all over the globe.
Guests can enjoy a range of upcoming releases for MX4D, such as Terminator: Dark Fate, Charlie's Angels, Jumanji: The Next Level, Star Wars: The Rise of Skywalker and more. The experience lends itself to a wide range of genres, including action, comedy and horror films, as well as family favourites.
"MediaMation is proud to bring MX4D to the Bulgarian market in the beautiful Kino Arena theatres. They are great partners and we look forward to together presenting blockbusters in the coming years in our unique, fun and immersive format," says Howard Kiedaisch, CEO of MediaMation.
Expanding horizons
"Kino Arena is constantly expanding its horizons and strives to offer audiences nothing less than the best cinema-going experience. The installation of MX4D will allow us to continue delivering the latest cinematic innovations to make sure our customers have a better perception of the film content," says Dimitar Manchev, CEO of Kino Arena.
Kino Arena hosted a preview of MX4D at Aniventure ComicCon last weekend, at Sofia's Inter Expo Center. This was the first time it had been seen in Bulgaria.
Earlier this year, MediaMation celebrated the opening of India's first MX4D theatre experience. The launch was a celebrity event, with Bollywood star Richa Chadha present.