Ferrari World Abu Dhabi recently launched the WWI biplane-themed Flying Aces rollercoaster. This record breaking new coaster is inspired by Ferrari history, informing not just the look but also the feel of the ride experience.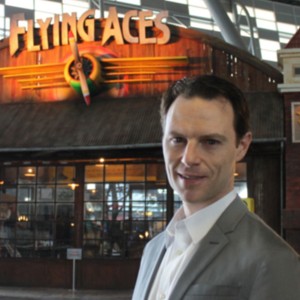 Blooloop spoke to George Walker, currently both Creative Director for Ferrari World and Vice President of Creative Development at Dynamic Attractions, about his background as 'a builder of stories' and the making of Ferrari World's Flying Aces coaster.
Ferrari World: Revving the Engine and Making it Roar
Walker joined Ferrari World in May 2013 as Creative Director, overseeing the major expansion with the aim of delivering new, world-class guest experiences to the park.  In total eight new attractions were planned, a number of them 'world's firsts', that would increase the park capacity by 40% and dramatically evolve the overall guest experience with the addition of ground-breaking special effects, story-driven attractions, and new themed environments.
He says, "I was very fortunate to get this opportunity to work on the Ferrari World project.  It was a good park – the Ferrari brand is well-known and it had a good foundation.  The idea was to build on this to give the guests even more and make a substantial reinvestment in the park, because they knew they had something special here.
"I like to put it this way, the Ferrari World engine was already there – our job is to rev it, and really make it roar."
Creating Story-Driven Environments
Walker outlines the challenge facing his team. Typically theme parks have a lot of content that they can draw from: Disney and Universal have libraries of movies, characters and so forth. Ferrari World is unique – a theme park based on a car.
"We knew we didn't want the park to feel like a museum or to be too much about 'edutainment'. We wanted it to live up to that entertaining theme park expectation, and that meant creating not only story-driven attractions, but also story-driven environments."
This has been achieved by exploring the origins and connotations of Ferrari.  One example is the creation of an Italian street.
"It's almost an interactive environment.  We filled the street with little surprises, interactive door bells, shadow projections in windows, funny audio tracks, and detailed propping to create a sensory engagement that transports guests to Italy.  You can push the doorbells on the faҫades and hear the proprietors who live inside; if you stop and listen outside the buildings you'll hear the sound of people talking coming out of the windows.  It feels like a very lived-in space.  It really is an attraction even though you don't wait in line for it."
The response from visitors has been very positive.  "We've found people enjoy spending time there, lingering, browsing through the props and wandering through the streets and soaking in the atmosphere."
As far as new rides go, there is the new Go-Kart attraction, which gives guests the chance to get in a car and race – a must at Ferrari World.
There is a family Dark Ride attraction in the pipeline, on the subject of which Walker's lips are sealed, beyond saying it will be very cool, cute and interactive. He continues:
"And then we have three e-ticket attractions – these are the big ones – coming up. The first of these is Flying Aces."
Flying Aces: The Creative Story that Inspired the Steel
The Flying Aces coaster theme is inspired by a story from the beginning of the last century.
Walker explains, "It turns out that, behind the Ferrari logo that everyone knows worldwide, there's this really great, romantic story: the little horse on that logo came from a plane that was painted by the pilot, WWI flying ace, Count Francesco Baracca."
After his first victory in 1916, Baracca painted the emblem of the prancing horse – the cavallino rampante – on the side of his plane as a homage to his former cavalry regiment.
The earliest pilots tended to be drawn from the cavalry regiments. At a time when skill at the wheel of a car was still rare, adept riders were seen as likely to prove equally intrepid in the air. In just two years Baracca, the Cavalier of the Skies, had no fewer than 34 aerial victories under his belt. Later, in 1923, a young aspiring race car driver, Enzo Ferrari, met Baracca's mother, Countess Paulina, who suggested that he should paint the prancing stallion on his car to him to bring luck.
A logo – and a legend – were born.
The team behind Flying Aces have used that story as the inspiration to transport guests back to the golden era of biplane flying.  The entrance to the attraction is themed as a WWI hangar.
Walker says, "And this is where you get to see what life was like for a pilot in the early 1900s. You enter the barracks and see the training ground and supply tent – it's an opportunity to immerse guests in an environment where there are no cell-phones; the trucks are more like rickety wagons without horses, the tactile feel of the environment is just so different from here, in Dubai and Abu Dhabi, where everything is so modern and sleek and new."
Walker wanted, too, to remind people of how fragile these planes were: crates of canvas and balsa wood, into which the pilots climbed, before taking off flying at tremendous speeds and doing daring manoeuvres.
He adds, "And we tie that back to Enzo Ferrari who pushed the envelope of performance in race-car driving just as Francesco Baracca pushed that envelope in flight.
"It's subtly underscored through some of the imagery we immerse you in – there's a gigantic sky mural that's projected, filling the sky with planes doing loops and banking turns and so on. So you really start thinking about it – now you've been taken back in time, immersed in this environment, and reminded of what it was like to be in this fragile world, been acquainted with the daring feats these pilots were trying to pull off in these very delicate, simple machines.
"And then the final stage is where we change the story from being about them to being about you."
This is where the guest steps into the briefing room, to be given not only the common-sense 'hands on the inside of the vehicle' safety information, but also their mission.
"It's your turn, at this point, to be as brave as these pilots you have just come to appreciate.
"You turn the corner and step into the airplane hangar which is also a load station; there's a musical crescendo as the doors open and, waiting inside the hangar, is your roller coaster, complete with propeller on the nose."
Having strapped in, the guest is catapulted out onto the fastest, steepest lift in the world.  The wing coaster from Intamin breaks two world records: the steepest cable lift and the world's tallest loop.
"You feel like you're in a plane, taking off into the air, and when you crest the top it's really more like a zero gravity moment that pushes you directly into the world's tallest loop, complete with a little, biplane-like barrel-roll twist at the top, and from that point on we worked really closely with the roller coaster engineers to make sure the feeling of these different banks and turns and loops all felt like airplane movements.
"It's truly an exciting and an intense recreation of the feeling of the flight of a WWI biplane."
An Initiation in the Magic of Themed Design
Walker says that one of the factors that made the project interesting was the experience of working with local vendors:
"The construction guys from the region, although experts in their own field, would be the first to admit they were new to the world of theme park design."
This, he adds, was both a blessing and a curse. While it afforded an opportunity to initiate people into the magic of theme design; the multiplicity of techniques used to play on guests' emotions through the environments and the construction of those environments, it was also a steep learning curve.
"If you think about a typical construction process, things are ordered, procured, scheduled, built. And those things have been built before: they're predictable, easily priced. It's all familiar territory, and the end product is a thing that everybody understands. The function is very clear."
A theme park's function, by contrast, is more ambiguous, and is based around the goal of maximising guests' enjoyment.
"A lot of time the things that you're building don't look like they make a lot of sense in typical standard construction terms, and it's only when you finally see the guests enjoying that environment that the light-bulb turns on."
The experience was, Walker says, both fun and challenging, affording him the opportunity to work closely with a tight team, proving the concept of how ride manufacturers, general contractors, the scenic and special effects specialists can work efficiently together to develop attractions using the range of disciplines.
A Comprehensive Approach to Attraction Design
Essentially, what Walker and his small team have been doing at Ferrari World is to bring all disciplines together to create the whole attraction: "… and that's a skill-set and an understanding and a set of experiences that is not all that common."
Historically, the companies that excel at this are Disney and Universal.
"They've got huge teams of seasoned veterans that have done this for a long time. They can go out into the market place and take each little piece that they need, because they've got a staff of experienced people that can pull it all together.
"At Ferrari World we ended up developing and putting together a lean team to do exactly that, very successfully."
Walker will be drawing on this experience with his new role as Vice President of Creative Development at Dynamic Attractions, providing clients with the comprehensive approach to attraction design that he has developed and perfected at Ferrari World.  Future attractions developed by Dynamic will employ the innovative strategy whereby all the major pieces will be folded contractually under Dynamic Attractions, resulting in fewer contracts rather than multiple contracts for all vendors.
Walker says that many companies use the term 'turnkey', but it is very vaguely defined, which can lead to misunderstanding or disappointment on the part of the client.
"A turnkey solution doesn't usually include the ride system and the facility integration and the special effects and the media and so on. It's still expected that the client/owner of the park, will figure out quite a lot of that on their own."
Guy Nelson, CEO of Dynamic Attractions, saw the potential and set up a new division of the company, "that wasn't about the ride system, but was about the attraction side of the name; the part that pulls all of the stuff together and wraps it around the ride system."  Joining Walker in the new enterprise will be Mike Haimson, ex Technical Director at Ferrari World and Cindy Emerick, "the business development wiz already at Dynamic" to create "the perfect triangulated team to lead this new division."
Walker says, "It's a bit of a crazy time for me in that regard. I'm essentially doing two jobs at the same time. But, I love it."
Emerging Technologies – A Foe We Cannot Outrun
Walker has an interesting view on the emerging new technologies and developments impacting on ride designs, and likely to impact on them in the future.
"Everyone you ask that question is going to say, 'Oh, it's going to be all about interactivity, and projection, and things like that'. My belief is that technology for technology's sake is a foe that we cannot outrun as a theme design industry. It's going too fast. It will not be long before it will become impossible for us to have something cooler and more interesting and more interactive in the theme parks we build than people can have at home in their living room. So the winner isn't going to be the one that thinks of the newest, latest technology. The ones that will succeed will be the ones that think of the most clever way to use that technology.
"Perhaps the projection used in Flying Aces attraction might be a good example of a baby step in that direction. Projection is the big thing in the theme park world these days, but we're not just saying, let's throw a big projection up on the wall and call it a day. Our projection is an added layer to an immersive scene, complete with a physical plane crashed in a tree, sets, and rockwork – it's a true environment.
"The projection is meant to be a seamlessly integrated element to help you use your imagination and pull you into this imaginary world a little bit further."
"Interactivity is not pushing a button, " says Walker.  "It's not coming up with some app or having you use your phone – people use their phones all day at home for free. They don't want to use them again at theme parks.
"That's not to say you couldn't come up with something that uses it in a new and clever way, that is actually fun and special, but forcing people to use their phones for no reason just because that means it's checking the box of interactivity, is one of the things that frustrates me, and I'm urging operators who may read this article to let that sink in.
"Interactivity can be anything that engages the guests. Interactivity can be hanging a physical bell with a rope on it that they're allowed to ring, because that's kind of fun.
"They're impacting on and affecting their environment – it's getting a reaction from those around them. It isn't just using their phone.
"The emerging technology is just the paint in the artist's palette.  It's what you paint with it that's going to make you succeed.  So the more technology there is, the better.  It means that we've got more paints, more colours, to choose from."
What's Next?
So Flying Aces has been ground breaking, not only as a record setting ride but also in terms of the immersive theming of the ride experience and the holistic project strategy from design to delivery.
"It's been a lot of hard work, " says Walker, "… and very definitely one of the most impressive teams I've had the privilege of working with. Holovis was brought in to provide the elements that I describe as all things magical, from the projected face of the parachutist stuck in the tree, to the Pepper's Ghost effect of the soldiers in the foxhole, and of course the massive, projection mapped sky mural that fills the sky with planes, all set to a majestic orchestral score that gets the guests pumped for Intamin ride system that delivers the final thrills.  Everyone involved should be proud.  This is truly a comprehensive, world-class attraction.
"That said, just wait until you see what we are opening next!"
Walker can't say much else about the attraction except that Dynamic Attractions is providing the ride system and AV with their partner Holovis, while Walker, in his Ferrari World role, pulls the other pieces together with his Ferrari World team.
"For me, it's going to be the number one attraction of the Phase Two expansion; it's the most story-driven, most sophisticated, most over-the-top attraction."
Images: Ferrari World and Intamin