In his 2004 book, The Medici Effect: Breakthrough Insights at the Intersection of Ideas, Concepts, and Cultures, Swedish-American entrepreneur Frans Johansson coined the term The Medici Effect when talking about the idea that diversity promotes creativity and innovation.
The inspiration for the name The Medici Effect goes back to 15th century Florence, where the wealthy Medici family acted as patrons to a wide array of artists, thinkers, architects, philosophers and more. This fusion of different specialisms, viewpoints and technologies sparked a period of creativity and innovation that lead to the Italian Renaissance.
Now, two respected leaders in the industry, Chuck Fawcett and Daren Ulmer, have come together to create a disruptive new venture: Medici Experience Development. The goal? To explore new ways to develop entertainment experiences, creating more immersive worlds than ever before.
Medici XD will bring together cutting-edge technologies, using physical, visual, interactive, and live elements to produce one cohesive experience.
Peter McGrath, former VP of Creative at Walt Disney Imagineering, gave Ulmer a copy of The Medici Effect around 10 years ago. This is when the seed was planted for the notion and subsequently the company name. Fawcett and Ulmer have taken inspiration from this idea of working with a diverse range of skills and aim to bring together the best multidisciplinary talent, in order to push the boundaries for experience development.
This begins by bringing together two industry veterans with diverse career backgrounds: Fawcett and Ulmer themselves.
Strong roots in the experience economy
Chuck Fawcett has worked in the attractions industry for over three decades. Yet, his passion for the business began at an early age. In 1979, a 12-year-old Fawcett went to see The Muppet Movie and says that this moment changed his life – he created a workshop in his basement and began to learn everything he could about puppet design, including how to sew, paint and sculpt.
In 1985, while still in high school, he began an internship with Kermit Love, one of Jim Henson's principal designers. Fawcett went on to study communication at Vanderbilt University, and in his senior year, he founded Animax Designs. Over the past 32 years, it has grown into a leading specialist in the creation of animatronics and puppetry.
Animax Designs has provided three-dimensional characters for some of the biggest names in the global attractions industry. This includes Disney, Universal, Warner Bros., Sesame Workshop, SeaWorld, Feld Entertainment, Jim Henson Productions and more. During this time, Fawcett has gained valuable experience as an executive leader, project manager, designer and maser puppeteer.
Under his leadership, the company has delivered more than 500 projects for its global clientele.
A passion for themed entertainment
Fawcett has also been very involved with the Themed Entertainment Association (TEA) over the past six years. When he came across the organisation at a mixer in Orlando in 2015, he realised the value of working closely with this group of like-minded creative individuals, with a true passion for the industry.
In 2016, he joined the TEA's Eastern Board of Directors, before being invited into a vice president role. In this position, he became active in helping to plan and produce events, as well as building awareness of the TEA in his region and beyond. Then, in 2019, Fawcett joined the International Board to get involved with the TEA at a more strategic level. He has also chaired a Communications Task Force, been involved in the Education Committee and TEA Digital, and has helped to re-start the TEA Foundation.
Since 2020, Fawcett has been the President of the TEA's International Board of Directors. Most recently, he has been working to develop a formal TEA presence in China.
Moving on to Medici XD
In January 2020, the sale of Animax to Cityneon was announced. Fawcett has since been working to transition the company into Cityneon's leadership, before stepping down as CEO on 8 November 2021.
Now he's free to start a new chapter. He found himself wanting to reconnect with his initial creativity, as he explains:
"The work I've been doing for the TEA has been transformational, for me and the organisation. By improving the relationship of the organisation with its members, by getting to work on upgrading many of the systems and setting up a new legal entity in China, I remembered the excitement of building something.
"It reconnected me to my purpose which is to connect and create. It is now time for me to build something new and bigger, which is why I've founded Medici XD with Daren."
An industry veteran
Daren Ulmer has also had a long and successful career in themed entertainment. He is the founder and chief creative officer of Mousetrappe studio, a multimedia production house. Before this venture, he worked on live entertainment development at Disney.
Ulmer earned his degree in Music Theory and Education at Azusa Pacific University. He then went on to spend a decade at The Walt Disney Company, firstly as a producer working on creating unique educational programs based on entertainment, music, and the arts, and then as the manager of Disney's music department.
Here, was responsible for soundtrack production for Disney theme parks around the world. He also worked on the adoption and integration of digital production tools and workflows into the creative process.
During this time, he was involved in technical and creative development for Light Magic, Fantasmic! at Disney MGM Studios, Florida, the Mulan Parade for Disneyland and Disney-MGM Studios, Small World Holiday at Disneyland and more.
The TEA years
Like Fawcett, Ulmer has been very much involved with the TEA over the years. He served as president of the Western Board and was an International Board member from 2007 to 2011. He also produced the TEA's annual Thea awards gala during this time.
In 2005, Ulmer created Moustrappe, an award-winning media design studio. Mousetrappe develops and produces immersive media-based entertainment content. The team has worked on shows, spectaculars, immersive films and live events for leading theme parks, museums, events, IPs and more.
Ulmer and Moustrappe also created Universal and Disney's first-ever projection mapping projects in 2010. Here, the team introduced story and emotional arc through the use of a technology that until that point had only been a platform for viral marketing gimmicks.
Notable successes include Happily Ever After at the Magic Kingdom, Beyond All Boundaries at the National WWII Museum, The Tree of Life Awakenings at Disney's Animal Kingdom, and Space Shuttle Atlantis at Kennedy Space Center Visitor Complex, for which Ulmer and Moustrappe were key creative as well as production partners.
Medici XD is the next chapter
Ulmer says that founding the company gave him a platform to bring new technologies to the industry, to enable more emotive expression of story:
"Mousetrappe has produced award-winning experiences using a variety of audio-visual tools, including projection mapping. This is because we see them as a vehicle to connect guests with the narrative. They are a deeper way to provoke an emotional response."
Now, Ulmer's vision is to take this guest connection to the next level. The aim is to put the guest inside a convergence of platforms, in order to create transcendental experiences. To achieve this, physical interactions need to join seamlessly with visual and technical interactions. This way, all elements tie into one holistic production.
This stretches beyond the visual toolkit offered by Mousetrappe, hence Ulmer's latest move to co-found Medici XD with Fawcett.
Collaboration is key
Fawcett and Ulmer have over six decades of combined experience in the attractions industry between them. So, they know first-hand the value of collaboration and of breaking down silos to take a more interdisciplinary approach. Now, they have ensured that this is one of the founding principles of their new venture.
Ulmer says that his collaborations with disciplines such as lighting, show effects, fireworks, music and even ride systems have produced some of the most inspiring and moving moments in his career:
"On productions like Happily Ever After or Beyond All Boundaries, there was an extraordinary dedication to communication and collaborative design. Every moment in these shows carefully contemplated the ideal combination and use of technologies and techniques to create exactly the emotional impact we intended. It's similar to orchestrating a symphony played by dozens of musicians. The results were beyond expectation."
Complementary strengths
The last 18 months have been a pivotal moment for the attractions industry. Businesses have been forced to evolve and innovate, or risk being left behind.
During this period, Fawcett and Ulmer came together and found themselves at similar life stages. Having shared a passion for entertainment experiences throughout their career, and also having built successful companies along the way, they were both asking: 'what's next?'
We started considering, together, what is the difference between the most and least successful? And concluded it centres in the believability of the experience, which depends on how the components come together.
The best creative leaders in the industry, indeed in any industry, never stop innovating. They constantly look around at what needs improving and think about how to make things even better. It is this drive that links these two individuals.
"As industry insiders, don't we all visit new rides and dissect the parts?" asks Fawcett. "We consider how successful this is as an experience, we look at what works well and, just as importantly, what doesn't.
"So, we started considering, together, what is the difference between the most and least successful? And concluded it centres in the believability of the experience, which depends on how the components come together."
Solving existing problems
Drawing on their insider experience, this is the core of the issue that Fawcett and Ulmer have identified:
How can a truly believable experience be created when it is composed of many different parts, delivered by separate suppliers?
Most suppliers have one key area of expertise. It is rare to find a business that can fully integrate all parts of a project, including visual, physical, and immersive elements. From the client point of view, this means that, essentially, the owner-operator must be the general contractor. They have to take on the full responsibility of managing the integration of all the elements of the experience. This is not an easy task, says Ulmer.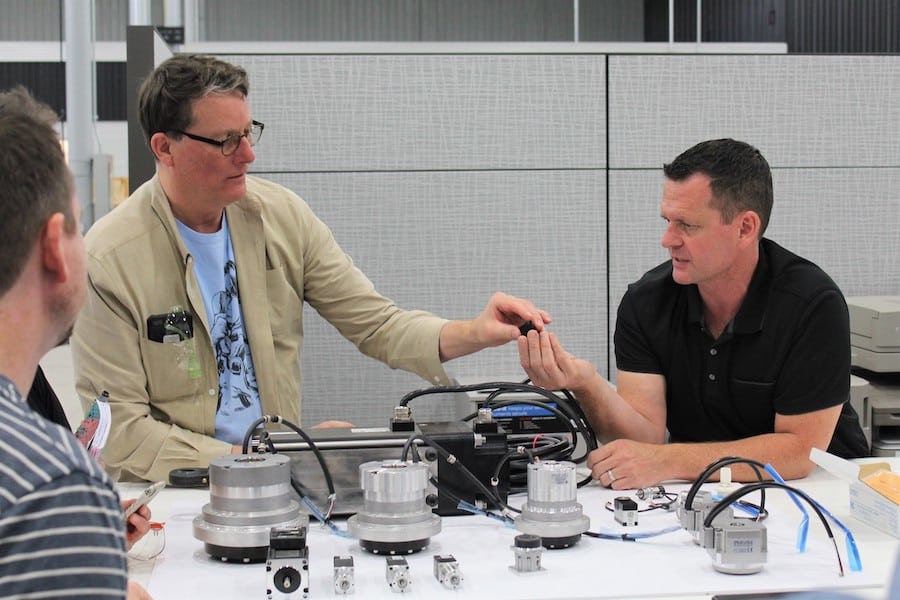 While these separate components themselves can be the best available, something is inevitably lost in this fragmented way of working.
In response to this problem, the pair aims to enable a more holistic and collaborative method of creating experiences. Medici will take an integrated approach to production. This puts the guest at the centre of everything and recognises the value of bringing together different specialities to spark new ideas.
Introducing Medici XD
Medici XD is a vertically integrated production group, focused on delivering the next generation of experience technologies and content. By encouraging the fusion of varied disciplines and elements, it will enable the creation of more meaningful, memorable moments.
The company will not be easy to pigeonhole. But Fawcett and Ulmer say they are not establishing a creative house. Instead, Medici XD will draw on their extensive production experience, helping others translate innovative visions into reality.
"We lean heavily into a 'Collaborate-Design-Build' model," says Ulmer. "Our expertise in the development of experience content, tools and platforms can facilitate – and even drive forward – the creative process. It can also massively streamline production and installation. We seek to provide greater access to the next generation of ideas and technologies while helping clients and partners to avoid costly iteration and pitfalls."
The pair will make more announcements at IAAPA Expo, including details of Medici XD's multidisciplinary line-up. Now, they are excited at the prospect of this new chapter and its potential to shake up the industry:
"We launch with a clear mandate. To provide exceptional experiences for our clients and their guests while introducing some brilliant new technology and a more intuitive understanding of what a collaborative process can look like," says Fawcett.
Medici XD will attend IAAPA Expo 2021 in Orlando. A press event on Tuesday 16 November at 4 pm EST will reveal more details about the company.
Top image: Daren Ulmer (left) and Chuck Fawcett (right), co-founders of Medici XD