The Access Group, the creator of a leading visitor and venue management system, is hosting a virtual Access All Areas conference from 16 – 18 March 2021. The event is free and open to visitor attractions looking to gain insights into new technologies and innovations that will help them get ahead of the competition.
The event features discussions with industry-leading guest speakers alongside workshops and product updates where participants can learn how The Access Group's suite of software provides solutions for their attractions.
Visitor attractions and digital technology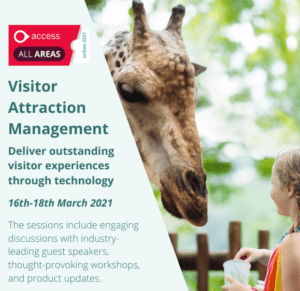 Two of the sessions will be of particular interest for attractions operators:
Visitor Attraction Workshop: enhancing visitor engagement via digital technology
This is a taster session of The Access Group's multi-hour workshops, which are regularly presented by its Customer Success Team. The session is open to all and being run with session partner Attractions.io. It will explore how attractions can enhance engagement by using digital technology, from the initial enquiry to ticket purchasing, to the visit itself, and beyond.
During this session, attendees will learn how to map the digital customer journey which underpins the visitor experience lifecycle and how to find and focus on any gaps. It will include exercises to complete as well as handouts so participants can continue the work afterwards.
Creating the Digital-First Visitor Attraction of the Future: guest panel
For this session, a panel of industry experts from across the attractions sector will look at the future of the industry and the impact of digital technology. Speakers include Rachel Mackay from Royal Historic Palaces at Kew, Carlton Gajadhar, co-founder of the Visitor Experience Forum and Victoria Denoon of the W5 Experience at The Odyssey Trust. They will explore how the sector can use technology as it recovers from the impacts of COVID-19.
To find out more information and to register, please click here.