SeaWorld Entertainment is phasing out 'circus-style stunts' that involve trainers riding on dolphins' faces and backs, following a campaign and shareholder proposal by PETA.
According to a press release from PETA, SeaWorld has stopped the practice of trainers riding on dolphins' backs and will soon end the practice of standing on dolphins' faces.
"Victory!" PETA said in an online statement. "SeaWorld has stopped treating dolphins like surfboards and will soon stop making trainers stand on their faces in demeaning circus-style shows."
PETA, which owns stock in SeaWorld Entertainment, made a shareholder proposal calling for the end of the performances.
The move away from dolphin stunts was originally disclosed in a letter from a SeaWorld Entertainment lawyer to the US Securities and Exchange Commission.
'SeaWorld has stopped treating dolphins like surfboards'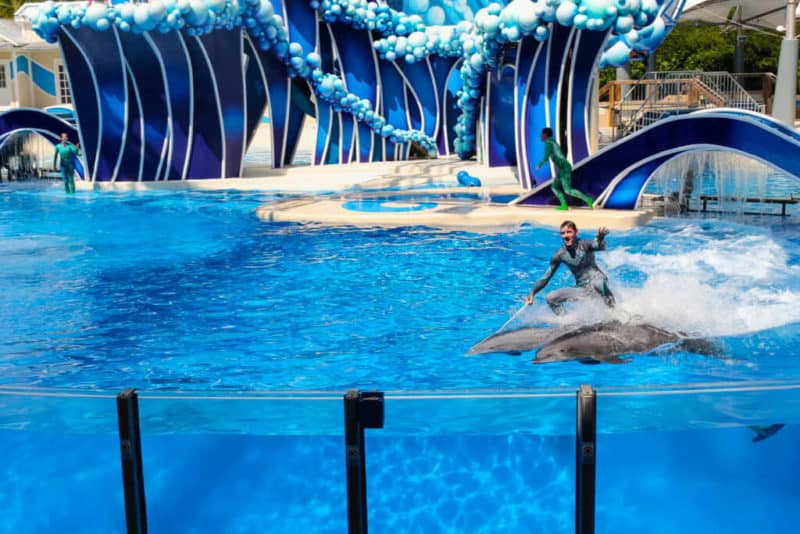 The letter addressed the shareholder proposal made by PETA and stated that SeaWorld had already ended the practice of dolphin 'surfing', which involves the trainer using the dolphin's dorsal fin.
The practice of balancing on dolphin's snouts, or rostrums, will also end soon.
SeaWorld Entertainment stated that it "no longer demonstrates 'surfing' at any of its locations, and plans to phase out the demonstration of standing on rostrums within the next few months, despite its belief that neither of these behaviors are harmful to the animals in any way".
In addition, the company said that only SeaWorld San Diego, one of the company's 12 theme parks, continues to let trainers stand on the dolphins' snouts.
"Stopping trainers from treating dolphins like surfboards means less abuse at SeaWorld, but orcas and other dolphins continue to suffer in tiny concrete tanks," said PETA executive VP, Tracy Reiman.
"SeaWorld no longer has 'surfing' at any locations"
"The company seems intent on being dragged, kicking and screaming, into ultimately releasing these animals to seaside sanctuaries. PETA is calling on it to put a plan in place now."
In a statement, SeaWorld said: "SeaWorld is continually evolving its animal presentations to create the best experience for both guests and our animals.
"As an accredited zoological facility, our leadership solely determines the content and format of our presentations and is not influenced in any way by the actions of ill-informed activists, who are seemingly more interested in their profile and fundraising than they are the welfare of animals."
As animal welfare and green issues become more prevalent, TripAdvisor announced that it will no longer sell tickets to attractions or experiences where cetaceans are captive and put on public display.
This followed similar decisions from Qantas, British Airways Holidays and Virgin Holidays.