At long last, what may be the biggest experiment in themed entertainment has now opened at the Walt Disney World Resort – Star Wars: Galactic Starcruiser. I've been talking about this concept for several years now, which I labelled as the first Ultra Themed Resort.
It is more than simply a new themed resort. Galactic Starcruiser is an entire two-night themed experience. Guests climb onboard a faux spaceship for a futuristic cruise ship-style experience through the world of Star Wars.
On the surface, the idea seems simple enough. But if you sit down and really try to plan out what would need to be done to create such an experience in the real world, you will find that the obstacles to overcome start to pile up very quickly. The deeper you go down the rabbit hole (or Sarlacc Pit in this case), the more complicated the problems become.
As cool and enticing as the concept of a completely immersive multi-day Star Wars themed vacation might be, I fear that Disney may have bitten off more than they can chew here. This, combined with Disney's current pricing of said experience, my gut feeling says that once the hype wears off and the initial crowds wane, Disney may be stuck with a rather awkward problem of what to do with the Starcruiser.
How much does the Galactic Starcruiser cost?
With that in mind, let's discuss the biggest initial problem with the Galactic Starcruiser: the price.
Keeping in mind that this is a fairly all-inclusive experience, the initial cost for a couple to go on the faux journey is $4,809, or roughly $2,404.50 per person. And that's before tax is added. The most affordable rate to Starcruiser is $5,999 for a group of four in a cabin. This comes to about $1,500 per guest, before taxes.
Currently, the price to visit a single Walt Disney World theme park for one-day on a peak day is about $149.00 before tax. That's 10% of the cost of the Galactic Starcruiser.
Like a trip on a real cruise line, guests board in the late afternoon, experience two nights and depart on the final morning. The experience also includes a day inside the Disney Hollywood Studios theme park as a shore-excursion experience on the second day.
Making comparisons
Therefore, to more fairly compare this to a traditional visit to Walt Disney World, it would be best to combine the price of two theme park tickets ($300) plus two nights lodging (which could run you anywhere from $200 to $1500 (or more!) depending on how posh a hotel you book).
Then remember that all your basic meals are also included in the experience, except for what you buy during your visit to the Studios park on day two. So, depending on your tastes, that's another $50 to $100 per day at least.
If you are on a low-budget trip, a two-day experience to WDW could cost you at least $600 per person. This is far less than the current price of a Galactic Starcruiser experience.
But if you're the type of guest who lives it up big while on your Disney vacation, then your individual cost of $300 in tickets probably goes up closer to $350 or $400 with the addition of Genie+ and some Lightning Lane passes over two days.
Pricing out a two-night stay in one of Disney's upper-level resort hotels, like the Wilderness Lodge, depending on the room you select would run you anywhere from $1,150 to $1,600 with taxes, though that cost can be split by the entire group. So with a group of four sharing a room, a cost for this kind of two-day park/two-night stay trip would come out to around $900 – $1,000 per person.
That's still cheaper than the $1,500 per person Disney is asking guests to pay for a four-person package to the Galactic Starcruiser.
Galactic Starcruiser or a Disney cruise?
The easiest comparison may be between the Disney Cruise Line itself and the Galactic Starcruiser experience.
The Disney Cruise doesn't offer two-night trips. However, we can break down the prices they do offer into a per-night cost. Current prices on DCL voyages seem to break down into a cost range between $250-$350 per night, before added per-guest charges (nearly $100 for port fees), or fees for upgraded rooms and the like.
With some rough math, a two-night voyage on the Disney Cruise Line would be around $600 to $800 per guest. While this includes most food costs, it wouldn't include any expenses incurred during shore trips. So this would make a venture on the DCL more than a low-budget trip to WDW, but still less than the fictional Galactic Starcruiser that really goes nowhere.
While this was all just some quick dirty math calculations, the end result still seems clear. The Star Wars: Galactic Starcruiser experience is being marketed at a price point that even some members of Walt Disney World's most affluent price tier may baulk at.
Yes, the Starcruiser may be departing full for the time being. But I'm not sure the current pricing is something that is going to be sustainable over the long term.
Disney could always lower the cost down the line if this were to happen. Often this kind of move would also come along with budget cuts to the experience and amenities being offered. But that's a story for another time.
Target audience
Full confession: I have not had the chance to experience the Galactic Starcruiser myself. Nor am I currently booked for a future voyage. I am a huge Star Wars fan, however. I fondly remember being taken to see the first film at age 7 by my parents, standing in a line that wrapped around the entire theatre waiting for the next showing.
As a teenager, I remember standing in line for hours to ride Star Tours at Disneyland. As a young adult, I remember going with close friends and significant others to see the second trilogy of films when they came out. Then, as a parent, I jumped at the chance to see the third trilogy of films with my own kids.
These days, I subscribe to Disney+ to catch the latest adventures in the Star Wars universe by watching episodes of The Mandalorian and The Book of Boba Fett and The Bad Batch with my family.
By definition, I should be exactly the kind of demographic that the Star Wars: Galactic Starcruiser was meant for. And yet it is just too hard to swallow that $6,000 price tag. In fact, my mind immediately wanders to envision all the real-world things I could do instead with $6,000. For instance, I could take a trip across the world to visit Disneyland Paris or the Tokyo Disneyland Resort.
The Galactic Starcruiser experience
With the price controversy out of the way, I'm going to dive into the Galactic Starcruiser experience itself. When the project was announced, I knew Disney would be able to create the proper look for the resort.
Disney was able to nail the Star Wars experience way back in the mid-80s when they first opened Star Tours. And we've seen them take the physical experience to new levels with the creation of Star Wars: Galaxy's Edge at Disneyland and Walt Disney World.
However, there is a major difference between creating a theme park world that guests get to experience for a few hours compared to creating a 100% immersive world that guests are expected to live, breathe and sleep in for 48 to 60 hours.
It comes down to content, and just how deep you are willing to make it.
In much the same way that there is a difference between the creation of a video game meant to be played in the arcade for a few quarters and to the making of a game console role-playing adventure meant to take days, weeks or even months to complete, you might make the same comparison between this new resort and Disney's theme park experiences.
Disney's proven expertise has been in the creation of stand-alone attractions and small themed lands containing a small group of attractions themed around a similar property. The creation of an attraction experience that could last up to 60 hours is much more complicated than creating a ride that lasts only six minutes.
Storytelling challenges
This also says nothing about the attempt to create such an epic experience while still allowing for some basic free will to exist. In other words, unlike on a ride where guests are all forced to go on the same adventure, this kind of interactive journey has to be able to accommodate guests making their own choices that can affect the overall storyline over the 60-hour journey.
Plus, multiple story pathways must be created, allowing for these individual choices to be taken at the right times. These pathways then have to provide a unique take on the overall story, giving the impression that guests are making choices that could affect the outcome of the overall story, while still allowing for all of these same story pathways to converge once again at the end and tie into the primary story being told during the journey.
Got a headache yet? Now imagine trying to fit and direct guests from the real world into these limited storyline paths. Especially given that all but the youngest of guests know full well they are taking part in an entirely fictional journey.
Some may fully embrace the experience, some may be mostly indifferent to the journey and tasks involved. Then, a few people may even go out of their way to try and "break" the experience. Hopefully, the price point would be enough to discourage those types of people from visiting. But you know what they say, there is bound to be one in every crowd.
All aboard the Galactic Starcruiser
When it comes to immersive experiences, Yoda himself said it best: "You will find only what you bring in."
In other words, you can only get out of the experience what you are willing to put into it. This is often the magic formula that Disney relies on for so many of their theme park experiences. The entire experience is programmed to appear as nothing short of magical to the wondrous eyes of a child. Once again, the wisdom of Yoda nails it: "Truly wonderful the mind of a child is."
As I mentioned, I haven't visited the Starcruiser myself in person. This means I've only watched the footage presented by a number of those lucky enough to have been allowed into the influencer previews and the experiences of those taking the first voyages. But what I have seen leaves me with a somewhat mixed bag of feelings about the entire experience.
Much like a cruise line, guests are encouraged to check their baggage with the crew who will make sure it arrives safely in their staterooms aboard the Halcyon, the name of their home for the next two nights.
Guests are then loaded into a small transport pod. This is more like a large themed elevator sized room, featuring two small "windows" outside in the top corners. Through sound effects, a little motion magic and video footage projected onto the windows, guests find themselves in space. They get a very brief glimpse of the Halcyon. Then the pod docks and guests are quickly escorted into the ship's main atrium room.
Based on what I saw, the experience is quick and a little hokey. They completely missed the opportunity to really present the Halcyon to the guests in a more magical and emotional way.
First glimpse
Perhaps the best example of this is shown in the very first Star Trek film. This hit theatres in 1979, two years after the first Star Wars premiered.
Early on in the film, Captain Kirk is finally boarding the Enterprise after several years away. He is taken in a transport pod to the ship as the final refurbishments are being made in the dock. This gives guests a nearly two and a half minute long flying tour over, under, and all around the Enterprise. It presents the vessel in as beautiful and majestic fashion as possible.
Instead, guests enter the small atrium of the Halcyon and are simply shown a large model of the ship in a case. This is their primary introduction to a vessel that supposedly has over 250 years of history.
From what I understand, many of the main story elements for everyone aboard the Galactic Starcruiser take place here. But based on the images I've seen, the small two-story atrium space just isn't all that spectacular.
It is also quickly clear that the upper-level deck is simply a stage/performance space for various characters to be able to interact with all the guests at once. It's not a space you can visit and explore.
Again, I didn't set foot inside here myself. But the vibe I got from this room was more like the pre-show space at Universal's former Terminator 2 attraction. It is not what I would expect from a grand Star Wars themed cruise ship experience.
Epic views
You are supposed to be on a giant spaceship. So, you'll of course want to see what your new world looks like through giant windows or something. However, you'll have to wait until you venture into your stateroom or visit the ship's bridge for that experience.
This is where I have to point out another big flaw in the design of the Starcruiser. This is the fact that the massive dining hall does not feature a wall of windows looking out into space. I found this very surprising. After all, Disney just built the Space 220 restaurant at Epcot that does indeed feature an entire dining room with massive windows giving diners a view of the Earth and surrounding space.
Once again, Star Trek got the concept right over 30 years ago on The Next Generation. The fictional ship featured not only a dining hall but the popular 10-Forward lounge. This provided some of the best views into space for the crew while enjoying their off-duty hours.
Visiting the ship's bridge
From a design standpoint, I don't understand why this decision was made. Unless it simply just came down to an item that was cut from the budget for cost reasons. But still, remember the guests are paying up to $6,000 per room on the Galactic Starcruiser.
If you want to see space, then your best chance is to visit the ship's bridge. But if this is a Star Wars version of a cruise ship, why average guests are allowed onto the bridge at any point in time, let alone allowed to touch the equipment on the bridge, is a bit beyond me.
I feel lucky if I get a sneak peek into the cockpit of a jet when flying on a trip. But that's just the cynical side of me trying to "break" the story. I'll let that one go, because going onto the bridge does look like a very cool experience.
Other guests on board the Galactic Starcruiser
When immersing yourself in a role-playing world, your experience also depends on who is with you. And I don't just mean your friends or family that you have willingly brought along with you. What about all the other tourists who are also taking the journey?
In my mind, the ultimate immersive experience would be one where I was not only unable to tell what was real from what is fake, but also to a point, not being able to tell with complete certainty exactly who is just a guest, and who is actually a character who is part of the story I'm in.
Unfortunately, aboard the Galactic Starcruiser, the easiest way to tell people apart is by how they are dressed. Some fans will make the effort to try and cosplay or dress the part of belonging in this universe. But you are also going to have an assortment of random tourists wearing sports jerseys, branded t-shirts, crocs, and other items that just simply do not fit into the theme of the experience.
Often it is the little things that will break the illusion of the experience for you most quickly.
Costume choices
If you've seen Westworld, both the HBO series or the original film by Michael Crichton, one of the most genius elements of both versions shows that immediately upon checking in to the ultra themed resort experience, the characters are taken to a wardrobe room where they leave their personal belonging behind. They are dressed appropriately to fit perfectly into the experience of their choice before being allowed to enter.
By contrast, while guests are encouraged to dress the part for their stay on the Halcyon, it is not required. Yes, there are guidelines about what you may wear and not wear. But the overall rule just states that your costume can't "distract from the experience of other Guests".
This sounds a bit subject to interpretation of course. And I'd say it is only a matter of time before a coordinated group try to experience the Star Wars: Galactic Starcruiser in costumes more appropriate to the worlds of Star Trek, Battlestar Galactica, Guardians of the Galaxy, Wizarding World Robes, or really any other popular fictional costume from over the years. Or just keep it Earth-bound and wear their favourite sports team colours.
Now, if I want to see guests wearing Manchester United jerseys being hauled away by First Order Troopers, then I could have just visited Galaxy's Edge in the theme park and been perfectly fine with it. But for the added cost of the Galactic Starcruiser experience, I hold it to a higher bar.
A day at Disney Hollywood Studios
This leads me to the second-day experience. For this, guests are loaded into another windowless transport vehicle, really the inside of a box truck themed to be a spaceship shuttle, and are taken for a planetside shore excursion. Their destination is Batuu, otherwise known as Star Wars: Galaxy's Edge.
This isn't done at night when the park is closed to the public. Instead, the Halcyon guests are released into the Star Wars-themed land via a hidden entrance made just for the shuttle (truck) and released into the park for the day.
When I say released into the park, I mean this quite literally. The shore excursion is supposed to be a visit to Batuu. But guests are free to wander throughout the entire Disney Hollywood Studios theme park. They can experience all the regular shows and attractions and mingle freely with the regular park guests.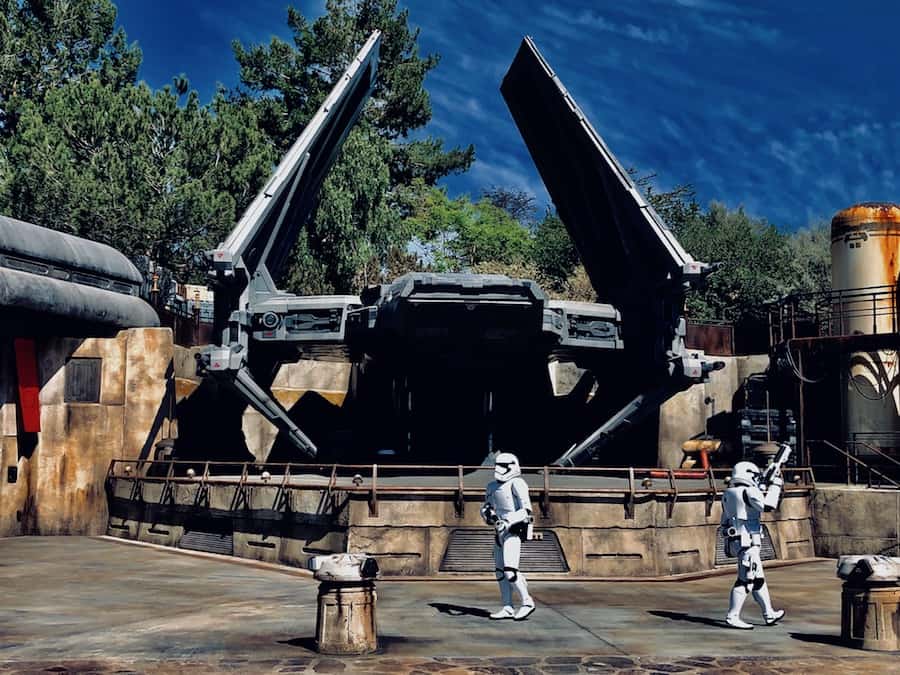 To me, this has to be the biggest break in the story for the entire voyage. It could easily be avoided by presenting the trip to Batuu late at night after the park is closed instead. Perhaps they could use the infrastructure of the land's restaurants and various themed structures to allow for some kind of major 'event' to take place to advance the storyline? This could even fold in the storylines being told in the two attractions.
Maybe have the guests stealthily make their way back to the Galactic Starcruiser transport avoiding patrolling First Order Troopers? Or really just about anything other than just tossing them into a Disney theme park for the day with the general public.
What's next for Star Wars: Galactic Starcruiser?
Deeper and deeper into the rabbit hole we go. The problems that could arise are endless and virtually without solution. Especially when we are dealing with a universe that regularly features characters using forms of technology that are still impossible to create today.
Where are the anti-gravity carts to transport luggage? Why don't the lightsabers and blasters really work? Where are the windows? What happens if you open a door clearly labelled (Earth-style) as the emergency exit? Hopefully, it never happens, but what is the plan for when a real medical emergency takes place aboard the Halcyon?
The idea is a grand one, and perhaps the boldest project ever undertaken by a theme park company. There are endless possibilities of what can happen. So, the only real way to learn if the concept will work was to build it and see.
Like Master Yoda says: "Do or do not. There is no try." For that, I applaud the effort!
I just hope the Galactic Starcruiser experience is able to evolve over time. Hopefully, it will also become something more financially accessible for everyone to experience. Right now, I really haven't seen much that couldn't have just been incorporated into the theme park experience instead.
All images courtesy of Disney