COVID-19 has forced theme parks, zoos, museums and more around the world to close, causing uncertainty for the attractions industry and the manufacturers and suppliers within it.
Manufacturers and suppliers within the attractions industry are facing unique challenges due to the COVID-19 pandemic. As attractions prepare to reopen, we talked to some companies to find out how the crisis has affected them, and if they are adapting their services in response.
COVID-19 presents new challenges for the attractions industry
Some of these companies have seen operators pushing projects back to save money. For manufacturing companies, this could lead to a lack of space in warehouses. They may not have enough space for all these cancelled projects.
However, others have seen operators accelerating their projects whilst attractions are closed. This means that businesses have to find ways of working in a factory or warehouse safely to protect employees.
Many manufacturers and suppliers have also seen attractions turning to them for support and advice on how to reopen safely. These businesses are experts on their products. So, they know the best cleaning products that can be used safely on a ride, for example. This experience emphasises the importance of a close relationship between operators and the businesses who work with them.
Companies that work with seasonal parks are able to offer their experience about reopening a theme park to larger parks that are not used to reopening.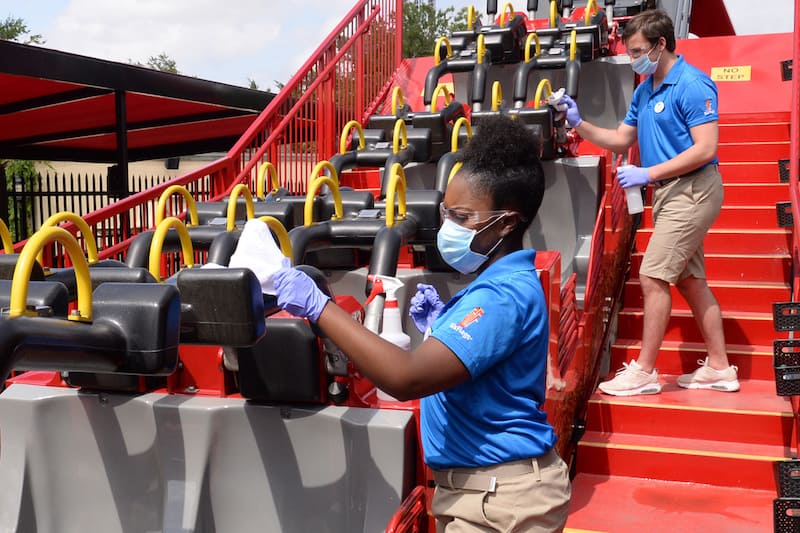 Several businesses in the attractions industry are pivoting slightly, looking into different sectors they can expand into or ways they can help frontline workers during the COVID-19 crisis. For example, VR Coaster went from producing VR headsets to production acrylic protection headsets. Many others have also been creating PPE such as face masks, shields and more.
Branching out
Technifex is pivoting its business long term. The company is growing its business into the defence industry by supplying training and simulation equipment using its special effects. The company is also hoping to provide more support for the VR/AR/AI industry.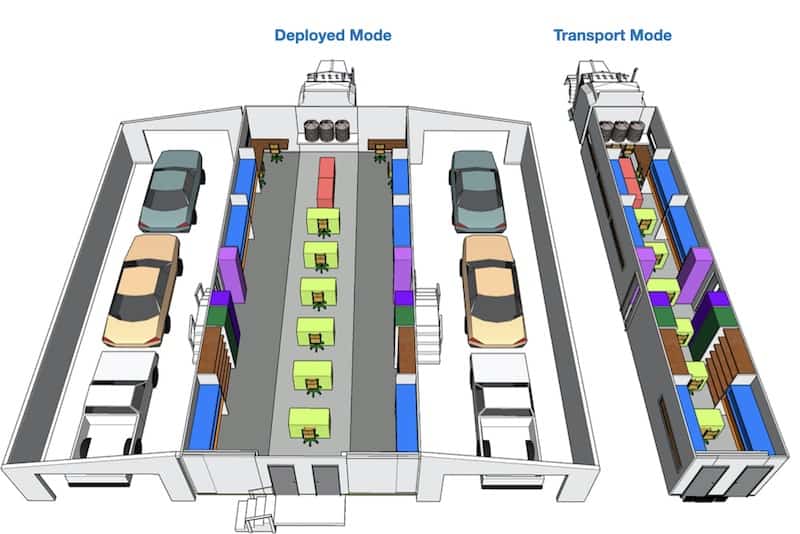 Technifex and ZaP Ink Studios are collaborating to create COVID-19 mobile drive-through test and vaccination labs. These pop-out trailers will have all the necessary safety precautions in place to protect healthcare professionals. They also provide an easy, temporary resource for communities.
Each lab can provide 3,456 test/inoculations each day. CEO of Technifex, Monty Lunde, says "I am so proud of the attractions industry and the collaborative nature of fellow themed entertainment suppliers, all looking to find solutions for the COVID-19 challenge we are all facing."
Maintenance and ride safety
Ride Entertainment is focusing on the park maintenance aspect of the company to support attractions. It has updated its Skycoaster procedures and is looking at how its installation and maintenance team can help parks as they reopen. The company has worked with partners to make sure that cleaning solutions for flight suits are provided.
Ride Entertainment's maintenance teams can also help supplement labour or provide project management expertise. This helps to ensure parks can get up and running as soon as possible. Ride Entertainment is working with clients to find out their short and long term needs.
Adam Sandy, President of Business Development says "We want to do our part to help parks as they prepare to welcome guests. There is no one-size-fits-all approach. Parks will open with science and local conditions as their guides and we want to help as best we can."
The company's Revenue Shares system will help the struggling attractions industry during the COVID-19 pandemic. Especially those attractions that are government-funded like zoos, museums and aquariums. This system lets them add 5D theatres, ropes courses, zip lines and carousels at no cost. By doing so, they get a new revenue stream with no capital outlay. Toronto Zoo has three revenue shares.
Free services
Embed is helping to support attractions by giving their Mobile Wallet away for free for one year. This will allow operators to offer their visitors a contactless payment and FEC experience. This is something that is likely to be very important when attractions reopen.
This is part of the company's COVID-19 Relief Act for the attractions industry which includes a COVID-19 Resource Centre with reopening toolkits, help with setting up the Mobile Wallet, videos, interviews with industry insiders and more.
By helping attractions go contactless, Embed hopes that it will help the industry recover more quickly. Operators who show they are taking guest safety seriously will be more successful in encouraging visitors to return.
"As we've seen time and again around the globe when consumers surge from their homes, they are not going to businesses they perceive as unsafe or to businesses that haven't pervasively communicated the safety measures they are taking to mitigate risk," says Renee Welsh, CEO.
Reopening solutions
Thinkwell Group has been working on a variety of white papers and blog articles. In Thinkwell's first white paper on the subject, Chief Creative Officer Craig Hanna, along with Cynthia Sharpe, Principal Cultural Attractions and Research, and Dave Cobb, Principal Creative Development, discuss the seven key points of interest for owners and operators to consider when reopening their parks and projects.
From ticketing, security, and park capacity logistics to proper distancing within queues and venue-wide sanitation efforts, this piece showcases a wide array of solutions for location-based entertainment venues of any size to explore and consider.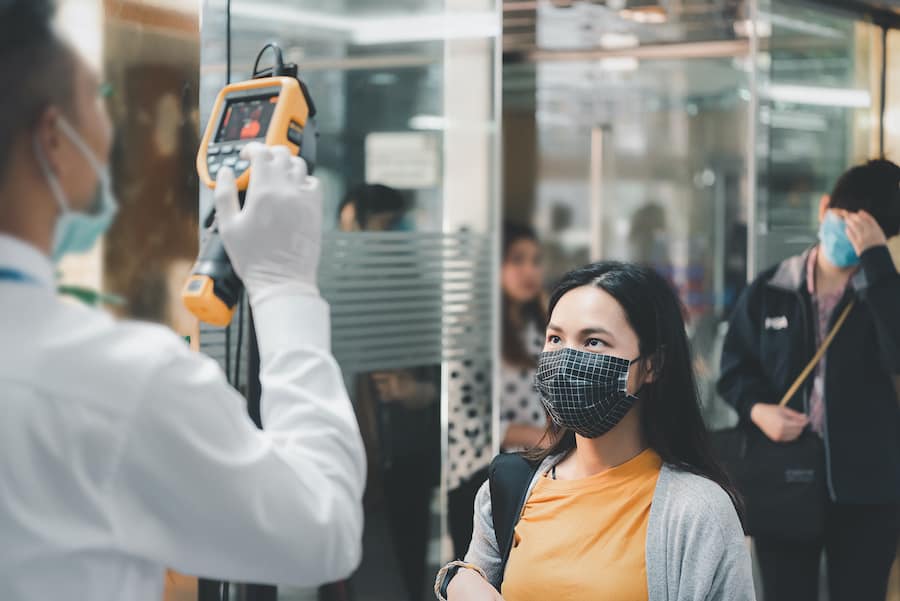 In addition to this, Senior Creative Director Kate McConnell and Creative Director Eric Hoff take a look at what actions cultural attractions like museums should be considering as they begin to welcome guests back to their institutions in an upcoming piece.
This Post-COVID Playbook offers practical solutions and thought-starters for every part of the guest journey from pre-visit digital engagement to the role interactives play in exhibits to safety and support in onsite operations for both staff and guests.
The Thinkwell team also has additional deep-dive pieces planned. These will cover for subjects such as Master Planning in a post-COVID world, Touchless Interactives, the Future of VR, and more.
Digital tools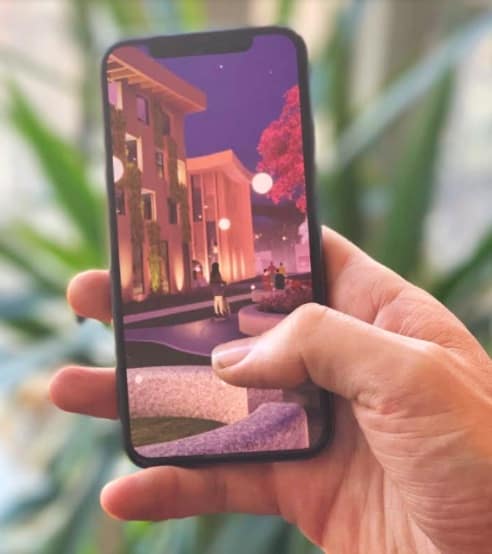 Squint/Opera has launched a specialised version of its digital design tool, SpaceForm, to support architects, engineers, planners and designers working remotely in the attractions industry during the COVID-19 lockdown. It is an iteration of the design tool the studio launched last year with BIG and UNStudio and responds directly to the industries concerns and needs.
The tool lets architects, engineers, planners and designers present ideas, collaborate with stakeholders on existing projects. As well as review new design and engineering decisions in a fully integrated virtual workspace on any platform. It allows remote teams to make informed decisions and better designs – getting projects approved and moving forward.
Social distancing
Holovis has produced a free app called Crowd Solo. This new social distancing app for the attractions industry allows operators to reopen safely post-COVID-19 with a range of functions such as reservation and queue-management tools. It also includes proximity alerts and real-time updates, allowing operators to monitor guest movements and to avoid crowd hotspots forming.
Attractions across five continents are already making use of the app as they put in plans to reopen. The company also hosted a webinar to demonstrate the functions of Crowd Solo. During this session, it also answered any questions that operators had about the app.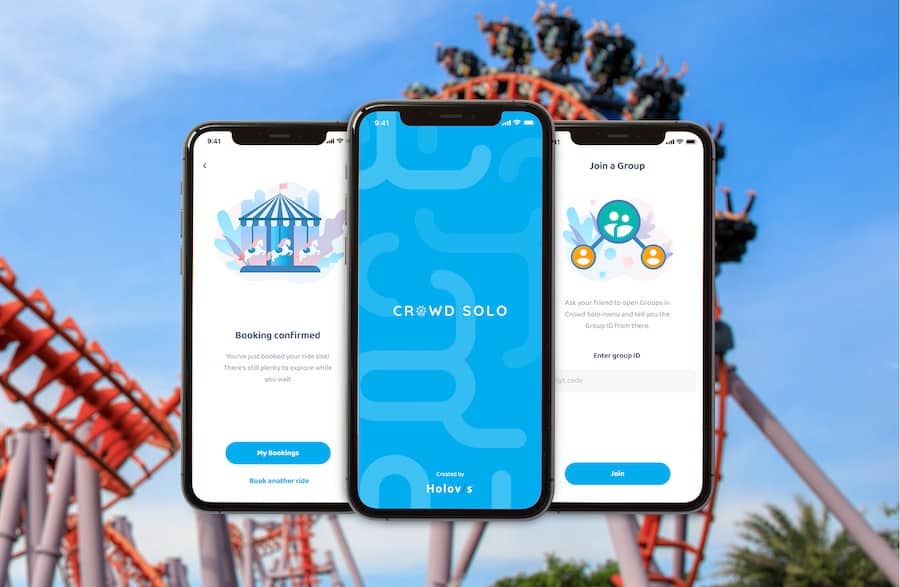 "There are a series of other measures that each location will be putting in place," says Peter Cliff, Creative Director. "But the real-time data obtained from the Crowd Solo platform helps them to be agile. So operators can continually monitor how effectively their facility is operating. Especially around park entrances, exits and attraction loading hot spots."
Touchless solutions
Mad Systems has been working on touchless technology solutions to support attractions such as museums, visitor centres, theme parks and more. This will help them to reopen safely once the peak of the pandemic subsides.
These solutions have been developed by the company as an extension of its QuickSilver A++ system. The technology can help attractions present exhibits and interactives without the need for customers to touch buttons, handles or dials. This will make guests feel more comfortable in a more germ-aware world. Mad Systems is also working on additional sensor technology to take this even further.
Professional support
Gateway Ticketing Systems has been sharing knowledge and insights from within the attractions industry community during the COVID-19 crisis. This is through its Webinar Wednesdays series. During these sessions, the Gateway team is joined by experts from across the sector. Together they discuss how to recover, how to provide safe and enjoyable guest experiences and more.
A recent session saw a surprise cameo from Cincinnati Zoo's Fiona the Hippo, as panellists explored creative and out of the box ways to generate revenue during the pandemic.
Discovering guest opinions
Clip n' Climb is also supporting the attractions industry by sharing information and insights during the COVID-19 pandemic. It has released a survey that FECs, indoor theme parks and more can share with their guests. This is designed to track guest opinions on safety measures and precautions.
The survey is collecting real-time data on how visitors feel about the changes that attractions may implement. For example, safety measures such as face masks, capacity management and extra cleaning routines. This will help operators to plan for a smooth and safe reopening.
"In this survey, we have suggested feasible solutions," says a statement from the company. "We want to test what is acceptable for our loved guests. The results will be shared with owners and operators to support them in the reopening process and help them to make decisions."
Disinfection solutions
DOF Robotics is producing autonomous disinfection robots and smart disinfection cabins, using its expertise in the world of AGVs. Its autonomous disinfection robot is designed to be used in hospitals, hotels and other public spaces. It uses UV-C LED to provide thorough cleaning power.
"There has been a sharp interest in disinfection solutions and the demand is much higher than the supply. So we decided to exploit our experience with AGVs to start producing our own smart and unique disinfection solutions," says Bakit Baydaliev, CEO.
It has also designed a range of fully automatic, environmentally-friendly disinfection cabins. These spray steriliser liquid as people pass through, disinfecting their clothes. The cabins use motion sensors, spray nozzles, and a hand sanitizer station.
Safety checklists
Mobaro is making its maintenance and safety platform available to support attractions as they get ready to implement new coronavirus guidelines. Using guidelines published by governments and industry organisations, the company has created a simple series of checklists and workflows. This will help attractions to methodically prepare for a safe reopening.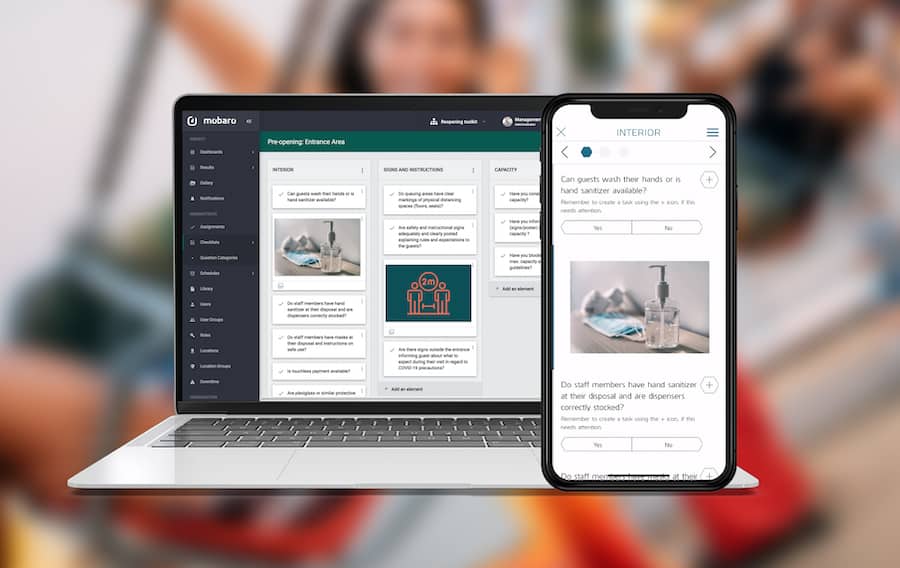 The 'Reopening Toolkit' features ready-to-use checklists covering several typical aspects of a park or attraction. Operators within the attractions industry can use it to check and report their compliance with COVID-19 guidelines throughout their venues. For example, on rides, in bathrooms and around food and beverage areas. It also includes a full dashboard-style overview of the whole site.
"Already, the safety aspect of e.g. an amusement park is fundamental to its operation," says Henrik Have, CEO. "So, now when the requirements are increasing and topics like health and hygiene are even bigger issues than before, there is a greater need for getting procedures in place in a manageable way."
Visitor management
Vennersys has added extra functionality to its VenposCloud solution in order to support attractions in reopening safely once the peak of the virus has passed. The VenposCloud visitor management system allows operators to easily manage ticketing, events, memberships, stock control and more.
The company has incorporated its catering module into the online customer journey. This enables visitors to order food self-service style, therefore limiting contact with staff while on site.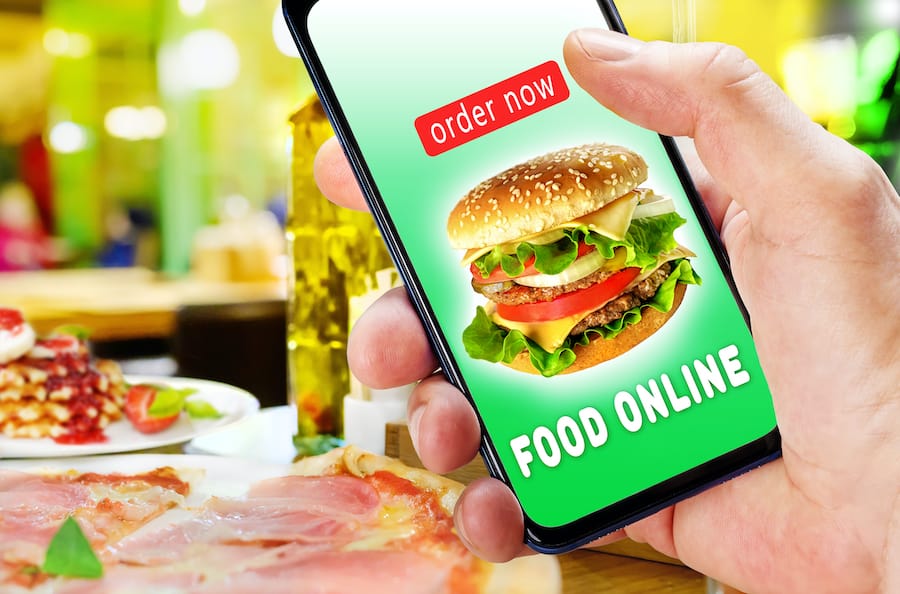 The system also includes an events module, with capacity-driven and timed entry capabilities. This means attractions can view and control how many guests are on-site in real-time. Therefore they can avoid crowding and maintain appropriate social distancing.
"The current situation has us all wondering on what our next steps will be," says Kevin Davis, Development Director. "One thing we know for sure is it will take some time for us to resume normal activity. Until then it is imperative, we continue to share our knowledge and remain the communal industry we have always been.
Managing crowds
Oasys MassMotion is a software solution by Oasys used in the design of airports, stations, stadia, office towers and galleries. Seeing the difficult situation that the attractions industry is facing due to COVID-19, the company is now offering the solution to theme parks, museums and more.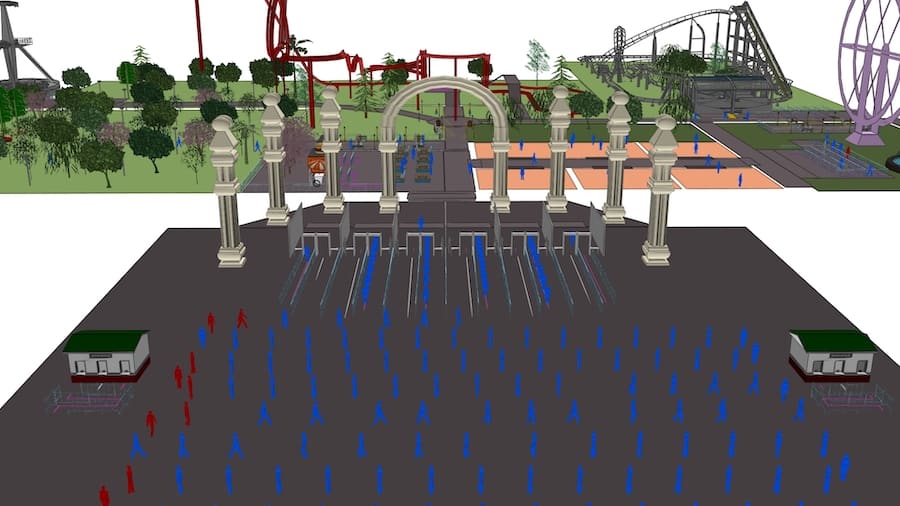 The sophisticated crowd-modelling product enables operators to get insights into potential crowd hotspots within their attractions and make changes to ensure that visitors are able to keep to the new social distancing guidelines throughout.
It simulates the flow of people in order to ensure that spaces function efficiently. The system helps to highlight areas where changes could be made to avoid pinch-points and congestion.
Tackling the spread of germs
Sanitise Now has developed a freestanding automatic sanitiser dispenser. This is ideal for high traffic areas such as theme parks, museums, malls and more. The company is now rapidly expanding due to the increased demand for its products.
It now has distributors in Spain, USA and Dubai. This means can supply the theme park and attractions industry quickly and efficiently, helping operators prepare for a safe reopening following COVID-19.
The UKAS and NHS approved alcohol-free foam sanitiser kills 99.9999% of all germs and viruses. It also creates a barrier against germs which lasts for 3 – 4 hours. It is not flammable and is kinder to the skin than alcohol gels.
Suppliers and manufacturers supporting attractions during COVID-19 crisis
Suppliers and manufacturers may not be the most visible part of the attractions industry from a visitor point of view. However, they are key to providing high quality, enjoyable experiences that run smoothly and safely.
The support of these manufacturers and suppliers, and their ability to pivot and react to the crisis, shows the community spirit of the attractions industry. Everyone is working together during the COVID-19 pandemic to get attractions open quickly and safely, so they can once again provide memorable days out for guests.
Background image kind courtesy of Shanghai Disneyland.