The first IAAPA Expo: Virtual Education Conference took place from 16-18 November 2020. Featuring over 25 sessions, attendees heard from industry experts on a variety of topics.


In September, IAAPA announced the cancellation of IAAPA Expo 2020 in Orlando because of the coronavirus pandemic. Instead, IAAPA took several of the education conferences that were due to happen and created the first-ever IAAPA Expo: Virtual Education Conference.
Title sponsors for the event were Disney Parks, Experiences and Products, JRA, The Shipping Monster and Gateway Ticketing Systems. Presenting sponsors included Cavu Designwerks and Dreamcraft Attractions, RocketRez, ProSlide and Polin Waterparks. Kraftwerk and Vekoma were among the supporting sponsors.
The virtual conference began with a welcome from Hal McEvoy, President and CEO of IAAPA. He said that "now more than ever it is important to stay on top of industry best practices, trends and new developments."
Amanda Thompson, IAAPA Chairman, expressed her disappointment that the industry couldn't meet in person in Orlando this year. However, she emphasised that IAAPA is "here to help in whatever way we can."
Achievements celebrated at IAAPA Expo: Virtual Education Conference
The IAAPA Expo: Virtual Education Conference saw the induction of three industry veterans to the IAAPA Hall of Fame Awards. This year, Disney Imagineer Tony Baxter, Mats Wedin from Liseberg park and Greg Hale, Walt Disney World VP were inducted to the hall.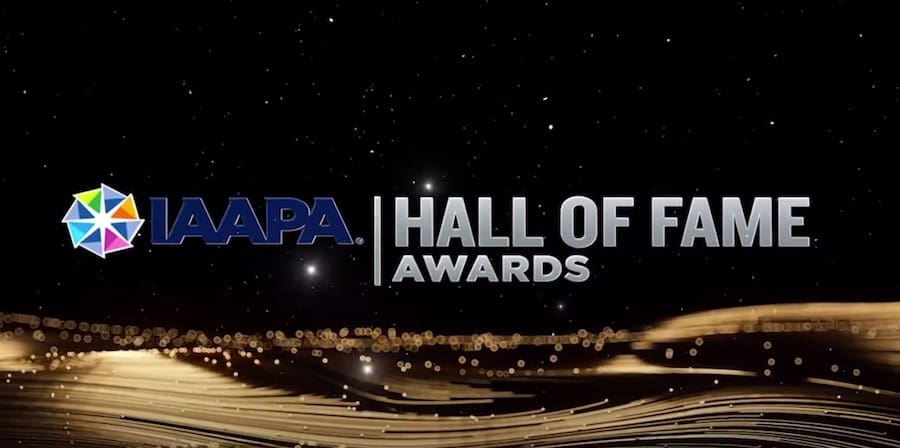 Corrine Brindley was awarded the IAAPA Meritorious Service Award. The IAAPA Outstanding Service Award was given to Andreas Andersen. And the IAAPA Lifetime Service Award went to David Bromilow this year. The IAAPA Young Professional of the Year award went to Charles Coyle, Managing Director of Tayto Park, Ireland.
Congratulations to the @IAAPAHQ Service Award winners this year, Corrine Brindley, Andreas Andersen and David Bromilow #IAAPAExpo #VEC2020 pic.twitter.com/yJYZentld3

— Blooloop (@Blooloop) November 17, 2020
Josh D'Amaro delivers keynote at IAAPA Expo: Virtual Education Conference
The virtual conference started with a keynote presentation from Josh D'Amaro, Chairman of Disney Parks, Experiences, and Products. Speaking from inside an empty Disneyland Park, D'Amaro reiterated that "our industry is here to stay" despite the impact of COVID-19.
At the beginning of 2020, Disney was doing well. The opening of the Star Wars: Galaxy's Edge lands in both Disneyland and Walt Disney World meant that the company had hired new cast members. D'Amaro also explained that the company had an "unprecedented capital expansion" in place. One of these is the upcoming Zootopia land in Shanghai Disney, which saw construction start in December 2019.
When the pandemic hit, all Disney theme parks closed around the world. But D'Amaro was determined to look for "silver linings" in the dark times. He explained that Disney worked to connect with their guests online and tap into the "deep, personal connection" they have with Disney. #DisneyMagicMoments saw Disney release activities, recipes and videos whilst the theme parks remained closed.
When Shanghai Disney reopened in May, it set the bar on how to reopen safely. For D'Amaro, the "use of technology was critical to reopening". And "with reopenings came optimism as well as innovation". The new reservation system was built in a few weeks when a project of that scale would normally take a year.
Showcasing new projects at IAAPA Expo: Virtual Education Conference
D'Amaro emphasised that the recent decision to lay off 28,000 cast members was not an easy one to make. However, he was clear that the industry has to continue to move forwards with new projects.
"Innovation has been, and will always be, part of Disney's DNA," he said. As part of this innovation, work is continuing on several new projects, such as the transformation of EPCOT, the new Marvel area at Disneyland, Star Wars Galactic cruiser and more.
He also revealed new video clips and images of the new spider-man ride at Disneyland and the Guardians of the Galaxy: Cosmic Rewind ride at EPCOT.
At the end of his presentation at the IAAPA Expo: Virtual Education Conference, D'Amaro suggested that we should start to look at capacity as more than the number of people we can fit onto a ride. He questioned why "we accept friction points as a necessary by-product of the experiences we create". Instead, we should think about capacity as a way of entertaining people outside rides and throughout the parks.
D'Amaro said that this crisis allows us to reinvent ourselves. It is an opportunity to "challenge the very meaning of the word impossible" and dream big.
Entertainment experiences in the ride queue
Todd Zimmerman and Matthew Marberry from Odd-o-Ts' Entertainment then spoke about the importance of queue entertainment. As crowds can't currently gather to watch live entertainment because of COVID-19, queue entertainment is a perfect way to keep guests entertained whilst remaining socially distanced.
One good way to keep guests happy in a queue is to use roving entertainment and create a game from the social distance marker circles guess stand on. You could create a Bingo style game or a trivia game with a live performer as the game host. This allows attractions to "utilise performers in a different capacity".
Alternatively, you could create an AR scavenger hunt from these circles, which allows you to direct traffic to different areas of the park. Performers would create an added layer of fun for guests, and "make fun out of people staying apart".
Think about different ways you can use the social distance marker circles to entertain your guests – create trivia or bingo games, or, like Gaylord Palms, create an AR scavenger hunt – you can include live performers as well #IAAPAExpo #VEC2020 @IAAPAHQ pic.twitter.com/sCfQ69XAz3

— Blooloop (@Blooloop) November 16, 2020
Attractions can use performers and costumes that they already have to create a new and unique experience. The vital thing, they explained, is to create a storyline and a reason for the performers to be there that fits the theme.
This idea isn't a new one because of COVID. Disney uses performers in queues at their Halloween parties, adding live pirates to the Pirates of the Caribbean queue. People look forward to this, and the current social distancing guidelines make now the perfect time to improve upon this method.
Using live performers like this helps an attraction stand out from the crowd. You are more likely to encourage passholders to return frequently by keeping them entertained in a different way.
The Journey to find Rulantica
This session at the IAAPA Expo: Virtual Education Conference was sponsored by ProSlide.
Michael Kreft von Byern, Jeff Janovich from ProSlide, Chip Cleary, Jeff Havlik from PGAV Destinations, and the Mack family discussed the creation of Rulantica at Europa-Park.
Cleary began by explaining that guests were the key driver of the project. Guest surveys helped the team understand what they wanted from the project. Visits to water parks around the world helped them learn what worked or didn't work.
Many water parks don't use elevated terrain, so the team decided they wanted to use elevated terrain as part of the storytelling and to make it stand out. The team also realised that a square or rectangular building wouldn't work for the project.
Michael Mack explained that the IP was based in the north of Europe because that was more applicable than a theme that was based in the south with palm trees and sandy beaches.
Master planning for Rulantica
PGAV Destinations worked on the master planning and concept design of Rulantica. Jeff Havlik said that typically, the design, operation and budget are at odds with each other. However, this is what creates ingenuity and innovation.
Multiple models of the building were built to allow them to view the guest experience from a variety of angles.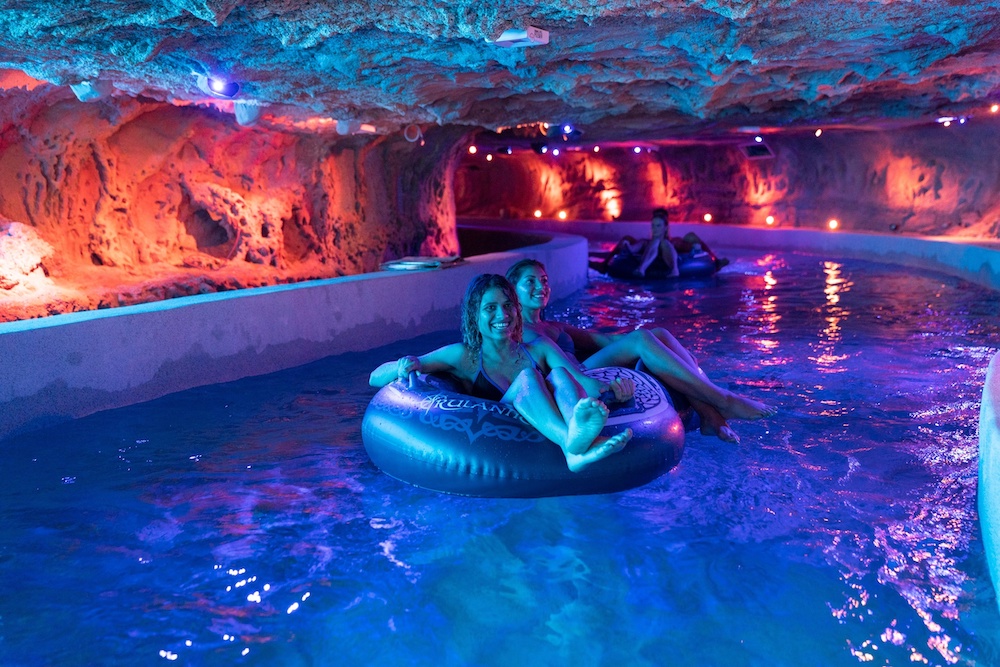 ProSlide supplied water rides for the space. Janovich said that they were keen to have attractions that were unique for Europe and Germany, whilst still meeting capacity demands. What makes Rulantica unique is that it has the attraction elements of a North American water park, with the theming and environment of a European water park. The duelling pipeline ride from ProSlide was a unique ride for Rulantica.
The future is bright for Rulantica, according to Jurgen and Roland Mack. Construction is currently ongoing for an outdoor play area that will open next summer, and feature an 18-metre high outdoor slide.
The last takeaway from building Rulantica was that you can never have too many beach chairs!
Digital + Physical + Data + Story = Theme Park Metaverse
Executive Vice President, Digital and Chief Technology Officer for Disney Parks, Experiences and Products, Tilak Mandadi, then gave attendees of the IAAPA Expo: Virtual Education Conference an update on Disney's metaverse.
Technology became extremely important for Disney during the pandemic as a way to connect with guests. The company saw 3 million engagements through its apps during the park closures. After reopening, digital food ordering through the app rose to 84%.
When digital, data and physical spaces come together, the #Disney theme park metaverse is created. These experiences are designed to be personalised #IAAPAExpo #VEC2020 @IAAPAHQ pic.twitter.com/nGzYUvFuVO

— Blooloop (@Blooloop) November 16, 2020
Mandadi also explained that Disney used AR to help train cast members during the pandemic. He then explained the theme park metaverse as "a shared magical world, created by the convergence of virtually enhanced physical reality and physically persistent virtual space".
Using technology such as AI, AR and IoT, and data, the metaverse is designed to be personalised. It will also allow Disney to bring its experience to guests at home.
Predicting and Analyzing Visitor Behavior: Using Big Data for Success
Angie Judge, CEO of Dexibit, moderated this panel at IAAPA Expo: Virtual Education Conference with Linda Stone from the National Gallery of Art in DC, Danny Kahn from Warner Bros Studio Tours Hollywood and John Rouse from the Aquarium of the Pacific.
Rouse explained that they use Gateway Ticketing for the aquarium's ticketing platform. Looking at visitor data showed them that they had more demand at weekends and in the evening, so they opened later in the evening. This means they have a dynamic pricing structure, with higher prices at the weekend compared to weekdays. The aquarium has noticed an increase in visitation compared to autumn 2019.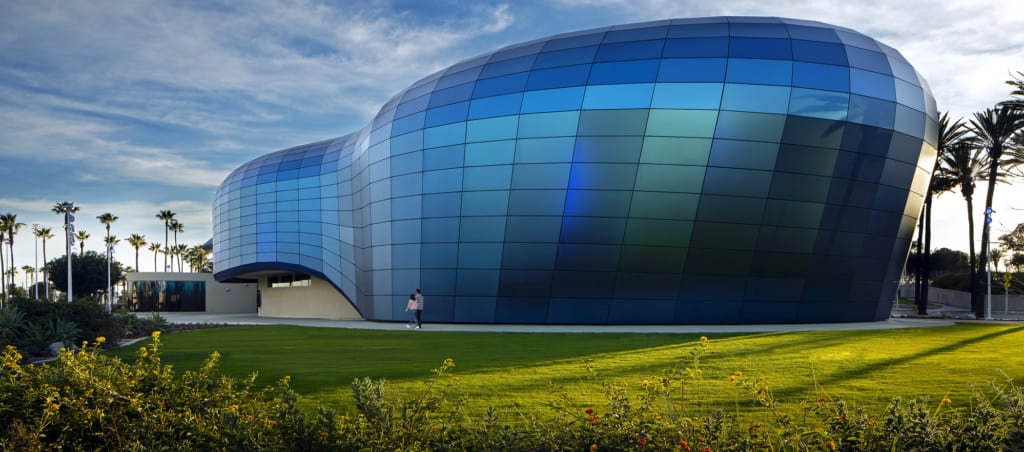 Visitation to the National Gallery of Art is free, so the gallery had to create a ticketing system to allow for controlled capacity. The outdoor sculpture garden was very important to reopening, but it had no footfall counters.
Stone explained that the gallery used SenSource to track footfall which is a simple system for security guards to use. Stone sees the gallery as using a free ticketing system for at least two years, as it provides useful data for the gallery, such as the geographic location of visitors.
VR and Esports Attractions
Russ Van Natta from Creative Works said that over 495 million people worldwide engage with esports. Over 220 million of them play or watch esports more than once a month. This group of actively engaged players will spend money on esports, as they are around 35 years old. Van Natta recommends FECs take part in school esports programmes, as you can then get students to come to your venue to play recreationally as well.
For Phil Kaplan at GameWorks, esports has become a "core focus" of the companies growth. He stressed that FECs need compelling programming to bring esports players in. Find a "unique competitive advantage" and think about "what is popular in your area".
Jan Goetgeluk from Virtuix agreed with Kaplan. Monetising esports for an FEC can be tough, and "it's a commitment and can be a lot of work."
Consistent events are needed to build a loyal base. The OmniArena has built-in weekly and monthly competitions, so FEC operators don't have to organise it. This increases repeat play and encourages players to return. Goetgeluk says that VR esports can become an anchor attraction at an FEC because they are active, multiplayer and competitive.
Curating Retail Experiences that Extend the Guest Experience
In this panel at the IAAPA Expo: Virtual Education Conference, Michael Montgomery, Owner/Lead Designer of Big Dreamer Design, spoke about the importance of architecture and traffic flow in a retail shop. You have to show the guest everything in you want them to see, without overwhelming them. It's important to remember that guests often visit retail stores at the end of the day when they are tired.
Brad Schoeneberg, Director of Merchandise Strategy & New Park Experiences Development at The Walt Disney Company, worked on the development of retail experiences at Pandora and Galaxy's Edge. For Schoeneberg, experiential retail "invites guests to play a role in designing their own products", such as a lightsaber.
"Technology and innovation work together to support the bigger narrative," says Brad Schoeneberg about the Build-Your-Own-Lightsaber workshop at #Disney #GalaxysEdge #IAAPAExpo #VEC20202 @IAAPAHQ pic.twitter.com/b2uc48Zr9O

— Blooloop (@Blooloop) November 17, 2020
Every choice in your retail store should connect back to the story. That is why the retail team started at the beginning of the project for both Pandora and Galaxy's Edge. This allowed them to "blur the line between entertainment and retail".
James Ward, President/ CEO of Wildlife Trading Company & Wildlife Artist, spoke about how retail can help to convey the conservation mission of zoos and aquariums. One zoo created a sustainable line of coffee. The packaging told the story of how coffee plantations can cause deforestation. The product has become very popular; it helps to educate guests and help those growing the coffee.
Human Factors and Attractions
Dr Kathryn Woodcock explained that human factors refers to the application of knowledge about human characteristics, capacity, and limitations to understand interactions. She acknowledged that it can be difficult to complete risk assessments. It's is tough to know how often and with whom an accident will occur. This is why it's important to include human factors into a design, to try and prevent accidents.
For example, guests often climb over fences into restricted areas to retrieve objects lost on a ride. Injury can often occur as the guest is preoccupied in looking for their object. Operators can put up a fence and signs, but people still get hurt.
It's important to include human factors into a design, to try and prevent accidents
Woodcock explained that if an error can be made, someone will make it. So operators can introduce error reduction efforts to keep guests safe. If there is a popular place to climb a fence to retrieve objects, perhaps put a snack cart nearby. If the guest sees a staff member, they are more likely to ask them for help and reduce the risk to themselves.
Voice of the Visitor: Learn Guests Opinions, Attitudes and Expectations
Every year, PGAV Destinations and H2R Market Research create a survey on guest motivation, expectation, trends and satisfaction in the attractions industry. Jeff Havlik, President of PGAV, spoke about the 2019 Voice of the Visitor survey in this panel.
This report was created in autumn 2019, before COVID-19. However, Havlik explained that the information on guest intentions will help the industry as it begins to recover. Attractions are having to compete with the appeal of the home now.
This survey shows that this was happening before the pandemic. "Destinations will need to find a way to outsell the comforts of home" by telling stories only they can tell, Havlik explained.
Overall guest satisfaction dropped by 3% in 2019 to a five year low. The NPS fell to 57%, a fall of 5% on the 2018 score. This means that the industry is losing committed brand ambassadors who are unlikely to recommend your attraction to their friends and family.
Attractions may see a temporary slight increase in satisfaction after the pandemic. However, Havlik argued that unless attractions change, this satisfaction will drop again. Wait times and long lines are the biggest issue attractions face.
Havlik said that it is important for attractions to understand their audience so they can increase guest satisfaction. The session ended on a positive note. According to the USTA, domestic US travel revenue is expected to return to 80% of 2019 levels in 2021.
CEO Speaks keynote address at IAAPA Expo: Virtual Education Conference
This panel featured Sharon Aguillen, President of TCB Productions, Sarah Cole, President and CEO of Glazer Children's Museum, and Rick Hunter, Chairman & CEO of ProSlide Technology. The session was sponsored by JRA.
Sarah Cole explained that although the museum is open and safe to visit, they are seeing a lack of demand. The Glazer Children's Museum receives its funding from revenue and fundraising. Because of the pandemic, it couldn't host two fundraising events which lost about three-quarters of a million dollars in funding.
However, the pandemic has forced the museum to "look at who we are as an institution and find our hedgehogs, the things we're the best at and lost the driftwood."
"We believe that there are AMAZING entrepreneurs in this industry. Their spirit is unstoppable".

We feel the same way, Rick! @ProSlideTech @JRAtweets @IAAPAHQ #IAAPAExpo pic.twitter.com/YsBR6uSVQ6

— Blooloop (@Blooloop) November 17, 2020
For Sharon Aguillen, she has focused a lot on local non-profits during the pandemic and trying to help them. She has been able to reinvent who is she and what she offers to her clients. Aguillen also has clients around the world and so she has still been able to work on projects in the future. "The energy will be virtual right now".
Writing and Installing Audience Driven Immersive Entertainment
In this session, sponsored by Polin Waterparks, Scott Swenson from Scott Swenson Creative Development, spoke about creating engaging immersive experiences.
For Swenson, an immersive experience is one "that creates an environment where the participants are part of, and can navigate within, the story". For an immersive experience, a "story sphere" is better than a simplistic line of beginning, middle and end. This allows for different journeys for each guest during the experience. It is a complex scripting process but this creates a personal storyline for each guest.
The scenery, audio, tactile and olfactory elements and actors are all vital in creating a successful immersive story.
Game Changer: The Power of Purpose
The final day of the IAAPA Expo: Virtual Education Conference started with a keynote session from Pamela Landwirth, President and CEO of Give Kids the World. This session was sponsored by Gateway Ticketing.
Landwirth started by saying that higher employee engagement is better for your company. It's vital to sit down with your employees and listen to them. At Give Kids the World, front desk staff asked to be able to sell merchandise because guests were asking for it. Merchandise is now very popular.
"Purpose isn't about what you make or the service you provide, but the culture you create," says Pamela Landwirth from @GKTWVillage at #IAAPAExpo #VEC2020 @IAAPAHQ pic.twitter.com/BiBE5FDZQG

— Blooloop (@Blooloop) November 18, 2020
She continued, saying "purpose isn't about what you make or the service you provide. It's about the culture you foster."
Work out what your purpose and mission as a company are, and ensure your employees understand where they fit with that purpose. This will help them to feel more engaged.
What happens if you don't listen to your guests?
In this panel, Tim Canada from NetServ and Tatvam discussed data and customer feedback. "Everyone has a voice and the ability to share that voice" thanks to the propensity of online reviews, Canada explained. Consumers have the power now because most people read reviews and react to them. Attractions need to read and respond to the reviews and engage with them.
Everyone has a voice and the ability to share that voice
Canada urges attractions to "be proactive, not reactive" with reviews. Collect and store data you collect from reviews to understand the key elements and where you can improve.
21 Trends on Accessibility, Sustainability and Technology
Joshua Liebman from Backlooper, Andrea Froehle from Event Network and Dr Kathryn Woodcock spoke about trends that intersect issues of accessibility, sustainability and technology. Cavu Designwerks and Dreamcraft were the sponsors for this session.
One trend discussed was the rise of mobile apps. Froehle explained that apps can save paper as physical park maps are no longer needed. They are also good for accessibility, Dr Woodcock explained. Mobile food ordering, for example, can be easier for deaf people because they don't have to have "inaccessible conservation with people".
Mobile apps can help a park be sustainable (no paper!) as well allowing customisation for more guests for accessibility. It's also #COVID19 friendly!

Super panel line up with Event Network, @safeandsilent and @Joshua_Liebman#VEC2020 #IAAPAExpo @IAAPAHQ pic.twitter.com/wd9f9LONf8

— Blooloop (@Blooloop) November 18, 2020
Liebman said that mobile apps "are not technology for the sake of technology". Virtual queuing allows guests to spend more time shopping or in restaurants. Attractions should take virtual queuing into account when building rides in the future.
The panel also noted the rise of cashless and contactless solutions. Liebman said that attractions should ease towards preferring cashless payments. But they should also look at all touchpoints within the employee and guest experience. This is especially important in a post-COVID world. For example, could survey kiosks become contactless?
Froehle highlighted that millennials in particular want to support brands whose values align with their own. Attractions should ensure their vendor supply chain is sustainable to attract millennials.
Keynote presentation at IAAPA Expo: Virtual Education Conference – changing attractions change the world
Andreas Andersen, President and CEO of Liseberg gave the final keynote session at IAAPA Expo: Virtual Education Conference, sponsored by The Shipping Monster.
He started by explaining that the current rate of change in the world is exponential. This means that the "operational environment" will move to "something much more complex". For Andersen, his role is to "balance being a custodian on one hand, and a change agent on the other".
Changes in society will necessarily change the attractions industry. For example, in Sweden saw a decrease in air travel before COVID hit. A focus on sustainability may affect destination parks. "This change in expectations from our guests is not something we can easily rebound from" Andersen warned.
The industry must remain agile since "we are all interconnected". Guest expectations are increasing because they compare attractions from around the world. Andersen said that attractions must remember that "what we're selling is not what the customer is buying … The customer is buying expectations, experiences, memories, emotions."
Andersen finished by saying that attractions must remember that "satisfaction is largely influenced by the value of services provided to the customer. This value is created by satisfied and productive employees. We are a people business and we should never forget that."
IAAPA will welcome the industry in 2021 for three in-person expos. These will take place in Macao, China, from 7 – 10 June; in Barcelona, Spain, from 28 – 30 September and in Orlando, Florida, from 16 – 19 November.