Blockbuster immersive experience, Dinosaurs in the Wild, is extending its run at London's Greenwich Peninsula until 31st July 2018 due to popular demand.
Currently at Manchester's EventCity following a hit run at Birmingham's NEC, the multimillion pound, prehistoric adventure will lumber into Greenwich, opening on 12th February.
Billed as a one-of-a-kind immersive adventure, visitors travel back 67 million years. They then come face to face with creatures such as Tyrannosaurus, Alamosaurus and Dakotaraptor.
The dinosaur tourists begin their epic journey by time travelling to research station TimeBase 67. This is set on the Late Cretaceous plains 67 million years ago. The station is surrounded by all the flora and fauna typical of the period. Some, such as conifers, flowering plants and insects are familiar to us today. The same cannot be said for the vast herds of dinosaurs roaming the wild landscape.
Visitors to Greenwich will be 'thrilled' and 'astonished'
In the safari of a lifetime, guests are driven to within inches of a whole range of megabeasts. Back at the research station, they get the chance to watch a dinosaur autopsy and witness hatchlings emerging from eggs.
For a real hands-on moment, guests can even plunge their hands into dinosaur poo. Other highlights include a visit to a lookout that gives panoramic views of prehistoric life in every direction.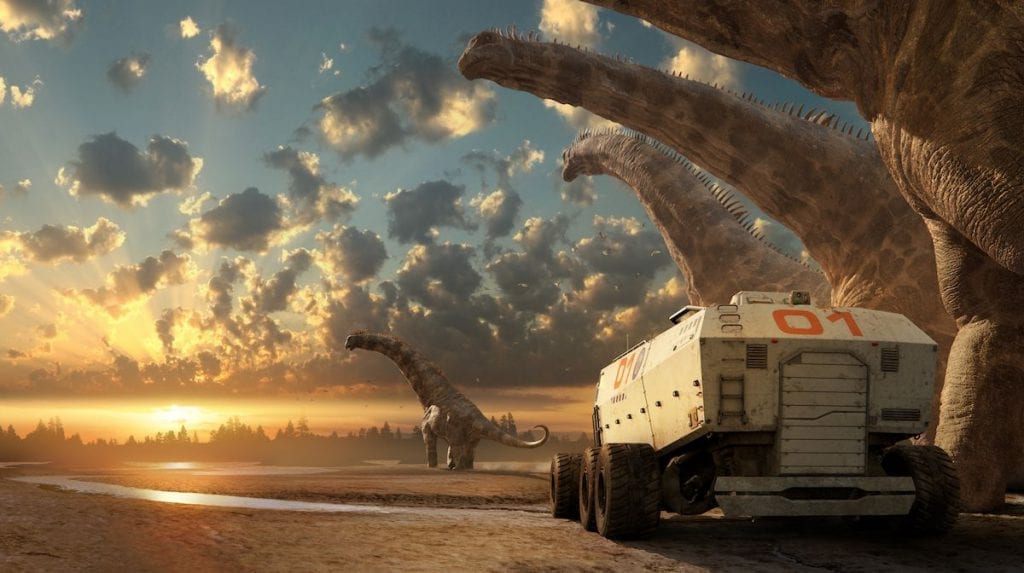 "After our successful runs in Birmingham and now in Manchester, we're delighted to say that we're extending our stay in London until July 2018," says producer, Jill Bryant.
"We can't wait for even more visitors to be thrilled by this completely new kind of immersive experience. We're in no doubt that Londoners will be astonished when they come face to face with the dinosaurs."
Visitor feedback has been overwhelmingly positive. One was, 'literally the closest you'll ever get to feeling like dinosaurs such as Tyrannosaurus and Triceratops are with you – alive!'.
Dinosaurs in the Wild opens its doors in London on Monday 12th February on Greenwich Peninsula and runs until 31st July 2018.
Images courtesy Dinosaurs in the Wild