The public can now explore the Natural History Museum in London in virtual reality (VR), with legendary broadcaster Sir David Attenborough as their tour guide.
Hold the World, commissioned by Sky VR Studio, takes users behind the scenes of the Natural History Museum into areas usually closed to the public. The interactive experience is set to launch this spring.
Using a headset and controller, participants will be able to peek inside the Conservation Centre, Cryptogamic Herbarium and Earth Sciences Library, and handle rare and priceless objects.
Attenborough, who was digitally recreated as a lifelike 3D hologram for the experience, will impart his expert knowledge about a series of specimens, including a blue whale, Stegosaurus, trilobite, dragonfly, butterfly and pterosaur.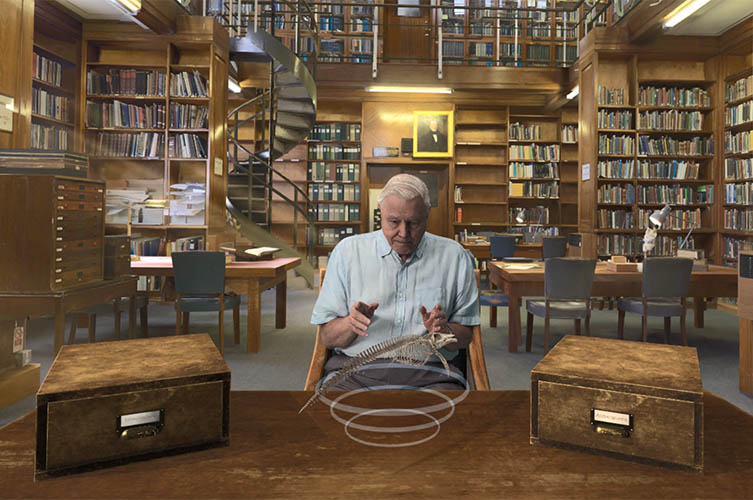 Participants will be able to virtually pick up, hold, enlarge and bring to life these specimens in a way that until now had never been possible.
Attenborough said: "Sharing my passion for the natural world is something which I have done for many years through different technologies, from the days of black-and-white TV to colour, HD, 3D, 4K and now virtual reality.
"Hold the World is an extraordinary next step in how we can communicate and educate people about experiences they wouldn't usually have access to in the real world, and I am delighted about what users can learn and discover from the museum's treasures in this new VR experience."
Ground-breaking technologies
The objects in the experience were scanned at very high resolutions. The Natural History Museum's Imaging and Analysis Centre then worked with scientists and animation teams to create a scientifically-accurate model and animation for each specimen.
Professor Paul Barrett, a dinosaur expert at the Natural History Museum, worked on the Stegosaurus model and animation.
"Our Stegosaurus is obviously a huge specimen so we can't normally pick it up and play with it. But now we can zoom in on the head and look at features of the skull and teeth, we can zoom back to look at the arrangement of the plates, we can tip the skeleton upside down and look at it from angles that we wouldn't normally be able to see," he said.
"We can also import it into computer programs to look at the engineering of how the skeleton is put together. So it's been a really exciting development for us here, because we are also seeing it in new ways for the first time too."
Hold the World was created by Factory 42 using a variety of new technologies, combining them in a way that had previously never been attempted. Photogrammetry was used to recreate the museum and Attenborough's hologram was created with more than 100 cameras in volumetric capture.
The experience lasts between 20 minutes and an hour. It will be first made available as a standalone app on Microsoft Windows Mixed Reality for a limited time. Later this year, it will launch within the Sky VR app on Google Daydream View, Samsung Gear VR and Oculus Rift.
Images: c. Natural History Museum.