Attraktion!, a leading manufacturer of media-based attractions and Intamin, a creator of record-breaking amusement rides, have teamed up to create an immersive new experience.
Dome Ride Theater is a new concept designed to provide each guest with a unique ride, featuring 360° uninterrupted views within a large LED media sphere.
Attraktion!'s LED sphere surrounds the experience with a diameter of 17 metres. The installation features a moving floor that reveals the full extent of the dome only after guests are securely seated at the start of the show, providing a preliminary "surprise-effect" to the rider's experience.
A rotating, tiltable ring of seating inside the dome features 4 mm perforated pixel screens, providing a total of 75 million immersive pixels.
Intamin is providing the dynamic platform which can rotate up to six times per minute, with 30° tiltability in each direction. The ride also comprises floorless seats, often found in Flying Theaters, with a wide range of 4D special effects including wind, vibration and scents.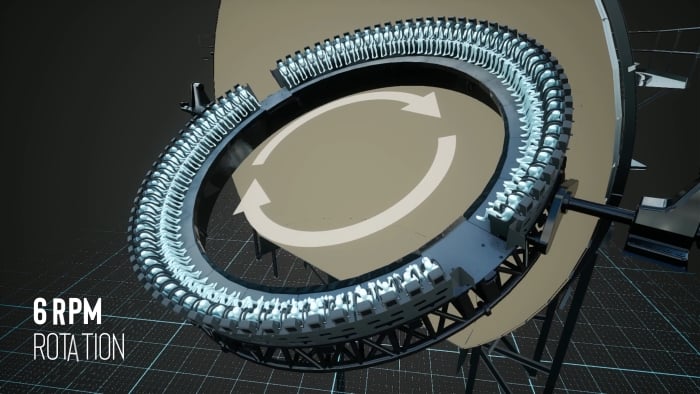 Already under construction
The Dome Ride Theater has been designed with a variety of applicable destinations in mind, such as traditional amusement and theme parks. The attraction's scope also means it can be installed as a standalone attraction for tourism destinations and retail complexes as a turnkey product.
Attraktion! and Intamin's collaboration also offers the entire experience infrastructure if required, including queue, pre-show, post-show and retail area.
The new product is made feasible through an Attraktion! patent utilised for the concept, with the first Dome Ride Theater currently under construction for an as-yet-undisclosed attraction client in the Middle East.
Intamin will be presenting its latest products and concepts at this week's IAAPA Expo (booth #5121) from 16 – 19 November.
The manufacturer will also be at LeisurUP by Mapic in Cannes from 30 November – 2 December where Intamin and Attraktion!'s will be at booth numbers R7E.6 and R7E.4 respectively.
Attraktion! recently showcased another innovation, gaming experience PlayNeo, at IAAPA Expo Europe 2021 in Barcelona.