Blooloop speaks to Berlin-based creative director Chris Lange about his lifelong fascination for themed entertainment and some of the key projects he has worked on over the years. This includes the very first LEGOLAND Discovery Centre in Berlin; India's first world-class theme park, Adlabs Imagica; and resort projects in Malaysia, Russia, Kazakhstan, and Turkey, as well as his rich catalogue of work at Europa-Park.
In a period lasting a little over four years at Germany's largest theme park, he was responsible for the creative development of €400 million ($470m) worth of new attractions. Those credits include Rulantica Water World, Krønasår – The Museum Hotel, Voletarium, Can-Can-Coaster, Madame Freudenreich, Snorri Touren, and the rebooted Pirates of Batavia.
Having worked on a freelance basis on and off during the past two decades, Lange now heads up his own company: Chris Lange – Creative Studio Berlin.
The boy from East Berlin seeks inspiration
"I think it may have something to do with growing up in East Germany, but I've never been afraid to go somewhere," says Lange. "It was not like being behind the iron curtain as some people would think. We would go to Bulgaria, or skiing in Czechoslovakia, but never to the United States or exotic places. So, I am always curious to see new stuff and be inspired to this day."
Some of his most recent work has been in Turkey and Kazakhstan. Opened in June, the mixed-use Karavansaray project celebrates the rich heritage of Central Asia. This follows earlier work for the Rixos Group at The Lands of Legends theme park in Antalya, where Lange designed a themed area dedicated to the intellectual property Masha the Bear. Further collaborations with Rixos are set to follow.
Another project with significant input from Lange is the Genting SkyWorlds theme park in Malaysia, set to open later this year.
Chris Lange's happy childhood
Chris Lange was 11 years old when the Berlin Wall came down in November 1989. Growing up in the East of the city, his exposure to amusement parks was restricted to venues such as the now-abandoned but soon to be reimagined Spreepark, where he rode his first roller coaster.
"Early on I knew where my passion was. At the age of five, I would build Christmas markets with carousels underneath the Christmas tree. I was such a big fan."
"My grandma's sister was living on the West side. That gave us a kind of privilege because we could get hold of Lego. You couldn't buy Lego in the East. And you certainly couldn't get Master of the Universe action figures.
"Once I made a flume ride out of Lego. I tried to flood the canal with water. It was leaking, so I put a plastic layer in and glued all the bricks together, which destroyed all my Lego! I used to love taking the action figures and building scenery around them in my sandbox."
With his sister and cousins, a young Lange would put on puppet shows, making not only the marionettes but also painting backdrops.
Discovering Disney
"When I was 14, my parents saved money for a three-week California tourist trip, starting in San Francisco and driving down to Los Angeles and Las Vegas. This was my very first time at Disneyland. It sounds so clichéd, but this for me truly was life-changing. This is the Happiest Place on Earth!"
Having helped his father in his electrical business during the school holidays, Lange developed a fascination for how things work.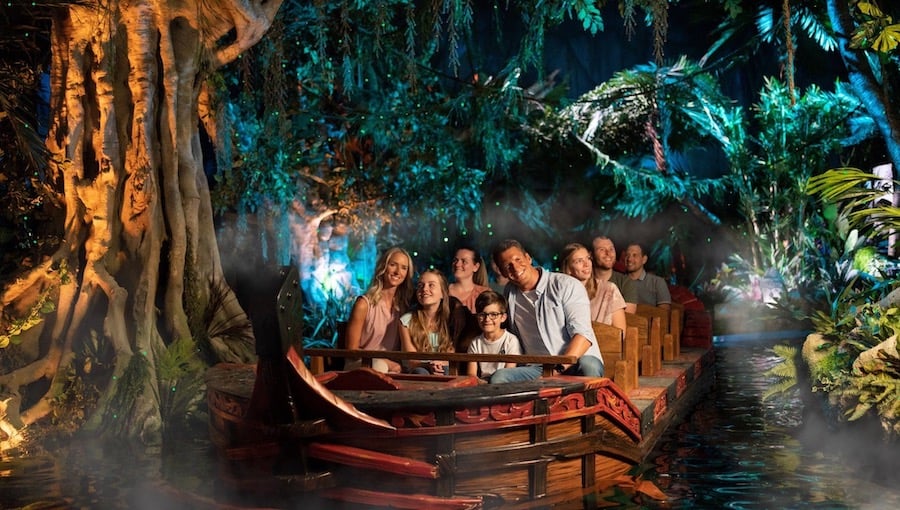 "I remember sitting in the boat in Pirates of the Caribbean. Of course, the sheer massiveness of the show sets was like 'Oh My God!' But I remember turning around and looking where they had hidden the light for this cannon, how do they do the fire in the burning city, and so on. Still, today, when I go on rides, I always do it three or four times."
However, Lange had to wait a little while before any theme parks came calling.
"In Berlin during the 80s and 90s, nothing was happening in themed entertainment," he says. "It was much more realistic for me to make a career in the movie industry."
Lights, camera, action!
During his school and university studies, Lange completed placements at Studio Babelsberg. The production facility in Potsdam used to produce content for West German TV before the fall of the wall.
"This was in the days before green screen when they would do big hand-painted backdrops," he says. "They were building a huge indoor palace for Catherine the Great, which was my first experience of working with big sets. I also spent time in the costume department."
When I was 23, I said: 'Let's take a step back and see what my passion is.' My passion had been theme parks the whole time
At the turn of the millennium, Lange landed an internship at local company Short Productions, making music videos and commercials after working his way up from coffee boy and runner.
"My boss back then, Kirsten Sohrauer, was the first person to believe in me. I was making music videos in South America, South Africa, Morocco, up in the Alps. It was great to travel the world, but it was maybe too much responsibility for a 20/21-year-old. I was working 80 to 100 hours a week. I burned out. Then the MP3 came along. People started downloading music and the budgets just crashed.
"So, when I was 23, I said: 'Let's take a step back and see what my passion is.' My passion had been theme parks the whole time."
Meeting Merlin
Lange used his time at the scenic company Das Atelier Niesler from 2003 to 2006 to pivot both himself and the family firm towards the themed entertainment industry.
"I told them: 'Instead of carving rocks for a movie sets out gypsum and Styrofoam, you can carve rock for a theme park with a steel frame and a thicker layer of concrete so that it lasts 20 years instead of being torn down after a week.' They trusted me to do business development, and I wrote to as many German parks as I could think of."
He also approached Merlin Entertainments, which was developing its Midway business in the country at the time.
"Six months later, we had our first job at the Hamburg Dungeon. We were entrusted to design this plague street, which we built probably far too cheap. But this brought us into contact with Merlin and we were invited to tender for the scenic construction of SEA LIFE Königswinter. Many more SEA LIFE Centres followed."
To this day, he still collaborates with Jan Niesler, who served as an on-site art director at Rulantica and Masha the Bear Land of Laughter at The Land of Legends. Merlin later asked Lange to join the company full time, as a creative director within the Midway division. "This was after they acquired Legoland but before Tussauds, so there was no Merlin Studios yet, only Justin East as creative director for the LEGOLAND parks."
The birth of LEGOLAND Discovery Centre
"I designed the prototype LEGOLAND Discovery Centre [LDC] in Berlin. How can we take the essence of the LEGOLAND brand but bring it into an indoor experience? After building models out of Lego when I was a child, being paid to design and build a real attraction at the age of 28, in my home city, was special."
This first LDC opened on Potsdamer Platz in 2007. It provided the blueprint for a Midway format that has now been repeated in 29 other cities across the globe.
"My time with Merlin taught me to be creative within the budget and timeline," says Lange. "That experience has been very beneficial to me in my career. Because now you can give me any budget and I can design to the best within that budget."
An Indian adventure
Chris Lange's next role was in 2010 as senior art director for India's Adlabs Imagica theme park, which opened three years later.
"Packing my stuff and moving to Mumbai, I seriously underestimated what was involved. It was overwhelming. You go there as a foreigner, and you are living in your bubble. But I loved the job. We had to design India's first theme park, designed to Western standards."
Lange was part of a team of 10 Westerners working with local employees. "I enjoyed working with the Indian team. In the Indian language, there is no word such as 'No'. You had to find polite ways to describe things you did not like. So, you might say, 'This is great, but have you thought of doing it this way?' Not only had the local team never designed a theme park before, but also they had never been to a theme park."
Nevertheless, he acknowledges a local flair for animation and visual effects. "You have big companies like Prana, which originated in India. There were certainly some artistic skills there. It was great to see the progress they would make."
Working with legends, myths, and religions
Lange learned a lot working with different cultures at Adlabs Imagica, which is now called simply Imagicaa.
"You had to navigate your way around the different religions which are practised in India. I was responsible for a special effects show, in which gods were fighting each other. Only we didn't want to offend some real idols and gods. So, we couldn't have a character with six arms like Ganesh."
"The park has a lot of original IPs. One great attraction is the Salimgarh dark ride. This is based on a local legend about a general who keeps his daughter in a castle. It was fun to research those stories, just as it was looking into local history when doing the Dungeons for Merlin."
After a rewarding year on the Indian subcontinent, Lange decided to return to freelance projects. He picked up some work in the US for Merlin, as well as designing much of the themed accommodation at Tropical Islands, an indoor water park housed inside a former Zeppelin hanger south of Berlin.
A tropical interlude
"Tropical Islands was another full-circle moment because years ago I was shooting a music video there for a band," says Lange. "Back then they were still building airships. I think they built one more before they realised this was not a good business case, shut it down and sold it to Malaysian investors, who put in the jungle and waterslides."
By pure coincidence, one of his next jobs would be in Malaysia, working on Genting SkyWorlds, the upcoming theme park at Resorts World Genting outside Kuala Lumpur. He describes this as his first big experience working with IP:
"I had worked closely with DreamWorks to design Shrek's Adventure! for Merlin in London. However, I'd never done anything of this scope before; a full park with multiple IPs, several coasters and dark rides."
Genting highights
Though he eventually spent more and more time on-site at Resorts World Genting (also known as Genting Highlands), Lange was initially based in Singapore, where Genting operates Resorts World Sentosa.
"The Singaporean designers were super talented," he says. "Being in Singapore with all these marvellous attractions around you, as well as Marina Bay Sands and the Gardens by the Bay, it was inspiring."
In addition to working with IPs such as Ice Age, Independence Day and Night at The Museum, Lange describes one of his highlights of the project as developing the motorbike coaster Mad Ramp Peak with Dynamic Attractions:
"It's not often you get to design a new ride system from scratch."
Chris Lange and the Europa-Park years
Following this: "Much as I love travelling, it was time to go home," says Lange. "I wanted to be back in Europe.
"Europa-Park heard I was back, and I already had a good relationship working with Mack Rides on various projects. So, Michael Mack invited me to come over and discuss their water park project. They had a very good masterplan from PGAV, and the slides were picked from ProSlide, but there was no storyline other than the name."
Lange says he was honoured to be asked to help with plans for Rulantica and the adjoining Krønasår hotel. Working initially with his team in Berlin, he was invited soon after to relocate to Europa-Park on a full-time basis. From June 2015 he took on the role of creative executive, responsible for the entire resort's creative development.
On arrival, Lange did some bridge-building behind the scenes:
"You had this beautiful park, but the construction and design departments didn't talk to one another. I tried to make the construction department understand that without the designers to draw concepts they wouldn't have anything to build. But if the designers didn't respect the construction people, their designs would always be on paper. It's never a one-man show."
Making Europa-Park more Europa-Park
Merging the two departments resulted in what he describes as a Walt Disney Imagineering style operation, albeit on a smaller scale. New talent was hired from France, UK, the USA, and the Netherlands ahead of the huge period of investment that would follow.
"During those four years, I worked on over 40 projects," says Lange. "This included big projects like the Voletarium, Pirates of Batavia and of course Rulantica.
"One of my jobs was to reimagine the French Quarter. After almost 30 years, we had to change the track on Eurosat. The Moulin Rouge is such a symbol of Paris. So I came up with the Can-Can-Coaster concept, inspired by the bohemian lifestyle in Montmartre at the turn of the last century. The Moulin Rouge is also a family business. They trusted me with their iconic windmill and all that it stands for, in the only official theme park representation."
"We also changed the Universe of Energy, which was the name of an attraction at Epcot, into Madame Freudenreich Curiosités. In the olden days, people would not travel, so could not compare. I am pleased that we could create new stories just for Europa-Park. And I think this is an important message for smaller parks too. You don't need to buy a big license from an IP holder. By telling your own story, you can create something that feels more authentic for local guests."
As creative executive at Europa-Park, Chris Lange introduced a new era of storytelling and show quality to the park. He was responsible for all new stories and designs, as well as developing a long-term expansion strategy and investment plan.
Rising from the ashes
The fire that struck the Scandinavian and Dutch-themed section of Europa-Park in May 2018 allowed it to reimagine another favourite.
"Pirates of Batavia was always too Disney inspired for me," says Lange. "Although it is set in a different location [Batavia is the former name of Jakarta, Indonesia], it had some scenes very close to the original. After the fire, it would not be appropriate to build a burning city again inside the attraction. So, we completely changed the storyline. It became a homage to this beautiful region of Southeast Asia."
"The fire also meant we could build another dark ride in the basement of Scandinavia. The idea, story and ride layout for Snorri Touren were created in-house. But we were already working on the Can-Can Coaster, Madame Freudenreich and Rulantica at the same time. So, we needed a strong design-build company to help us. Jora Vision came on board to develop our ideas for Snorri Touren, which won a Thea Award."
Chris Lange returned this summer for the first time in two years to see many of the projects he designed at Europa-Park.
"I wasn't sure how it would feel. There's a lot of emotion attached because you put your heart and your soul into those attractions. But I met with Michael Mack, and we had a lovely time. Seeing Rulantica, Krønasår, Pirates of Batavia and Snorri Touren with guests was joyful."
Chris Lange – Creative Studio Berlin
In 2019, Lange returned to Berlin, where he has set up Chris Lange – Creative Studio Berlin. While only two years old, the company has already grown rapidly. In fact, just last month, he doubled the size of his studio. He also recently hired a veteran producer with experience at Walt Disney Imagineering, BRC Imagination Arts and more, who moved from LA to join the studio.
To date, Chris Lange – Creative Studio Berlin has worked on a number of international projects. Lange and his team work on both smaller investment projects in Germany and large-scale, long-term developments around the world.
In a departure from previous freelance projects, where Lange gave larger pieces of work away to others, he is now doing everything in house. The studio is able to hire the right people for each job, from technical directors to light designers, architects, show set designers and more. While there is a great deal of talent in the region, Lange also hires experts from around the world.
"We can turn things around quickly and keep it flexible," he explains. "On average, I will have eight to 20 people working with me. But if it's a big project it might be up to 40.
"I am doing this for 18 years. As you get older you know what your strength is. And mine is developing the creative vision and seeing it through from beginning to end."
Now, building on this strength, Lange is currently focusing on several upcoming projects in Russia. This is in addition to work with Rixos in Turkey and Kazakhstan.
"Dreamwood helped establish me in Russia," he says. "I think some of the larger US companies have a harder time. But for me growing up in the East, I kind of know the culture a little bit, I guess. And I can still speak a little Russian too."
Industry inspiration, networking, and recognition
Lange cites industry veteran Cliff Warner as a friend and influence. "He invited me to work at Thinkwell back in 2006. He has been a great supporter over the years."
Kevin Barbee, formerly of Universal Creative and IRMS, also inspired him: "I learned a lot from him working on 20th Century Fox World at Getting Highlands. He's an awesome creative mind and master planner."
A regular collaborator is David Weiss, of LA-based Flying Doghouse Productions. "I met David in India while working on the Adlabs Imagica in 2010. To this day, he's my go-to creative writer. He makes me shine."
"Connecting people is something I enjoy. I like to mentor students because I remember how hard was to break into the industry and meet the right people. But networking these days with all the digital events is so much easier."
To this end, Lange is a regular speaker at industry events, such as IAAPA Expo. He recently delivered a session at IAAPA Expo Europe in Barcelona, exploring how to develop stories into IPs that thrive beyond the theme park gate. Plus, he spoke at TEA SATE about mental health and how not to put your career before your own wellbeing.
Every year since 2019, Chris Lange has also appeared on the blooloop 50 Theme Park Influencers list. "That was super surprising," he says.
"Working internationally is what I enjoy most, it's a nice feeling to be recognised in this way."