IAAPA's first trade show and conference for almost two years took place in Barcelona over the final three days of September 2021.
There were a number of protocols in place due to the pandemic. For instance temperature checks on arrival, and face masks. There were also extra-wide aisles on the show floor and socially distanced seats in the conference areas. Yet once the 8,500 industry professionals that attended IAAPA Expo Europe met in the Spanish city, business relationships and friendships resumed as if they'd never been interrupted.
IAAPA Expo Europe 2021 came 22 months after the last IAAPA Expo, in Orlando, in November 2019.
IAAPA EMEA (Europe, Middle East and Africa) was successful in staging a Spring Summit in Belgium this June. The Barcelona event, however, was the first mass gathering for most industry professionals in the region since the start of the pandemic.
An optimistic outlook and renewed relationships
As attractions industry professionals met in person once more, there was a palpable sense of optimism. And, speaking to manufacturers and suppliers on the floor, it appears that orders are still coming in.
The big reunion for many was Tuesday's sold-out opening reception at Tibidabo, the mountainside amusement park overlooking Barcelona. This attraction previously hosted the reception in 2016 when the trade show, then known as the Euro Attractions Show, last took place in Barcelona. But this year, it was made all the more special, given the lack of networking opportunities over the past 18 months.
On Wednesday, there were get-togethers for young professionals and also a mixer from the TEA (Themed Entertainment Association) at the Hotel Porta Fira.
Lots to see, lots to learn
Around two-thirds (5,800) of IAAPA Expo Europe attendees were classified by IAAPA as buyers. They had their pick of 439 booths; enough to fill two halls of Fira Barcelona.
There was also space in the second hall for the IAAPA Theatre, two conference rooms and COVID testing facilities. The open format of the conference spaces allowed attendees to see each session before scanning in. There was a good turnout for many of the seminars and panel discussions, covering everything from cashless payment to TikTok. Furthermore, IAAPA members unable to attend the Expo in person could stream most of the sessions with a 'Digital Pass'.
A new addition to this year's programme was Thursday morning's Host Country Special. During a three-hour programme, there were presentations from Tibidabo, Puy du Fou España, PortAventura World and various consultants.
A particularly enjoyable session was 'Cheers To Our Mistakes', in which Liseberg's Andreas Andersen, IAAPA global chair Amanda Thompson OBE from Blackpool Pleasure Beach and Ripley's Jim Pattison Jr shared some frank experiences from their many years in the business with IAAPA EMEA vice-president and executive director Jakob Wahl.
Be more pirate!
In addition to an opening keynote on Tuesday morning from travel journalist Doug Lansky, on 'Futureproofing the Attractions Industry' – there were several ticketed education opportunities.
These included Wednesday's Lunch & Learn with Dr Rebecca Homkes from the London Business School and a Leadership Breakfast with life consultant Sam Conniff. Many renegade attractions industry professionals repeated his mantra, "Be more pirate", over the days that followed.
There were also several off-site events before and after the Expo. These included Monday's Water Park Day at Water World and Aquadiver, and an Indoor Entertainment Day at Hotel Porta Fira. There was also a choice of three events – EduTour, Sustainability Day and IAAPA Safety Institute – over at PortAventura World.
PortAventura World also served as the backdrop to the SATE Europe conference from the TEA. This took place from 1 – 2 October 2021.
A COVID-free Expo?
"The road to this year's IAAPA Expo Europe was long, complicated and full of obstacles," said IAAPA's Jakob Wahl after the event. "But we were convinced of our concept. The feedback of exhibitors and attendees confirmed that it was the right decision to go ahead."
What's more, there was not a single claim under the compulsory insurance policy offered to all Expo participants. This would have covered their extended stay in Barcelona had they needed to isolate after testing positive for COVID-19.
Wahl added: "This Expo was about preparing for the future, inspiring each other and sharing important learnings from the pandemic – a fresh start for the entire industry."
New parks, products and partnerships
Whilst there were no official press conferences on the show floor this time, people still had new products to show. Several fresh industry partnerships were announced too.
In a press conference at the Hilton Barcelona on the opening day, attendees learned about a new project for Latin America:
"Inka Park is a project that follows the Peruvian dream," said Jaime Paredess, director of communications. At the heart of the development will be a world-class theme park covering 500 hectares. The wider resort will also feature a Yaku World Waterpark, Inka Hotel, bungalow accommodation, a casino, spa, golf park and gardens. The Inka Park project's Dutch investor has chosen Jora Vision as the lead development partner.
Earmarked for a site in Northern Peru, phase I of the project is scheduled to be complete in around five years' time.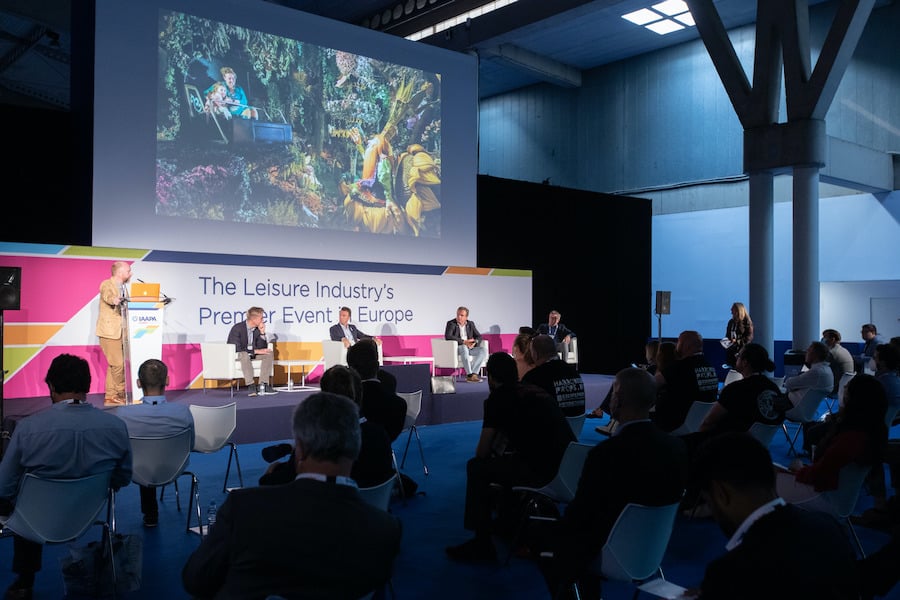 Back on the show floor, dark ride proposals were in evidence from what seemed like an increasing number of suppliers. Meanwhile, a packed conference room assembled to hear more on the topic, in Tuesday morning's Ultimate Dark Ride Session.
A stellar speaker line-up included contributions from academics Pieter Cornelis and Wim Strijbosch, Andreas Andersen from Liseberg, PortAventura World's David Garcia, Michael Mack of Europa-Park and Mack Rides, plus Karen Staley from Sally Dark Rides.
A bright future for dark rides
Alterface's interactive technology features in over 70 dark rides worldwide. The company had two new products to showcase on its booth in hall 2. Featuring six ride vehicles spread across three spinning discs, Action League is a unique mix of interactive gaming and motion. And unlike a dark ride, guests can see it all in front of their eyes as they queue.
Then there was Wander, which turns the whole park into an interactive experience.
On the Leisure Expert Group booth, there was a model of a new dark ride concept, developed with Zierer. The German manufacturer's ride vehicles already feature on Ghostbusters 5D at Heide-Park. The two companies, who have entered into a non-exclusive partnership, have devised three ride layouts and six possible stories. This includes evergreens like dinosaurs, wizards and Vikings, as well as fun themes such as a farm and music festival.
Interactive attractions specialist Triotech had done its fair share of dark ride projects in recent years. The Canadian firm's vice-president of communication and alliances, Christian Martin was happy with the results in Barcelona:
"We had many more visitors than expected, even though the numbers were lower than the previous IAAPA Europe Expo in Paris. An important point is that potential buyers that got through the trouble of travelling in these challenging times had concrete projects in mind."
Face to face meetings
Walltopia's Sofia Cohen was in agreement: "Those people that are here are serious. If you make all that effort at the moment, you probably have business to do. We had face to face meetings with some clients that we've never seen in person!"
Nine years after making the leap from climbing walls into the wider active entertainment market, Walltopia prides itself on having a wider range of products than any other supplier. As well as a huge upcoming installation in China, Cohen name-checked a Spanish project at the Sputnik climbing centre in Madrid.
New to the industry since the last IAAPA Expo, BoldMove Nation's eye-catching booth at IAAPA Expo Europe was staffed by a team including interactive attraction veteran and company founder Benoit Cornet, and Anja D'Hondt.
"It's been great to feel the enthusiasm of venue owners, who see visitors returning and are starting to plan for the next seasons," said Cornet. "We have tremendous interest in our Smash & Reload dark ride, which fits exactly the current need of regional parks for an affordable and fun indoor family attraction."
Water park innovations, masks and disinfectant
ETF Ride Systems previewed an interesting new development of its trackless technology, suitable for both water parks and theme parks. The new Aqua Mover vehicle and accompanying Tiki Splash Roulette attraction concept features the Tiki god of the sea, who decides whether riders stay dry or get soaked.
"We think this new interactive concept meets the needs of water parks that want to expand the experience," said ETF CEO, Ruud Koppens.
Vekoma's Nicola Masin was at his first European trade show with the Dutch roller coaster supplier. Yet he's no stranger to the business after his many years with a well-known Italian ride manufacturer:
"It felt strange because of the masks and disinfectant everywhere. I think we'll get used to some of these things, just like certain things became normal after 9/11. On the first day, not everyone seemed clear about what they wanted. But just being here created a spark in their mind, and by the second day, they started to talk business. We are not looking at projects for 2022 or 2023, but 2024 onwards."
The importance of experiences
Basing themselves on the booth of Experience UK were Ed Samkin and Mike Badley, founders of Luminous. The show technology specialist produces fire and water effects for live performances including concerts. However, it pivoted towards the attractions industry during the pandemic.
"The past year-and-a-half made us realise how vulnerable were are in live events and sports. But people need to get out there and have experiences. I was surprised how few people there are doing what we do in theme parks and attractions. I think we'll definitely be back next year as exhibitors."
Family reunion
IAAPA Expo Europe 2021 certainly proved the attractions community is on the right path to recovery.
"The attractions industry truly is like a family," says IAAPA president and CEO Hal McEvoy. "To finally come back together – in person – means a great deal. We understand our members and the industry are still working through the ongoing impact of COVID-19, but we are confident the industry will emerge from these challenges stronger than ever. IAAPA Expo Europe was an important step toward full recovery."
London will host IAAPA Expo Europe 2022, from 13 – 15 September. More than 325 exhibitors have already reserved their space.
Sponsors of IAAPA Expo Europe 2021 included accesso, Brogent Technologies, DOF Robotik, Gateway Ticketing Systems, Interlink, JRA, Leisure Development Partners, Polin Waterparks, ProSlide Technology, QubicaAMF, Sally Dark Rides, Simworx, Valo Motion, Vekoma Rides Manufacturing, and WhiteWater.
Images courtesy of IAAPA EMEA, Owen Ralph and various companies featured.