Having won approval for its 'World of Efteling 2030' expansion, the Netherlands' number one theme park has reason to be optimistic as it emerges from the pandemic. Efteling CEO Fons Jurgens speaks exclusively to blooloop.
Jurgens has been with Efteling for 25 years, having joined the fairytale-themed destination in Kaatsheuvel near Tilburg in 1996 from private healthcare provider Fundis. He has since become the leader of a theme park with fans far beyond the Dutch borders, and he has helped Efteling grow annual attendance to almost five and a half million.
The theme park now has an increasingly international guest profile. But what's in store between now and 2030? How have guest expectations changed? And why does its chief executive feel such an attachment to this 'World of Wonders'?
A special park
"Efteling is a very special company," says Jurgens. "As a [Dutch] child, you grew up with the theme park, where you experienced beautiful memories with your parents and later your friends. How wonderful it is to be part of that later on in life!"
"Twenty-five years ago, I came on board as a policy officer in commercial affairs. I worked my way up to CEO. Just like most of the employees, I am proud to be part of Efteling. We feel very strongly about offering employees ample opportunity to grow."
Jurgens assumed the role of CEO and Chairman of the Board in April 2014, having previously served as Director of Commercial Affairs. Under his predecessor, the late Bart de Boer, the park had already implemented a 365-day operating calendar and holiday village. This paved the way for a steady increase in visitors over the years that followed.
Driving growth at Efteling
Under Jurgens' management, annual Efteling guest numbers have risen by more than 30%, from 4.1 million in 2013 to 5.4 million in 2019. Attendance last year was affected by the pandemic. But the end figure of 2.9 million visitors for 2020 is still respectable by most other European theme parks' standards.
This also serves to highlight the potential offered by a year-round opening schedule. Even after COVID-related closures, Efteling traded for 268 days last season.
Yet this kind of growth has not been achieved simply by never closing. Sustained investment in new high capacity attractions, live entertainment and themed accommodation has also kept the guests flowing.
"Attractions such as Baron 1898 and Symbolica are, of course, unique and high-profile," says Jurgens. But others were selected for more strategic reasons: "Incorporating a beautiful and well-known German story such as Max und Moritz in a family roller coaster highlights Efteling as an international storyteller.
"Since 2010, we have developed a good mix of indoor and outdoor attractions. With all the expansions we have done, we keep a close eye on that balance."
Together with Symbolica, the 2019 upgrade of the former PandaDroom into Fabula, featuring a 4D film by Aardman, is evidence of the park's commitment to attractions that families can enjoy whatever the weather and whatever the season.
A world of fairytales and storytellers
With its fairytale forest (the Sprokjesbos) roots, Efteling has storybook legends running through its veins. In 2019 it added a 30th fairytale, the Six Swans. Jurgens acknowledges some of the storytellers and artists who have helped shape the park and its attractions over the years:
"Efteling is the life's work of giants such as Anton Pieck, Peter Reijnders and Mayor Van der Heijden," he says. "Everyone who came after them was able to stand on their shoulders as 'dwarfs'."
With credits such as the legendary dark rides Droomvlucht and Fata Morgana, Ton van de Ven took over the baton from Anton Pieck.
"And now, led by Sander de Bruijn, many designers and storytellers are following in their footsteps," says Jurgens. "Sander was the lead designer of Raveleijn, Symbolica and Baron 1898. With experiences like these, we make Efteling even more beautiful than it was already."
The total Efteling experience
Raveleijn is a prominent example of the investment the park has made in its live entertainment offer over the past decade.
Produced in partnership with Puy du Fou, it was the show park's first production outside France. The show is performed several times daily in an elaborately themed arena. It entertains large audiences with stunt horse riding, falconry and a five-headed, fire breathing dragon.
With its convivial atmosphere and medieval feasts, the adjoining Hep Wapen van Raveleijn restaurant is a popular dinner spot for families. Another gastronomic highlight is the themed pancake house Polles Keuken. Coming soon, Bäckerei Krümel will offer baked goods with an Alpine twist. This will complete the Max + Moritz square by the roller coaster of the same name.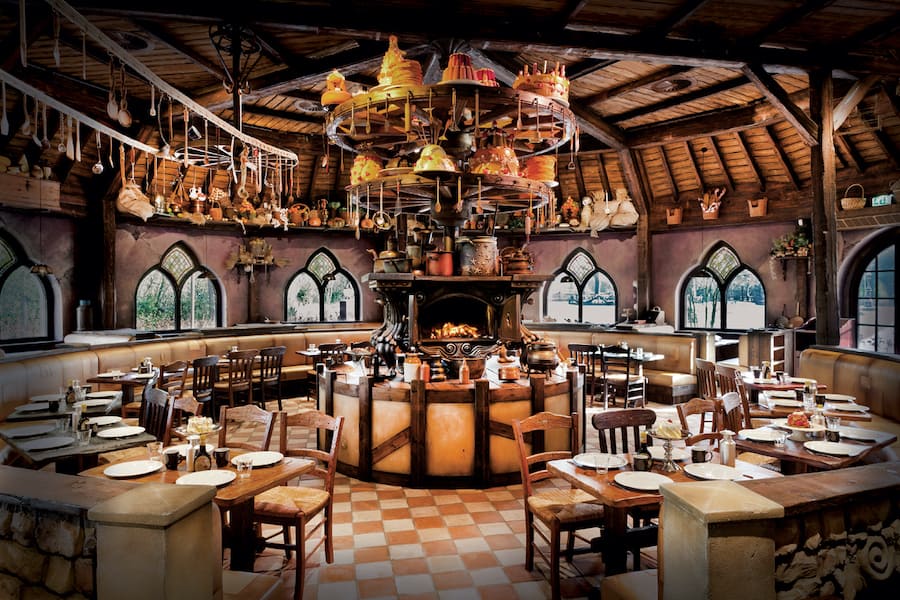 "Experiences make the difference," says Jurgens. "Not only the attractions but also the food, accommodation, merchandise and entertainment. Each is part of the total Efteling experience that stimulates all the senses. Our staff and technology are also very important in making our storytelling as impactful as possible.
"We realise that as they see more of the world, our guests' expectations grow higher. This includes the catering and live entertainment offer. That is why we started a new concept this year in our restaurants: The Better Choice. In time, there will be a healthier alternative for each product group. Such as a wholewheat pancake with fresh fruit instead of syrup, and a vegetable wrap instead of bread."
Evening entertainment and overnight stays
Many guests finish their day by gathering around the park's lake at dusk to watch Aquanura. This, Europe's largest fountain spectacular, is performed to the Efteling Medley. Those wishing to stay a little longer, or even overnight, can upgrade their experience by buying a ticket to CARO.
This 75-minute musical celebration of the circus is performed in the Efteling Theatre. At the time of writing, it is suspended due to social distancing. It will return on Thursday, Saturday and Sunday nights from September.
The park now enjoys a rich selection of themed accommodation offerings. The original Efteling Hotel, which opened on the northeast corner of the property back in 1992, has just had its themed rooms renovated.
But it was the arrival of Efteling Bosrijk in 2009 that signalled a new era of accommodation. This completely immerses guests in their environment both in and outside its woodland holiday cottages. Loonsche Land, which opened along with Symbolica for the park's 65th year in 2017, features both a hotel and lodges.
"It was Efteling's goal to grow into an international, multi-day holiday destination," says Jurgens. "To achieve this, the focus was on creating an optimal experience of the amusement park and accommodation facilities. In 2018, the number of visitors of 5 million was achieved. This was partly due to the success of the hotels and holiday villages.
"In that year, we welcomed the 4,444,444th overnight guest!"
A new era for Efteling
As Efteling works towards its expansion over the coming decade, there will be fresh residential and recreation offerings.
The 'Wereld van de Efteling 2030' development plan was finally approved in June, after several appeals against it were rejected.
"This rewards our extensive preparations," says Jurgens. "In 2015, in cooperation with the municipality of Loon op Zand, we started a careful process with local residents, the municipality and nature organisations. The fact that the development plan is now definitive makes me very proud. For us, it really feels like the first giant step towards the future of the World of Efteling."
Much of what is to come has yet to be revealed. But the scope of the development that will take place between now and 2030 is evident in the plan shown above.
In addition to the large area identified bottom right, the areas labelled 'Uitbreiding' are also earmarked for expansion. The initial focus will be on developing infrastructure, walking routes and theming as the park prepares to expand east. However, despite the positive ruling, building work will not commence just yet.
"Our vision for 2030 will not change," says Jurgens. "But we are rearranging activities to ensure we achieve our ultimate long-term plan. Because of the financial consequences of the coronavirus pandemic, we will not plan any new investments beyond the gates of the existing theme park at the moment. We will have to make other choices."
New for 2021
Efteling has already announced an investment of €2.8 million for the existing Reizenrijk area of the park. This autumn, it will retheme the attractions Adventure Maze and Monsieur Cannibale (spinning cauldrons) as Archipel and Sirocco. This is as part of the new World of Sindbad. At a later stage, the Panorama Restaurant will be adapted to the same theme.
"This way, this area will be optimised when, in a few years' time, guests will walk towards the attractions in the new expanded eastern area", says Jurgens.
Sander de Bruijn is the lead designer on this project, assisted by Richard van Leeuwen. A lecturer in Islamic Studies at the University of Amsterdam, van Leeuwen has published many articles and books on the Tales of the Thousand and One Nights.
"The tales of Sindbad and his sea voyages contain a large reservoir of cultural characters," says van Leeuwen. "This offers many possibilities, that in combination with Efteling's ambition to tell stories in an inclusive manner, are sure to create a positive image of the rich Arab culture."
Already this season, Efteling guests can enjoy an inclusive new attraction, Nest! This is a replacement for the ride Polka Marina (dancing pirates ships).
A play forest for all
"Nest! is a play forest where children with and without disabilities can play together to their heart's content," says Jurgens. "Accessibility and inclusiveness are a key focus for us. Polka Marina was mainly for younger visitors to Ruigrijk – the area in the park with the big rollercoasters. We find it important that everyone feels at home in our park. This was the starting point for Nest!"
The wooden boardwalk that runs through the play area is accessible to guests in wheelchairs. There are various play options within, such as a large ship and a dragon tower with two slides. One of those slides is suitable for children to transfer onto from a wheelchair.
In the centre of Nest! is a playground waterbed that resembles a compass. This is completely level, without barriers. There are also low-stress areas where children can some peace and quiet.
Nest! was created in collaboration with organisations including Stichting het Gehandicapte Kind (Disabled Child Foundation). In addition, the Dutch theatre creator and wheelchair athlete Marc de Hond acted as a special advisor and wrote an inclusive fairytale, The Saviours of Ruigrijk, in which children with disabilities play the leading role.
This is available to enjoy in the form of a tactile picture book as well as an animation, as seen below.
Inclusivity and sustainability
When it comes to inclusive initiatives, the play forest will not be a one-off, says Jurgens:
"Efteling is for everyone. We're focusing on increasing our accessibility for guests with a disability and physically, financially or socially vulnerable groups. Efteling supports charities that contribute to this by offering a fully catered day out, making a financial contribution, or using our knowledge and expertise."
As well as inclusivity, "Caring for the environment and sustainability is in our DNA," says Jurgens.
We are working very hard on long-term plans in which sustainability and accessibility play a major role. Efteling's ambition is to be climate-neutral in 2030
In fact, the park was born out of the Efteling Naturepark Foundation, founded in 1950 (the Fairytale Forest came two years later). Even today, the park has developed only 11% of its natural surroundings.
"Behind the scenes, we are working very hard on long-term plans in which sustainability and accessibility play a major role. Efteling's ambition is to be climate-neutral in 2030 and we would like to reduce our footprint. We are already doing many things. For example by generating our own energy, using electric vehicles in the park. And by encouraging our employees to come to work by bike."
Jurgens wants to make it easy for guests to do their bit too. "We encourage them to come by public transport, through co-operation with local transport companies. And this year we provide our guests with a charging station for 174 electric cars."
Keeping the wonder alive
Last season was certainly a challenging one for Efteling, as for many other attractions. "During the summer and autumn opening, the experience for our guests was different, yet familiar," says Jurgens.
"We took many measures to ensure a safe visit. We communicated clearly about this on our website and in the park. This has certainly had an impact on the atmosphere inside the park. Despite the measures, Efteling continues to receive high guest ratings: 8.38 out of 10."
"Guests found it wonderful to escape from everything, in our familiar, natural environment. They could really appreciate our attention to safety, usually invisible in the park. Now that more and more people have been vaccinated, we can once again focus on improving the atmosphere and the experience in the park and the accommodation."
Welcoming guests back to Efteling
Jurgens was happy to treat his guests to a brand new roller coaster last season (Max + Moritz), even at the height of the pandemic:
"The investment had already been made and work was already well advanced. We took advantage of the closure to complete the construction. In the end, we managed to open Max + Moritz in the spring of 2020. In a tough year, we were able to delight our guests with a joyful new Efteling experience.
"We are very much looking forward to welcoming guests from all over the world to our World of Wonders as soon as possible," says Jurgens. "And we hope that our colleagues will be able to quickly pick up where they left off and focus on the most important thing: giving our guests a fantastic day."
All images kind courtesy of Efteling