Merlin Entertainments has partnered with Global Zhongjun to build and operate a more than full-scale LEGOLAND Resort in Sichuan Province in Western China. This is due to open in 2023. LEGOLAND Sichuan, which will be operated by Merlin, will have two highly-themed LEGOLAND Hotels, with approximately 500 rooms, and will be the largest LEGOLAND in the world.
Global Zhongjun is a joint venture between development companies Zhongjun Beijing and The Chengdu Global Century – Exhibition & Travel Group (ETG).
John Jakobsen, Managing Director, with global responsibility for LEGOLAND Operations and Development at Merlin Entertainments, and John Ussher, Development Executive at Merlin Entertainments, spoke with blooloop about the project, and the Chinese market.
Merlin Entertainments in China
Merlin has been building a portfolio of Midway properties in China for about a decade.
John Jakobsen says:
"Merlin has thirteen Midway attractions in the Chinese market, which we have developed over the last 10 years. So we're quite familiar with the nature of the market in different geographies, from a different brand target market perspective. That expertise has been built up predominantly around the Midway attractions we've developed. So, that's one important background.
"There are other factors that I think are very important for what we are now doing on LEGOLAND. One is that what we have seen, and indeed experienced in Midway, has been the general development of the Chinese attraction market. That has been increasing purchasing power, more and more available leisure time, interest in theme parks, which has been increasing."
New agreements
Another dimension that is extremely significant, he explains, has been the continued successful growth of Lego in the Chinese market:
"Lego has been on a growth pattern and has dedicated significant resources to their position in China. That has happened, really over the last 10, 15 years. And this has resulted in the continuous development of a very targeted growth every year in the Chinese market.
"China is now one of the strongest single markets in the world for Lego products. They are continuing to see growth rates of very significant rates of between 20 and 40% every year, and the expansion of Lego stores. Their plan to be established in the Chinese market over the coming years is very significant."
"The basis behind LEGOLAND parks is that we've seen the brand being established. It is almost 10 years now since we started looking at the options for LEGOLAND parks. We have entertained now a dozen different municipalities and regions around China, and studied those for possibilities of LEGOLAND parks, and come up with the list.
"Now, we have three signed agreements for LEGOLAND parks to be established in China."
Introducing LEGOLAND Sichuan
LEGOLAND Sichuan will be located in Tianfu New Area, Meishan, approximately 60km from Chengdu.
Jakobsen says:
"We call it Sichuan because it is in the province of Sichuan in China. But it's very close to the city of Chengdu; just to the south. It is one of the big metropolitan areas of China. We think it is a natural location."
"Again, there are several factors that need to come together. One is the market dynamics. We need to make sure that it has enough population base, tourist base, and so on to support the type of development that we do, and that the Lego brand has penetrated well enough, purchasing power is where it should be, and so on.
"Chendu scores very high on these dimensions. It closely follows the tier-one cities, Beijing, Shanghai, and so on, in terms of market activity. That's why we think that market is very strong."
A collaborative approach
"Secondly, you need a very collaborative partner side. Our approach to the Chinese market has been that we are not going to be the lead investor.
"We are focusing predominantly on our skills of design, development, management, in what we offer the partnership. And then we are looking for Chinese partners to take the involvement on the financials of the project, which there has been in Chendu, the right partners. The region is very supportive of the development, on a provincial level as well as on a city level. Merlin Entertainments has partnered up with a very strong entity."
The partnership agreement is with Global Zhongjun. This is a joint venture between development companies Zhongjun Beijing and The Chengdu Global Century – Exhibition & Travel Group ("ETG").
"They have created absolutely fantastic and world-class projects in the past. So we are confident in the partnership with them and in them also creating a fantastic project at LEGOLAND Sichuan."
Lego in China
The Lego phenomenon only reached China relatively recently.
Jakobsen says:
"The first time I visited China back in 1996, Lego was largely unknown in China. It was handled through a distributor at that time in the Chinese market. The journey has taken place over 25 years, from a distributor that was selling products on Lego's behalf in the market, to now being a market in which Lego is established, and has grown tremendously."
John Ussher joins the conversation to drill down into the LEGOLAND Sichuan project, and explore what makes it special:
"I think that there are going to be several components of the park that will be different from what we've done before. One of the things that we're going to do is put Miniland and all of our building activities under one roof. That is partly for weather protection and model protection. But it is also for the ability to program and bring more life to Miniland with lighting, sounds, projection mapping, et cetera. That's pretty exciting for us because we've not done that before."
Miniland develops at LEGOLAND Sichuan
That building will also have a rollercoaster going around it, says Ussher. "It will be, effectively, the icon of the park with a really large figure out at the front of that building.
"That is a new feature for us. We really liked it, because Miniland is always the heart of the park. It's the essence of what you can do with the Lego brick. Miniland is fascinating for our guests. They love to see their own city or places that they know, that they've been to, brought to life in Lego bricks.
"But I think that the idea that you have Miniland as this icon that we all know, but then you have the creativity of the building attractions that we have, whether it be Build and Test or Mindstorms, or some of the latest building experiences in the Lego House, it puts it all sort of together in one spot."
"We haven't done that before. We've normally got Miniland outdoors in the middle of the park, and various building experiences in different areas of the park. The way we are doing it this time drives home that this is really what Lego is all about. It will be literally in the dead centre of the park. We think that's probably the first thing that we've done in this park that is uniquely different from the rest of the LEGOLAND estate, as we currently have it.
"We're hopeful that it translates into something that the guests will spend a lot of time in. There is both a creativity to it and also a really good guest experience. The weather can be very hot or very cold; this allows us to just operate in a long-term environment, which is really good.
"We will also definitely put in two or three brand new attractions. But we can't talk about that at this point in time."
LEGOLAND Sichuan: more details to follow
Jakobsen agrees:
"You might be a little bit disappointed because we can't give you too many details yet on the content of the park.
"This will be a very large development. And, actually, that is the case for all three projects we now have under contract in China. They are going to be big, compared to what we would normally develop.
"Specifically for LEGOLAND Sichuan, it's going to be a phased project, in the sense that we will be on a very fast track. If everything goes well, we will be open in the late portion of summer 2023. It is a very tight schedule. That would make it the first of our parks, possibly, in China."
"There will be several things to follow in the following year. We will be opening up with a fantastic park, and a hotel; it will be a resort from day one, but there will be further gates in the form of water parks and other features. These will be added on in the following year, or the year after. They will already be under development. However, the time schedule will be a bit too tight to get them ready for the opening."
There will also be a further hotel. Ussher adds:
"I think what we can say about the hotels is that, as we open them, they will all be either right at, or over top of the front gate. There will be fantastic views for the guests into the park.
"A small child will get to wake up in their Lego room, and see the LEGOLAND park come to life in the morning, and get up very excited about the fact that they're going to be going down into LEGOLAND once they have finished breakfast."
Bigger parks
Each of the Chinese parks will be around a third bigger than previous LEGOLAND parks.
"All of them, too, have aspirations for becoming even bigger than they will be on day one. Very shortly afterwards, in LEGOLAND Sichuan's case," Jakobsen explains.
"The Shanghai project is moving ahead. Again, we're very excited about that one. That's in partnership with the local government district in the city of Shanghai called Jinshan.
"The Jinshan district, which is under the Shanghai government jurisdiction, is the main partner in the project. We have another Chinese partner called CMC, and then Kirkbi, the owner of Lego and the Lego brand. Among these four parties – including Merlin, we are the investment entities in the project."
"Merlin, as is the case in the Sichuan project, will then be the operator of the resort."
The park will be built in partnership with the Jinshan government, Merlin Entertainments, Kirkbi Invest A/S and CMC Inc. It will be constructed in the 700-year-old town of Fengjing.
Of the third project in the South part of China, he adds:
"We cannot disclose to you the exact location of the third project. There is one thing left that needs to take place formally before we can announce the project. But everything is in place, and we have already progressed in significant depth with the details."
LEGOLAND Sichuan & COVID-19
To an extent, the LEGOLAND Sichuan project has had to be handled remotely, due to the COVID pandemic.
Jakobsen comments:
"Normally, both John and I would be in China on a very regular basis, every few weeks. None of us has been able to visit China mow for 13 months, which is very unusual. It's the first time in, I don't know how many years that that has happened.
"It has been difficult, because normally when dealing with new partners and governments, face-to-face contact is important. Fortunately, we had established a very good working relationship with the three partners already."
"We have actually been, I would say, positively surprised by the amount of progress we've been able to make over distance, and by virtual meetings. There was enough momentum behind the project, even before the lockdown came, to mean we've been able to benefit from that, throughout.
"I would say, in essence, that I don't think we have lost anything in terms of the project's progress. It has been more difficult, and there may have been a few misunderstandings along the way that would have been worked out more effectively, had we been able to meet face to face, but we have made very good progress because of the strong partnerships that were already established before the lockdown."
Remote working
"That's absolutely true," Ussher agrees:
"We've lost some sleep, and there have been a lot of very early morning or late night calls for either their side or our side. However, we've progressed quite far on most of the design details. We have, in several locations, a good strong team on the ground that is working with our partners.
"It is frustrating because a lot gets discussed when we're there. We usually go at least every month and would spend very intense, long days with them. It certainly makes it easier to do the projects when you're right with the people that you're doing it with. But we have senior people now in various different locations."
"It is really helpful to have our own people on the ground, working with the partner daily. As opposed to us trying to do it long distance on phone calls.
Commenting on whether COVID will affect operations in the immediate future, he says:
"We haven't made intrinsic modifications. By the time these parks open, I'm hopeful that we won't have to consider safety issues with respect to COVID. We'll have to see how the consumers come back, and whether they are risk-averse or not.
"We're opening LEGOLAND New York soon, and that will be to a third of our normal capacity. However, there is a pent up demand for people to want to get out and to live life. It is incumbent upon us to do this safely and to ensure that our guests are in a good environment. But I think that families with children just really want to get out and do something else other than Zoom."
COVID-proofing
Jakobsen confirms:
"We have not designed things differently from a COVID perspective, or taken things out or replaced them. In over two years and ongoing from now, I think we will consider it as unlikely to be necessary, but we certainly know we can do so and will be able to operate if it should be a COVID environment."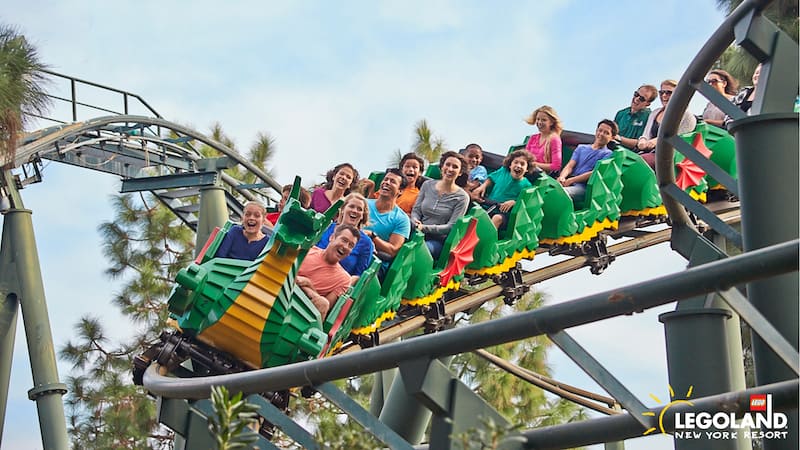 "We need to make some assumption," he adds. "I think we probably err, if anything, on, on the side of optimism in that sense, believing that things are coming back, from an operations perspective, and that we will be able to operate the same type of experiences as we've done before. If people want more social distancing, more space in queue lines, then we can definitely operate with that.
"We are expecting that the simplest things, like interacting with Lego bricks, which is a very important part of what you do when you come to LEGOLAND, will be something people still want to do.
"We have a lot of that in our Chinese parks. So we have established good procedures on how we can keep the bricks clean, and operate in a safe way. That is something that would be provided for continuously."
Classic Lego attractions at LEGOLAND Sichuan
Unable to go into much detail on the minutiae of LEGOLAND Sichuan, Jakobsen says:
"What we can tell you, and it is nevertheless also important, when you look ahead at our LEGOLAND Park in Korea, it will be a copy, area by area, of the most successful elements of our existing LEGOLAND portfolio. Apart from Miniland, there will be limited new components in the Korean park."
"We have one new attraction we're putting into LEGOLAND, New York, which is quite exciting. The rest of it is, effectively, classic LEGOLAND items.
"China, in that respect, is bigger. There, you will find a lot of classic LEGOLAND attractions that you will see in all the LEGOLAND parks. Plus there will also be more new development in the Chinese parks, reflective of the Chinese culture and background, but also of the fact that we have taken the opportunity, with the new parks in China, to come up with some new ideas for the three parks going in.
"So we have done a bit of design development. There will be some exciting new things that will be found in our Chinese parks. The way we are executing Miniland is one example."
LEGOLAND hotels
The main gate hotel at the front gate of the park in Sichuan is another, and will also have new design elements – a further development of the already exciting LEGOLAND hotel.
Ussher says:
"If you picture a hotel over the gate or adjacent to the front gate of the park, you get a whole different idea of the view, as you walk into the park. This building is part of the whole development in a way that, that gives it a much larger presence."
In 2023, it will be 10 years since first Legoland hotel, at LEGOLAND in Windsor, opened:
"It was the first one outside of Denmark," Jakobsen says. "That is why now is the time to update and freshen up on that design. It will be significantly updated compared to the existing designs. That is not to say they are not fantastic, but the exterior of the hotel, especially, will be a very fresh and updated look."
Interactivity
Ussher adds:
"We've just started on Miniland at LEGOLAND Sichuan. Part of our design challenge going forward is how we make it more immersive.
"Miniland models, for instance, all have interior lighting to them, which is great. But previously you didn't really see it as a guest in the park until late in the evening. You didn't really get to see how pretty that lighting is. I have some pictures of Miniland at night when we were doing LEGOLAND Florida, and you've got all of the New York skyline lit up. You can't tell the difference between what's real and what's not real."
With Miniland indoors, guests will be able to see the city coming alive.
"We'll obviously also put a lot of interactives into Miniland because guests really enjoy that. And our Chinese partners would like to see even more interactivity. We'll have to be careful because in Miniland the Lego bricks are the star.
"There are so many things that the Miniland guys have done already that make it so special. Whether it is boats or cars moving, or the little gags they put in. With projection mapping and some of the lighting effects that the team is starting to think about, we'll be able to bring a bit of a show element.
"This is still in its infancy, but there will be many ways that guests can enjoy Miniland. There will be a food and beverage component within the building. In a sense, it's a very large attraction in itself."
The Chinese attractions industry
Touching again on the development of the attractions industry in China, Jakobsen says:
"The penetration of the theme park market in China is very much in its growth phase. It's similar to what happened in America and in Europe, decades ago, where a lot of new theme parks were being developed and added to the scene.
"Europe and North America today are a much more mature market; very few theme parks are being added, and the growth of the market is mainly coming from the existing, suppliers and operators that have gone through a consolidation period, and where strong IP brands or very strong regional bands have been taking over the market."
"China is at a stage where the growth has definitely started; they are at the peak of the curve and, therefore, it is about the moment that you establish a lot of new parks.
"That is one of the reasons why we think we are at the right point in time in getting established, while the market is still growing. You can get access to the most attractive locations, and be established from the ground up as the offer in that market for our target audience: families with children."
LEGOLAND Sichuan and more resorts in China
"We will be there at the right point in time. And this is also the reason why we're looking at not just three," says Jakobsen. "We have three projects that are on the go in China. But we believe, with 1.3 billion people in China, there is further potential.
"We are about to open our third park in North America, which is, roughly, a quarter of the size of the Chinese market. Just on a population basis, that gives some parameter in terms of what the potential could be. Particularly when you consider that we believe there might even be room for one or two more LEGOLAND parks in North America. "
"The potential is definitely there for significantly more LEGOLAND parks in the Chinese market. We are not announcing further parks in China anytime soon. But we have several projects that we're working on beyond the three already announced."
Ussher expands on this:
"You could also look at some of the locations. It was around 10 years ago that I first went to Sichuan, specifically Chengdu. The area that we're going to establish the park in, was further out of the city, then. And they said, 'Well, the city is growing. Trust me.' You go there now, and it's solid city from where the park is to the centre. Development has really, really grown in that area. The markets that we're in continue to get larger."
Working together
In terms of the business approach Merlin is taking to market, Jakobsen adds:
"If you look at LEGOLAND in Korea, LEGOLAND in New York, and several other LEGOLAND parks around the world, they are fully owned. We own the land and the buildings and are responsible for the entire development.
"We're taking a somewhat different approach to the Chinese market. That is, partly, because we think, as all of our Chinese partners are saying, that there is huge market potential in China. But there is also more risk, from our perspective. Not just in assessing the exact market potential, but also in the development phase."
"It is a very complicated process to get land-use rights on the land in China. John and I are were humble enough to say, well, that's not our core area of competence. This is why we have chosen to focus more on the design competence, the development expertise, to be in charge of the operations, and to have the Chinese partners come in.
"Because of where the lifecycle is regarding theme parks in China, there has been ample interest in being the partner that would take the ownership and financing responsibility on these projects. They were interested in getting Merlin's competence and expertise in those areas. Plus they were willing to take the financial risk and burden of the projects that we have chosen them to focus on."
This also means the LEGOLAND Sichuan project is firmly rooted in the community, rather than being something imposed:
"We have partners, and that has been helpful, not just from a planning perspective, but also to guide and advise us."