Recently, we have seen theme parks adding interactivity to more attractions and experiences, as a way to take them to the next level. After all, people like to play games of all kinds, and people like rides. So it only makes sense to try and bring the two concepts together and to begin gamifying theme park attractions.
Perhaps one of the earliest examples of interactivity in this sector was the addition of physically challenging obstacles to funhouse attractions. These were designed to throw the guests off balance. Various gags were invented to make guests stumble or even fall while trying to travel through rotating barrels, walk across a spinning floor, climb stairs that moved under their feet, or bump face-first into the wall of a mirror maze.
However, over time the popularity of such physical experiences either faded or were forced out of existence by injured guests willing to file lawsuits.
Passive vs. active experiences
From there, designers focused on attractions with a passive guest experience, where guests are seated and taken for a ride. Moments of interactivity were few and far between at this point. Mainly they were limited to attractions such as themed shooting galleries. Here, hitting a target would trigger a variety of special effects as a response.
Early Disneyland guests will remember that the park once had a variety of themed shooting galleries in the park. There was one on Main Street USA that opened with the park in 1955. Later, the Safari Shooting Gallery in Adventureland and the Frontierland Shootin' Exposition were added.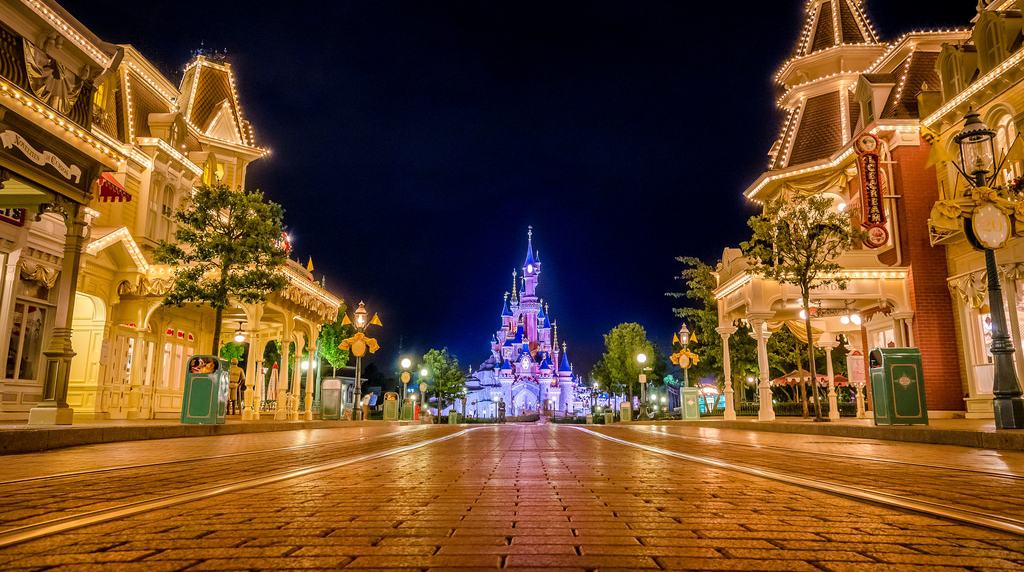 While few shooting galleries remain at theme parks, I always found it ironic that the concept was modernized in the late 80s and beyond. Many theme parks decided to add pay-to-play interactive water geyser effects to their water rides. These allow guests on dry land to drop money into a slot and time it just right so that a geyser of water would trigger and soak the riders in a passing boat on a water ride. At this point the game was on, so to speak.
From here, the idea of gamifying theme parks by giving riders on a dark ride a shooting gallery style experience was a mark of genius. Many think that Disney's Buzz Lightyear Space Ranger Spin that opened at Walt Disney World in 1998 was the first "interactive" dark ride experience. However, this is not true.
The actual first interactive dark ride experience is said to be a ride called El Paso that opened ten years earlier at Bobbejaanland. This armed guests with a gun that shot infra-red beams of lights at targets spread out throughout the ride.
The rise of interactive rides
Since then, several popular interactive dark rides have been built in parks all across the world. For example, Toy Story Midway Mania, Men In Black: Alien Attack and a virtual army of Ghost Blasters / Boo Blasters dark rides from Sally Dark Rides.
Perhaps one of the most interesting creations from this era was a unique concept that opened at Walibi Belgium called Challenge of Tutankhamon. The finale of the ride itself changed based on the shooting skills of the riders. Score poorly and the ride would end one way. But score better and your ride vehicle would enter an additional scene for a different ending. If you had an exceptional score, there was even a third possible finale room experience to be seen.
Adding a score-based merit ending concept made the ride exceptionally popular with guests. People would often ride again to improve their scores and to see the other endings. If this sounds familiar, bear in mind that the same concept happens all the time in video games.
This has also led to the concept of "gamifying" theme park attractions. After all video games started out as something you would find at an arcade, then evolved into home-based game systems and games on personal computers. Now, through the rise of mobile technology, everyone has access to games at their fingertips all day long. So why not bring the same gamifying concept to theme park attractions where possible?
Gamifying theme park attractions
By gamifying an attraction or theme park, I don't mean just through digital technology. As well as the addition of some interactive games within attraction queues and the continued evolution of interactive rides, we've also seen the rise of some new game playing and role-playing concepts.
Not long ago, Disney announced that it was retiring one of the more unique gaming concepts ever added to a theme park: Sorcerers of the Magic Kingdom. This was an interactive game that guests could play in a variety of locations throughout the Magic Kingdom theme park.
The game used special playing cards that players could show to hidden camera sensors in special locations. Typically, a hidden video screen came to life when the card was scanned, revealing a piece of an animated story. This would include clues or a mission to send the guests to another location in the park.
While it doesn't use a game style storyline, Universal has also built several interactive experiences into the Wizarding World of Harry Potter. These can only be activated by guests who have purchased special magic wands. Maps showing the locations of all the spots where you can use your wand in each park often send the guests on a mission to experience them all.
The experience ties into the lore of the Harry Potter IP and there is even an Ollivander's wand shop. Here, you can see a guest (possibly you) go through the experience of having the right wand choose the wizard.
Immersive storylines
Over the past few years, Knott's Berry Farm has created a unique and evolving storyline, Ghost Town Alive. This plays out each day in the park's Ghost Town area with live actors. It is typically only active in the busy summer months, but each year the stories have progressed as an ongoing narrative told through the use of various live characters within Ghost Town.
Similarly, an entire small park was also created with the same live-action role-playing concept in Utah called Evermore. Each year the theme park has grown and through the use of its tales, it has started gamifying a virtual history of the fantasy world of Evermore. This a sort of living world that guests can return to each time and experience something new.
Escape rooms
Escape Rooms are another way of gamifying a themed attraction or theme park experience. Guests are locked into a room and dropped into the middle of their own story. They must then find the way out, solving a series of complicated mysteries and puzzles along the way.
An Escape Room experience has even been mixed with a dark ride. At Trans Studio Bali in Indonesia, visitors can enjoy the new Road Rage dark ride attraction. As part of this ride's pre-show experience, guests are captured and locked away in one of several mini Escape Rooms. Here, they must find a way to escape, in order to gain access to the ride's loading station.
Throughout the history of dark rides, we have seen more and more unique game aspects added to attractions. For instance, not all interactive dark rides are based on riders shooting guns at targets. Sometimes the technology is given a more peaceful and child friendly theme, such as on Monsters Inc. Ride & Go Seek! at Tokyo Disneyland where riders are given flashlights to play a game of Flashlight Tag with the characters.
Another example is Sesame Street: Street Mission at PortAventura in Spain. On this dark ride, guests are given pointer devices to find hidden clues to help solve a mystery. Since opening in 2019, sesame Street: Street Mission has proven very popular. It was named Europe's Best New Ride and the Family Ride of the Year in 2019. In addition, it won a THEA Award for Outstanding Achievement in 2020.
Gamifying dark rides at theme parks
In 2021, we will see at least two new interactive dark rides that take the process of gamifying theme parks to a new level. Both of these attractions were designed to open in 2020 but delayed to 2021 by the pandemic.
At Disney California Adventure, the park hopes to open the new Avengers Campus area this year. This will feature the new WEB SLINGERS: A Spider-Man Adventure dark ride experience. Through the use of interactive video screens and built-in sensors in the ride vehicles, guests will be able to shoot webs like Spider-Man through a simple hand gesture, targeting an army of small replicating Spider-Bots that have gotten out of control.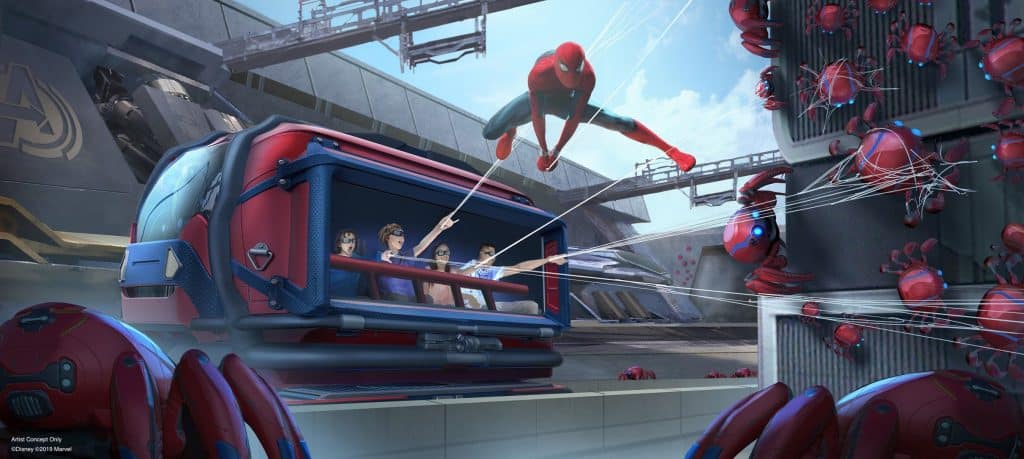 At the core, this sounds a lot like a modern recreation of the old Shooting Gallery.
On the other end of the spectrum is the new MarioKart themed ride at Universal Studios Japan. This is the anchor attraction of Super Nintendo World. With its tie to the legendary gaming legacy of Japan's Nintendo company, the goal was to make the most video game-like experience ever created inside a theme park.
Based on the early videos, riders wear AR (augmented reality) headgear theme around Mario's hat. This superimposes all the MarioKart racer characters and vehicles over the real world dark ride scenery.
Guests also have a steering wheel to hold onto during the ride. They can turn when left and right arrows are shown. And they can press trigger buttons to throw Koopa shells at other virtual racers or select targets within the game world.
Too much of a good thing?
Four riders are loaded into each MarioKart vehicle, each armed with their own unique coloured shells. But watching a video of the rider experience is a little overwhelming. I say this based only on having watched a video of the attraction from afar. I'm sure the actual in-person experience is a much more focused one for the riders.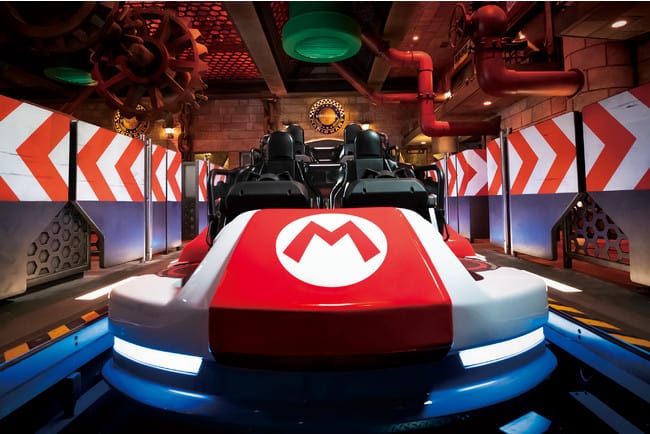 But as a fan of theme park attractions and of video games over the years, the idea that my first impression of MarioKart was that it might rely a bit too much on the video game action did disturb me. It made me wonder if perhaps in gamifying theme park attractions, maybe we could go too far.
Occasionally, on an attraction like Buzz Lightyear Space Ranger Spin or Men In Black Alien Attack, I've found myself wanting to ride without holding the gun, without trying to interact with the surroundings. Sometimes, I just want to be a passenger once again, enjoying the pure themed experience without participating.