Guy Nelson, Chief Executive Officer of Dynamic Attractions, has announced the company will be opening a new assembly facility.
The new plant is set to open next month, next to Dynamic's Ride Development Centre in Vancouver, Canada. The high-tech factory will have a footprint of around 50,000 square feet.  Its job will be to assemble the sophisticated ride systems for which the company is renowned. Dynamic's rides are major attractions at a host of foremost theme parks and other tourist locations.
Guy Nelson states it's the growing demand for Dynamic Attractions ride systems and attractions theming that has spawned the new facility.  Last year the company opened over twice as many attractions than any previous year.  Meanwhile 2017 has already surpassed its previous record for new contracts.
As previously reported by Blooloop, Hao Wang has recently been made new President and COO for the company.
He is joined by a new executive team in a series of key promotions and hirings.
The company is enjoying extraordinary success.  Last year the company unveiled its ground-breaking Dynamic Motion Theatre, winning a coveted Brass Ring Award for Best New Product Concept at the IAAPA Attractions Expo.
It also saw the opening of its cutting edge Dynamic Flying Theatre at Futuroscope which was dubbed the world's most technically advanced ride of its kind.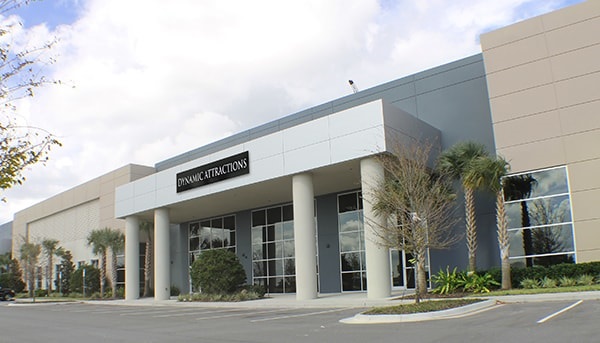 Just last year, Dynamic announced the launch of the 'game-changing' Unlimited Attractions, a new turnkey solution for ride systems.
Dynamic Attractions is part of Empire Industries Ltd.  The company grew out of Dynamic Structures, a company that has forged an impressive list of 'world's firsts' since 1926.  Decades of experience has been applied to nearly 50 state-of-the-art theme park attractions systems.
Engineers and precision fabricators work side by side at the Ride Development Centre in Vancouver.  Meanwhile the company's think-tank, the Attractions Development Centre, is located in Orlando.  Here the team employ a mix of inspired storytelling alongside advanced technology and robust engineering.