An opening ceremony for Star Wars: Galaxy's Edge was held last night at Disneyland, attended by George Lucas, Mark Hamill, Harrison Ford and Billy Dee Williams.
Disney chairman and CEO Bob Iger unveiled the expansion, which opens to the public at Disneyland in California today (May 31), and at Disney's Hollywood Studios in Florida on August 29.
"Star Wars: Galaxy's Edge is absolutely amazing and we are thrilled to finally share it with the world," said Iger.
"Now, for the first time, fans will be able to immerse themselves in the iconic stories that have captured audiences' imaginations for decades and live their own Star Wars adventures in the most creative, innovative and ambitious land we've ever built."
To dedicate Star Wars: Galaxy's Edge, Iger was joined in front of the Millennium Falcon by George Lucas, Harrison Ford, Mark Hamill and Billy Dee Williams, set to the John Williams score composed for the land.
"When I first met with our Imagineers to talk about Star Wars, my message was actually quite simple: Do not be ambitious. Be the most ambitious that you have ever been," Iger added.
"After all, we are building on the legacy of two extraordinary visionaries, Walt Disney and George Lucas, and both of those men embody quality, innovation and bold creativity."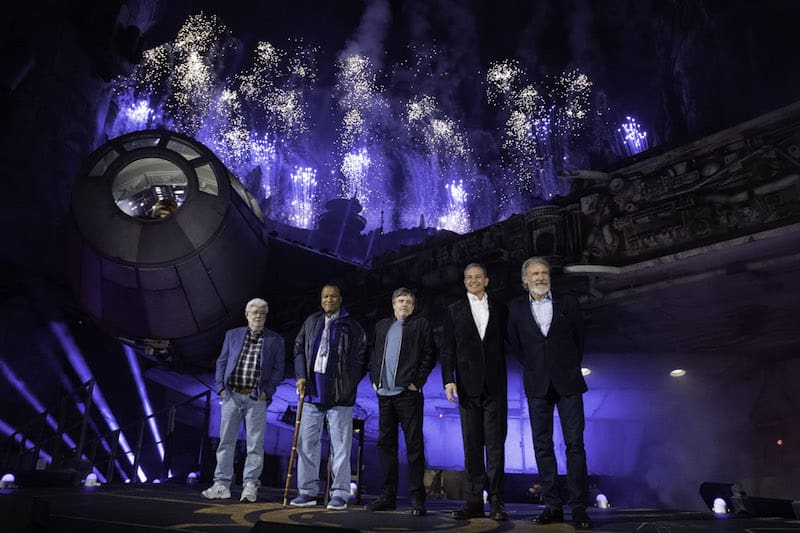 The new expansions will take visitors deep into the Star Wars universe. The land and its characters have their own backstory, the food and drink is themed, as is the merchandise on offer at the various retail outlets.
Guests at Galaxy's Edge will engage in a range of interactive experiences in a fully themed immersive land. Highlights will include a variety of starships from the Star Wars world and two major attractions – Millennium Falcon: Smuggler's Run and Rise of the Resistance.
Bob Chapek, chairman of Disney Parks, Experiences and Products, continued: "With Star Wars: Galaxy's Edge, Disney is redefining the theme park experience and setting a new bar for experiential storytelling."
"From each authentic detail to the land's jaw-dropping scale, Star Wars: Galaxy's Edge exceeds every expectation."
"Star Wars: Galaxy's Edge redefines what a Disney experience can be," said Scott Trowbridge, Star Wars Portfolio Creative Executive, Walt Disney Imagineering.
"It invites exploration and discovery, where we can become characters in the Star Wars galaxy. More and more, our guests want to lean into these stories; not just be a spectator. We're giving them the opportunity to do just that in this land, with a new level of detail and immersion.
"This is an opportunity to play and engage with your friends and family in a shared experience that will forge lifelong memories."
Images: Disney