Swedice, a leader in all-year seasonal attractions, has announced the installation of the longest parabolic Tubby slide in the UK. The new project is at Heatherton World of Activities in Wales.
Swedice is proud to have added another Tubby tracks project to its portfolio, this time in South West Wales. Heatherton World of Activities is a popular visitor attraction providing entertainment for all ages. It caters to those looking for both a family-friendly day out and adrenaline-pumping adventures. Experiences at the venue include walking on water, bumper boats, go-karts, high-ropes and an escape room.
Longest Tubby slide in the UK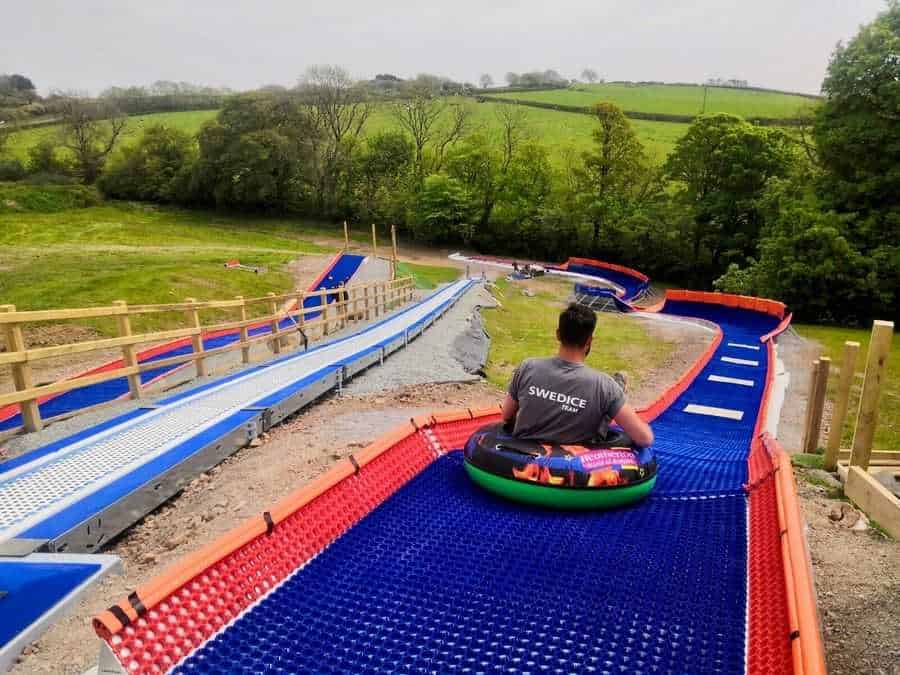 Because Heatherton attracts a wide range of ages, Swedice needed to produce a flexible solution that offered fun for all. The new attraction has options for younger visitors, as well as a larger track for adrenaline seekers. The hill where it is located is steep, and the track includes many parabolic turns. Guests will feel like they are flying down the track thanks to the smooth tracks with their reduced friction.
The Tubby track solution has turned an unused area into another fun attraction for the park. The hill was too steep for many other rides, however, the land was perfect for Tubby tracks. Even with four turns, the track still racks up 100 metres as it snakes down the long hill. It is now the longest of its kind in the UK. Swedice also installed a magic carpet to transport riders and tubes back to the starting platform, rather than trudging back up the steep slope. Installation took just four days.
Another recent project by Swedice was to install a ride at Xejuyup Adventure Park in Guatemala. The Tubby tracks at the theme park have been a success and are now visited by as many guests as the rollercoaster next door.