Welcome to the blooloop briefing; a roundup of attractions news from the last seven days. 
In the news this week – the best attractions' April Fool's jokes, RWS 2.0 including Super Nintendo World, Rulantica water world and GOT, winter is coming…
Watch the news in 2 minutes
For a quick run through the week's most eye catching stories see our briefing video:
Read the news in 5 minutes
New developments – RWS 2.0: Super Nintendo World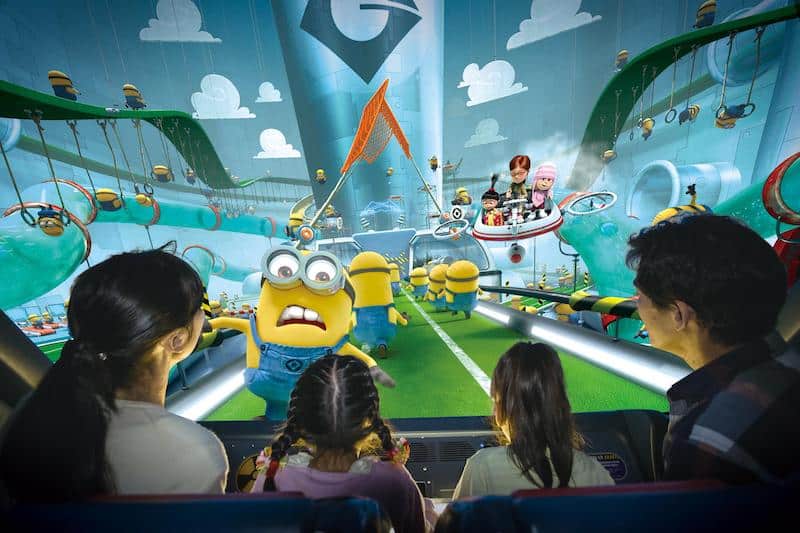 Singapore's integrated resorts, Marina Bay Sands and Resorts World Sentosa, are embarking on major expansion plans with an investment of S$9bn. RWS 2.0 brings Super Nintendo World to Universal Studios Singapore.
The Museum of London has issued a tender for the design of a £7.5 million new innovative visitor experience – the 'Past Time' exhibition. Start-ups and SMEs are invited to apply.
A new lifestyle quarter called Siloso Green is set to open in Sentosa, Singapore by the end of 2019. It will feature restaurants, shops, concert and event spaces, and waterfront accommodation.
OWA, the Gulf Coast's largest entertainment destination, has announced a $100m investment for phase two of its expansion plans. Additions include an indoor waterpark, a 200-room resort hotel, and a luxury RV park.
AI Qana, a new waterfront entertainment, dining and leisure destination, is set to open in Abu Dhabi by the end of 2020, offering restaurants, cinema experiences, a wellness hub, and more.
Casino operator NagaCorp has revealed that it expects to invest between US$3.8 billion and US$4 billion in Naga 3 – another extension to NagaWorld casino resort in Cambodia's capital, Phnom Penh.
New attractions and rides – GOT: Winter is coming
Europa-Park is debuting a new 360-degree movie adventure, 'Mission Astronaut', as well as new shows and themed attractions. This week Michael Mack revealed the design of the new Pirates of Batavia boat ride in a first-look image. The 30-year-old attraction was destroyed in a huge fire at the German theme park in May 2018.
Lightning McQueen's Racing Academy has arrived at Disney's Hollywood Studios at Walt Disney World Resort, Florida. The new show experience takes guests inside the world of Pixar's Cars as they become rookie racers.
High-tech, high-energy Marvel-themed attraction Ant-Man and The Wasp: Nano Battle! has officially opened at Hong Kong Disneyland Resort (HKDL), with Ant-Man star Paul Rudd in attendance.
HBO has confirmed a 2020 opening for its Game of Thrones Studio Tour in Northern Ireland, an immersive interactive exhibition of the show's sets, costumes, weapons and other props.
Six Flags Discovery Kingdom has announced DC Universe, a DC comic book-themed world within the park, arriving this year, with two new coasters – Batman: The Ride and The Flash: Vertical Velocity.
Theme parks – Europa-Park: Rulantica
Paradise City, Korea, the first integrated resort complex in Northeast Asia, has officially opened its fantasy theme park, Wonderbox. Rides include a 360-degree rotary and a pedal-powered gondola ride.
A 12-year-old disabled boy who attempted to sue Flambards theme park will have to pay back £9,000 after losing an accessibility test case for the provision of Changing Places toilets. Adam George's discrimination claim was struck out by the county court.
Europa-Park has revealed the opening date of its new water world, Rulantica. The Nordic-themed attraction boasts nine different settings and 25 water attractions – including 17 water slides from ProSlide. Krønasår, Europa-Park's Nordic-themed hotel, is opening in May as part of a massive 450,000 sqm resort extension, and ahead of the destination's new water park, Rulantica.
Trends and the best attractions' April Fool's
As food increasingly becomes part of the experience for many theme parks, Universal Studios Hollywood has introduced four new churros – strawberry shortcake, double dark chocolate, toasted coconut, and Fruity Pebbles. Blooloop's survey revealed that strawberry shortcake is most highly anticipated with 38 percent of the vote.
Gaming firm Animoca Brands and Formula 1 owners Liberty Media are launching a new blockchain-based F1 racing game, titled F1 Delta Time. F1 hopes to expand its audience and attract younger fans.
The "best stadium in the world"? The New Tottenham Hotspur Stadium has opened in London, featuring a fully retractable pitch, bars and restaurants, premium experiences, and an interactive museum. Phase 2 includes an extreme sports attraction.
April Fool's Day is now dedicated almost entirely to fake press releases and news – our favourites this year include Brexit pranks, space tourism hoaxes, an Ibsen-themed theme park, and Kanye West's purchase of Dollywood.