On Thursday 16th June 2016, Shanghai Disneyland (actually Shanghai Disney Resort) opened to much fanfare and attention around the world.
After 7 years of planning, $5.5 billion, 700 imagineers and 2.4 million plants, the gates opened to the public, and those attending the Asian Attractions Expo (AAE) (and half of Shanghai) went to visit.
Shanghai Disneyland comprises the park, Disney opened two hotels, Disneytown dining and shops, and the first Mandarin speaking broadway-style Lion King Show.
I toured the new park with two Disney World cast members, who gave me an ongoing commentary on the operations and similarities between the two resorts. What struck me was just how different this new park was for Disney – 12 years after Hong Kong Disneyland opened, and the first in mainland China.
Marty Skylar, retired Head of Imagineering, has been quoted saying Shanghai Disneyland is the "best park we've ever done". However, I think as each park is designed specifically for a certain audience, it is hard compare them directly. Here is what I think makes Disneyland Shanghai unique for Disney.
1. Cultural Sensitivity
With 95% of guests from mainland China, the park is no doubt "authentically Disney and distinctively Chinese". There is no "American" Main Street USA, but rather a character-themed Mickey Avenue to funnel guests into the park. Queue lines are shorter as the Chinese don't mind close proximity to each other. There are more shows as well as character meet and greets, passive activities and lots of picture taking! There is no Haunted Mansion, as ancestor worshiping is a common practice in China and this would be deemed disrespectful. Even the size and shape of Mickey Mouse's eyes have been changed, though it is not clear this is a development designed to resonate more with an Asian audience or simply the start of the roll-out of a new look. Minnie too appears to have lost her blue eye-shadow.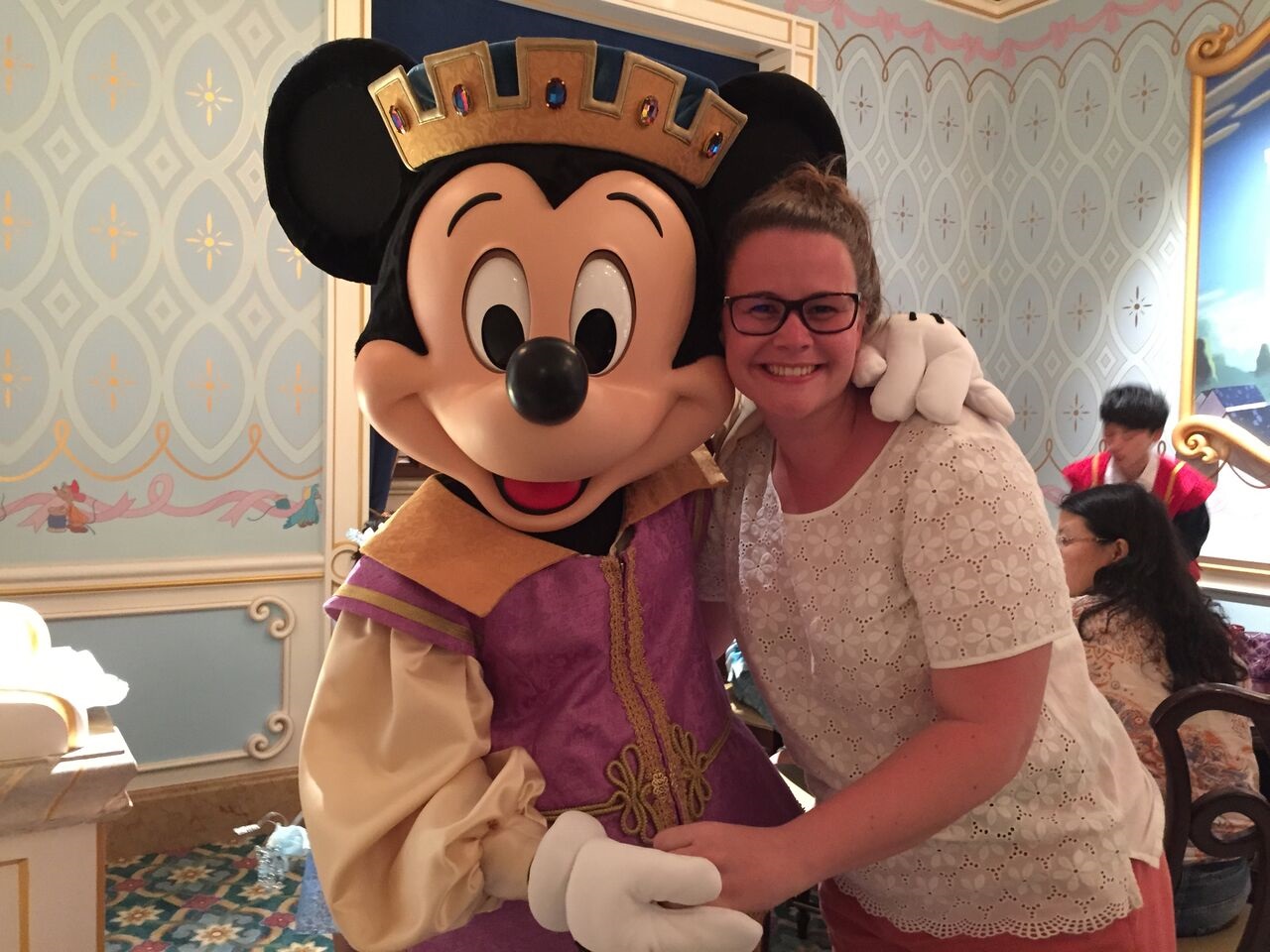 As one of the 5% of guests who were non-chinese it was helpful that many signs had an English translation, though some of the rides had no English at all. This was particularly bemusing on the "Once Upon A Time Adventure" where an animated 3D Snow White and her animal friends (I think) told us to point and interact with them but we were unable to really engage as we didn't understand her instructions! However this was the only point in the whole park where the meaning/message was missed, as the theming and story-telling translates on all rides in a very Disney way.
The new Gardens of Imagination "land" features seven gardens including the Garden of Twelve Friends: mosaics of 12 Disney animals all a different Chinese Zodiac- which in turn allowed for an entire merchandise range for the 12 animals ( $ kerching Disney!).
2. New Technology
"You are going to be blown away by Pirates"
All week we kept hearing this on the show floor – and if industry veterans are excited for a ride then I knew it must be good- and it did not disappoint.
The re-imagined ride uses ENORMOUS high definition screens that are blended with the scenery to support the story, but are not completely dependent on it. Throughout the ride are new AV effects such as one that changes a skeleton into an animatronic Captain Jack Sparrow. Nearly 50 years after the original ride opened in Disneyland California, technology has moved on and Disney have utilised this to give a much loved attraction some oomph!
3. New Patented Rides
Rising above Tomorrowland was the new Tron Lightcycles Power Run, an ultra-futuristic coaster with what is in essence a motorbike coaster design. Guests sit on the seat motorbike-style , ("light cycles") and by pulling the handles towards you the back restraint moves and keeps you safely in place, yet you don't feel trapped.
The ride then goes from a standing start to shoot outside the ride building to go back in and "race" a competitor bike on projection screens. Though such a system is not unique, this is a beautifully conceived and designed ride from Vekoma, with the theming, the AV, the smooth, rapid ride and the atmospherics delivering a truly futuristic experience.
The Pirates of the Caribbean boat vehicles are unique to Shanghai Disneyland too – for the first time, the boat's movements are not controlled by the water current, therefore the boat can speed up, turn, and go backwards allowing much greater control of the story and what the guests see.
4. The Size
Shanghai Disneyland is MASSIVE at 963 acres. Larger than Disney World's Animal Kingdom, the park is big, so wear comfy trainers and put your Fitbits on! The streets are very wide and there seems a lot of space to enjoy the theming of the park including grass spaces and gardens. The largest ride is Pirates of the Caribbean, taking up a whopping 175, 000 square feet.
5. A focus on newer IPs
Not surprisingly Disney has used a lot of its resources on newer IPs that are more familiar to the Chinese audience. Frozen is just as huge in China, with an entire Anna and Elsa dedicated show. The first Marvel area of any Disney Park utilises the newly purchased franchise, allowing guests to meet Captain America, Spiderman and friends, as well as take cover inside from the heat/rain.
Even the Pirates of the Caribbean ride has shifted its focus to be squarely on the film IP and the story of Jack Sparrow, however there are still some nods to the original ride (such as the skeleton dog with the keys).
With only some slight hiccups in operations and having to adjust to mass Chinese culture, I have no doubt Disney are onto a winner with mainland Chinese tourists, city locals and tourists. Hardcore Disney fans will also want to see and compare the new re-imagined Disney park. With 10-12 million visitors expected in the first year this is a hugely impressive endeavour and I can't wait to go back!