Denmark's groundbreaking new Hans Christian Andersen Museum opened on 30 June 2021. Located in Odense, the city where Andersen was born, the H.C. Andersen House covers an area of 5,600 square metres and is designed by the Japanese architect Kengo Kuma. Exploring Hans Christian Andersen's life, work and literary universe, the museum fuses architecture, technology and artistry to depict his stories, featuring the work of twelve international artists.
Andersen's work inspires everything from how the space is navigated to how text and objects are deployed. Throughout, the curatorial voice is either dispensed with or subverted. Instead, visitors hear from the fairytale characters, the objects from Andersen's life, and from Andersen himself. They are invited to participate in a process rather than being presented with a fait accompli.
Evoking one of Andersen's fairytales, the new museum transcends boundaries. It is partly indoors, partly outside, partly underground. In the garden, curved hedges conceal and enclose, while long sightlines open out, revealing vistas.
Collections of Andersen's drawings, paper cuttings, and writing are on display. There are also some of his possessions – a pen, a razor. Visitors can interact with the fairytales, turning the handle of the great metal nightingale, or playing with their shadow.
The H.C Andersen House
The museum is a cutting-edge project in the way it rejects museological norms in favour of Andersen's own strategies, so visitors discover the fairytales as if from inside them.
Henrik Lübker, Creative Director and Curator, wrote about the project's synthesis in his article Performing Fairytales. This explores how the new Hans Christian Andersen museum uses the performative strategies of Andersen's fairy-tales to inform and question key museological concepts.
Andersen's is a universe that envelops and includes the viewer. In his article, Lübker points out that this works against the linearity of the story, and the reader's natural desire to reach a conclusion.
The fairytales thrive, he contends, on the tension between apparently opposed meanings. He spoke to blooloop about the project from its inception, and how Andersen's own strategies have been used to connect visitors with his universe.
A fascinating writer
He begins by outlining what it is about Andersen that he finds fascinating:
"It is, I think, the way that he is always playing with multiple meanings; that it's never just about transmitting one meaning from the author to the reader. Rather, it is about bringing us into this place of uncertainty where we must figure out the actual meaning, and what it means to us, as readers."
Andersen re-wrote some of the endings to his fairytales, to make them less penetrable:
"An example of this is The Story of a Mother. In the first version, Death carries the woman's child into paradise. But then Andersen strikes that, writing instead that he carried took the child into the unknown land.
"It makes it less didactic, and more something that we have to ponder after the story is finished. For me, that is what makes him an artist. He's not just an author who transmits knowledge. The work lives on after the text has ended because we have to do something with it."
A new kind of fairy tale
Many wrote fairytales before Andersen, of course:
"They were essentially telling kids how to become good adults. Andersen was the first to write fairytales that didn't have that sense of hierarchy. He was the first one to say, 'No, it's not about teaching about how to become X; it's a mirror, a means of exploring what is inside yourself and what it means to be in the world.'"
"What he offers us is the idea that there is no one way to be in the world. In fact, there are a whole host of different ways. The world looks quite different from the perspective of a flower or a pen or pantyhose."
A new Hans Christian Andersen museum
The museum has been created taking Andersen's approach to storytelling as a basis. A key strategy has been to stage the ambiguities and inherent tensions of the tales rather than to provide an authoritative interpretation:
"As a starting point, we asked ourselves what Andersen's strategies are. Secondly, how could we turn something linear, a text, into a spatial experience?"
"One of the main ways of doing this is by using an audio system that allows you to walk into an audio landscape where, when you go up to a showcase, the item on display starts talking, basically. You are the explorer. And, just like when you're reading a fairytale, you think that this is known territory, but all of a sudden it isn't.
"The exhibits don't behave as they usually behave in a museum. The objects are not there just to tell the story for you; they are there because they think that they are the most important part of the museum."
Not just one interpretation
For example, he says:
"When it comes to the area about Andersen's love life, you have Andersen's voice in your ear telling you it was unsuccessful because he didn't have enough money, but you have all the objects from his failed love relationships telling quite different stories, where they are the hero of the story.
"You are left to figure it out for yourself, from nine different explanations of why he didn't succeed, instead of me coming in as the curator, saying 'It was because he didn't have enough money'."
"I think that openness and fluidity, which shows that there is never just one reason for things happening but many, is much more interesting. Because the visitor has to figure out for themselves what they believe and to make that story their own. They have to reflect. If I've experienced heartbreak, for example, because of a certain personality trait in myself, then maybe that is what I would give as a reason for Andersen's failure. He becomes a mirror for interpreting our own life."
This, he explains, is one way in which Andersen's own strategies can be used to draw visitors in:
"Another way is to play with something that you can understand either literally or ironically."
Hans Christian Andersen museum presents different views
The interpretation of the story of The Princess and the Pea, for example, is in the form of lengthy museum text panels, ironically claiming expert knowledge and authority as they explain how it is feasible that a princess could, in truth, feel a pea through twenty mattresses.
"We have been open now for a couple of months. What surprises me is that people take it seriously," Lübker says:
"We have made something that is so obviously ironic, with fake experts arguing. A mattress expert, for example, argues very hard that of course, with the right mattresses, a pea could be felt. We have this tower of mattresses on a bed. It's really over the top, and still, people are saying, 'Hmm, that's weird, but OK.'"
"But the fairytale, of course, offers both of these explanations. You can take it seriously, or you can take it as a complete joke.
"For me, it was important that we should maintain that this can be interpreted in both ways, rather than being all museum-like and saying, 'In reality, this was Andersen mocking the social hierarchy of 1835 when he wrote the fairytale.'
"When kids come and see this little pea that we have, and the tower of mattresses, they think, 'Wow, this is an amazing story, that she could feel such a small thing.' I would have assumed that the adults' position would be cynical, but what I have noticed is that is the adults who take it literally."
Unreliable narrators
Perhaps adults have been conditioned to accept the text as authoritative. Here, the text is subverted. For instance, in the story of Clumsy Hans, the text is presented as a tabloid newspaper; in The Snow Queen, there are words shattered, as if frozen, on the floor.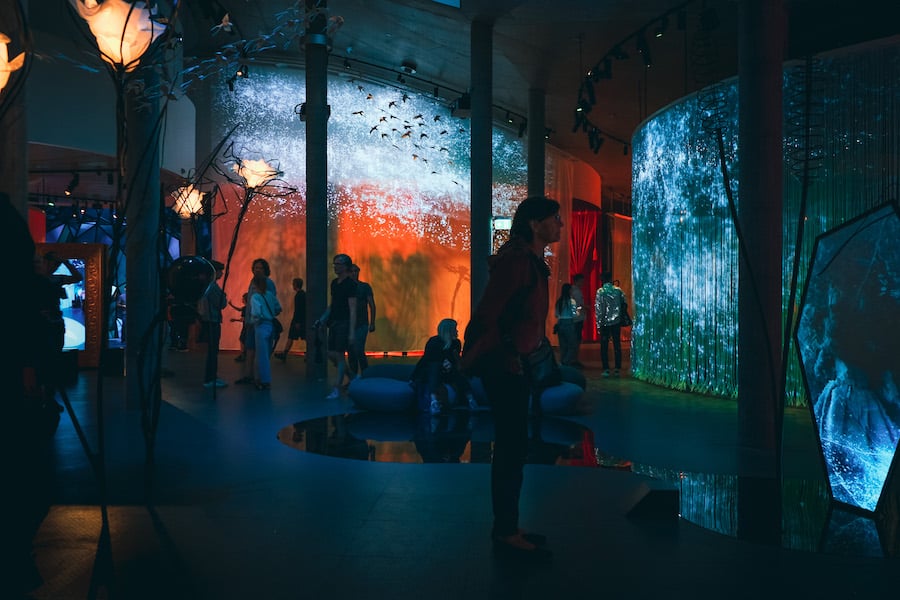 "Andersen does this all the time," Lübker says. "He has a story called The Buckwheat, in which he says, 'Remember, this is a true story because I heard it from the sparrow, who heard it from the Willow Tree, who was a firsthand witness to the events.' Obviously, you can read it either way."
Creating a new Hans Christian Andersen museum
Lübker takes a step back to outline the process of creating a new Hans Christian Andersen museum from inception forwards.
"When I came into the project, we had an idea competition, and almost 500 different companies entered. They had ideas left and right about how we could do this. I was asked whether I could find a direction in this.
"My take on it was that we should start by going to the source. We should go to Hans Christian Andersen's fairytales, and see how they behave in the world. I was asking these questions: is this something that is open or closed? Is it something that gives transparency, or is it something that hides things away? We started identifying all these trace elements in the fairytales that informed us about what kind of a world it was."
"This allowed us to hold a design competition and, afterwards, an architectural competition."
The guidance was, he explains, that Andersen's world is essentially nonhierarchical:
"It is a world where opposites dissolve nature and culture, up and down, in and out. That allowed the architects to come up with a proposal that incorporated many of these ways that the fairytales work in the design.
"When you walk around in the garden, it's like the fairytale; you don't know what is happening around the next curve."
New approaches to design
In the garden, the design shifts between using tall hedges as curved enclosures, and opening up sight lines and vistas.
"Normally in the Western architectural tradition, it's all about the genius that has an idea, and who puts it out in the world to be admired. Here, this is much more about being in the process, being on that journey, not knowing what will happen, but that the architecture, the landscape, the scenography does something to you."
"When you walk through the museum, you walk through a series of different types of space. At first, you are in a very theatrical space. Then you could come into a small space with a low ceiling, and then it opens up again. It's always changing. It's about being on that fairytale journey where something different is happening around the next corner."
Storytelling at the Hans Christian Andersen museum
The staging of The Little Mermaid blurs the boundaries between inside and outside, above and below. It is an example of how the spatial experience of a fairytale can be created through a fusion of architecture and scenography.
From the garden above, the fairytale realm below can be glimpsed through a pool of water. From below, a cut-out of the sky is visible through the pool. It is also circled by tall hedges that draw the gaze up into the air. Light filtered through the pool creates a ripple effect on the underground walls, adding to the illusion of being submerged. The light changes according to the season, weather and time of day, so the experience is always slightly different.
The mermaid's absence in the underground space, Lübker explains, turns the space into an empty stage. The exhibit is not a representation of the story, but an architectural and scenographical performance that allows the visitor to experience the longing and absence of the Little Mermaid spatially.
H.C. Andersen House reveals the magic around us
"This is how we want to tell the stories," he says. "We want to make them something where the architecture and the scenography is almost a vessel or a stage for how you experience something in your own life.
"So in the story of The Little Mermaid, when you're lying on these pillows 'at the bottom of the sea', looking up into the sky, then the sky becomes a canvas for whatever longing you have inside of you. We have this very beautiful mermaid singing composed by a Danish composer. It's an atmospheric place, full of longing."
"What I hope is that we activate something in people so that as they see the sky it becomes an empty canvas for whatever's inside of them. Our aim is to show people that magic is everywhere; that even in your everyday life, under the sky that you don't pay attention to normally, everything has magic in it, if you just look at it the right way."
A wide audience
The museum has been created with an international audience in mind, since Andersen's appeal is universal.
"We focus on the existential themes of love and searching for meaning and so on, and work with artists from around the globe. We found artists that we think work in an Andersenian way."
One of these is the English author Daniel Handler, who writes as Lemony Snicket:
"He was chosen because so many of the literary devices that he uses in his writing are very much akin to Andersen's writing. As a curator, it was important for me to choose the right artists. And then to set them free to have their own take on it."
In total, twelve artists from all over the world are behind the exhibitions in the new H.C. Andersen's House. The exhibitions, developed by H. C. Andersen's House and the various artists in collaboration with the British design agency Event Communications, are:
Kim Fupz Aakeson (writer) – the Danish script for the museum
Henrique Oliveira (installation artist) – a wood installation based on the fairytale The Tinderbox
Louise Alenius (composer) – composition of four pieces for H.C. Andersen's House: The Nightingale, The Snow Queen, The Ugly Duckling and The Little Mermaid
Veronica Hodges (papercut artist) – a swallow installation based on the swallow in Thumbelina
Daniel Handler (writer) – the English script for the museum
Sandra Rilova (illustrator) – illustrations for H.C. Andersen's House
Lewis Gibson (sound designer) – the entire sound design of the museum
Timothy David Orme (animator) – the cinematic experience of travelling into the imagination and back – based on Andersen's own travel drawings
Noah Harris (filmmaker – Agile Films) – most of the various projections around H.C. Andersen's House
Andy Gent (puppet maker) – the dolls for The Steadfast Tin Soldier, The Little Mermaid, The Snow Queen and The Little Match Girl
The creative team behind the new Hans Christian Andersen museum
"We have been very lucky to work with some very creative and talented people," he says.
The architect, Kengo Kuma, took the story of The Tinderbox as inspiration:
"It is this whole notion of the unveiling of a hidden world underneath. I had been talking about whether the curved line was better than the straight line, then, when I heard Kengo Kuma talk about what we can learn from the cave, because the cave is curved and hides things, I got goosebumps, because we had never talked about these things together."
"His way of seeing what architecture should be just fitted so well with Andersen's way of telling stories. It has been a very happy marriage in the sense that these artists have made the project so much better than we could have envisioned ourselves. They can do something that we can't. So if we can pick the right artists, they can make it better than we could have done."
While many cultural history museums, Lübker contends, are largely aesthetic and geared towards one visit, this museum is eminently repeatable:
"The way the architecture works means the experience changes over the seasons, and over the day, and according to the weather, with the light ingress creating different experiences. The audio emphasizes the impression that you have entered a living, changing world."
Animations at H.C. Andersen House
In addition to the audio, the museum is using numerous trigger animations:
"We're working very much with this strategy of leaving something for the imagination. Andy Gent was the lead puppeteer on Tim Burton's The Corpse Bride and Wes Anderson's Isle of Dogs. He created stop motion movies for the museum.
"When, for example, you see The Snow Queen, Kay and Gerda are tactile dolls that you encounter in stop motion animation, which makes it much easier to identify with them across cultures because there's a lot left for the imagination still. It doesn't have that fixed visual language of, say, Harry Potter or Pippi Longstocking, which both have a very set visual universe. We know how these characters look."
In Andersen's universe, everyone has their own interpretation of it. So, we are working with something that doesn't over-determine how it looks
"In Andersen's universe, everyone has their own interpretation of it. So, we are working with something that doesn't over-determine how it looks. You see mermaids through the blurring of water and there is a lot left for your own imagination to put it in."
In this way, the exhibits mimic the text, leaving the visitor to create the details of the visual universe in their mind, as a reader does.
Leaving things to the imagination
"Andersen is not a very naturalistic storyteller," Lübker adds. "He doesn't describe his people in detail but leaves it to your imagination. His stories are like puppet theatre, where we have one character entering, and then another. The fun lies in how they interact, or talk past each other, or fail to understand each other.
"It's not about naturalism, but relations between elements – between things and people, between plants and people, and between objects. It's this playfulness around how we are all different, and we all have different perspectives. That's where the fun and the tragedy comes from."
While Andersen's fairytales are replete with both fun and tragedy, they are refreshingly lacking in morality.
"That's so important. He's not the storyteller that you read to get your kids to become well-behaved adults. Instead, they will learn that the world is big and wonderful, and they can get lost in it, and they need to tackle it themselves."
Exploring underground
Two-thirds of the museum is underground, intersecting and twining with the incredible garden:
"Because it's in the middle of the city, we have only a limited space. We knew quite quickly that we needed to go underground. What Kengo Kuma has done is to create pavilions that are pushing up from the ground, completely melding into this almost English garden landscape, in which you see different aspects of Andersen's take on nature."
"Behind one curve is the giant garden where you feel small; behind another is the dark garden, where the weird, crooked, freaky aspects of nature are found. On the other side, we have the light garden, which is all flowery and beautiful. Nature has all these different facets.
"When you start moving into the museum, there is a long ramp that takes you slowly away from above ground. You come to an in-between space, where you are clearly underground, but you have an excellent view of a garden that is sunk into the ground. You feel you are both above ground and below ground at the same time. In-between spaces are something that is central to Kengo Kuma's method."
The use of light
The manipulation of light has been used to great effect.
"Here, for example, we're using the vegetation to create natural filters," he explains. "Light is how you define where and when you are. So if you can manipulate light, you can create the sense that you are a little bit detached, that you need to discover what it is, and what your role in it is.
"That is what the fairytales do, as well. They bring you out in a world you think you know, but all of a sudden it turns out to be something else, and you have to rethink."
Visitors will, Lübker hopes, be inspired by the new Hans Christian Andersen museum.
"This is not a museum that tries to tell everything. It's much more about how you tell things. So, it is fun, engaging and inspiring, and at times also very heartfelt.
"The final part of the fairytale room is The Ugly Duckling. In both the Danish and the English versions, it has been written in a way where you can interpret it to be about yourself if you have ever felt the odd one out, if you have felt alone. I've seen a couple of visitors shed a tear."
H.C Andersen House opens up his fairytale world
"Andersen's fairytales are both fun and tragic, and the whole spectrum in between, and we want to do that as well," says Lübker.
"If you don't know the fairytales, hopefully, you'll be inspired to read them afterwards. If you know them, hopefully, you'll discover them anew, and realise that they have more to them than you remember."
"The aim is to open this world up instead of saying, 'The fairytale is about this and this.' Andersen's tales present an otherness. It can be very frightening to be presented with that, to see a world full of otherness. But in moderation, it can be that small disturbance that makes you see yourself from the outside, and think of the world anew."
He uses the example of Andersen's dark tale The Shadow:
"You think you're playing with your shadow, and all of a sudden it starts behaving independently. That is almost a symbol of what we are trying to do. We want to make this fun experience that doesn't do just what you expect.
"When you walk through a theme park, everything is predictable. You press a button, and it does what you expect. Here, you press a button, and it does something else."
All images courtesy of H.C. Andersen's House, credit Lærke Beck Johansen