Marking the 30th anniversary of the seminal US sitcom, The Seinfeld Experience will immerse fans in the show like never before – in the city where it all took place.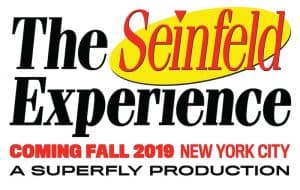 Opening this fall (autumn) in New York City, the behind-the-scenes attraction will include iconic costumes, memorabilia, replica sets and props. There will also be never before seen content in addition to classic show moments. Limited edition and exclusive merchandise will be available in the accompanying retail store.
Named after the comedian Jerry Seinfeld, its lead character and co-writer, Seinfeld made its debut on the US broadcaster NBC on July 5, 1989. The show ran for nine seasons and went on to screen in multiple territories around the world. The sitcom has won numerous Emmy, Golden Globe and People's Choice awards. It was even named the greatest television show of all time in 2009 by TV Guide, and top five of the 100 greatest television shows of all time three years ago by Rolling Stone.
The ticketed attraction is being created by Superfly, whose co-founder Jonathan Mayers says it will "combine nostalgia with immersive entertainment, and get fans closer than ever before to the show and its beloved characters."
"Because I am Seinfeld, for a long time I was the only person to actually have the Seinfeld experience. Now, these crazy Superfly people are going to make it so lots of people can interact with our silly 90's TV show," says Jerry Seinfeld himself. "All I can say is, in the general context of the world we live in, this now seems completely normal."
"We are thrilled to partner with Superfly to introduce an authentic experience that pays tribute to the sitcom's most iconic scenes, catchphrases and characters," says Peter van Roden, senior vice-president of Global Themed Entertainment at Warner Bros. Consumer Products. "Since it premiered back in 1989, Seinfeld has been a cultural touchstone for so many and we hope that through this experience fans will be able to relive their favourite moments."
Located in the Gramercy neighbourhood in Manhattan, the experience will operate seven days a week. Tickets through until February 2020 will go on sale in the coming months. These and updates about the attraction will be available at theseinfeldexperience.com.
https://www.instagram.com/p/BzCJF8cBb7z/?utm_source=ig_web_button_share_sheet
JRA is collaborating with Superfly's internal creative and production team to provide planning, design and implementation of the attraction. This follows the firm's earlier work on the National Comedy Museum in Jamestown, New York.
This latest collaboration with Warner Bros Consumer Products is not Superfly's first encounter with Seinfeld. The live entertainment producer and co-creator of large music festivals launched a comedy festival in 2017. Named Clusterfest, it had Jerry Seinfeld as a headliner, and featured a full set recreation of the Seinfeld apartment along with a Monk's Cafe and Soup stand serving themed food and drink.