The Guardian newspaper in the UK reported this week on a proposal being made to the London Assembly that as one of a number of ways of plugging a A?500 million shortfall, the Metropolitan Police should be contracting a private exhibition organiser to create a temporary show of the museum's most important pieces, with the proceeds (a hastily estimated A?4m) going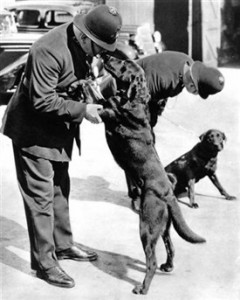 directly to frontline policing (a contribution of A?4 million appears to have been estimated). Now, with the Met due to move to its new home in Whitehall in 2015, the future of the "Black Museum' as it's known will need to be considered, including the issue of whether there should be public access to it.
My view (and you may be surprised by this) is absolutely not. It's easy to make these suggestions if one has not actually seen the Black Museum and been guided around it by an experienced police officer, as I was privileged to do. However, unlike those genuine attractions which deal in the dark parts of history such as the London Dungeon, these objects are real and the crimes that were committed with them or associated with them are real as well. It is the mundanity of the evil on display that is completely chilling ' ordinary objects that were used for unspeakable purposes and in my opinion, they should not be seen out of context and sensationalised, which inevitably will be the case.
Perhaps part of the problem is the use of the word "Museum' which implies something that should by default be a place of public access. This is not the case: they are a collection of items that are used for training and for academic study and should remain that way.