CREATIVIVA is an innovative company producing cutting-edge live theatricals, open air shows, ceremonies, exhibitions, special and annual events on a global scale, as well as adding a live dimension to theme parks.
Some of its most spectacular projects were Illuminite, a 360-degree multi-stage theatrical experience in Toronto's busiest square for 16,000 spectators; Unity, for the 150th anniversary of Canada in front of 15,000 spectators, and Dolce Vita, a theatrical extravaganza.
Creativiva's founder and Artistic Director Lukas Cabalka spoke to Blooloop about the company's function and vision, and how in the tech-heavy, immersive world of entertainment where we have all learned to be protagonists, CREATIVIVA reminds us how to watch, marvel, and be an audience.
Cabalka, a visual storyteller and former performing artist, choreographer and director, began in the arts at the age of seven: "My mother pushed me into dancing. I was playing soccer and dancing at the same time, but later on I realised that when you dance there are also girls, so I decided to continue, and kept soccer as a hobby."
A European aesthetic
This led him towards creation, direction and choreography. He says: "It was the next logical step to do. I got my bachelor's degree and my Masters degree afterwards. While I was in university I realised that I did not want to wait for the golden opportunities or to develop the connections. When I was 19 or 20 I decided to start my own company."
This was the beginning of a professional career that would lead to the creation of Creativiva. Cabalka grew up in between three cities, Bratislava, Vienna, and Prague. My aesthetic is European."
It was while he was at university that an opportunity arose to do a project in Canada. He says: "That is basically why we decided to open a branch in Canada, later on. But we knew from the beginning that we didn't want to stay local; we wanted to go global.
"One of our first shows was in Oman, in Muscat, in the Middle East. Very quickly, our strongest market became the Middle East. Then, in a sort of artistic colonisation, we started creating for different clients, different markets, different audiences, which was very refreshing and exciting. We worked with theatres, we worked with festivals, we worked on special opening ceremonies, corporate events, anything and everything."
Collaboration
Collaboration has always been at Creativiva's heart.
As Cabalka says, "No artistic discipline I bring to a production – be it acting, acrobatics, dance, projections, puppetry, lighting, sound design, sets, costumes and so on – exists independently of the others. Each is a note, an orchestral instrument, and I'm constantly seeking ways to merge them together to create a captivating harmony."
He says: "We focus on collaboration with artists, with creatives from all over the world, we believing collaboration to be beneficial to the entire community. That is why we look for the best designers, costumes, make-up, props, apparatus, and work with them, whether in Barcelona or Paris or New York. The same goes for talent. We cast all over the world."
Truly global
"My European perception, influenced by the history and culture, fine arts and architecture, classical ballet, opera and so on, has given us a different feeling, and the ability to cross genres, to be multidisciplinary, experimenting with different genres. In many of our productions, you can see a little bit of acrobatics, or circus, or puppetry, acting, or singing, dancing, often fine arts. We are always trying to find a way to experiment, to make people react, to move, to provoke, to evoke emotions and expectations."
Cabalka identifies three qualities that set Creativiva apart: "Firstly, we are refreshingly creative and multidisciplinary: you cannot pin any particular genre or style to us. Secondly, we are truly global. Today, for example, we have a project on a Caribbean island, one in Dubai, one in Thailand, and at the same time we are planning one in Miami.
"The third aspect is customisation. We truly talk to our clients and develop exactly what they require. It's like bespoke clothing or custom-made shoes: the inspiration is very similar. It goes back to real craftsmanship, getting the best quality into the best bespoke form to satisfy the audience, the client, or the purpose of the show or event."
Look for beauty
In today's technologically driven world, Creativiva is a celebration of live entertainment. It is technologically enhanced, but the cornerstone is the performing arts.
Cabalka says: "When I was in university, my professor taught me to create in a way that when all of the lights, all of the effects are turned off, the show is amazing on its own. Everything else is just an add-on that can enhance, but it does not create the form or spectacle. I try to follow this principle.
"I believe in two different things: first, the gift, the actual talent to play instruments, dance. Second is the craftsmanship of creation. Today, so many different people claim to be directors and choreographers, without having actually studied the craft in depth.
it is all about an all in one experience that evokes a response to talent, to aesthetics
"In our profession, we know exactly when people are going to clap; we know when they are going to smile; when they are going to go, wow. This is very important. Technology is great. But I believe we are all a little bit tired of screens. It was new and unique in the late nineties. It was interesting and it was different. But today, it is all about an all in one experience that evokes a response to talent, to aesthetics. We have different likes and dislikes, but we all of us, essentially, look for beauty."
Never compromising
There is, he maintains, something beautiful about watching people do something superbly. Creativiva is becoming increasingly well-known, building its reputation for phenomenal spectacle on a unique vision, and meticulous attention to detail.
Cabalka attributes the company's ascent to his perfectionism: "My quality of being impatient has helped me to persevere, to work continuously and very hard. It is about always striving for perfection. I am never happy, never satisfied, with whatever I do. This pushes me forward to improve, to make something better, to achieve.
"It is vital to always have a new set of goals to aim at. And it is also important to have mentors, to have people to look up to. From the beginning, it was my professors in university; later it was people successful in the industry at the global level.
"You try to get as close as possible to the perfection they achieve. It is just never ending; you never compromise on quality and never look for comfort; you always just push yourself to go further to find something better."
Lukas Cabalka, artistry and business
While vision and high spectacle are key components of Creativiva, business acumen is also important. Cabalka contends the company is a combination of innovative, immersive artistry with growth strategies.
15,000 people to play with
He says: "A few people have told me a really important asset is to be able to understand both the artistic world, and also to fully comprehend the business world. This was a necessity when I started. I had to understand the market, I had to be realistic in creating a proposal, developing a concept that would sell, finding the client and making them believe in that concept, then making it happen."
He describes one unique project, a genre he calls 'Urban Opera', in Toronto, Canada:
"It was a public spectacle where our stage and the audience were all in one place; a big plaza, or square. The challenges are right there. It is outdoors, it is 360°, you have people all around you. There is no backstage.
"And you have 15,000 people to play with, which brings its own difficulties. At the same time, it is a lot of fun to manipulate that many people."
He says: "It all starts with inspiration: an idea. In this case, the space itself was the inspiration. So I had to go to that space multiple times to consider the acoustics and the surrounding buildings. I also considered how people behaved there, the feeling. I thought about how to make that space different.
"The high-rise buildings and the giant square dwarfed tiny human figures, so careful scaling and craftsmanship was required."
For this show, Cabalka was thinking in two different planes, the horizontal and the vertical: "I came with the idea that I would love to elevate a piano and pianist, along with four dancers, high up in the air, as a moment of surprise.
"We had to have engineers design a special piano as an aerial apparatus. This was then lifted on a giant crane: you can imagine the logistics and all of the rigging and testing involved. Then there was the building the entire stage, the scenic design, elements such as music. What kind of music would work best in that environment?
"In the end, I went for a film score type of big orchestration that would resonate best in that area. So it starts from the inspiration, going to ideas, from ideas developing the concept, and from this concept, step by step, developing each segment from scenic design, costume design, makeup design; the apparatus and technical aspects.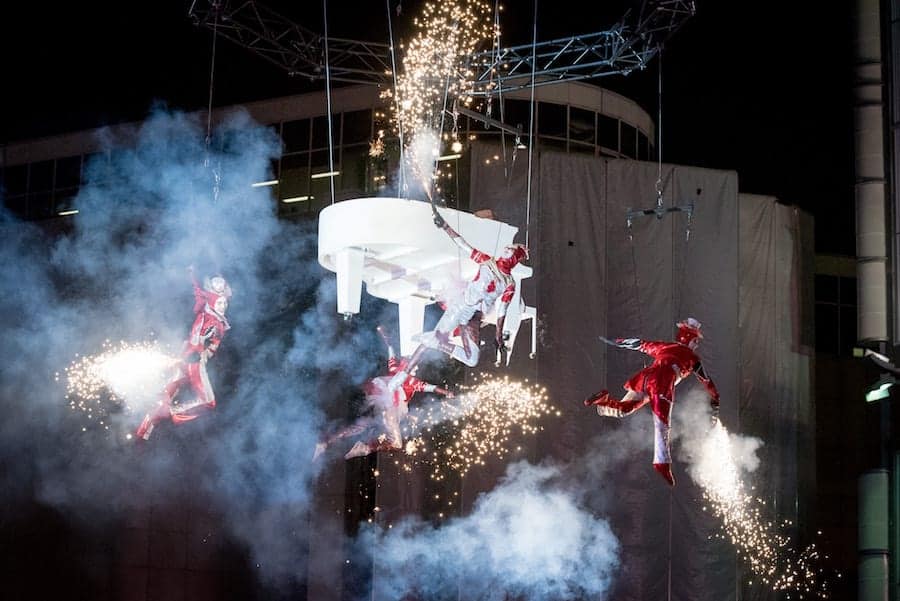 A nighttime spectacular
"There are the actual scenes to be planned, and the development of the oral dramaturgy, with the dynamic and transitions fitting within the tempo and dynamic that we want to achieve."
Despite the planning and work involved, Cabalka says: "What I enjoyed the most as a director was knowing that at this exact moment the 15,000 people watching were all going to smile; at this moment they would all turn 90 degrees, and look over there. I COULD do it. It was just amazing.
"So this project in Toronto was very satisfying. We did what we wanted to achieve, and people really loved it."
It is Cabalka's contention that this type of project would add a meaningful new dimension to theme parks: "It would work amazingly in theme parks as a night spectacle. Something spectacular could be created to attract people, making them feel immersed, but at the same time not necessarily as participants/protagonists. The key is to entertain. That is important."
Cabalka believes that Creativiva meets an inherent need to watch, to marvel. He says: "Many new kind of experiences are built on direct participation of the audience. It's a good idea, of course. However, we still, as humans, also like to admire, to be caught by something amazing, to just follow, and to watch. So that would be the direction."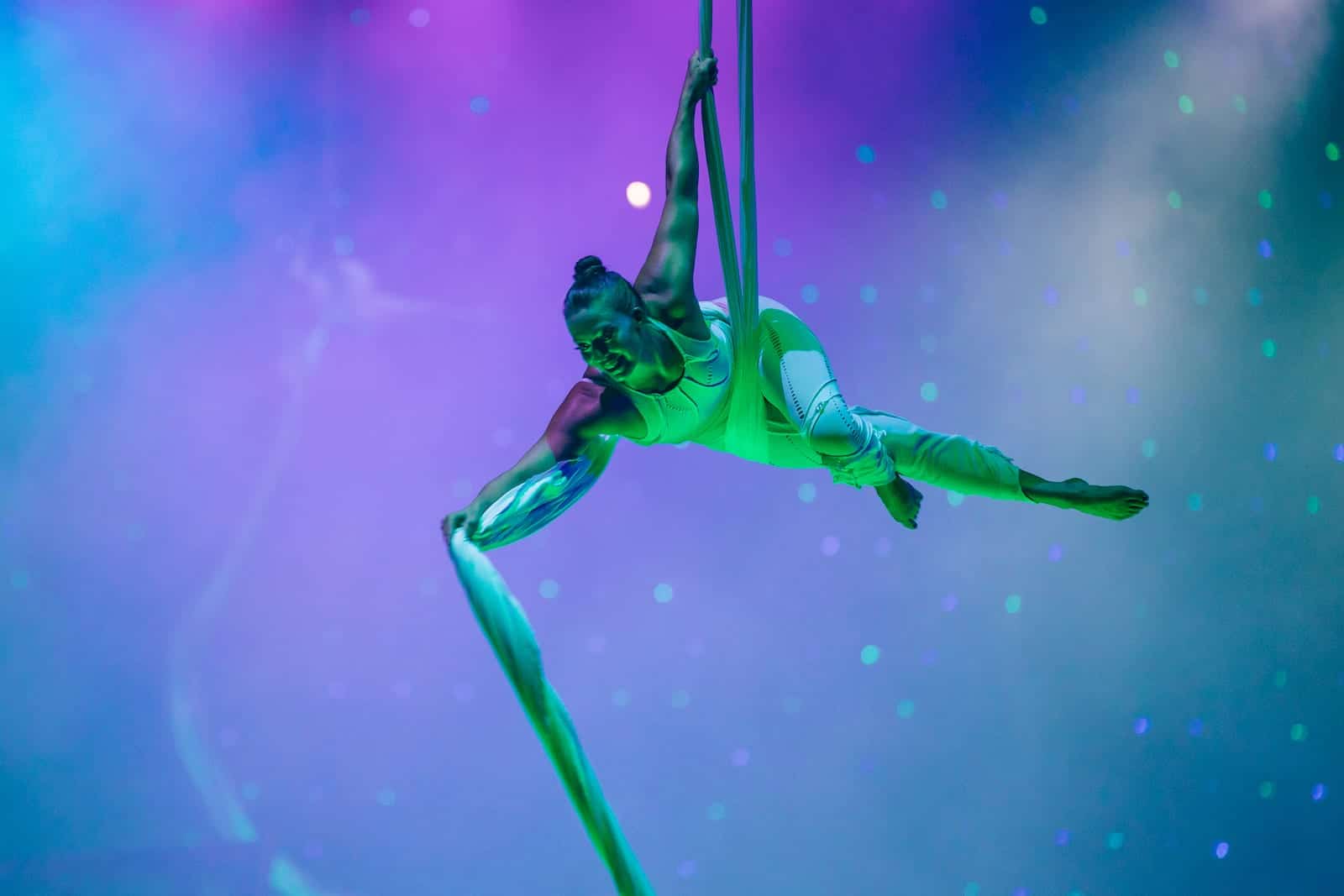 Creativiva: Live to create
Looking to the future, he says: "We want to create, to play, to experiment, to make people react. Everything we do is aimed towards that. And, with our offices in New York, London and Toronto, we are pre-set to operate worldwide.
"I hope we will get to travel more, and create more. I also hope that every single production will be a little bit better in some way than the previous one. This is encapsulated in the name of the company: Creativiva: Live to create."