Blooloop visits the park outside Brussels to discover how the interactive dark ride fits into its €100 million masterplan.
Popcorn Revenge is one of 42 rides and attractions spread over 64 hectares at Walibi Belgium, which sits to the south of the Belgian capital in Wavre. Last year, operator Compagnie des Alpes (CdA) embarked on a five-year makeover of the park. As much of 75 per cent of the site will be transformed by the time it is completed in 2023.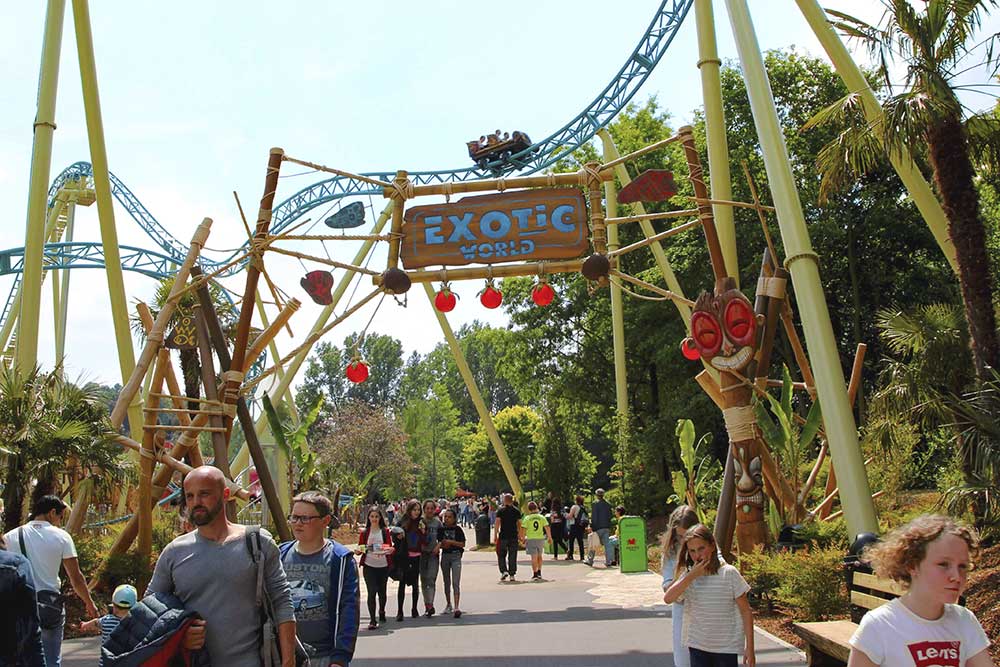 First came a new land, Exotic World, towards the back of the park. This area features South Seas theming from Jora Vision. Its centrepiece is a Gerstlauer roller coaster, Tiki Waka.
New themed areas
This season €12m has been spent creating two new themed areas. Karma World is home to Popcorn Revenge from Alterface. Existing attractions Radja River (Intamin Rapids), Cobra (Vekoma Boomerang) and Ali Baba (flying carpet) complement the 500 square metre (5,380 sq ft) dark ride.
Meanwhile, Fun World rounds up a number of the park's children's attractions. Here a new family coaster, Fun Pilot (from Zierer), is on the way. In addition to this, the park will receive a further €5m investment in infrastructure improvements for 2019.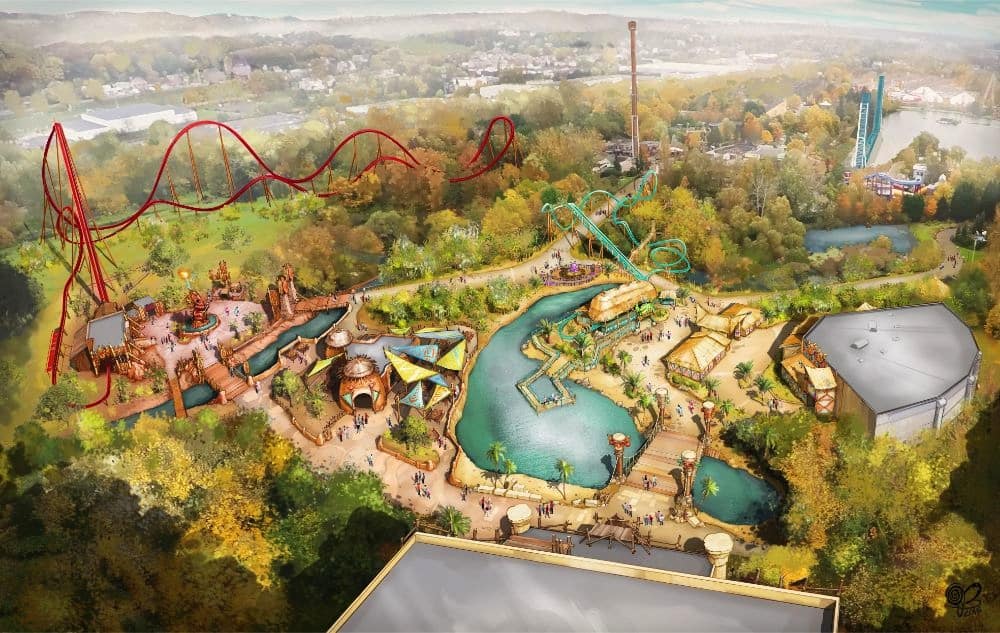 Next season, a fresh entrance area will transform the arrival experience. This will link both Walibi Belgium and Aqualibi, its sister indoor waterpark. And then in 2021 comes an eagerly-awaited mega coaster from Intamin. There will be other additions between now and 2023 as CdA splashes the cash.
That new coaster should keep thrillseekers happy. Yet the goal of the masterplan is to create eight immersive 'Worlds of Walibi' that between them will cater to a broad family audience. With a height/age limit of just 0.95m/3 years, Popcorn Revenge is certainly accessible to a wide range of guests.
Karma World
If what goes around comes around, Walibi Belgium is beginning to reap the rewards of the new investment after a somewhat fallow period. Karma World, like Like Exotic World, really does immerse families in its themed environment.
"With Exotic World, we noticed a different public which did not come before," says Jean-Christophe Parent, Walibi-Belgium's managing director. "We hope for the same with Karma World."
The new land is a short stroll from the park's entrance, to the left of Aqualibi. It features Indian-inspired theming, but the curves of Cobra dominate the skyline.
Popcorn Revenge: a compact dark ride
Popcorn Revenge is, in fact, the park's second interactive dark ride. Created by Sally Corp in 2003, Challenge of Tutankhamon had its facade refreshed last season to fit into Exotic World. Like Popcorn Revenge, it features 'trackless' wire-guided vehicles by ETF Ride Systems.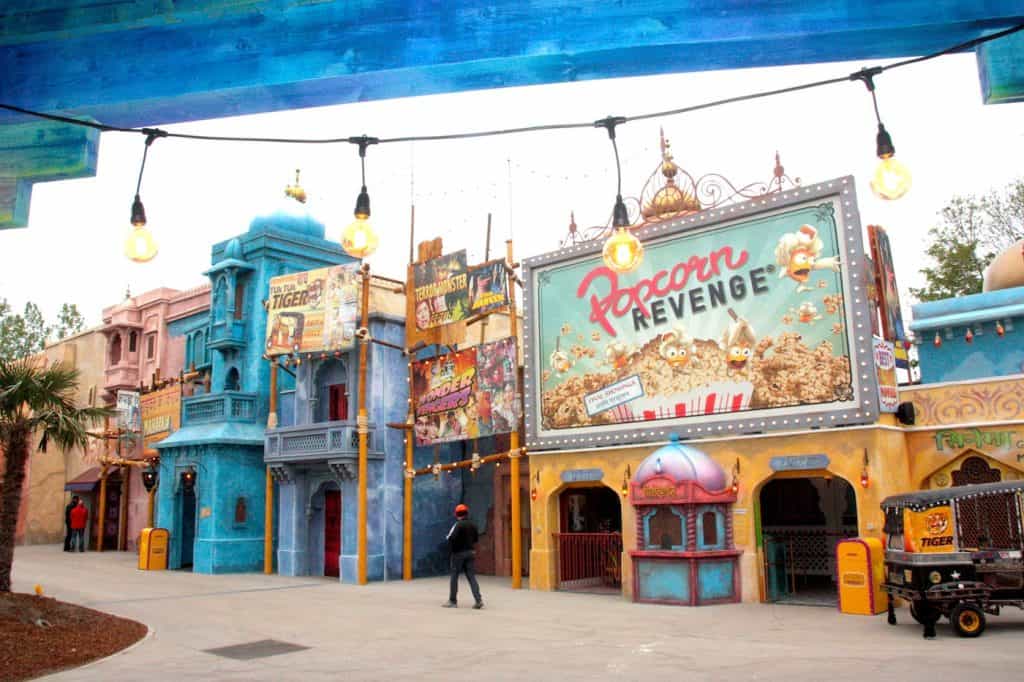 Only a 800 square metre area was allocated to the new attraction and its queue line. Yet what it lacks in size it makes up for in technology and humour.
The ride features cheeky, cartoon-like popcorn characters. Tired of being eaten by cinema-goers, they pop out of their boxes. They then cause chaos in a variety of scenes inspired by popular movies. Riders must save the cinema by immobilising the crazy corns with guns known as 'caramel dispensers'. In total, there are 1,000 pieces of popcorn to shoot at.
Bollywood meets Hollywood
From Citizen Corn to Apopcalypse Now, the titles of made-up movies populate the walls of the attraction's queue line, as well the front of the ride vehicles.
Meanwhile, posters of imaginary Indian film titles appear on the facade to the attraction. This and the rest of the external theming in Karma World was completed by Compagnie des Alpes' own creative team.
The inside of the 'cinema' is themed by Jora Vision in old colonial style. This is a nod to India's days under the British Empire. Bollywood provided Walibi Belgium with the license it needed to introduce Popcorn Revenge into what is not actually a movie park. However, the films pastiched within the ride are largely Hollywood productions.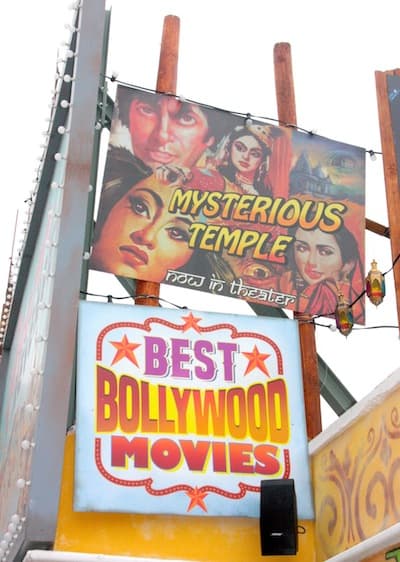 "India's successful movie industry is not so well known in Belgium," says Parent.
The park's MD adds that both Tutankhamon and Maus au Chocolat at Phantasialand in Germany were inspirations for the new dark ride. It was added to the park's line-up because "Belgian weather conditions are not always ideal."
An erratic, random ride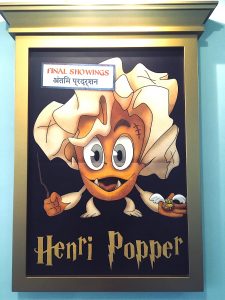 Alterface is no stranger to dark rides. Its interactive technology can be found inside 68 attractions worldwide. As well as Maus au Chocolat, this includes newer offerings like Bazyliszek in Poland, Street Mission at PortAventura World and Reese's Cupfusion at Hersheypark.
Yet Popcorn Revenge is the firm's first so-called Erratic Ride. It was developed together with partner/shareholder ETF. Key to the concept is the non-linear ride path.

Each of ETF's seven Mystic Mover ride vehicles embark on an apparently random journey through three of six scenes. Themed as mini movie theatres, these are clustered around the perimeter of a central dispatch room. This layout was developed as an alternative to dark rides where riders sit on a platform that turns from scene to scene.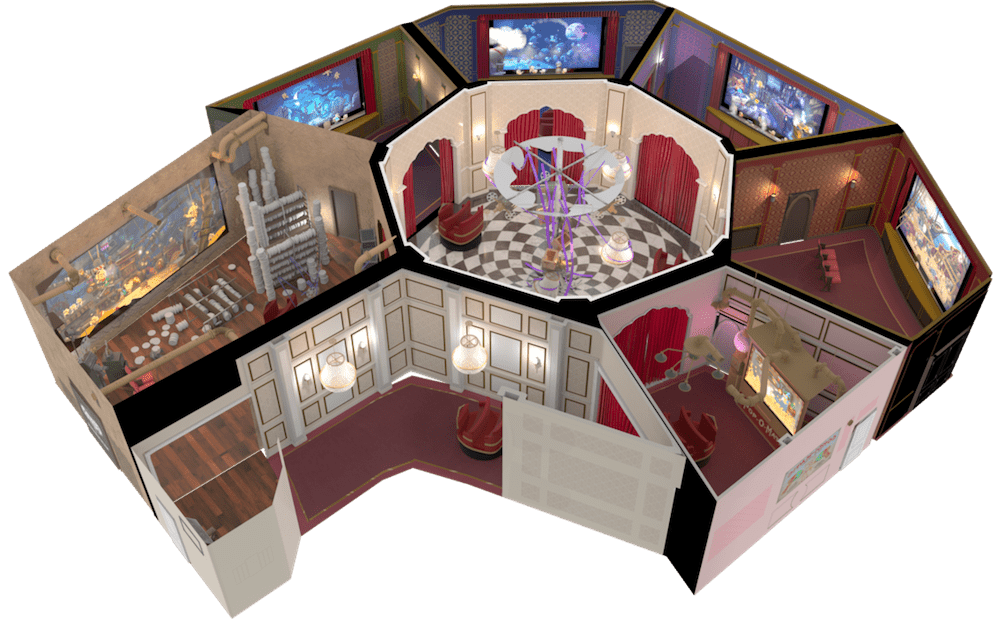 "The turntable system was weak on gameplay with problematic transitions and movements," says Stéphane Battaille, Alterface's chief operations officer. "So we combined our Salto show control engine with our significant experience in handling trackless vehicles. The Erratic Ride turns transitions between scenes into fun experiences, whereas in more traditional dark rides these can be rather cumbersome."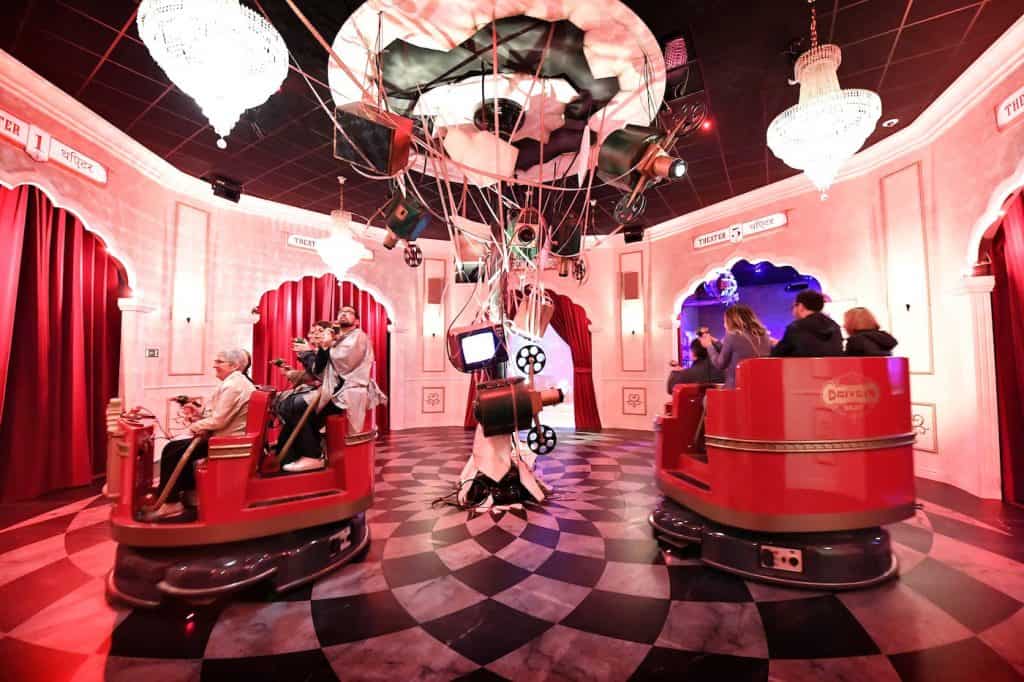 A nice feature of Popcorn Revenge is the way in which the vehicles circle the dispatch room as they move between scenes. This is similar to a sequence on Symbolica at Efteling, which is also equipped with ETF Mystic Movers. In another transition, they slide sideways into the next scene.
Theming and special effects
The ride contains a mix of projection techniques, 3D shooting, special effects and themed props. In some scenes, however, the physical theming is confined to just a few theatre seats.
An attractive effect is the way in which the red velvet curtains open and close as vehicles move between scenes. During a popcorn-packed experience lasting around three-and-a-half minutes, passengers travel a distance of 99 metres (325ft). The hourly throughput is 560 according to the manufacturer.
Merchandise potential
Originally destined to appear at a European movie park in 2012, the idea for Popcorn Revenge has been slowly cooking in the minds of a team lead by Alterface creative director Laurence Beckers for six years. By finally popping the kernel on its own doorstep, the interactive attractions specialist has a flagship project that it can showcase to potential customers.
As neighbours, Walibi and Alterface had been in dialogue for 15 years, says Parent. However, they had never found the right project to collaborate on until now. It was worth the wait, he adds: "Alterface has exceeded our expectations."
The company currently occupies offices in Wavre. Next year it will move into a converted 16th Century paper mill close to the park. This will also house a 'lab' in which up and coming enterprises can incubate ideas for attractions. This is fitting giving Alterface's own roots as a research project between the Université Catholique de Louvain and Université de Mons.
From the outset, the vision for Popcorn Revenge as an intellectual property (IP) was for it to feature an integral line of merchandise.
"Merchandising extends the memories of the experience and therefore adds emotional value," says Beckers.
The park's own faith in that 'merch' is demonstrated by the fact Popcorn Revenge is the first ride at Walibi Belgium to feature a dedicated gift shop. Alterface founder and CEO Benoit Cornet even goes so far as to suggest shop sales could end up paying for the attraction.
Popcorn Revenge: a universal IP
"The popcorn expressions and gags are universal," says Jean-Hervé Madec, creative director at Compagnie des Alpes. "It's an easy concept to understand for all ages, and language is not a barrier."
Potentially, hundreds of popcorn characters can be created for other parties that license the IP. Though some sail close to the wind in their interpretation of famous movies, we are assured there is no risk of copyright infringement.
"The intention is to make the IP evolve so that, besides the cinema and studio world, it can 'invade' any type of environment – from museum to restaurant, shopping mall and more," says Cornet. "It offers plenty of opportunities."
An announcement about a second project is due before the end of the year. It may or may not be a dark ride.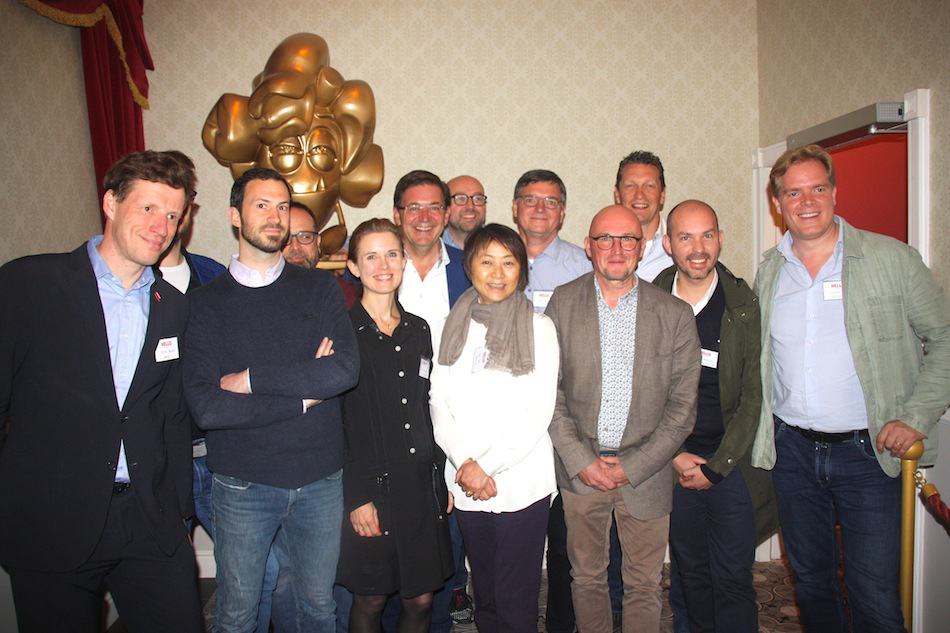 As well as ETF, Jora Vision and Barco (which supplied projection), other vendors included Painting With Light, Adventurelab and music composer Michel Grigorakis.
The ride soft opened at the start of the season in April, with a grand opening on May 25. Attendees at the industry media preview enjoyed a popcorn-themed dinner in the ride's dispatch hall. This would make an attractive setting for corporate events, too.
But it's the general public the park must win over if it's to regain its crown as the nation's no.1 theme park.
A fresh start for Walibi Belgium
Parent acknowledges that the first decade of the 21st Century was difficult for Walibi Belgium. "We under invested in this park," he says. "Then we had some difficulties with Vertigo."
He's referring to a prototype attraction from ski lift manufacturer Doppelmayr. It opened just one year into Compagnie des Alpes' ownership of the park in 2007. It combined elements of a zip line and a roller coaster and spanned large swathes of the site.
"You could fly in the air, it was really fantastic," says Parent. "But unfortunately it was really really difficult to operate."
Vertigo closed after just one season. For the next decade, investment was confined to maintenance and cosmetic changes. This included what is now acknowledged as an ill-thought-out Walibi rebrand featuring a group of animal rock stars. And then, in 2017, came Pulsar, an eye-catching water ride from Mack that remains unique in the world.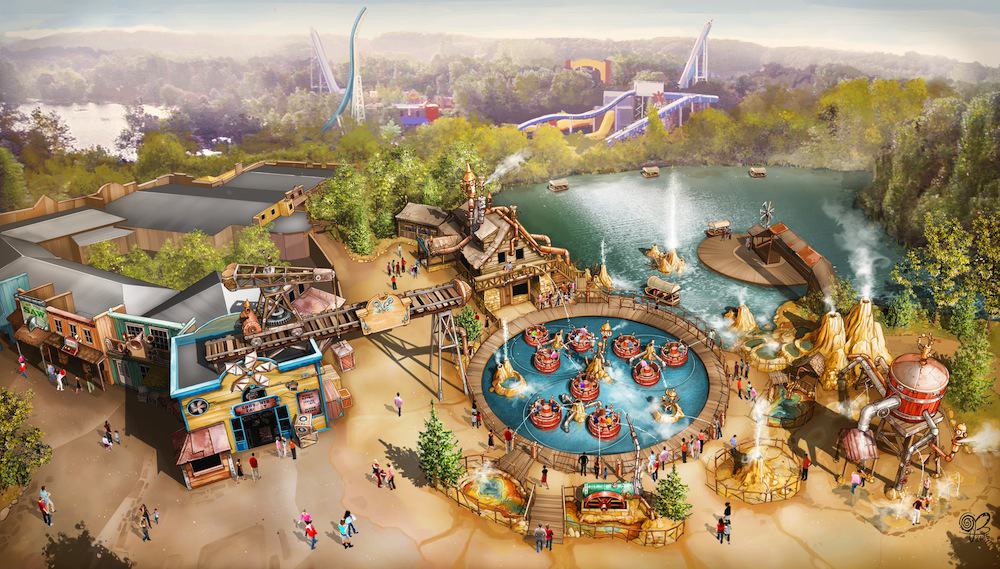 Strategic investment
The current masterplan was implemented as part of a major strategic investment by Compagnie des Alpes across its park portfolio. This also includes Walibi properties in Holland and France, as well as the well-known French operations Parc Astérix and Futuroscope.
Following the opening last year of Exotic World and Tiki Wata, attendance rose to 1.45 million. That figure includes visitors to Aqualibi. It is about 80,000 short of combined theme park/waterpark attendance at Plopsaland/Plopsaqua over on the Belgian coast. But the gap is closing and Walibi management is expecting an increase of 3 to 5 per cent this season. The goal is to hit 1.8 million by 2023.
"If you reach an attendance roughly 2 million, then you can talk about a hotel," says Parent.
The eight new Worlds of Walibi
B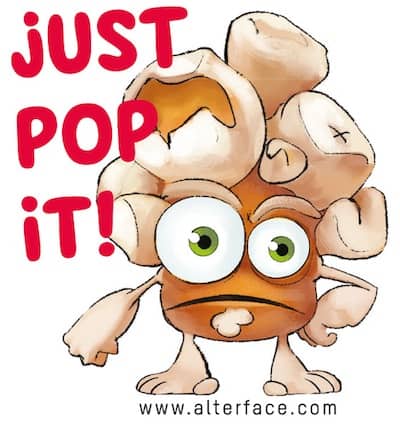 y the time the masterplan is complete, the eight Worlds of Walibi will comprise the park's new entrance area, Aqualibi, Karma World, Fun World, Exotic World, and, still to come, Adventure World, Dock World and Festival World.
Guests of Walibi Belgium will have fun this season as they experience the senses and colours of India inside Karma World. The new land also comes complete with its own eatery named Delhi'cous. Here, overlooking the park's lake, visitors can dine on dishes including Chicken Tikka-Masala and Bombay Chicken. All washed down with Coke or Fanta. Just like Popcorn Revenge, it seems the restaurant is a mix of East meets West.