Hot on the heels of the recent TEA Summit and Thea Awards, the TEA (Themed Entertainment Association) held its SATE conference in the UK for the first time. Around ninety themed entertainment professionals gathered on May 4th and 5th for SATE Europe at the National Motor Museum in Beaulieu.
The SATE Europe programme was delivered in four segments reflecting the SATE acronym: Storytelling, Architecture, Technology and Experience. These were sponsored by,
respectively, Alterface Projects, Christie, 7th Sense Design and Wärtsilä. Other sponsors for the event included Garmendale, Electrosonic, Barco and DJW.
SATE Europe 2017
The theme for SATE Europe 2017 was 'Cultural and Historic Futures – Making the stories of the past relevant for future generations'. The sessions all took place in the Classic Car Lecture Theatre.
Highlights of the two segments I saw – Architecture and Technology – included the following:
 Authenticity
First up was Michel Linet-Frion. He is Creative & Innovation Director at Pierre & Vacances/Center Parcs in Paris. He described the company's most recent resort, the Thea Award winning Le Domaine du Bois aux Daims and how it is designed to be as natural and authentic as possible.
The challenge Center Parcs faced was in how to integrate a modern resort with modern amenities into an historic rural setting. They key to the attraction's success, he said, were storytelling and authenticity.
Center Parcs had always had nature as a theme but this was the company's first venture into storytelling. Furthermore, although sustainability and care for the environment have always been central to the Center Parcs vision, Bois aux Daims takes this a step further.
As the park's brochure states, "one of the main ambitions of the project has been not only to preserve the site's biodiversity, but to improve it".
So, before work started on the project, a biodiversity site survey was carried out. Systems to promote water conservation were put in place, sustainable materials were used and the team collaborated with local nature groups. They have created ponds and left a 35 hectare area to the south of the development untouched as a nature reserve.
An attraction or an event?
Suzy Griffiths is Head of Events at PWR Events in London. She spoke about the development of the hugely successful Winter Wonderland in the city's famous Hyde Park.
With 8 pre-bookable attractions and more than 70 rides, it is in effect a short-term theme park, open for just 45 days a year.  Free to enter, it is quite an operation, as the figures bear out. Built in just 4 weeks, it is dismantled in 3. It has over 80 F&B offerings, 200  chalets and last winter attracted over 3.6 million visitors in its 6 week run.
Accordingly, it faces many of the same challenges as permanent theme parks and attractions. These include managing visitor flow and queues, ticketing and ride operation. Also, like any successful attraction, Winter Wonderland's digital presence has evolved. A sophisticated website now offers pre-booking deals and special days for families.
On creating (two) flying theatres
The next speaker was Chris Lange. He is Creative Director at Europa-Park and Mack Solutions. Chris first of all outlined the history of Europa-Park. It is a fascinating story, from its opening in 1975 to today, where it is the biggest theme park in Germany and the second most visited park in Europe, attracting well over 5 million people a year.
Chris estimates that the park is the second biggest F & B operation in the country, after McDonalds. Its continued growth also illustrates how a successful theme park must constantly reinvest. Half the visitors come from Germany and 45% from neighbours France and Switzerland. 80% are repeat visitors. These "locals" must be given new rides and attractions to experience.
He then moved on to the challenges faced when developing a new attraction from scratch. The most difficult project in the park's history was the design and development of its new flying theatre attraction, Voletarium. Featuring not one, but two theatres, the ride systems were from Brogent and the design, planning and AV by Kraftwerk Living Technologies.
The attraction's close proximity to both the historic castle and the small local village of Rust presented Chris and his team with a number of hurdles and the project repesents both a technical and a logistcal triumph.
Uncertainty + disruption = opportunity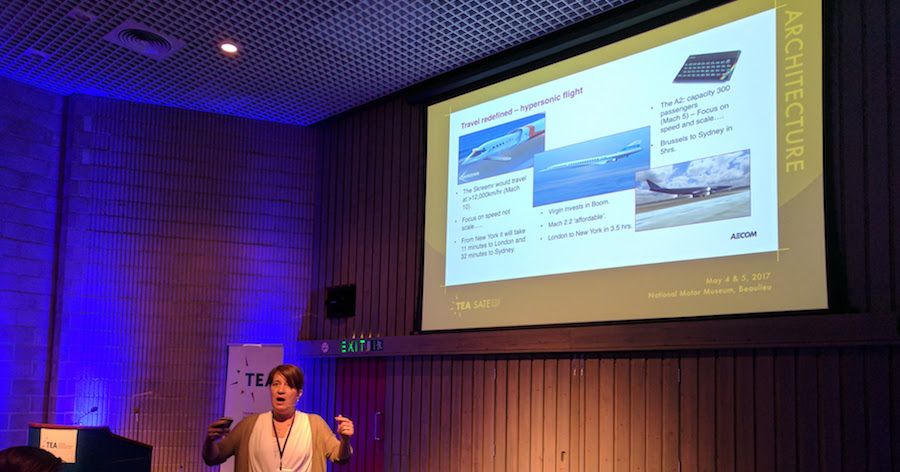 Margreet Papamichael is a Director at economic firm AECOM's leisure and hospitality divsion. If SATE Europe delegates were expecting spreadsheets and numbers they were disappointed.
Margreet, like any good analyst, is keeping and eye on the future and in an energetic and wide-ranging presentation she outlined some of the huge technology-driven changes coming our way. Importantly, many developments will  impact the attractions business. For example, with hypersonic flight on the horizon – promising New York to London in 3 hours, possibly even 11minutes(!!?) – attractions might soon be receiving visitors from farther afield than ever. Whilst a geat opportunity it would also mean they would face compettion from non-local attractions too.
Her presentation was fascinating, sometimes worrying, but ultimately inspiring. Taking in everything from the new wonder-material graphene (one atom thick) and automated vending machines to off-planet and under-sea living, Margreet reminded us that a lot of what we think of as futurology is happening now. In conclusion, she said she was an optimist. "With uncertainty and disruption comes opportunity".
A night in the Abbey
The day was rounded off with a short (classic) bus trip to Beaulieu Abbey. Founded by King John in the 13th Century, it was once a thriving Cistercian Abbey. It was mostly destroyed by Henry VIII in 1538. Restored over the centuries by the Montagu family and their ancestors, it now houses a museum and also works well for events. SATE Europe delegates had an evening dinner in the hall.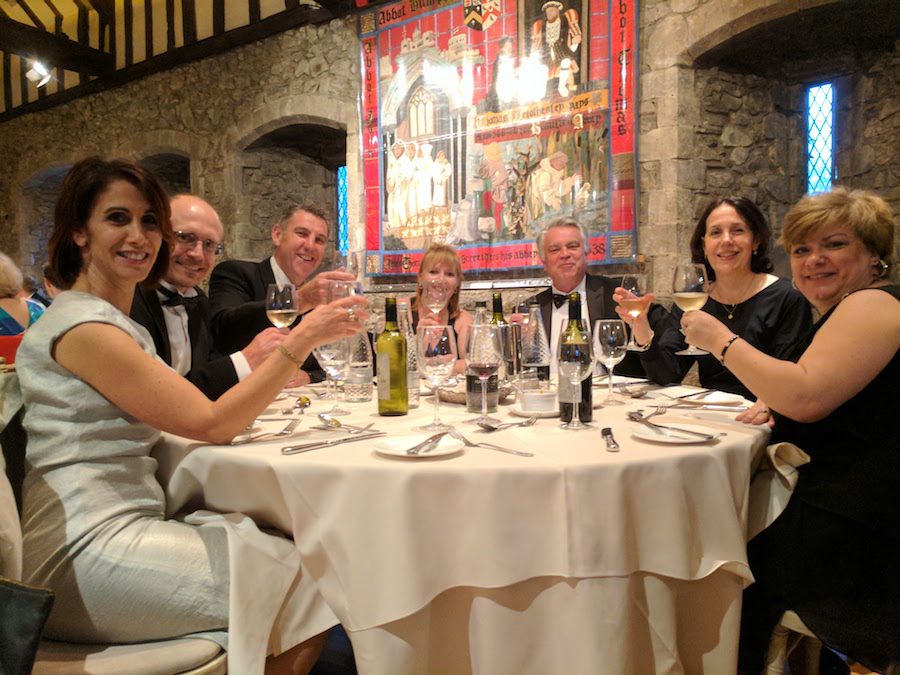 The next morning began with an introduction and welcome to Beaulieu from Lord Montagu. He and David Willrich, TEA president, go back decades and first worked together thirty years ago when both were students.
The morning's first speaker was Robert Simpson, co-founder of Elecrtosonic. Recently awarded an MBE in recognition of his services to the audiovisual industry, Bob gave delegates a whistle-stop tour of the AV industry as its stands, looking at key trends and where it might go. He mentioned Moore's law – that technology doubles in power each year – and that, remarkably, Intel's CEO says it is still going strong.
He wrote the book about video walls
Bob also spoke about some of the technologies he thinks will have a huge impact on the attractions business, particularly those in display systems such as lightfield displays. Developments in the broadcasting industry will be seen in the attractions sector. He also noted some technologies that hadn't made the grade. 3D for example, was yesterday's news, with consumers losing interest (discomfort etc.) and glasses-free flat panel screens and laser projection technology perhaps making it obsolete.
He highlighted "Mass Effect: New Earth, A 4D Holographic Journey" at California's Great America theme park as using a great mix of state-of-the-art technologies to significant effect and rave reviews.
Gamification
The next speaker was Barcelona's Oscar Garcia Pañella, PhD., Academic Director at the city's IEBS Business School. He comes not from an attractions background but from the world of video-gaming and spoke about gamification and challenging entertainment paradigms.
Oscar revealed that as a child he had been so deeply engrossed in video games that he had no interest in books. He liked the immediacy of the games and the fact that he could determine the direction of the narrative. Cleverly, his mother introduced him to interactive books (above), which allowed him to decide upon the story himself and this subsequently led him to a love and appreciation of more traditional books.
Dinosaurs and Daleks
Marcus Arthur is President UK, Eire, ANZ and of BBC Global Advertising.
The BBC has a considerable business in licensing and extending the reach of its hugely popular intellectual properties (IPs). These include Top Gear, Dr. Who, CBeebies and Strictly Come Dancing. Marcus spoke in detail about the process involved and the relationship between attractions and IPs. He characterised his priorities as "Focus, fans and partnerships". Fans were, he said, "at the heart" of everything he did.
The BBC's strategy was to focus on a small number of key brands with a small number of key partners. Marcus also mentioned the huge potential for growth in China.
He highlighted the relationship the BBC has developed with Merlin Entertainments. In particular he was pleased with the care and attenton to detail taken with the BBC's CBeebies brand at Alton Towers. This coming summer sees the opening of the 74-room CBeebies Land hotel at Alton. Though a new departure for the BBC , Marcus felt confident the brand was in safe hands with Merlin.
The partnership has been a great success. CBeebies Land drove an extra 600,000 footfall, a 20% increase to Alton Towers.
And on to an augmented world
The final speaker of the morning session was Benoit Cornet. Benoit is the owner of interactive entertainment company Alterface Projects. He started off by correcting the British pronunciation of "Beaulieu". He then thanked Margreet for suggesting that VR would be of fading signifciance in the attractions sector, potentially, "holing his presentation below the waterline". (Although Disney's CEO Bob Iger might beg to differ, the truth is in fact a little more nuanced as mixed reality looks set to stay.)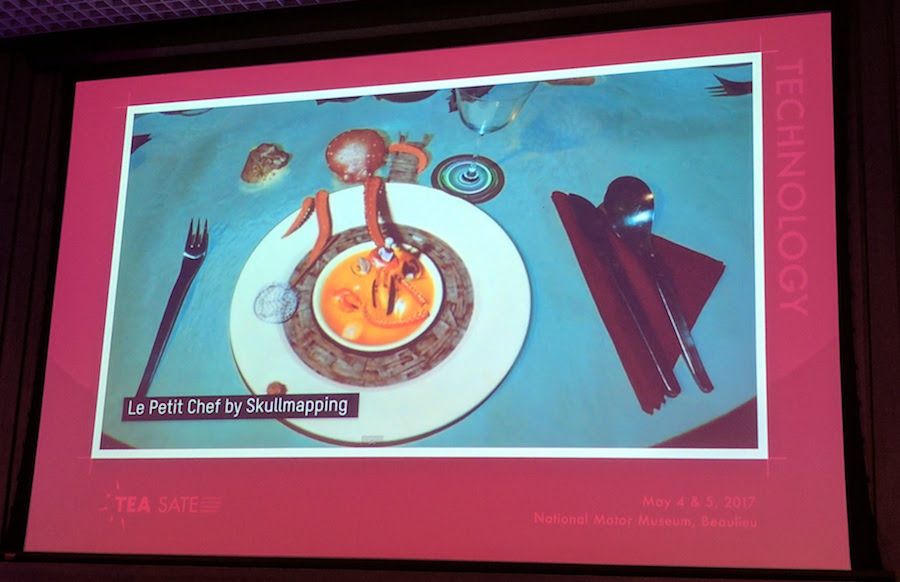 Benoit's presentation skilfully used video to illustrate the two points. Namely that a) we can be too connected and b) that augmented reality was enormously effective –  "AR 2.0" was leading us to an augmented world.
SATE Europe delivered
This was my first SATE Europe event. It was a highly professional affair, with thought-provoking sessions, a stunning venue and a convivial, warm atmosphere. Hats off to TEA president David and Lynn Willrich of DJW, Paul Kent, the TEA Europe board and to hosts Beaulieu for organsing such a successful event. It got my vote.
Image credits: Beaulieu Palace House courtesy Beaulieu. Voletarium, Europa-Park. Others Blooloop.