YouTube viewers have so far racked up over one thousand years watching the live stream of April the Giraffe, waiting for her to give birth to her calf at Animal Adventure Park in New York State.
Live streaming from zoos is nothing new. So why has April's impending motherhood captured the imagination of the public worldwide? And what happens to a small animal park when they create a viral video?
Park owner Jordan Patch speaks to Blooloop about life in a media storm.
A Lifelong Passion for Animals
Jordan Patch has had a lifelong passion for animals, owning and breeding reptiles through college while studying for a business degree. On leaving college he opened his own pet shop and it was through educational programmes that he introduced in his store that he found his true calling.
He opened Animal Adventure, an animal park in Harpursville NY in 2013. Animal Adventure offers visitors lots of opportunities to get close to and interact with the animals. Patch believes that this interaction can help people engage better with conservation messages. In 2016 the park welcomed over 50,000 visitors.
Patch says, "I'm truly happy doing what I'm doing and I think that leads to some of the success that we have."
Live Streaming: April the Giraffe
Live stream of April the Giraffe included with permission of  Animal Adventure.
April the Giraffe came to Animal Adventure in 2015 to breed with the park's bull giraffe Oliver.  A giraffe gestation period is 15 months. Animal Adventure is closed over winter, opening this year on May 13th. Patch explains that his decision to put a live webcam in April's stall was initially to address the interest of guests.
"It is the first time that we've ever done any live webcam from our park and the reason for that was that the guests knew April was expecting a calf in our off season so they've been checking in with emails. We were getting about 10 or so emails a day asking about her and I thought, there's got to be a better way to allow people to check in on her on their own instead of taking away my resource by answering 10 emails a day.
"You can be sure we're getting a lot more than 10 emails now!"
Going Viral
The result has been one of the YouTube sensations of the year. The BBC reports that by Friday morning UK time the latest live stream which was set up on February 24th had nearly 20 million views with cumulative time viewed now over 1,000 years. And still no baby.
Live streaming of animals by zoos is nothing new of course. So why has April captured the world's imagination? How has Patch and his relatively small and unknown animal park created a buzz that large zoos with PR departments would envy?
Some of the hype has been as a result of the stream being taken down from YouTube temporarily after there were complaints that the images contained explicit material and nudity.
Patch says, "We can attribute some of that to the YouTube controversy, however the day prior CBS Denver picked up the live stream and with their pick-up a media storm ensued, and there were many other agencies and platforms that wanted to stream it. Then about 12 hours later was when it was removed from YouTube."
The complaint was attributed to animal rights activists and the backlash from supporters of April resulted in the stream being reinstated.
"We didn't do a thing," says Patch. "We wanted to address the viewers that were reaching out to us by the hundreds, outraged that the camera was down. They were concerned that something was wrong, so we went on Facebook Live to address them and that video itself of us addressing it also went viral and then a big media storm followed."
What to do with a Viral Video
So is Patch a social media expert?  #AprilTheGiraffe is trending on Twitter with celebrities like Tom Hiddleston getting involved.
"I'd like to think that I do decently with our marketing and social media campaigns and even locally before the big surge we were at about 32,000 unique Facebook likes from our users. As far as Twitter or Instagram or of the other platforms, we didn't have a presence and don't even at this time. We're trying, but the main tool we have used Facebook."
All modern marketeers dream of creating a viral video sensation. But what do you do when you have one? Patch says that staying true to yourself is the key.
"I think because we're working organically genuinely from our mission it's very easy for us to weed through what is and what is not an appropriate venue or outlet to allow use of the story. Whether it was 4 years ago or today. our mission is to develop an education and an understanding for animals and hopefully to have that transcribe to conservation for them eventually in the wild. Our passion for that I think it has attributed to us being genuine in the public eye for what we do. As for the outlets that are picking up and using it, initially we pretty much allowed any use but now were really fine combing through to make sure the appropriate sources are taking advantage of it."
Monetizing v Capitalising
Although Animal Adventure is a for profit organisation, Patch had never intended to use the birth of the April's calf directly for profit.  But having created a social media sensation, it would be madness not to try to use some of the publicity for the benefit of the park.
Since the media storm Animal Adventure have created a website for April the Giraffe (aprilthegiraffe.com) with sponsorship of the webcam; an apparel line branded #Aprils View Crew, fun emojis to download (App Store and Google Play) and a GoFundMe page. All of the $50,000 funding goal will be used to feed, house and care for the giraffes.
So how has Patch decided which money raising ideas are appropriate?
"I'll be honest a lot of that was due to the demand of the public we were receiving countless emails wanting apparel or products with April on them and people wanting to donate. We never intended or anticipated or expected to solicit any kind of donation or sponsorship. It was a large media outlet that reached out to us and said, 'You need to do something. We have hundreds of people calling us to help you.'
"So we kind of fumbled through that I think that comes from our humble nature – we aren't trying to capitalise, we aren't trying to make this a cash grab and again I think it attributes to the genuine nature of what we do."
Piracy and Publicity
Fame brings its own problems. Having found 10 emails a day challenging to deal with, Patch now gets many more than that. As well as emails from well wishers, there have also inevitably been fraudulent sites set up trying to scam April's fans.  Patch recorded a video of his own to address April's followers.  Some of April's success has to be down to Patch as a spokesperson for the Park.  He comes across as genuine and engaging.
He says, "With the popularity of everything you get two difference scenarios. You have individuals that want to assist you. Their heart's in the right place but they send you emails daily saying they need more hay or their stall needs cleaning. Or they have misunderstandings or misconceptions about what's going on. Those are the things that flood our email and so frustrate us, because you know we need to communicate to the world that these giraffes have been in our care for years and they're doing remarkably well.
"The other is the fraudulent sites. There are a lot of people that are trying to capitalise on our opportunities. Some are using our logos, some are knock off apparel. It's hard to curb that, all we can do is ask our supporters to be vigilant and educated on what they're gifting. With one YouTube feed that's shut down for piracy, another 2 pop up."
Future Plans
The level of interest in April the Giraffe and her calf is likely to have a positive effect on the next year for Animal Adventure.
Patch says, "Well undoubtedly we will see a surge in attendance this year. We get countless emails every day from people who are going to be travelling into New York state from as far as California, to come and meet April and her calf. So without question we will see a positive residual once the park does open."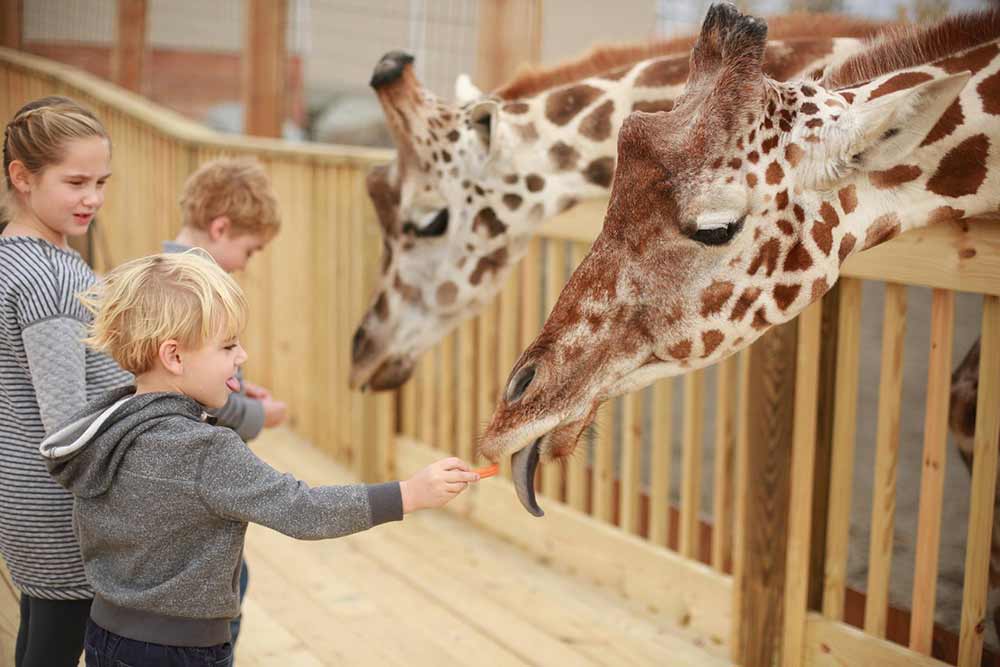 As a result of the success of bringing April's story to the world, Patch is planning to broaden Animal Adventure's horizons beyond the park.
"As for our strategy in the future, we are going to take a more global approach.  We're going worldwide. We're going to produce online educational videos and make those an available resource for teachers and other people who would like to use them for educational value."
"What I suspect we'll do is a small mini-series where we record, edit, develop and upload an educational film or video on a specific species, and that will again couple with our mission of raising awareness. So one week we may address the arctic wolf and the next we could be addressing Madagascan lemurs."
Educating on a Global Level
Extra funds will also allow Animal Adventure to get more directly involved in conservation.
"With our success we will be able to take a much more active and financial role in assistance with conservation efforts. In a small park of our size normally our effort is to educate the people that walk through our door. Now with this opportunity that we've been given we're going to be able to educate people on a global level. To embrace that and to not run with it would only be an injustice to the animals, and to what every zoological institution is working towards."
We are very open to collaborations and opportunities
Inevitably plans are still at a very early stage says Patch, and he is open minded about working with others.
"We are very open to collaborations and opportunities whether it's with TV publications or editorial. We're really kind of manoeuvring this as we go. We've hired a PR firm to find the best avenues and means to communicate our message."
Sustaining the Storm
A week is a long time in politics, but a day can be a long time in social media.  How will Patch keep the world's eyes on Animal Adventure after April's calf arrives?  Will he be able to make the new giraffe arrival a star?
"We are very much looking forward to the birth. We don't expect the anticipation and the hype or as we call it giraffe hysteria to subside at all. In fact once that baby is born we're going to watch it grow up. There are so many milestones – everything from the baby's gender reveal, to the baby's name announcement, to the baby's first time outside. We want our supporters, and they want to also, to be included in those stages and processes.
"I don't think this is going to go anywhere quick!"
Images and live stream video courtesy Animal Adventure