PGAV Destinations is proud to announce that the high-tech St. Louis Aquarium at Union Station is now open. The new attraction, designed by PGAV Destinations, is at the centre of a $187 million family entertainment complex in downtown St. Louis, within the National Historic Landmark train shed at St. Louis Union Station. This iconic building was originally opened in 1894 and was the biggest and busiest train station in the country.
Telling a story
"Marrying the concepts of train travel and the world's waterways was one of the most unique, thematic challenges we faced," says PGAV Vice President Emily Howard. "We utilized the simple, common thread of "a journey" to tell a story that celebrates the legacy of Union Station, as well as a conservation-centric tale of the journey of water from the sky to riverways, ocean, and back again."
The company worked alongside the local owner, Lodging Hospitality Management, as well as operator zoOceanarium Group and construction contractor McCarthy Building Companies. The aim of the project was to design an aquarium that brought together the city's past and present, in addition to the global impact that St. Louis has had through the two nearby rivers, the Missouri and the Mississippi.
Visitors to the aquarium are taken on a journey that encompasses early train travel, explores local animals and marine life from the Mississippi and then travels further afield to discover the wonders of the world's waterways and oceans. The experience uses live animals and high-tech displays alongside expert animal care and education to foster a passion for conservation, explaining how local actions have a global impact.
Spread over 120,000 square feet and two floors, the new visitor attraction contains over 13,000 aquatic animals and more than a million gallons of water. The journey begins in the Grand Lobby, where a curved 4K LED screen introduces the experience with a striking video. Also in the lobby is a stunning centrepiece, a discus fish habitat with a working clock, echoing the iconic clock tower at the station's entrance.
All aboard
Then, visitors enter the aquarium by boarding one of two full-size replica carriages for a virtual train ride. St. Louis native John Goodman narrates the voyage through the world's rivers and oceans. As they disembark, guests find themselves at the spot where the mighty Mississippi and Missouri rivers meet, and encounter native creatures such as alligators, paddlefish, catfish and more.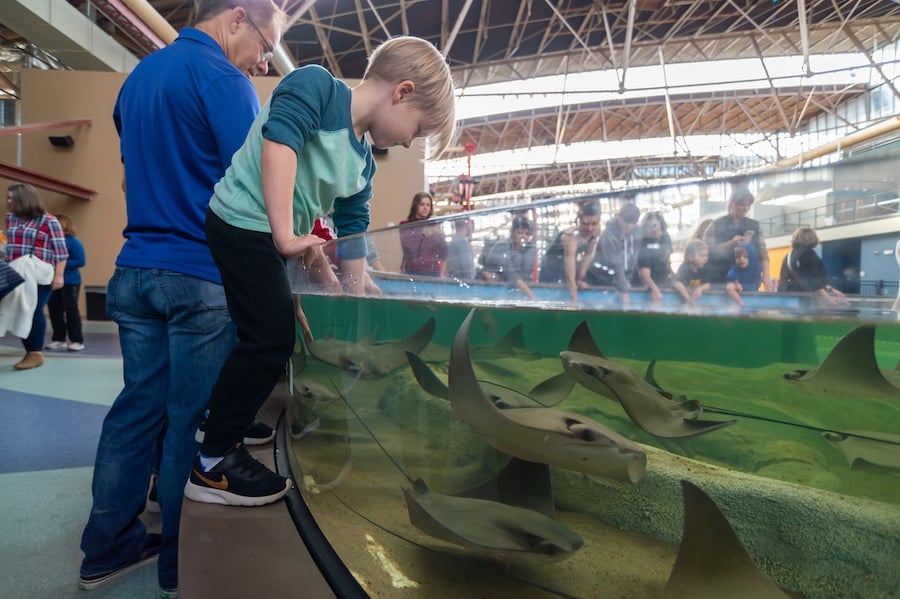 The aquarium includes several hands-on exhibits. For example, guests have a chance to get their hands nibbled by a natural 'cleaner fish'. They can also enter an acrylic bubble where they can feel like they are swimming with the exotic fish on display. Furthermore, each exhibit features an interactive touch screen where they can find out more information. Younger visitors can also enjoy an interactive scavenger hunt through touch screens.
"It's essential in Aquarium exhibit design to provide a hierarchy of information for different types of visitors," says PGAV architectural designer Andrew Schumacher. "Whereas some guests enjoy simply watching the animals, others may want to read a panel about their biology, while others might want to engage with an interaction to understand their behaviour or ask an interpreter in-depth questions. We've crafted an experience which caters to every kind of learning style."
Getting hands-on
The aquarium is also home to three adorable North American river otters, who enjoy a two-story habitat with a deep pool to splash in, as well as a waterfall and a land-based play area. Guests can find out more about the playful creatures through an animated otter chat.
Upstairs, guests can get hands-on with stingrays and invertebrates in a series of touch tanks. They can also take part in ray and turtle feeding sessions. Lord Stanley, a rare blue lobster named in honour of the St. Louis Blues' 2019 championship win, calls this area home too.
Younger visitors can splash around at the water table, while visitors with sensory needs can take advantage of the calming room.
Sharks at St. Louis Aquarium
St. Louis Aquarium offers a huge Shark Canyon exhibit, where visitors can encounter over 60 sharks and rays, including sandbar sharks, nurse sharks, lesser devil rays, a goliath grouper and more.
Following this, guests can go deeper under the waves as they enter a simulated bio-luminescent hallway. Here, they will see jellyfish and a young giant Pacific octopus alongside Leafy Sea Dragons.
"Visitors will leave the St. Louis Aquarium at Union Station with wet hands and a greater understanding of the planet's rivers, oceans, and aquatic life," says Tami Brown, the new attraction's executive director. "They will be able to feed turtles and stingrays and interact with invertebrate animals in our touch tanks. Our staff also will have a variety of other animals such as sloths, reptiles, and birds to explore with the guests."
Educational opportunities
The St. Louis Aquarium Foundation's Conservation and Education Center (CEC) is also now open to visitors. This is run by the aquariums non-profit partner and serves to offer educational programmes and field trips to underserved local students and communities, as well as advocating for water stewardship. Here, guests can find more hands-on learning opportunities, as well as an art installation created from plastic water bottles.
PGAV Destinations provided master planning and design work for several other attractions at Union Station in addition to the aquarium. For example, a 200-foot-tall Ferris Wheel, 36-foot-wide St. Louis Carousel, 18-hole mini-golf course, retro-style Soda Foundation diner and the A-Maze-Ing Discoveries Mirror Maze. It also worked on the brand-new indoor high ropes course, outdoor and indoor plazas, the outdoor playground, and new repurposed shipping container vendors.
Over 1 million visitors are expected to visit the new high-tech aquarium each year.
PGAV Destinations is also proud to have been a part of the team behind Rulantica, Europa-Park's brand new indoor water park. Visitors are already enjoying the highly-themed new water world, which covers more than 350,000 square feet and features 25 water attractions, including 17 slides.