Welcome to the blooloop briefing; a roundup of attractions news from the last seven days.
In the news this week – Charming towns with sex toy shopping, Thunderbirds are go at the London Resort and dabbling in the occult in high tech with Tarot VR.
Watch the news in 2 minutes
For a quick run through the week's most eye catching stories see our briefing video:
Read the news in 5 minutes
Museums and galleries
The Silverstone Experience, a £20m attraction dedicated to motorsport, is opening on July 9. The STEM-focused experience takes visitors on an interactive 2.5 hour journey.
The Albright-Knox Art Gallery in Buffalo, New York has unveiled its AK360 expansion plans and announced a towering mirror-mosaic canopy. The museum confirms that its buildings will close for at least two years.
Montreal's McCord Museum is set to undergo an $180m expansion. The McCord Stewart Museum will combine and merge the McCord Museum, the Stewart Museum and the Fashion Museum.
China's Palace Museum and Pop Life Global have joined forces to announce a DC collectibles collaboration, which will include art toys, apparel, homeware, accessories and other merchandise.
Virtual reality and augmented reality
Tyffonium has launched a new, location-based, virtual reality experience – Tarot VR: Voyage of Reverie. The entertainment theatre blends VR and AR for an immersive, mixed reality (MR) experience.
Steampunk VR Scooter, the world's first virtual reality bumper cars attraction, is now open at the Erlebnispark Schloss Thurn theme park in Nuremberg, Germany.
The attractions industry is utilising Snapchat for its augmented reality (AR), making a museum or theme park more immersive, and educating the younger generations.
Attractions and experiences
Universal Orlando Resort and Universal Studios Hollywood have released more details about Halloween Horror Nights 2019, which will feature 'Universal Monsters', Stranger Things and Nightingales: Blood Pit.
Cirque du Soleil has announced its first live action thriller, R.U.N – a new entertainment experience using live action performance, cutting-edge tech and multimedia. R.U.N will premiere at Luxor in Las Vegas later this year.
Disney's Hollywood Studios has celebrated its 30th anniversary with the debut of a new nighttime projection show, and a new collection of merchandise and F&B commemorating the occasion.
The magical portals of Evermore fantasy theme park in Utah are opening to the world of Mythos, the attraction's summer event, an enchanted festival of fantasy and magic.
New developments
Saudi Entertainment Ventures Company (SEVEN) has revealed plans to convert the Eastern Province into a leisure destination with a 1,000,000-square-metre theme park.
Southport Pleasureland's owner Norman Wallis is to invest in the theme park and promenade sites after Sefton Council granted a longer term lease.
Reid Park Zoo is getting ready for the first phase of its three part, 10-year, $80 million expansion, set to begin this year. Phase 1 will include a new flamingo habitat and an Asia-themed expansion.
The London Resort, a multi-billion-pound theme park due to open in 2024, has signed a landmark deal with ITV Studios. ITV content and characters like Thunderbirds will be transformed into unique attractions. Meanwhile Aardman's IP agreement with London Resort has lapsed and according to reports has not been renewed.
Playland's renovation and expansion could begin in 2022, as PNE officials are still working on plans. The 15-acre park is expanding to 22 acres, and getting new heavily themed areas and rides.
Theme park management changes
Merlin Entertainments has announced changes to its senior management team. Merlin Entertainments has announced changes to its senior management team. Fiona Eastwood will become MD of Midway and Ian Crabbe will be responsible for Resort Theme Parks. Taking on new strategic roles, Putnam Shin will be Resort Development Director and Hywel Mathias will be Midway Development Director.
Andreas Andersen has left his role as CEO of Liseberg amusement park in Gothenburg, Sweden. During his time as CEO, the city centre park has undergone several major changes. Andersen is going to take on the role of Director at Tivoli.
'Charming towns' and SeaWorld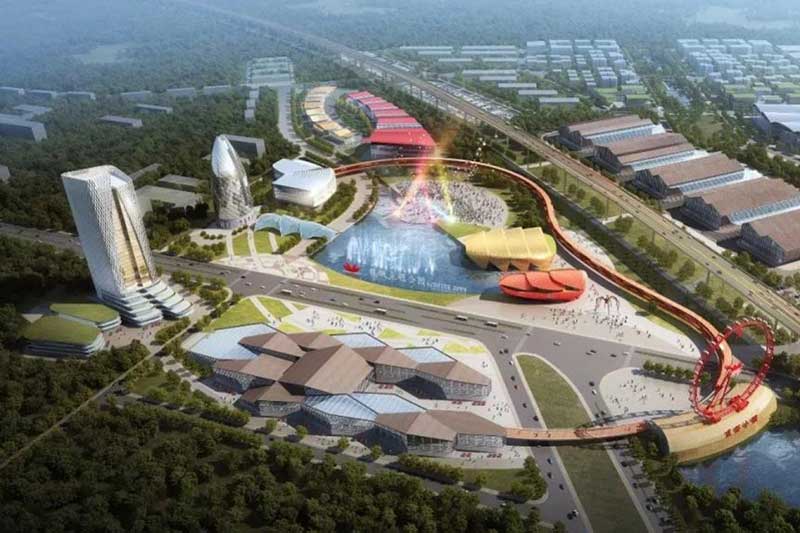 China's 'charming towns' plan to rebrand villages has become a nightmare for thousands of investors as the developer collapses. The villages were to have themes, eg Crayfish Town, Poetry Town and Happy Town. Happy Town was set to have a sex toy shopping street, a sex exhibition centre, and an adult-only hotel.
SeaWorld has terminated agreements with property developer Zhonghong for China-based theme parks and attractions. Agreements were terminated "for non-payment of undisputed amounts owed".
Header: Thunderbirds, ITV