The Chesapeake Bay Maritime Museum has completed a 20-year master plan that includes expanding its exhibition space as well as its education and shipyard capabilities.
Work on the master plan started in July 2017 when Ann Beha Architects was chosen to take on the development. The Chesapeake Bay Maritime Museum (CBMM) was established in 1965 and is dedicated to preserving the history, environment and culture of the entire Chesapeake Bay.
Kristen Greenaway, president of the CBMM, said: "CBMM's master plan is a vision for CBMM's campus for the next 20 years, and is designed to greatly enhance the guest experience.
"The master plan will support CBMM's mission and world-class maritime museum status by enabling CBMM to offer new and expanded programming."
The scope of the plan is broad, addressing all facets of the physical campus, including new and re-oriented buildings, wayfinding, guest accessibility and comforts, and prioritizing CBMM's natural, waterfront environment.
It is made up of three phases, with the timeline expected to be six to eight years, contingent on funding. The money is expected to come from individual donations, naming opportunities, grants and operations.
The first phase of the plan consists of the construction of a new building that will host changing exhibitions, a long-term waterfowling exhibition and a library and archives. The phase will also include landscaping upgrades to Navy Point.
The new facility will replace CBMM's current Bay History and Waterfowling exhibition buildings. Demolition is expected to begin in spring 2019. It is hoped the new library and exhibition building will be ready to open in 2020.
"This new facility offers a higher standard of climate control than we have anywhere, other than in our collections facility," Greenaway said.
"It will also move our exhibitions and archival collections above the flood plain. Currently, both our Waterfowling and Bay History buildings are extremely vulnerable to flooding from storm surge events."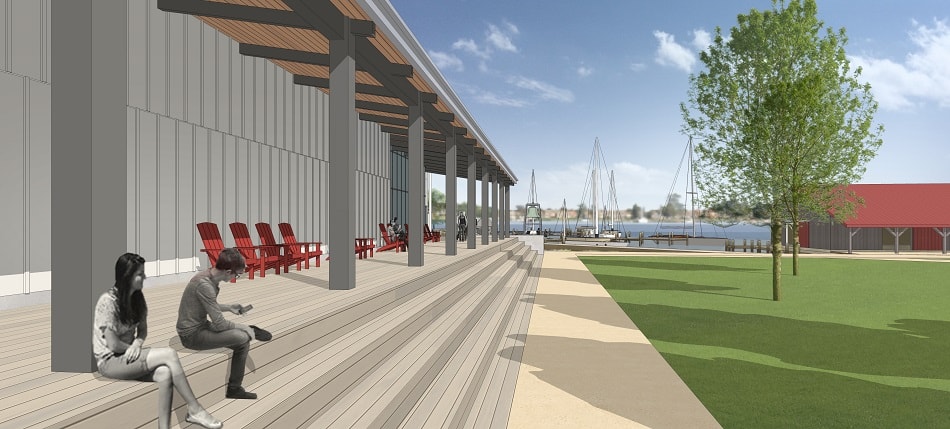 Other proposed changes include enhancements to the Navy Point lawn as well as the relocation of the Tolchester Beach Bandstand and Point Lookout Bell Tower to other locations within CBMM's campus.
The second and third phases of the master plan will focus on further expanding CBMM's education and shipyard capabilities.
Images: c. Chesapeake Bay Maritime Museum.