Ahead of Expo 2020 Dubai, more pavilion designs have been unveiled, including offerings from Australia, Canada, India and Malaysia. During the Expo, there will be a huge programme of arts and culture events.
Expo 2020 Dubai starts on October 20, 2020. It will feature hundreds of themed and interactive pavilions, as well as immersive cultural experiences and live entertainment.
Dubai 2020 Expo is themed 'Connecting Minds, Creating the Future' and will focus on 'Sustainability, Mobility and Opportunity'.
Australia Pavilion
The Australia Pavilion is inspired by Australian optimism, ambition and creativity. It celebrates Australian diversity and looks at 60,000 years of innovation.
Visitors will get to navigate the universe with the world's first astronomers, immerse themselves in the useful and beautiful land, and meet ethnically and culturally diverse Australians.
Bahrain Pavilion
This pavilion explores how Bahrain's geography has defined its development, with the country encouraging trade, entrepreneurship and innovation.
Highlights include groundbreaking architecture, live weaving stations taking visitors on a journey of craft, and traditional Bahraini food with a twist.
Canada Pavilion
Visitors will take an immersive journey through Canada's past, present and future. The pavilion is inspired by Canadian landscapes and Arabic architectural elements.
The Canada Pavilion will include a 360-degree immersive theatre showcasing Canada's story, as well as impressive nighttime views.
Emirates Pavilion
At the immersive Emirates Pavilion, visitors will experience the future of commercial aviation in the UAE in 2071. It will also feature a unique nightly light show.
India Pavilion
India Pavilion is inspired by 'new India' and builds on India's culture, heritage and technologies, including its space programme.
It boasts art installations displaying India's space story, as well as food festivals, literary shows, music and dance reflecting India's cultural diversity.
Latvia Pavilion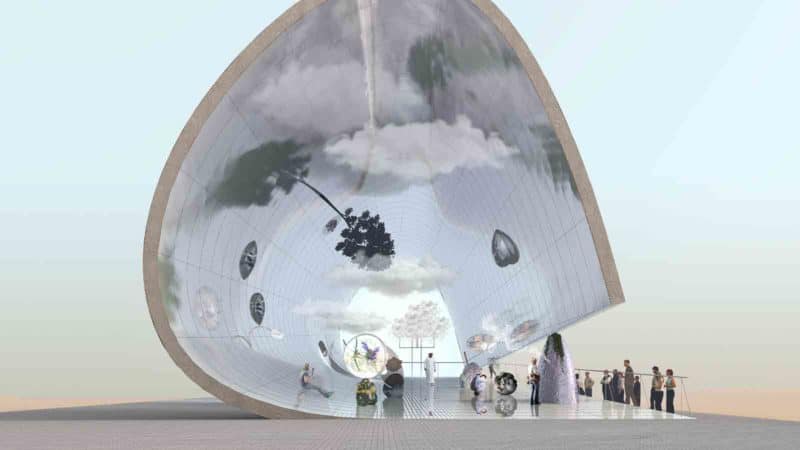 This pavilion is an open space for imagination and thought, with an Arabian desert sandscape, industrial-speed internet and 3D stereo sound.
Malaysia Pavilion
The Malaysia Pavilion will explore the country's role in providing sustainable products, and its commitment to ensuring a secure and sustainable future.
It will put on more than 500 shows during Expo 2020, including the Sabah and Sarawak Warrior Dance, and Joget dance.
Peru Pavilion
This sensory experience provides a look at the path travelled by Peru, and includes experiential gastronomy based on Peruvian superfoods.
Romania Pavilion
Romania Pavilion invites visitors to immerse themselves in the purest waters of Romania while exploring the country's culture and history.
The first floor of the pavilion will host a dedicated education and innovation area, while a Water Bar will serve Romania's purest mineral waters.
Guide to pavilions at Expo 2020 Dubai
Last year, more pavilions for Dubai Expo 2020 were unveiled. Read about the themed pavilions in our Expo 2020 Dubai Pavilion Guide, and check out the offerings from Russia, France and China.
See more on Belgium and Belarus' pavilions, and take a look at the Saudi Arabia Pavilion and the Sustainability Pavilion.