Wisconsin's Milwaukee Public Museum has unveiled the design of its new building, which is inspired by Mill Bluff State Park and scheduled to open in 2026.
The 200,000-square-foot building is slated to break ground in late 2023. Built in the 1960s, the Milwaukee Public Museum's current home is beyond renovation.
Ennead Architects design partner Todd Schliemann, the project's lead designer, said the new museum is "steeped in the people and place where it will be located".
He said the building "unfolds like a journey, full of surprises and wonder that will inspire visitors' curiosity and make them peel back layers of understanding as they discover something different each time they come".
New museum slated to open in 2026
The five-storey building will be a concrete and glass structure featuring rounded corners, with three distinct entrances welcoming visitors to a dynamic gathering space.
Ennead Architects associate principal Jarrett Pelletier, the senior designer on the project, said the team "thought about this layered experience of discovery when designing the building".
"We wanted to create a space that gave the feeling of wonder, like what we experienced throughout our trip around the state, as we saw these exceptional landscapes and met so many different people with stories to tell," he said.
The architectural firm plans to create a museum "that would reveal more with every visit and let people take their own journeys through the space, led by curiosity".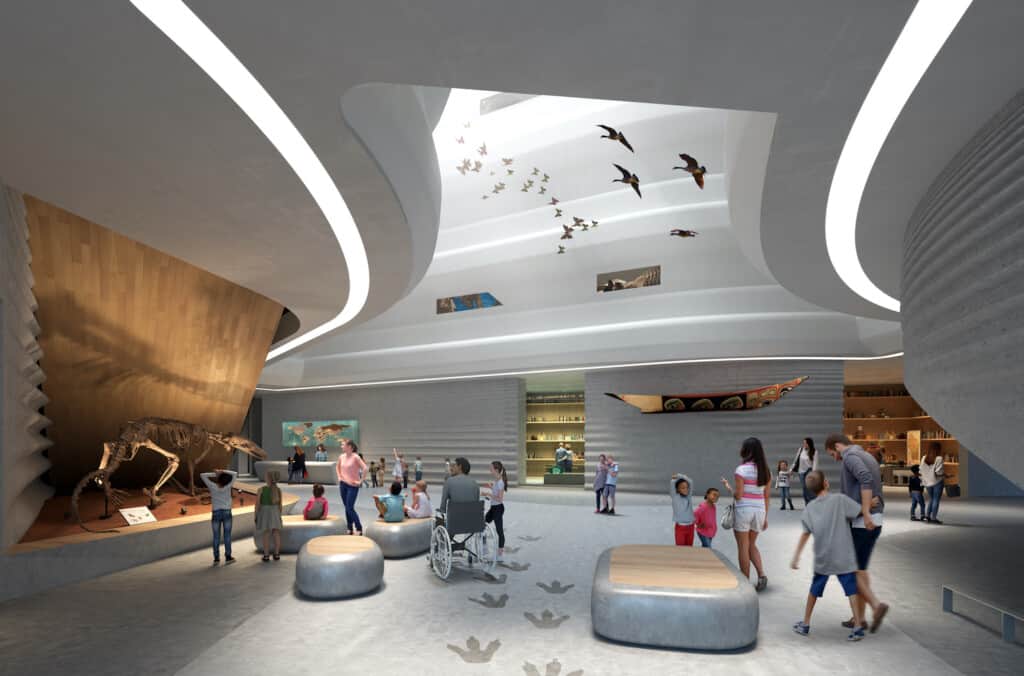 Designed by Thinc, the exhibit spaces will offer permanent and changing galleries of multi-sensory exhibits. The museum will include two gardens with native Milwaukee flora.
Additionally, the $240 million institution will house a planetarium, as well as office and laboratory space, classrooms, dining facilities, and collections storage.
"This architectural design will create a beautiful foundation for immersive, engaging and educational exhibits," said principal and founder of Thinc, Tom Hennes.
"The fluid layout of the building will enable visitors to preview different exhibit floors and enjoy a behind-the-scenes look at collection spaces, objects, and specimens that have typically been concealed behind closed doors."