Italy is reopening its museums as lockdown measures ease in the country, which was hit hard by coronavirus. The attractions are opening their doors for the first time since March.
The Capitoline Museums and Galleria Borghese have reopened in Rome. Galleria Borghese allows 120-minute visits of up to 80 people at any one time.
"This necessity actually provides an opportunity to appreciate the museum's marvels with more tranquillity," said the museum in a statement.
The Raphael exhibition at the Scuderie del Quirinale in Rome is also running from June 2 to August 30. Guests must book tickets online in advance.
Museo Enzo Ferrari reopens in Modena
The Castello di Rivoli in Turin reopened on May 19. Director Carolyn Christov-Bakargiev told Artnet News: "Museums are carefully controlled spaces that have been designed to protect artworks from people.
"To adapt that to protecting people from people is a small step."
"I think museums can be the prototype for the new normal, which I hope only lasts the time of the pandemic because I actually like the old normal," added Christov-Bakarglev.
Elsewhere, the Cathedral of Santa Maria del Fiore in Florence will welcome just 200 daily visitors, as opposed to its typical 2,600 guests.
Reopening of the Cathedral of Santa Maria del Fiore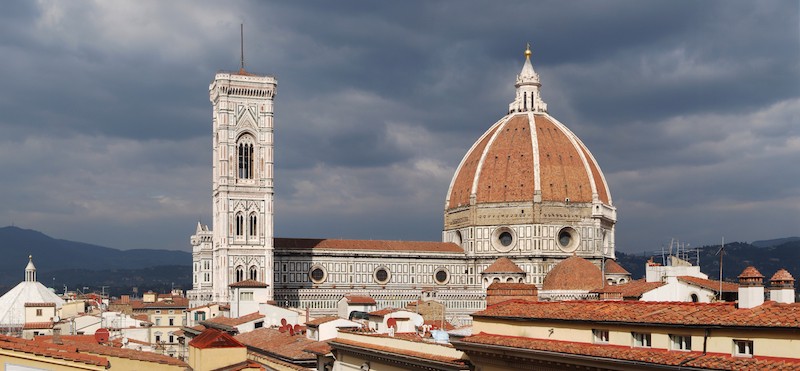 The Cathedral of Santa Maria del Fiore in Florence is also providing free gadgets that notify visitors when they are not social distancing.
The devices hang from visitors' necks and vibrate when guests get too close to each other. The gadgets will be disinfected between wears.
In a statement, the cathedral said the EGOpro Social Distancing necklace "guarantees the maximum of security and comfort during the visit".
The Ferrari Museum in Maranello and the Museo Enzo Ferrari in Modena have also reopened, with a series of new measures in place amid coronavirus.
Social distancing gadget worn by visitors
Visitors will have their temperature checked and will be required to wear a face mask, which the museums will provide for free.
Ferrari is also offering healthcare workers free access to both museums through 2020.
Meanwhile, the Italian federal government has issued a €55 billion 'Decreto Rilancio' (relaunch decree) aid package.
According to the Art Newspaper, this includes €100 million to support state museums for losses in ticket sales, and another €100 million to a 'Culture Fund'.
The 'Culture Fund' will provide cultural businesses with long-term loans for investment in physical structures and cultural production for 2020 and 2021.