The move aims to increase accessibility. Audience members can now view captions from any seat, during any performance, using smart caption glasses. The technology is available in all three National Theatre venues.
The National Theatre's technical department, under Jonathan Suffolk, has been coordinating the project. Guidance was also provided by live-subtitling expert Professor Andrew Lambourne. The Open Access Smart Capture technology will deliver subtitles. It also includes lighting and sound cues throughout the show. This is down to innovative voice-following technology. It is able to track the show's progress through the script.
Suffolk is the Concept Designer & Project Director for the Open Access Smart Capture project. He spoke to Blooloop about the innovative smart capture glasses.
An eclectic career
Suffolk's career started in the 80s at the Bristol Old Vic Theatre School. Here, he took a Stage Management & Technical Theatre Course.
"I graduated, such that it was," says Suffolk. "It was a two-year course with no certificate at the end of it; it was just – 'well done, now go away'."
An eclectic career in sound and sound design followed in the UK, Canada and France. He first came to the National theatre in 1990, leaving in 1997 to go freelance. He then returned in 2012 as Head of Sound and Video, becoming Technical Director in 2015.
Suffolk is now giving up this role to pursue the glasses project on behalf of the National Theatre.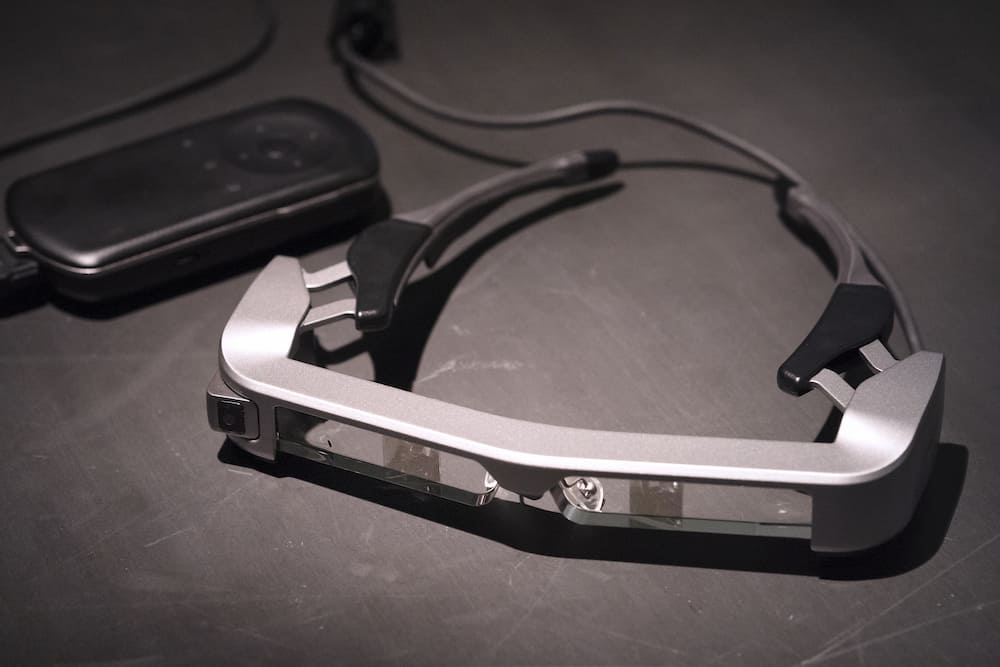 Smart caption glasses
Suffolk talks about how he first perceived the need that led to the smart caption glasses.
"The need really didn't come from the users, actually. It came from anecdotal reporting on the efficacy of open captioning, how immersive it was as a method of giving people access to specifically theatrical productions."
He had been talking with SONY, who had created captioning glasses for their Regal cinema chain in the US: "It was a closed captioning thing that was tied into the DCP. This is the digital information that's outputted from a film when it's replayed in a movie theatre.
"I was trying to link that with some work that we were doing with Stagetext. The need represented choice in terms of improving access provision. About 5% of the National Theatre performances have a form of open captioning," says Suffolk. "Open captioning is an access form that was developed in the 2000s, and hasn't really evolved a lot.
"The potential of this is to create an 'always on' closed caption system. So, people can walk up and use it, sitting anywhere they want, with friends and family. They won't be limited to 5%, because we have increased the number of captioned performances from 5% to 8%.
"That is 800 performances a year at the National Theatre."
Finding a solution
Open captioning, he says, is not immersive. "50% of the time you're reading, 50% of the time you're watching. The need was to put the captions nearer to the performers, so you didn't have to keep looking away.
"The concept of the glasses grew from a pragmatic attempt to find a solution to that challenge."
Suffolk invited Stagetext to the National Theatre to work on the masterplan. At that point, Stagetext was in the process of evaluating the efficacy of open captions. It was analysing people's eye movements and looking at developing a solution with the speech-following technology developed by Professor Andrew Lamborne.
"My team helped Andrew try to bring other data to bear on the systems," says Suffolk. "This was so that we could start to trigger and develop a speech-following piece of software. One that could track the performance as it was going along, using waypoints."
In the event, Stagetext decided not to pursue that project any further. Suffolk then picked it up himself.
"This was around 2014," he says. "It bubbled away, and I talked to Andrew Lamborne about the possibilities. Could we do it again, could we remake the software in a new iteration?
"He seemed to think that was possible, so we started to work on it."
Corporate partnerships
At this point, the NT benefited from many corporate partnerships. "One was with Accenture, who is our partner for innovation," says Suffolk. "I pitched the idea of finding a piece of technology to display captions generated by Professor Andrew Lamborne's speech-following software.
"We then went on a 10-week sprint with Accentureas. We described what we wanted and took some of the learnings from the project that we'd done with Stagetext. Then we applied them to the brief."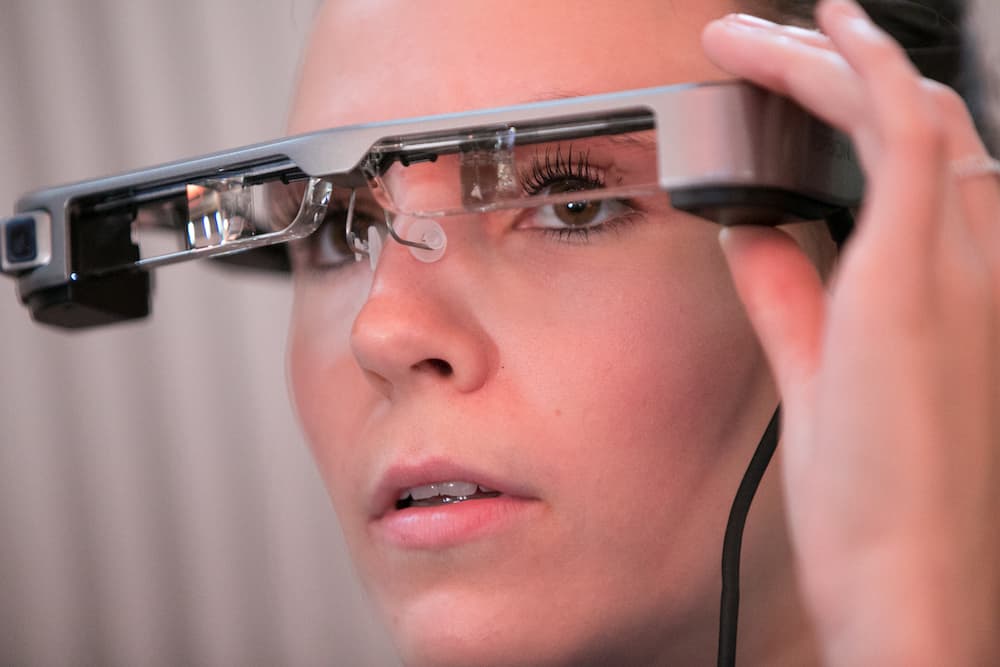 Collaboration with Epson
The collaboration with Epson came about when Suffolk contacted the company. He says: "I've worked in the theatre for a long time, and have been blagging stuff off people for as long as I can remember. In fact, getting stuff for nothing formed a part of my core theatre skills.
"When you're doing stage management, the trick is to get as much as you possibly can without any cost at all."
"Frankly, we had a lovely lunch in Paris one day and talked about the glasses and the opportunity. They had developed a piece of technology, and didn't really have an application for it. Ours was, as a test case, really high up in terms of social impact.
"They found it significant and moving that this was a project to do with helping people who have a disability. It's not just using technology to fly a drone or using it for engineering. It's got a purpose that makes a life-enhancing difference to real people."
Suffolk speaks highly of Epson's involvement. "They lent us the glasses for the first stage of the trial, and they go on lending us glasses even now. They've also lent their technical expertise, which has been extraordinary."
Launching the smart caption glasses
By August 2017 the team were in a position to present a feasible concept to the NT Chief Executives and to get support.
"On the 3rd October 2018 we launched the system," says Suffolk. "From November last year, it was available for War Horse. Since April this year, it has been available in all three theatres for 80% of the performances."
In terms of the product's reception, he says: "I really wasn't sure how it would be received, initially. I'd never done this before. You develop this thing, you spend money doing it, and it seems like an obvious thing to use, but would anyone use it?
"Turns out, yes."
In fact, around 900 people have used the service so far. "We've been really cautious rolling it out because it's really important people's confidence in it is high. Because it's a piece of technology, and a lot of our audience members are a little bit older and perhaps not quite so tech-savvy. It's important they have a gentle experience."
Creating a buzz
"While 900 doesn't sound like a lot of people, it's two or three people per performance," says Suffolk. "They can come at any time they want. We haven't really done any marketing around it. It's all been word of mouth, and it has been the hard of hearing community who have spread the word.
"And the brilliant thing is the smart caption glasses are quite big things – although they're much smaller than the Sony equivalent. So, it generates these little pockets of excitement. People around the wearers are going 'what's that? What are you doing? What's that piece of tech?' So they're doing their own marketing."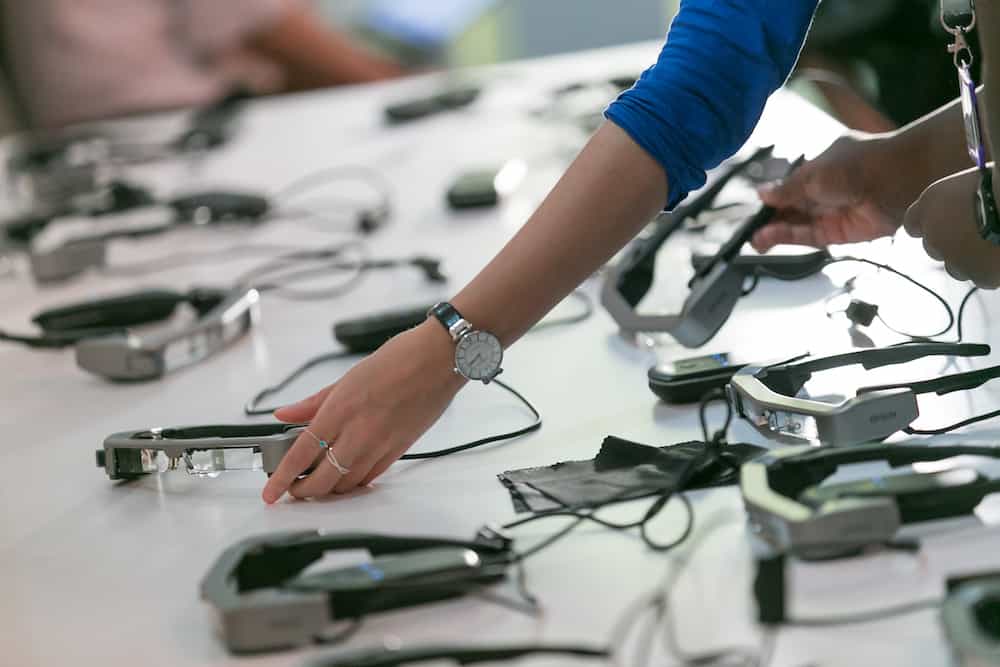 Making a difference
The smart caption glasses are making a significant difference already to those who may have been forced to give up going to the theatre because of hearing difficulties.
"For those who are really hard of hearing or deaf, the technology really is transformative," says Suffolk. "Yes its a massively overused word, but they are making the difference between having to stay at home, and being able to go to the theatre.
"We've had 4 or 5 really beautifully crafted, highly emotional emails and letters from people who have used smart caption glasses. They say 'I haven't been to the theatre for 30 years; at last I can go back to the theatre again'. And the impact of that is extraordinary. It suddenly brings it into clear focus. If you lose something like that, if you lose your hearing, accessing theatre is so important."
The future of smart caption glasses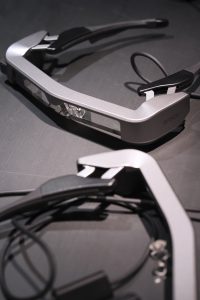 Suffolk hopes that before long this technology will be available in every theatre.
"We're really keen now to get it out in as many other theatres as possible," he says. "It's great to have a choice again, but it's better to have a much broader choice. That is what I hope that we will achieve, whether we do it, or someone else does."
Suffolk and team have secured funding from UK Innovate as part of its 'Audience of the Future' project. This will enable them to explore integrating audio description, sign language, and multi-lingual translation.
"One of the important things about this kind of technology applied to this challenge is to keep it evolving. Development is key to giving people more choice.
"I'm confident that in 5 to 8 years anyone will be able to come in and access everything; everything will be accessible," says Suffolk. "There are so many people driving towards this in a really energised way that I think it's inevitable."