Panasonic Connect, a leading audiovisual technology provider, has announced the launch of a new whitepaper, providing all the important information on how to choose the right projector technology when creating themed entertainment and immersive experiences.
The publication covers everything, from selecting the right projector technology, brightness and resolution for the experience to the geometric and auto screen adjustment capabilities to look out for to save time in set-up and still perfectly blend your images.
When immersive experiences go wrong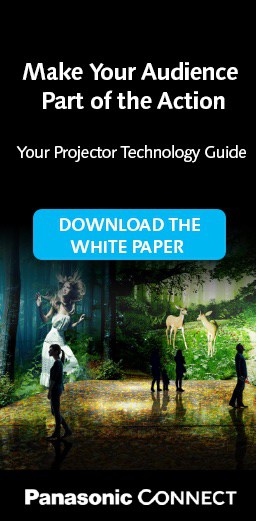 Choosing the right technology is key. Visitors arrive full of excitement, looking forward to experiencing something new, whether it is a great new ride, a new immersive art exhibition, or a much anticipated cultural event. But what happens when the experience doesn't live up to the hype? With the complex technology involved in producing today's immersive experiences for location-based entertainment, there are a host of things that can break the illusion for the audience.
Sometimes it can be as simple as the noise from the projectors interfering with the sound, or someone walking in front of the projection and casting shadows, or stepping too close to the image and seeing blurred pixels. All these things can shatter the illusion of being transported to another time or place.
Then there are the more technical issues that can also spoil the experience. Poorly blended images can be the difference between being mesmerised by a visual or your eye constantly being drawn to a mismatch or blemish on the wall. In the worst-case scenario, the lights go out: a failure in the projector causes the screen to go black.
All these issues can have a negative experience on the visitor and ultimately on the commercial profitability of the operation. Uptime and positive word of mouth are essential elements in location-based entertainment productions.
The go-to paper for creating quality immersive experiences
Panasonic's latest whitepaper covers all the key topics so that operators can ensure these negative immersive issues never happen.
As well as helping users to choose the right projector technology, it also details the built-in features that can prevent black screen time. For example, projectors that have a multi-drive laser light source, so that should one light source fail, the projector can still operate. In addition, a fail-safe input system ensures that if input fails, it will switch to a backup without loss of image.
In addition, the whitepaper also covers how to select the right specialist lenses to create the perfect visual for the venue, as well as how to choose the right warranty and service support are also covered. Readers will be able to learn how to avoid costly errors when creating their next immersive experience. Download the new whitepaper here to find out more
Last month, Panasonic Connect took a look back at some examples where its projection technology has helped to create unique visitor experiences.