Welcome to the blooloop briefing; a roundup of attractions news from the last seven days. 
In the news this week – Meow Wolf's Kaleidoscape, Universal teases Jurassic Park – The Ride and Futuroscope opens Futuropolis…
Watch the news in 2 minutes
For a quick run through the week's most eye catching stories see our briefing video:
Read the news in 5 minutes
New developments 
Wanda Group plans to invest an additional 45 bn yuan (US$6.7 bn) in cultural tourism projects in Gansu over the next three years, including five Wanda Plazas and three 5-star hotels.
Saudi Arabia will invest SR267 bn ($71 bn) in entertainment project infrastructure across the kingdom, according to the Saudi General Commission for Audiovisual Media (GCAM).
Singapore's Jurong Lake District is being transformed into a major tourist destination. An EOI has been issued for the development of a 7-hectare site, which will feature a hotel, attractions, restaurants and retail.
Kilkenny County Council and Ireland's local authorities plan to invest €156m in 256 new tourism projects. The money will be used for new walking trails, discovery centres, cultural plazas, harbours, and sports facilities.
Work has started on an £8.5m development in Doncaster's Cultural and Civic Quarter, which will feature a new cinema and five restaurants. The project is part of the area's Urban Centre Masterplan.
New attractions and rides 
Meow Wolf and Elitch Gardens Theme & Water Park have partnered for an immersive and interactive shooter ride. Meow Wolf's Kaleidoscape will transport riders using motion, sound, colour and interactive moments.
Universal Orlando Resort is teasing first-look images of the magical creatures that await in Hagrid's Magical Creatures Motorbike Adventure, including fan-favourites from the Harry Potter franchise and a new creature.
Legoland Windsor Resort has confirmed new attractions and rides at the theme park: The Haunted House Monster Party, Lego City 4D – Officer in Pursuit!, and The Lego Movie 2 Experience.
Universal Studios Hollywood is preparing for the arrival of Jurassic World – The Ride this summer. In a new TV spot, Jurassic World's iconic Tyrannosaurus rex and Mosasaurus are seen invading Universal Studios' movie studio backlot.
Margaritaville Resort Orlando has shared a sneak peek of its new water park, Island H2O Live!. The immersive attraction will have innovative slide experiences and technological enhancements throughout the park.
Futuropolis, a city of the future imagined for and by children, has opened at Futuroscope. The mini city allows children to play out their grown-up dreams, and includes a water park and floating trampolines.
Museums and art
The Rock and Roll Hall of Fame is planning a $30m expansion to its landmark building at North Coast Harbor. The expansion could include exhibits, special events, education, object conservation and research.
Dubai Expo 2020 has unveiled Saudi Arabia's pavilion, as reports suggest the World Expo will deliver a $33bn boost to the UAE economy. Visitors will enjoy an immersive experience about the kingdom's transformation and history.
Manchester City has announced the launch of a high-tech, immersive stadium tour as the club celebrates its 125th birthday. The 'Manchester City Tour' will features 3D holograms, AR and a 360-degree cinema screen.
France's Prime Minister has announced an international architects' competition to rebuild Notre-Dame de Paris after its spire collapsed in a fire. The spire was added during a 19th-century renovation of the 850-year-old cathedral.
Zoos and aquariums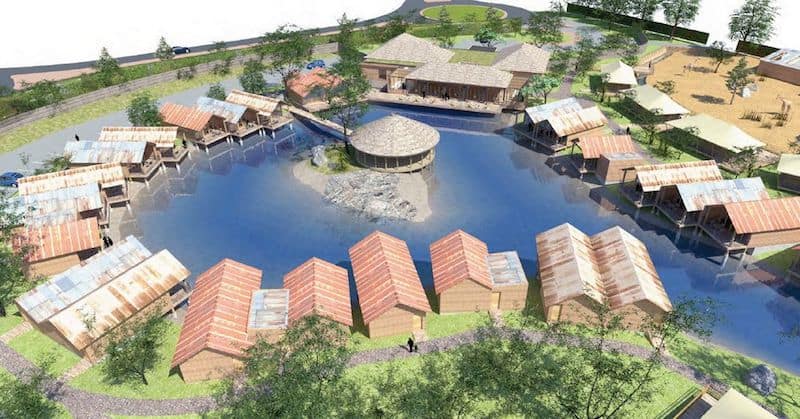 New images and details have been released of Chester Zoo's expansion plans, the new Grasslands attraction, set to open in 2022. The zoo is hoping to build a large restaurant and themed overnight accommodation.
Erie Zoo, Pennsylvania is launching a $10m 'Wild Open Spaces' capital campaign, for the first time in 25 years, to improve and expand the zoo, and "better meet the needs of the animals and plants".