From 9 – 11 June 2021, science engagement professionals from around the world met virtually for the annual Ecsite conference. The three-day event hosted by Ecsite, the European network of science centres and museums, featured engaging keynote speakers, expert-led sessions and a variety of workshops, as well as plenty of networking opportunities and some fun social events too.
1262 people took part in the event from 58 countries, a record for Ecsite. During the course of the conference, there were also 651 chat messages sent and 556 network meetings took place.
Welcome to Ecsite 2021
The 2021 Ecsite conference kicked off on Wednesday 9 June with a warm welcome from Conference Hosts Brad Irwin (Head of Global Engagement at the Natural History Museum, London, United Kingdom) and Dorothée Vatinel (Curator, Cité des sciences et de l'industrie, Universcience, Paris, France).
This was also an opportunity for departing president Herbert Münder, Director of Universum Bremen to hand over to Ecsite's new president, Bruno Maquart of Universcience. Maquart began by thanking Münder for his work over the past few years, before looking ahead to the future, saying:
"Members expertise is at the heart of Ecsite's life. We are a family of science engagement facilities. Each of you brings a unique value to Ecsite.
"Where shall we go now? We have a strategy, thanks to Herbert and Catherine [Franche, Ecsite's Executive Director], who have the energy and desire. We should not be afraid to put forward our values. It is up to us to put forward our usefulness for all. We must be open to working together in research, education, culture and media. I have a strong faith in our collective capacity for invention."
Community engagement
Then, the conference sessions were underway, with a multitude of topics covered including accessibility, community engagement, storytelling and more.
One session looked at community partnerships and how these can help museums to engage with new audiences. For instance, Inka de Pijper of NEMO Science Museum in Amsterdam spoke about a project where the NEMO partnered with a museum in Curaçao, saying: "The co-creation was really new for us."
The museums are working together on a tinkering project, with local schools. It was important, de Pijper said, that the project was collaborative, "We needed to develop something that fits their needs."
Meanwhile, exhibitors were holding sessions on their virtual booths too. Over on the Universcience booth, attendees could enjoy a tour of the lab de la cité des bébés. This is a huge modular space developed with insights from child development experts. It is designed to foster curiosity and also includes sensory exploration and tinkering.
Attendees could also take part in the networking carousel during the conference. This paired them with another person at random, enabling fast, new connections.
Curiousity, optimism and hope
The first keynote speech was given by Professor Dr Ewine van Dishoeck, Professor in Molecular Astrophysics at Leiden University. She took the audience on a journey to the stars, exploring our own origins in space.
"Looking up at the sky makes us wonder; 'where do we come from?' 'What is our place in the Universe?' Questions that fashioned mankind in its all. And not only the scientists but also artists, from Australian aboriginal art to Van Gogh"
Ewine van Dishoeck is finishing her keynote with two well known but still powerful images:
-Earthrise from Apollo 8 in Dec 1968
-Voyager 1, 1990 with a pale blue spot: "Look again at that dot. That's here. That's home, that's us"
📷@NASA pic.twitter.com/fuAd9jjUoW

— Ecsite (@Ecsite) June 9, 2021
She also spoke about why the outreach that science centres do is so important:
"You need to inspire curiosity, optimism and hope. Curiosity, in the end, is the driver for innovation"
What's new in exhibitions?
In the afternoon, attendees were treated to part one of a whistlestop tour of what's new in touring exhibitions.
Highlights include Earth Matters by Imagine Exhibits, which allows guests to experience how the smallest of actions can have a big impact on the world, and Jeans by Universcience, which invites the public to explore the world of the iconic garment, from fashion and design to manufacturing, environmental concerns and more.
Elsewhere on the conference platform, one session allowed participants to discover the European Commission's unique Pollinator Park project. This uses VR, gamification and storytelling, as well as immersive technologies, to talk about insect decline.
Tanja Franotovic, communications officer for the European Commission, explained: "Insects have colossal benefits to the ecosystem. The aim of Pollinator Park was to bring the nature crisis to people who have no idea about it. To open their eyes.
"We use quite a bold combination of dystopian story and hope. We thought after going through the pandemic we are vulnerable and we are more open to thinking about what kind of world we want to live in. By confronting them with a future we don't want to happen, we can also encourage action here and now."
Over at the Business Buzz, Interspectral hosted a presentation on Tuesday afternoon. This looked at its new COVID-19 travelling exhibition. The exhibition uses the company's Explorer toolkit to peel back, layer by layer, and look at the inside of a coronavirus particle.
Ecsite goes Eurovision
After a short break for a costume change, the evening's entertainment, Ecsite goes Eurovision began. Ecsite's very own version of the iconic contest kicked off with Anna Schäfers performing Germany's entry. This was a reworking of the Bucks Fizz classic Making Your Mind Up.
Other highlights were team members from Centrum Nauki Kopernik in Poland singing Sonny & Cher's I've Got You, Babe. There was also a specially composed piece from Esplora in Malta. However, the team from Heureka in Finland wowed the crowds with a cover of Queen's Don't Stop Me Now, choreographed using drones throughout their science centre, and were crowned winners, by popular vote.
The importance of science centres and museums
To begin day two of Ecsite 2021, Alexandre Quintanilha, Physicist and Member of the Science and Technology Advisory Council for the President of the European Commission spoke about how knowledge, doubt and curiosity are important for science engagement professionals, saying:
"Science centres and museums are key to help others to keep the knowledge process going…We are in the process of challenging the truth we found so far and finding new evidence to interpret the world"
Following this, the Museum of London's Sharon Ament spoke about The Mariano Gago Ecsite Awards. She encouraged submissions for The Beacon of the Year and The Responsible and Responsiveness award.
Exploring IP in exhibitions at Ecsite 2021
Many more sessions took place on day two, including an exploration of exhibitions produced by adapting existing works and IP. As part of this session, Louis Buckley, Exhibition and Interpretation Manager at The Natural History Museum, spoke about the museum's Fantastic Beasts Exhibition.
Fantastic Beasts: The Wonder of Nature compares beasts from the Harry Potter universe with weird and wonderful specimens from the museum's collections. It also draws parallels with Newt Scamander and real scientists and conservationists.
"We wanted to tie it in with the Natural History Museum's mission and the work our scientists do on evolution, conservation and biodiversity, to create something really unique for these partners," said Buckley.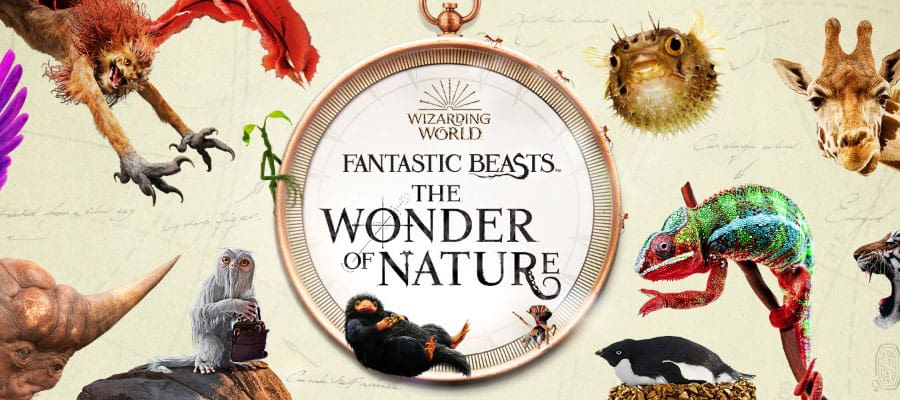 Other examples are Imagine Exhibition's Downton Abbey: The Exhibition, as well as Universcience's Spies. This was produced in partnership with the TV series The Bureau.
"You have to be respectful of their brand and how they treat it," said Tom Zaller of Imagine Exhibitions. "You become a steward of their brand, they have to feel comfortable that you will be doing the right thing."
The Natural History Museum also contributed to a session on how to respond to the planetary emergency. This was alongside the Natural Museum of Denmark and the Smithsonian National Museum of Natural History. The speakers all talked about how to help audiences emotionally connect with nature, to inspire them to take action.
The true value of science engagement
On Thursday afternoon, Mikko Myllykoski, Director of Heureka – The Finnish Science Centre, introduced the second keynote speaker of Ecsite 2021, John Falk.
John H. Falk PhD is the Director of the Institute for Learning Innovation and Emeritus Sea Grant Professor of Free-Choice Learning at Oregon State University. He is a leading expert on free-choice learning. In his keynote, he spoke about how science museums are seen as nice, but not necessary, and how his research shows the true value of museums.
"We can use the power of science centres and museums to create a bridge from the individual well-being currently supported for the few, to the collective well-being of the many they will need to support to be sustainable in the future," he concluded.
Sustainability, interactive experiences and more
The second part of Ecsite's round-up of what's new in touring exhibitions also took place on Thursday afternoon. Here, a highlight was a sneak peek at The Art of Interactive Digital by World Touring Exhibitions. This is a new exhibition for all ages. It showcases the power of digital art to be fun, creative and interactive.
Elsewhere, the sustainability of exhibitions was being discussed, with Christian Sichau, Director of Exhibition Development at Experimenta in Germany saying:
"Sustainability is not just a trend. It's an opportunity to shape the environment and make it the way we want to keep it. It's possible to stick to all your concepts, your inclusiveness and also do it in a sustainable manner."
Sustainability is not just a trend. It's an opportunity to shape the environment and make it the way we want to keep it
In another session, Patricia Verheyden, Curator of interactive experiences at CERN, the European Laboratory for Particle Physics, talked about Science Gateway. This is a new scientific education and outreach centre. One project here 'shrank' guests down to a particle level, so they could explore quantum physics and how it relates to our everyday lives.
Martyn Best, CEO of Cultural Innovations Ltd, then spoke about The Mecca Clocktower, a focal point for almost 1.5 billion people where faith, science and observation come together.
Checking in on Ecsite's commitments
Three of Ecsite's new Strategy commitments were featured strongly in the 2021 conference programme. On Thursday and Friday evenings, a special check-in session took place, to explore whether the organisation was upholding these commitments.
Amito Haarhuis of Rijksmuseum Boerhaave convened the check-in session. Guests Lewis Hou (Director and Consultant at Science Ceilidh), Colin Johnson (Ecsite Honorary Fellow) and Camille Pisani (Former Director of the Royal Belgian Institute of Natural Sciences) each discussed the conference's treatment of one commitment.
.@fiddleBrain from @ScienceCeilidh: 'When talking about inclusion and equity, we should ask ourselves:
– Who isn't in the room? Even here at #Ecsite2021
– Are we brave enough to give the power?
– What our communities are expert in?
Because everyone has a role to play.'

— Ecsite (@Ecsite) June 10, 2021
Hou followed sessions related to Equity, Diversity & Inclusion and Pisani followed Climate & Biodiversity-related sessions. Johnson looked at 21st-century skills and learning.
Thursday evening's entertainment was Ecsite's Not-so-Nocturne. This featured a sustainability-themed virtual escape room, a bake-along and a tinkering happy hour, as well as zine-making, astro-navigation and much more.
Words of inspiration at Ecsite 2021
The final day of Ecsite 2021 began with an address from Executive Director Catherine Franche, providing words of inspiration to the community. She also talked about the risk of misinformation, saying "it speaks loudly. It threatens science, democracies, peace and freedom. Clearly, we are part of the answer with the development of scientific culture and critical-thinking."
Looking ahead to the future, Franche concluded, "Over the last year, we've tried new things and learned a lot. We've deeply experienced change, and we're ready. Expect a fresh science engagement activity to resonate, welcoming the melodies of our audiences."
Conversations and insights continued throughout day three, with a wide range of topics. For instance, the digitisation of hands-on experiences, new approaches to STEM learning, creative ageing, colonial collections and more.
In a session looking at the connection between health, climate and behaviour, Nikolaj Møller of the Museum for the United Nations – UN Live and Camilla Tham of the Natural History Museum, talked about a new collaborative project that aims to harness behavioural insights in local, cultural activities that drive action to tackle the climate crisis, as well as nudging museums to become agents of change.
The session also included a replay of a podcast that presented some key voices and new perspectives. This was then followed by a Q&A session.
Inspiring and engaging with the next generation
Then, the theme of climate change continued with the final keynote session, delivered by Melati Wijsen, a youth activist and change-maker. Wijsen spoke about the campaign she began with her sister, aged just 12, Bye Bye Plastic Bags. This effort led to the banning of single-use plastic on the island of Bali in 2018, where Melati and her family live. Since then, the movement has spread to over 60 locations around the world.
In her work as a youth activist, Wijsen says she found she was often asked the same question – "How do we do what you do?"
So, she realised that the young people she was meeting around the world knew why they wanted to act. But they needed the skills to effectively take action. This lead to the creation of YOUTHTOPIA, which empowers young people, teaching them the skills they need to become changemakers.
Finally, her advice to Ecsite members was to include young people in everything you do, from the very beginning.
'If you want to support young people and are wondering what are their needs: ask them the questions in the first place, there is no copy-paste solution'
Melati Wijsen, the Indonesian climate activist, co-founder of @BBPB_bali & 20-year-old change-maker at #Ecsite2021

— Ecsite (@Ecsite) June 11, 2021
Businesses on show at Ecsite 2021
On Friday afternoon, attendees were also invited to enjoy the Business Buzz Happy Hour, This was a dedicated moment to browse the exhibitor booths and make connections.
There was a wealth of exhibitors taking part in Ecsite 2021, including Interspectral, Effektschmiede, Kiss the Frog, The Natural History Museum, Science North, Pavilion of Knowledge – Ciência Viva Science Centre, Imagine Exhibitions, Universcience, The American Museum of Natural History.
Also exhibiting were World Touring Exhibitions, Heureka Overseas Productions, Archimedes Exhibitions, Deutsches Museum, FRida & freD – The Graz Children's Museum, YIPP, Inspire to Action, TETRAGON, MuseumsPartner and Little Ray´s Nature Centre.
Engaging with communities
Following this, the final round of sessions began. In a discussion on family engagement during the pandemic, Meie van Laar of NEMO Science Museum, Paul Boniface and Clémentine Bricout of TRACES and Monika Mayer of Monika Mayer Consulting presented case studies on how their institutions had pivoted to engage underserved communities during the COVID crisis.
Great to hear some examples of projects that provided meaningful family engagement during COVID in this #Ecsite2021 session, like NEMO Science Museum's work in Curaçao alongside the local food bank and local tinkering club. pic.twitter.com/5prsxFCxeu

— Blooloop (@Blooloop) June 11, 2021
Elsewhere, there were opportunities to reflect and to share new ideas, as well as to think about approaches to gender equality, to pick up new tools and more. And, once again, Hou, Johnson and Pisani took the time to reflect on the conference's handling of Ecsite's commitments.
"It's about bringing people together in our space," concluded Hou. "Not about saving the world on our own, but about being part of the positive ecosystem and being on the "right" side…The time for inspiration is over. So, examples of great projects are not enough. It's not about individual actions but structural changes.
"Individual projects will not defeat climate change or systemic inequity, we also need global changes."
Goodbye Ecsite 2021, hello Ecsite 2022
Finally, Vatinel and Irwin took to the virtual stage once more for a recap of some of the highlights of Ecsite 2021. This was before welcoming ACPC Chair Mikko Myllykoski, who shared some stats from the event and introduced next year's hosts – Experimenta.
👏A huge huge thank you to @MikkoMyl for having been with us now for 7 years helping to shape our wonderful conferences! His term as chairperson has come to an end and @BradInLondon is taking the role over! We are as excited as he is!#Ecsite2021 pic.twitter.com/DY3INLAJu6

— Ecsite (@Ecsite) June 11, 2021
Myllykoski is now standing down as Chairperson, and the role will be taken on by Irwin.
To wrap up the event, attendees gathered for a colour-filled, virtual party, while after-hours networking continued until the platform closed.
Ecsite 2022 will take place from 2 – 4 June. The host will be Experimenta in Heilbronn, Germany, the country's largest and most innovative science centre. Recorded sessions from Ecsite 2021 will be made available soon.
The sponsors and partners of Ecsite 2021 were: